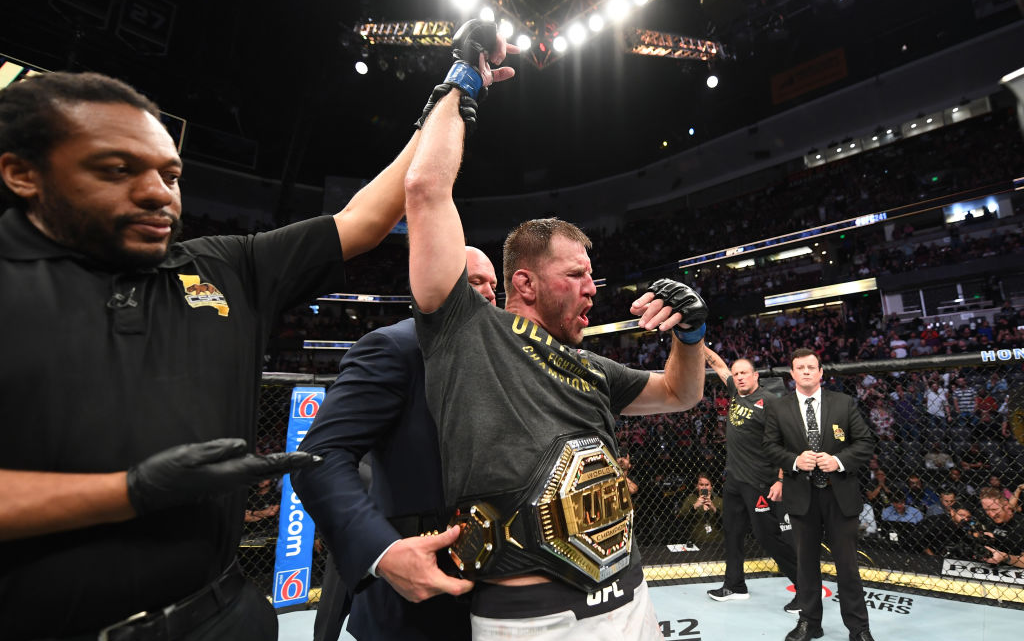 UFC Recap: UFC 241 Cormier vs Miocic
August 26, 2019
By Nick Kazandjian
UFC 241 was live this weekend from California and it was one of the best PPV events of the year. We had a newly crowned Heavyweight Champion in Stipe Miocic and a big return from Nate Diaz. Paulo Costa also put himself right into the main fold of the Middleweight division.
C* Daniel Cormier (22-2, 1NC) vs #1 Stipe Miocic (19-3) – Heavyweight Championship Bout
The UFC's greatest Heavyweight ever has finally regained his title. After a disappointing performance in their first bout, Stipe was looking like he was going down that road again. Miocic was most likely down 30-27 on the scorecards after the end of round 3 and knew that he would need something big to get the victory. A key change at the start of the 4th round catapulted him to a TKO victory over the former #1 Pound for Pound king Daniel Cormier. Miocic started hitting Cormier with some mean uppercuts to the body and then just started going off all over crumpling Cormier and possibly ending his career in the octagon. Miocic landed himself Performance of the Night and is now the #4 PFP fighter in the UFC and Cormier is now #6.
Final Result: Miocic def Cormier by TKO (Rd. 4 4:09)
#7 Anthony Pettis (22-9) vs Nate Diaz (20-11) – Welterweight Bout
This was one of the most anticipated fights of the year once it was booked. Nate Diaz finally returned after a 3 year layoff following a loss to former Lightweight Champion Conor McGregor. Diaz was just the same ol' fighter doing exactly what he excels in, clinch fighting and dirty boxing. Diaz outstruck Pettis 114-69 in the fight and almost had him KO'd in the 3rd Round. If this fight was 5 rounds Diaz would have walked away with a finish. Diaz has rose up to #7 in the Welterweight Rankings while Pettis falls to #12.
Final Result: Diaz def. Pettis by UD (30-27 x2, 29-28)
#2 Yoel Romero (13-4) vs #7 Paulo Costa (13-0) – Welterweight Bout
This fight was by far the Fight of the Night and was a great fight for anyone to watch. Both of these fighters fought neck and neck all the way to the finish. I believe the fight should have gone to Romero as did notable UFC fighters, Jon Jones, Chris Weidman, and even UFC broadcaster Joe Rogan, however, the judges gave the fight to the undefeated Costa. Both fighters put on a show and the fight could have gone either way. To show you how close it was, Yoel out struck Costa only 125-118. Both fighters seemed like they were fighting like zombies but were both landing significant strikes throughout the entire fight. If you wanted to watch a good ol' fashioned brawl, here it was. Romero moved one spot down to #3 and Costa shot up five spots to #2 in the Middleweight Rankings. Costa is looking at a title shot after Robert Whittaker faces off against Israel Adesanya at UFC 243.
Final Result: Costa def. Romero by UD (29-28 x3)
Gabriel Benitez (21-7) vs Sodiq Yusuff (10-1) – Featherweight Bout
Let me just start with this, Nigerian born fighters are now 20-1 in the UFC. Lucky #20 came in this fight when Sodiq Yusuff KO'd Gabriel Benitez in the very first round. Benitez tried putting some pressure on Yusuff but after a quick parry, Yusuff landed a strong right across the chin of Benitez. Benitez fell straight to the ground and Yusuff pounced with some shots before Herb Dean called the stop. Yusuff is a fast rising contender in the Featherweight division and will be looking for a ranked opponent soon.
Final Result: Yusuff def. Benitez by TKO (Rd. 1 4:14)
#10 Ian Heinisch (13-2) vs #8 Derek Brunson (20-7) – Middleweight Bout
Heinisch is rising up the ranks in Middleweight and squared off with Middleweight vet Derek Brunson. Brunson did a great job controlling the fight and created a strong margin in the striking category out striking Heinisch 102-65. It was a close fight but the 3rd round ultimately decided the fight with Brunson playing his game doing a good job of mixing the clinch in with his distance striking. Heinisch was stuffed on all 8 takedown attempts as well, which only bolstered Brunson's victory on the scorecards. Both fighters are in the middle of the pack in the Middleweight Rankings.
Final Result: Brunson def. Heinisch by UD (29-28 x3)
Main Card Awards
Fight of the Night: Yoel Romero v Paulo Costa
Performance of the Night: Stipe Miocic KO's Daniel Cormier
Rising Star: Cory Sandhagen