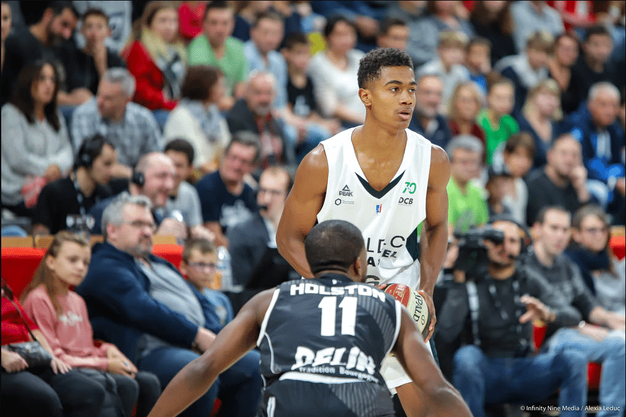 Theo Maledon 2020 NBA Draft Profile
May 19, 2020
By: Dylan Delaney, Basketball Analyst
Well, we've been in quarantine for just over two months now, and that means that sports are still silent (for the most part). While we were robbed of this year's March Madness tournament, not all hope is lost, as the 2020 rookie class boasts one of the most impressive international classes of recent memory. In this draft profile, I'll be taking a look at Theo Maledon, the French point guard who's stock has risen over the course of the season.
​​
Theo Maledon Overview
Height: 6'4
Weight: 198 lbs
Position: Point Guard
Current Team: ASVEL Basket, Euro League
Before the sports world came to a temporary pause, Maledon was in the middle of an impressive season for ASVEL Basket, especially considering that he's still only 18 years old. Playing alongside former NBA players such as Livio Jean-Charles and Adreian Payne, Maledon has averaged a respectable 7.4 points and 3.1 assists on about 18 minutes per contest, also posting shooting splits of 46/37/69. This was his first season in the Euro League, as he previously played in the French LNB league and was named an All-Star at just 17 years old, the youngest player to receive that honor. He was also named Finals MVP in the French Cup championship, leading his team to victory. It's safe to say he's had an impressive overseas resume in his brief professional career.
At 6'4 and 198 pounds, he's an ideal size for a modern point guard, and his 6'8 wingspan makes that size even more desired by scouts. The biggest strength for Maledon is his instincts as a point guard, as he does a terrific job creating opportunities for others. He excels in the pick and roll and does a great job at reading the floor to find the open man after the screen. When it comes to scoring, Maledon is more lethal as a catch-and-shoot scorer than anything else, and his jump shot is very smooth. He doesn't look to score when driving as much as he passes, but his wingspan and his athleticism allows him to finesse his way past interior defenders. The biggest knack on Maledon's offensive game is his lack of scoring off the dribble, as he often fails to create much perimeter offense outside of catch-and-shoot situations. He's also much stronger with his right hand than his left, so that could get exploited at the next level.
On the defensive end, he's a pesky on-ball defender that can use his wingspan to cause havoc both on the ball and in the passing lines. He also has pretty solid rotations and has a solid feel for following the ball around the perimeter. Outside of those positive notes, most of Maledon's defensive efforts are fairly inconsistent. He has more of a wiry frame and isn't the strongest player, which hurts against stronger guards and against screens from much larger big men, which he occasionally has trouble fighting through. His shot contests are sometimes great and do a great job at deterring the shooter, but other times he will have a defensive lapse that will leave his man completely open. His overall technique as a defender isn't bad, but his lack of consistency and strength hurts him. Luckily for him, he turns just 19 in June, and will have plenty of time to improve upon entering the NBA.
Strengths
– Court Vision
– Smooth Jumper
– NBA-Ready Frame
– Pesky On-Ball Defender
– Good Finisher
Weaknesses
– Shot Creation
– Inconsistent Defender
– Lack of Strength
Draft Projection: Late Lottery, Mid 1st-Round
NBA Comparison: Shai Gilgeous-Alexander
​​
Final Thoughts on Theo Maledon
When watching Maledon on film, his motions and technique are both strikingly similar to one of my favorite players to watch, Shai Gilgeous-Alexander. I'm not sure if Maledon will reach SGA's status, as he's only in his second season and still rapidly progressing, but I do believe Maledon has a successful NBA career ahead of him. Maledon isn't the most flashy player, neither does he excel at just one portion of the game, but he comes into the NBA as a very solid prospect with a lot to offer. If Maledon can gain more muscle and work on his versatility on both ends of the court, he can easily become a starting-caliber point guard in the NBA. I wouldn't be surprised if he was taken in the back end of the lottery, and I see him being a core rotational piece and an eventual starter down the road. In a draft class full of promising point guards, Maledon is one of the lesser-known guards, but that will change once he begins to make an impact at the next level.