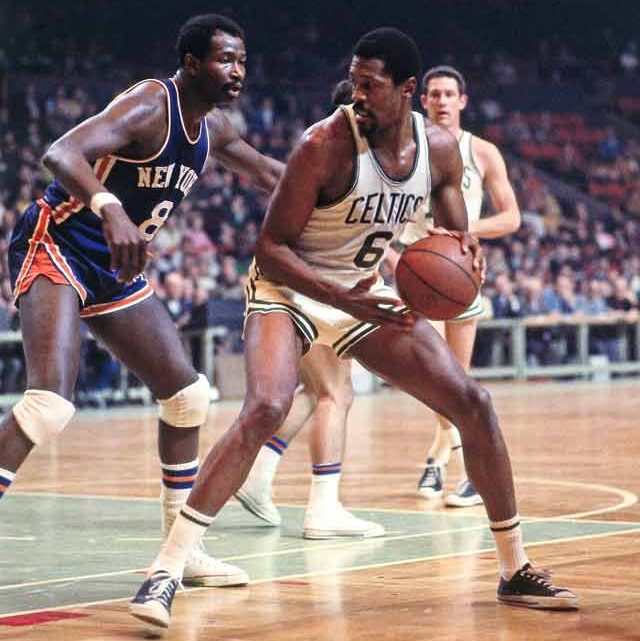 Boston Celtics All Time Team
May 17, 2020
By: David Furtado, Head NBA Analyst
There's no doubting that the Boston Celtics are one of if not the most storied franchises in the NBA. With a record seventeen NBA Championships to their name, it comes as no surprise that some of the best players in the history of the league have donned the green and white. Making a lineup of the best of the best is no easy task, but in my quarantine boredom I decided to give it my best shot. Without further adieu let's dive into the Boston Celtics All Time Team.
The Coach
Red Auerbach (1950-1966)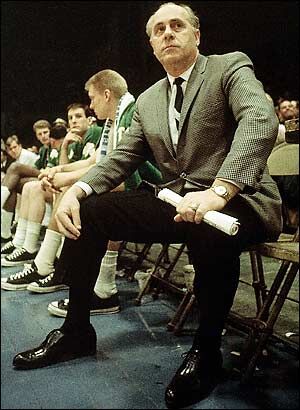 Coaching for the All Time Celtics is none other than Red Auerbach. Red is simply the gold standard for Celtics coaches. He coached the C's to nine NBA Championships, including eight consecutive from 1958-1966. He coached some of the best to ever wear the uniform including Bill Russell, Sam Jones, and Bob Cousy. Red went on to work in the Boston front office after finishing his career as a coach and had even more success there assembling those great Celtics teams of the 1970's and 1980's. He retired from basketball in 1984, with an impressive list of accolades including an Executive of the Year honor and a Coach of the Year award.
The Starting Five
PG Bob Cousy (1950-1963)
Starting at point guard for the All Time Celtics is Bob Cousy. Cousy is easily the most accomplished point guard in the history of the Boston Celtics. A six time NBA Champion, and twelve time All NBA selection, Cousy has everything you could want in a point guard. He was an eight time assists leader and took home the NBA MVP in 1956-57. His final career line included 18.4 points per game and 7.5 assists per game. His pristine passing makes him the ideal facilitator for the All Time Celtics. The era he played in may be vastly different from today's NBA, but there's absolutely no arguing Cousy's success as a player and his importance to the Celtics teams of the 1950's and early 1960's.
SG John Havlicek (1962-1978)
The starting shooting guard for the All Time Celtics is of course "Hondo" himself, John Havlicek. You just can't have any type of discussion about great Celtics players and not include Havlicek. A Hall of Famer and eight time champion, Havlicek spent his entire career in green and was the perfect Celtic throughout. He played tough nosed defense being named to eight All Defense teams. He could also get it done on offense averaging 20.8 points per game for his career and taking him MVP honors in the 1974 Finals after taking down the Kareem and Oscar Robertson led Milwaukee Bucks posting 26.7 points per game in the series. It is an absolute no brainer to have "Hondo" on this team for the sheer amount of championship success, let alone the career stats. His number 17 flies in the rafters at the TD Garden and fans will always remember that "Havlicek stole the ball!"
SF Larry Bird (1979-1992)
No All Time Celtics Team is complete without Larry Bird, who starts at small forward for this squad. It can be argued that Larry Bird is the best player to ever wear the Celtics green. With his three consecutive NBA MVP Awards and three NBA Championships, it's hard to argue that he isn't. Bird was easily the best player for the 1980's Celtics, which is quite the compliment considering he shared the floor with about a half dozen Hall of Fame teammates. His three consecutive MVPs could easily have been five as he finished second in the two years before he won his first. In addition to his career accolades, Bird has graced generations of fans with his can't miss highlights which I could spend hours on end watching. His iconic number 33 can still be found on the backs of C's fans when attending games and his impact on both the NBA and the Celtics is undeniable.
PF Kevin McHale (1980-1993)
Starting at power forward is the last member of the 1980's "Big Three", Kevin McHale. McHale is probably my favorite former Celtic to watch, mainly because I'm just a huge fan of post offense in general and McHale was masterful in that area. His patented up and under move was virtually unstoppable. McHale was never better than he was in the 1986-87 season where he averaged 26.1 points per game by simply dismantling defenders with his post moves, an experience which was aptly described as being in the "Torture Chamber". McHale was a two time Sixth Man of the Year and a three time NBA Champion, and set the bar in Boston as far as post play is concerned.
C Bill Russell (1956-1969)
Rounding out the starting five is of course Bill Russell. Perhaps the most dominant rebounder in Celtics history, Russell posted a whopping 22.5 rebounds per game during his NBA career. In addition to this Russell is the most successful individual in the history of the NBA, boasting a record eleven NBA Championships. Russell is the gold standard for Celtics centers, with his near dozen rings and his five NBA MVP Awards. Russell won the NBA rebounding crown four times in his career and made one All Defensive Team, alluding to his prowess on both ends of the floor. His number 6 is rightfully hanging in the rafters and the NBA Finals MVP is named in his honor.
The Bench
PG Dennis Johnson (1983-1990)
Starting things off is none other than "DJ" himself, Dennis Johnson. Johnson was a member of two NBA Championship teams in Boston (1984,1986) and was an unsung hero of some of those great 1980's Celtics squads. Johnson arrived in Boston after playing for the Seattle Supersonics and the Phoenix Suns. His tough nosed style of play and excellent ability to finish around the rim made him a perfect fit to play alongside the big three of Larry Bird, Kevin McHale and Robert Parish as well as to be the sixth man on this all time roster. His career averages of 14 PPG and 5 APG don't jump off the page, but to understand Johnson's impact you need to look beyond the statsheet. He embodied exactly what it means to be a Boston Celtic, playing full tilt at all times and never backing down from a challenge. His whopping nine All Defensive Team selections are further evidence of his gritty attitude, and a big part of why he makes the Celtics all time team. As is the case with many of the players on this list, his number hangs from the storied rafters at the TD Garden, and rightfully so as a champion, and a key piece in the storied history of the Boston Celtics.
SG Sam Jones (1958-1969)
The next spot on the bench goes to shooting guard, Sam Jones. Jones spent the duration of his NBA career with the Celtics and was a major piece of the ten NBA championships they won during that span. Jones brought a whole different dimension to the game with his speed and athleticism. He gave the Celtics a backcourt piece that went perfectly alongside K.C. Jones and complemented the beast that was Bill Russell. Jones' skillset was ahead of his time, and that's a big reason as to how he landed a spot on this team. A tall guard with the ability to rebound and run the floor was uncommon for the time, and the way that Jones did this with ease is wildly impressive. With a spot already in the Hall of Fame and his number 24 hanging in the rafters, Sam Jones now can add a spot on my all time team to his list of accomplishments, whatever it's worth (not much I know).
SF Paul Pierce (1998-2013)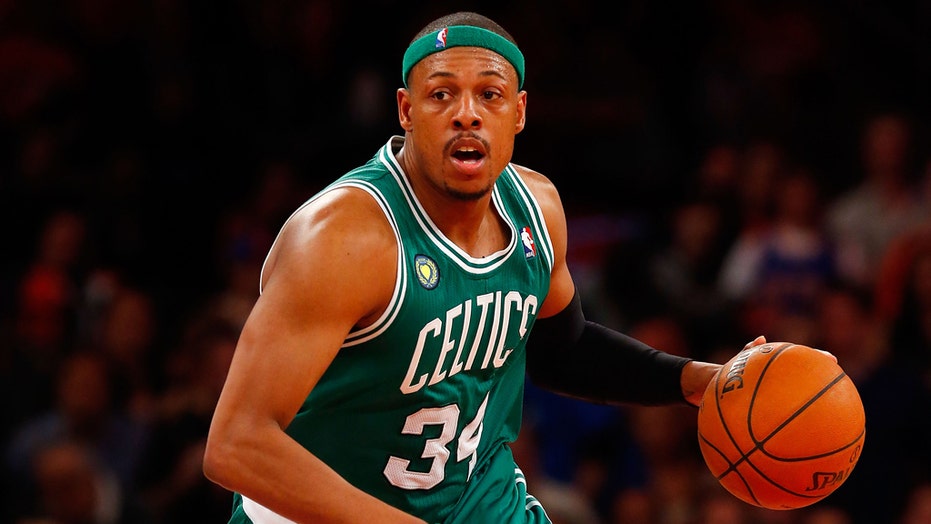 Time to get a little more current with our next reserve. "The Truth" Paul Pierce led the Celtics through some difficult times in the early 2000's and was a major cause of the team's return to glory in 2008 helping the C's win their record seventeenth NBA Championship. Pierce has a long list of accolades including ten All Star selections, an All Rookie selection, four All NBA selections, and a NBA Finals MVP. Pierce is the franchise's all time leader in three pointers made, quite the accomplishment when considering some of the great shooters who have worn the green. Pierce embodied everything it means to be a Celtic and became an icon for the younger generation of C's fans, myself included. Despite having just one championship to his name there is no arguing with Pierce's contributions to the franchise and his place on this all time team.
PF Kevin Garnett (2007-2013)
Keeping up with the 2007-08 Celtics we have Kevin Garnett. Although his time in Boston wasn't all that long compared to others on that list, his impact was just as great. Garnett made the All Star Team in all but one season while with the C's. In addition he took home Defensive Player of the Year in 2008, the same season he captured his first and only NBA Championship. It is fair to say that without KG there is no championship. He completely altered the course of the franchise and instilled a new toughness to the Celtics that hadn't been there in previous years. His lasting impact on the culture of the Celtics can still be seen today with players like Marcus Smart and Jaylen Brown bringing high levels of toughness and intensity to both ends of the floor. Garnett's number five will be hoisted to the rafters next season putting the final stamp on his legacy in green, and cementing him as a selection on every all time team for years to come.
C Robert Parish (1980-1994)
The next bench player on my All Time Celtics Team, is of course "The Chief" Robert Parish. Parish was the third member of the 1980's "Big Three" with Larry Bird and Kevin McHale. He was an integral part of the three championships Boston won during the 1980's. A nine time All Star and two time All NBA selection, Parish brought it on both ends of the floor for the better part of fifteen seasons. His best season may have come in 1988-89 when he posted 18.6 points per game and 12.5 rebounds per game over 80 games, ironically he didn't make the All Star Team that season. Overall Parish was one of the most important parts of three NBA Championships in Boston and left his mark as probably the second best center to don the green, making him a no brainer for this team.
SG Ray Allen (2007-2012)
This is going to be unpopular among most Celtics fans, but it needs to be said, Ray Allen earned a place on this list. Sure he ruffled a lot of feathers when he left, but that doesn't change what he did on the court. Allen was an extremely important piece to the 2008 team, and is probably the best shooter to ever wear the uniform. Despite playing only five seasons in Boston Allen racked up accomplishments, including an NBA Championship, three All Star selections, and breaking Reggie Miller's three point record. He may not be the most popular player in Celtics history, but he certainly was one of the best, and while his departure may still sting, it's time we forgive and forget. As is the case with Kevin Garnett, without Ray Allen, there likely isn't a championship.
PG Rajon Rondo (2006-2015)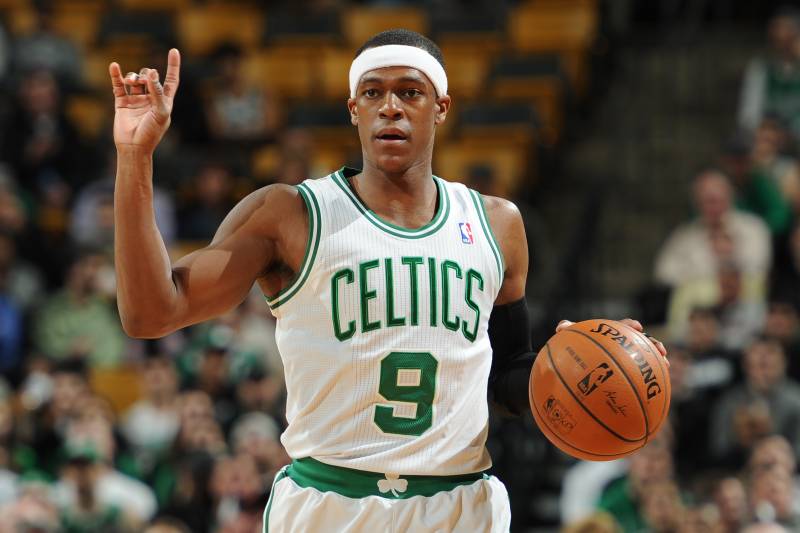 Rajon Rondo undoubtedly deserves a place on the bench for the All Time Celtics. His peak in Boston was nothing short of spectacular, and he was one of the best passers to ever suit up for the Celtics. He led the league in steals during the 2009-10 season, and took home multiple All Defense honors during his tenure in Boston. While Rondo's end in Boston was lackluster, he earned himself a spot on the all time roster because his peak was so high. At his height in Boston, Rondo was easily a top five point guard in the NBA on both ends of the floor. He was the quintessential floor general and was the glue that held those Pierce, Garnett, and Allen teams together on offense. Rondo's masterful passing and excellent defensive instincts were more than enough for me to make a spot on this team for him.
SF Cedric Maxwell (1977-1985)
The final bench player for my All Time Celtics Team is the MVP of the 1981 Finals, Cedric Maxwell. Cedric Maxwell helped the Celtics both during his playing career in Boston, and during his exit. It was Maxwell who was dealt to the Los Angeles Clippers in 1985 for Bill Walton who was a major part of the historic 1985-86 championship squad. However it is his superb play that lands "Max" on the team. He was a member of two NBA Championships in green (1981,1984) and was named MVP of the Finals in 1981. Maxwell averaged 12.5 points per game and 6.3 rebounds per game in his C's career, but the Finals MVP and the fact that his number 31 is retired by the Celtics was enough to squeeze him onto the back of the bench for the All Time Celtics.