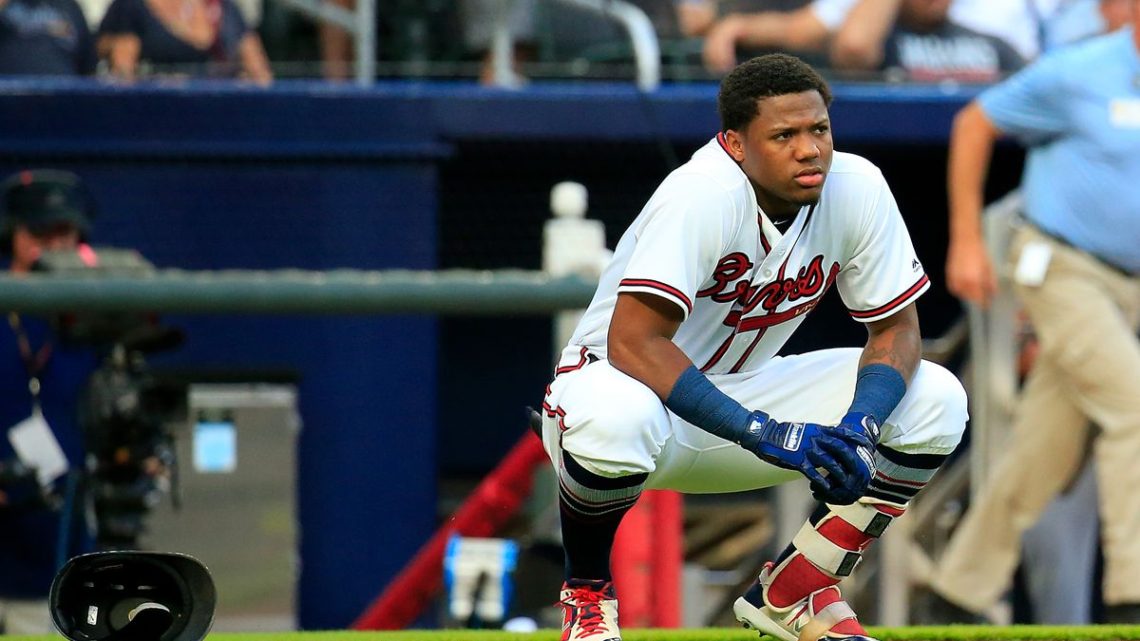 The Coward of Major League Baseball
August 17, 2018
By Justin Raley
It has been a few days since the incident of Ronald Acuña Jr. and José Ureña. In case you live under a rock and haven't been on any social media in the last week, let me fill you in. As of Wednesday, August 15th, Braves phenom Ronald Acuña Jr. had been on a tear. Since being moved to the leadoff spot, one game after the all-star break, Acuña Jr. is hitting .367 with a 1.248 OPS. In the last week, his play has been historic. Prior to Wednesday, he had hit 8 home runs in his last 8 games. He is the youngest player to ever lead off each game of a double header with a home run and he is the youngest player to leadoff 3 straight games with a home run. So, in the finale of a 4-game set with the Marlins, he looked to extend that streak with his 4th leadoff home run in a row. Instead of doing so, on the first pitch of the game, José Ureña of the Marlins decided to drill him in the elbow. A 97 MPH fastball. That was in the 99th percentile of the hardest pitches Ureña has thrown all season. The Braves took exception to that and the benches cleared as Ureña proceeded to toss of his glove and bow up at Brian Snitker and Ender Inciarte. Acuña had to be removed from the game and José was ejected. Now, here is how I feel about this situation.
Before I expand on the situation, here is what I have to say to Ureña. José, you are completely soft and a huge coward.  Freddie Freeman said it best when he called you "gutless."
I've been looking through this incident and I am trying to decide why this was done. I have come to the conclusion that this was not done by the Marlins and Don Mattingly. This was all José Ureña's idea. Why though? Maybe, it was because he leads the league in losses with 12. Maybe, it was because he has a 11.24 ERA in the month of August and a 6.75 ERA against the Braves. I guess his chances weren't good at getting Acuña out so, it was time to drill him? As a pitcher myself, my mindset is that he won't beat me and I will be the one to get him out. Judging by Ureña's actions, he must not be a competitor. He must have a weak mind and is obviously a coward.
The other argument is that this is part of the unwritten rules of baseball and is old school. This comes from Mets announcer Keith Hernandez who mentioned because he was tearing up the Marlins and had hit 3 lead off homers in a row, that you have to hit him. That is ridiculous. He didn't show anyone up after he hit the home runs. He didn't act like an idiot or do anything wrong. I am someone who agrees with the unwritten rules of baseball as far as hitting someone who shows up your team, not talking about a no hitter, not stepping on the line, etc. This has nothing to do with the old style of play and it has nothing to do with the unwritten rules. It has everything to do with José Ureña being a coward and Keith Hernandez being an idiot. You should want to be the one to stop him from beating you. Maybe quit throwing fastballs down the middle, throw a first pitch breaking ball, but don't hit him with the first pitch because you can't beat him. It is soft and a coward act. Baseball is about being a man and going after the hitter. Who has the best stuff and who can toughen up and get it done. You lose the art of the game when you decide to take the coward's way out. That is okay though, because Ronald Acuña Jr. is alright and the Braves will see Ureña again. When that happens, get ready to go because it won't be pretty.