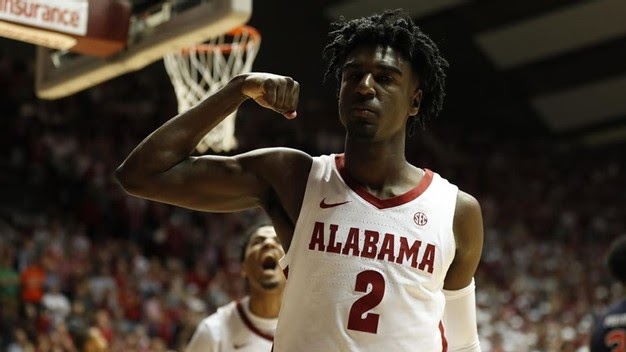 Kira Lewis Jr. 2020 NBA Draft Profile
July 15, 2020
By: Dylan Delaney, NBA Analyst
We're about two weeks away from the resuming of the NBA season in Orlando, and many teams are beginning to prepare for playoff action. However, other teams are already looking forward to the offseason, which includes scouts doing their due diligence on this year's draft class. In today's scouting report, we're going to take a look at Kira Lewis Jr. from Alabama, who has recently seen his draft stock increase.
​​
Kira Lewis Jr. Overview
Height: 6'3
Weight: 165 lbs
Position: Point Guard
Current Team: Sophomore at University of Alabama
Lewis hails from Meridianville, Alabama, and was ranked as the 39th-best prospect in the class of 2018, and 9th at the point guard position. He was a late commit, but eventually decided to commit to his home state and play at the University of Alabama. Lewis decided to stick around for an extra season at Alabama, and it looks like that decision has paid off nicely. Lewis saw a jump in every statistical category in his sophomore season, averaging 18.5 points, 4.8 rebounds, and 5.2 assists for the Crimson Tide. He also recorded 1.8 SPG and had shooting splits of 46/37/80, which is pretty good considering he was the primary option.
When you watch Alabama play, the first thing you'll notice is Lewis' blazing speed when he's in the open court or when he's driving to the rim. He's the fastest prospect in this draft class, and that type of explosion is something that many teams desire from their point guard. Combine that with Lewis' acrobatic ability around the rim, and it's safe to say that he's one of the more intriguing guards in the draft just off of those standpoints alone. Lewis has very good court vision, and excels in the fast-break, whether he's taking the shot himself or finding an open man down the court. Lewis also has an NBA-ready jumper that's both quick and smooth, and it doesn't look like his shot will need much adjustment at the next level. He's very skilled at shooting off the catch, and his shooting off the dribble is efficient enough to make defenders respect every shot Lewis attempts. On defense, Lewis' speed and quickness allows him to be equally as destructive on the other side of the ball. One strong point of Lewis' game is his ability to intercept passes in the lane and turn them into an easy layup or dunk on the other end. He also has great footwork which helps him stay in front on defenders, and he's able to stick with his man in a full-court scenario as well.
However, there are some weaknesses in Lewis' game. When watching clips of him, it seems like he's more of a score-first point guard, which could be a testament to the players he was surrounded with at Alabama. He does sometimes miss the easy pass or miss the open man, but he does make the correct play rather than go for highlight-reel plays. The biggest weakness for Lewis is his size and strength, as it poses problems on both ends. While his athleticism certainly helps him while driving to the basket, his small frame makes him an easy target against larger defenders. On defense, he's going to be a single-man defender, as he'll be unable to switch onto larger opponents. if the switch does occur, it's almost a guaranteed bucket for the other team. Lewis can make himself a more versatile defender if he adds some muscle, but he'll more than likely be a liability against bigger players once he enters the league.
Strengths
– Incredibly Fast
– Creates Turnovers Easily
– Great Catch-and-Shooter
– Acrobatic finisher
– Excellent footwork
Weaknesses
-Size
-Versatility on Defense
-Rebounding
Draft Projection: Late Lottery, Mid-1st Round
NBA Comparison: Dennis Schroder
​​
Final Thoughts on Kira Lewis Jr.
When first initially watching Kira Lewis Jr., the first player he reminded me of was De'Aaron Fox, simply because they both have the same game-changing speed, as well as similar builds. However, Dennis Schroder seems like more of a reasonable NBA comparison. Schroder has come into his own with the Thunder as a secondary scorer and playmaker, and I can see Lewis filling a similar role for an NBA team in the future. If Lewis can add some muscle and strength into his game, he'll be a very good starting point guard in the league. At the worst, he'll be a primary scorer and playmaker off the bench, similar to Schroder's initial role with the Atlanta Hawks. Lewis has certainly seen his draft stock rise since March, and many front offices with a need for a playmaker will consider investing their first-round pick on Lewis come draft time.