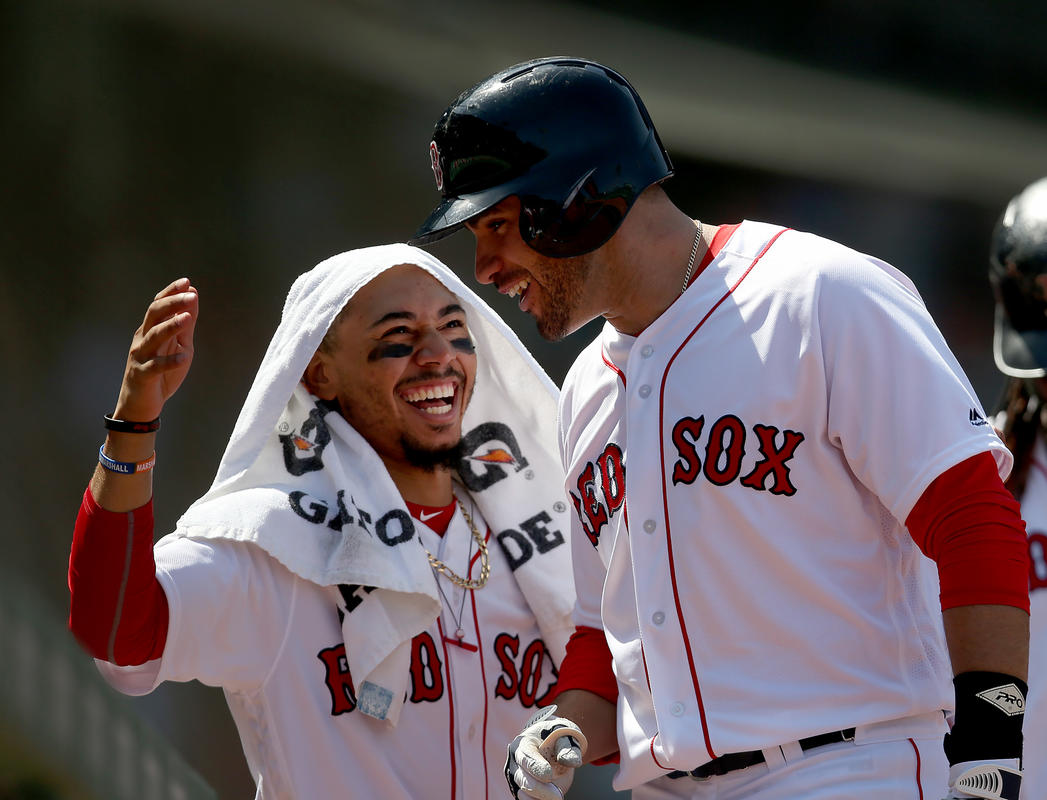 JD Martinez and the Key to the Red Sox Offensive Turnaround
June 26, 2018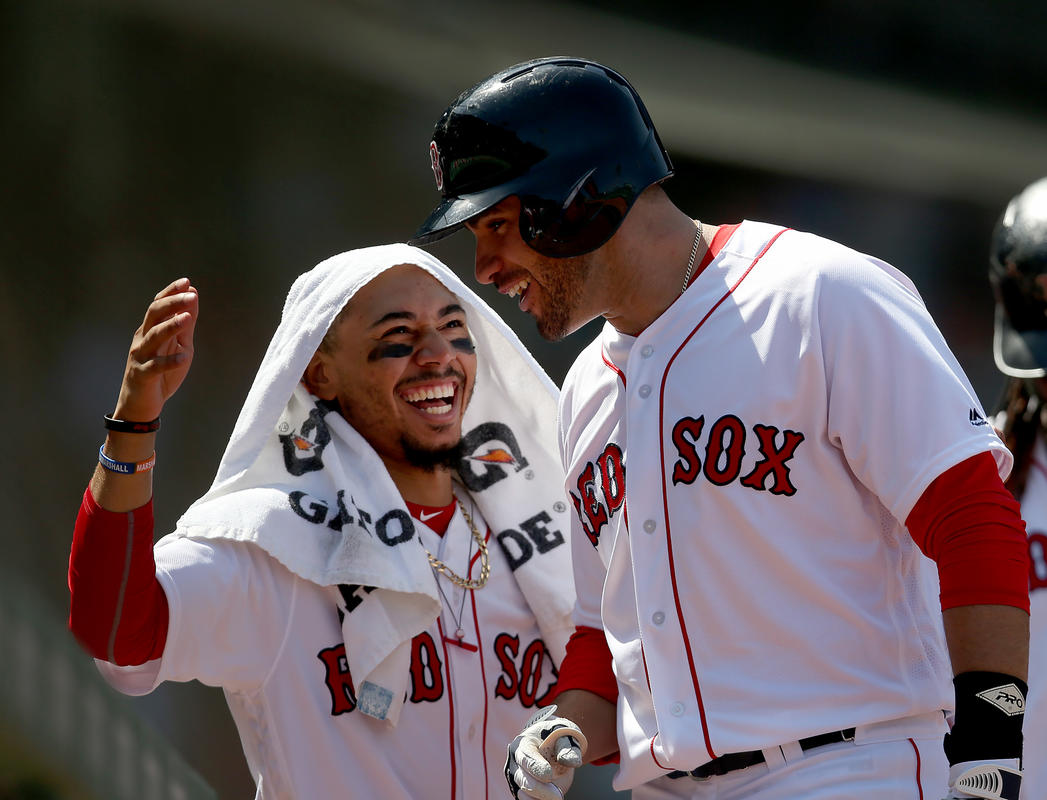 Last year the Red Sox were 10th in runs scored and 12th in batting average, but they stood just 27th in home runs. For a playoff team those numbers are astounding.  Truth be told, they got lucky to score that many runs with little power in the middle of their lineup. They were a scrappy team who rarely struck out and also had a knack for inexplicably winning close games, going an incredible 15-3 in extra innings games.  After the signing of JD Martinez, you see the Red Sox atop power rankings and runs scored statistical categories. They rank 3rd in home runs and 2nd in runs scored in 2018. Adding a star like JD Martinez certainly bolsters the lineup, but they have also seen incredible growth from Mookie Betts, Andrew Benintendi, and Xander Bogaerts.   Xander has 12 home runs with just 10 all of last year…. Likewise, Mookie has 19 after just 24 last year. He is on pace to easily surpass the power stats he accumulated in his breakout 2016 season. Andrew Benintendi and even Mitch Moreland have chipped in with 13 and 11 home runs, respectively.
All these guys have talent, but a key part of the Red Sox growth this year has been both Martinez' presence around these hitters, but also his advice on swing mechanics.  Martinez is a huge proponent, possibly the largest proponent in all of baseball, of the launch angle swing. That method has fostered mid career breakthroughs in guys like Josh Donaldson, Justin Turner, Wil Myers and of course, JD Martinez.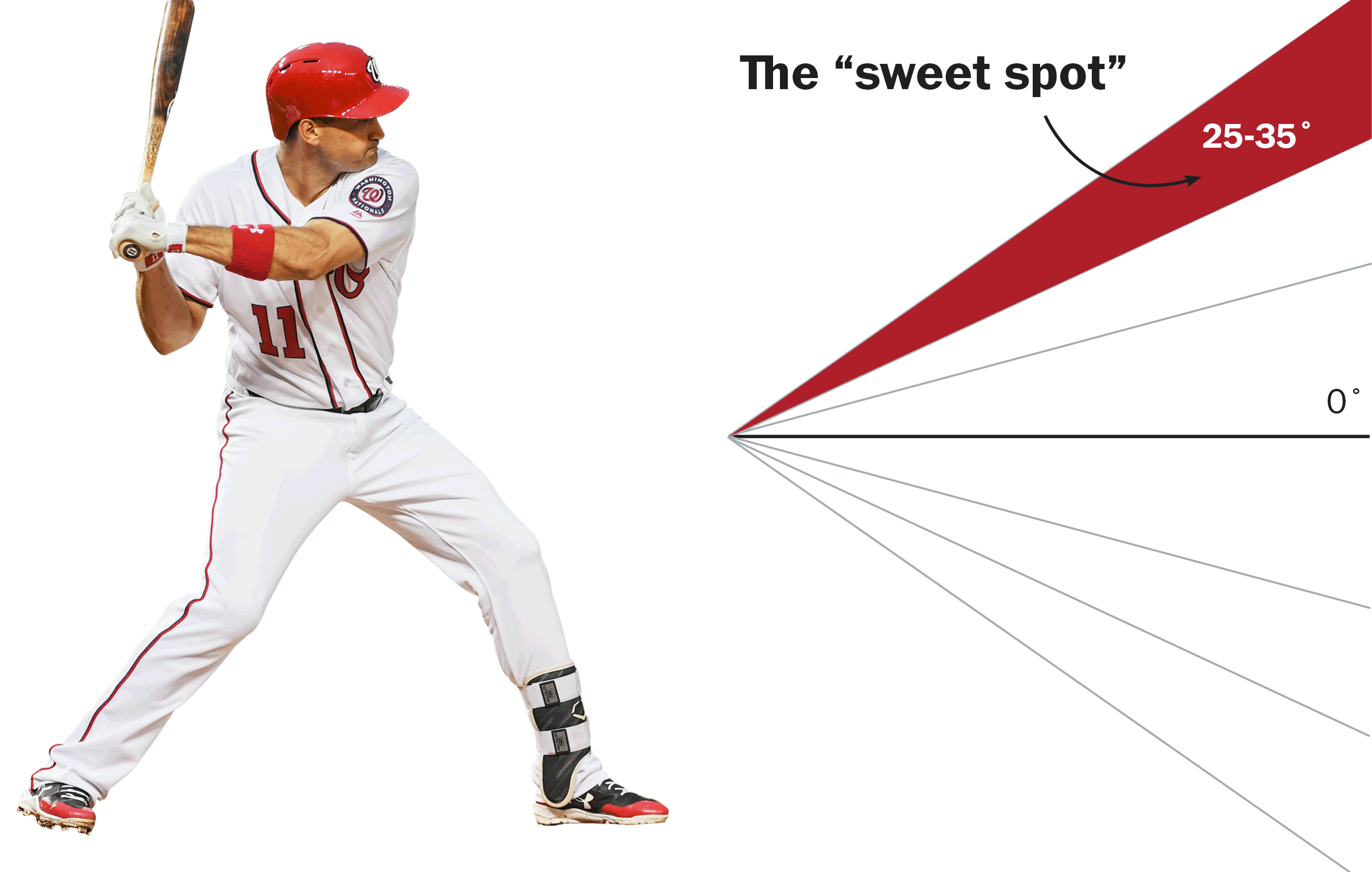 The story of how of JD changed his entire stance and batting approach fascinates me.  I remember reading about it in the Boston Globe during Spring Training. The headline read "The Red Sox signed the poster boy for baseball's launch angle revolution, and hope embracing the hitting philosophy leads to powerful results."  The article told Martinez' story. He was in his third year, stuck in the no man's land between AAA and the MLB, of middling ability with no one real standout skill. He, like many who play baseball, was taught to swing down in an effort to hit line-drives.   One offseason Martinez spent time with two hitting coaches, Craig Wallenbrock and Robert Van Scoyoc. They taught him that many great hitters like Miguel Cabrera or Mike Trout did not actually swing down at the ball. Rather, they swung upward "to match the plane of the pitch."
Martinez completely overhauled his swing and ever since he's been an elite power hitter.  As mentioned, many in baseball have adopted the launch-angle swing, including Red Sox hitting coach Tim Hyers, who is a huge believer in "staying on plane." Hyers has explained that you need to do two things: hit the ball hard and get under it.  Terms like "exit velocity" and "launch angle" have become big for hitters studying film of their swing. Hyers explains in the Globe article in March that "if you're around to close to 40 degrees launch angle and you hit the ball 95-100 mph, that's a good predictor that it's a homer or a double off the wall." Martinez and Hyers' work with talented Red Sox hitters to perfect their swings have led to huge seasons this year up and down the lineup.
Xander Bogaerts' season is probably the best story of a turnaround.  He was part of a 2017 Red Sox lineup that had the lowest launch angle in the MLB, and now he is on pace to hit +25 home runs this year.   Bogaerts has always been a talented hitter and admittedly had a hand injury last year, but had among the lowest launch angles on balls over 100 mph in 2017.  As a result, many of his hardest hit balls were grounders. Here's a contrast between Martinez and Bogaerts in 2017 that the Globe article in March featured. Look at the angles of their swings even though the pitch is in a similar spot in the strike zone.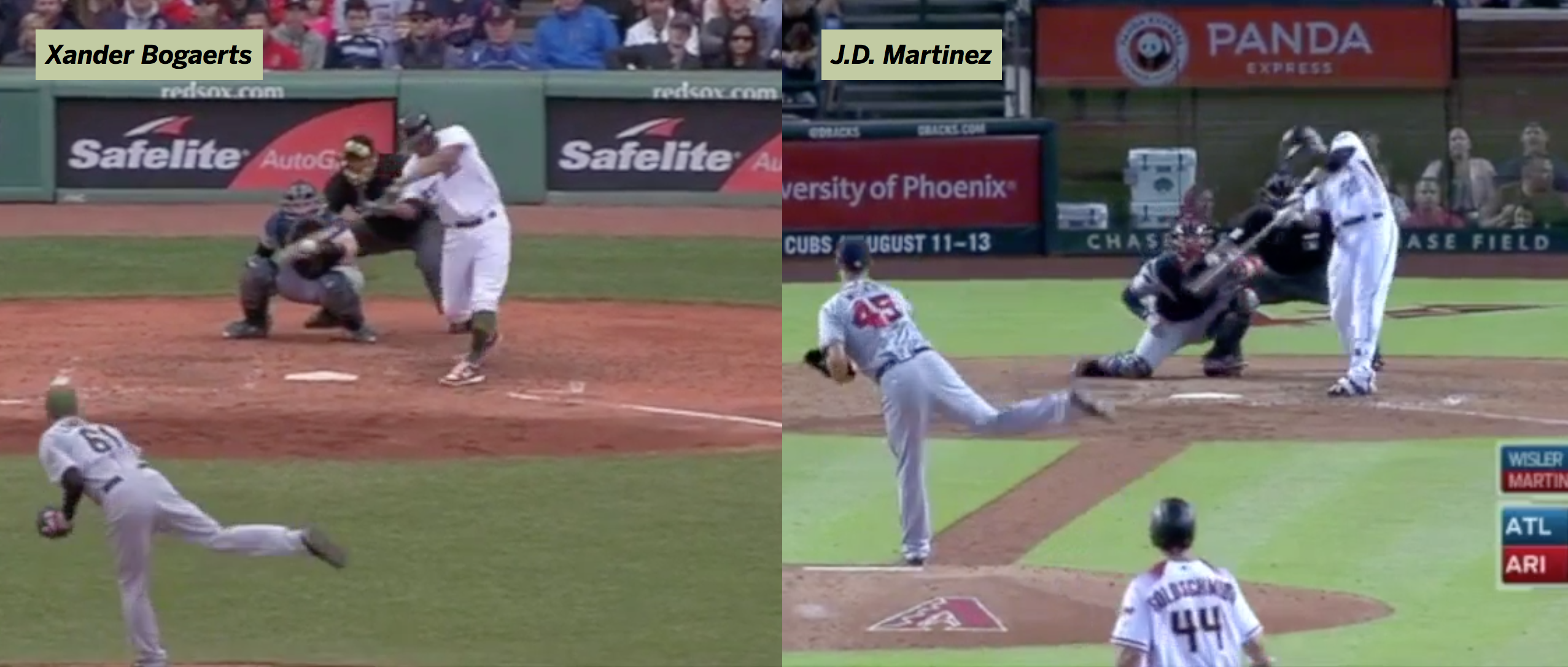 The launch angle swing has become a revolution.  I first really heard of it on MLB Network one night in 2016.  Josh Donaldson explains his hitting approach in this video(below), which provides more details on how the best power hitters approach at-bats.  He also advised when you learn to hit to swing under it, joking "they don't pay you for ground balls." It's gotten even more complex, however, as explained earlier.  Hitting coaches now study launch angles and exit velocities of at-bats vigorously when reviewing film. The 2018 Red Sox are just another example of how legit the method is.  The Launch Angle Revolution, as it's termed, is in full-effect. It has led to the Red Sox becoming an elite power team, one no pitcher wants to face.
Sources:
https://apps.bostonglobe.com/sports/graphics/2018/01/launch-angle/
Written by Will McGuinness