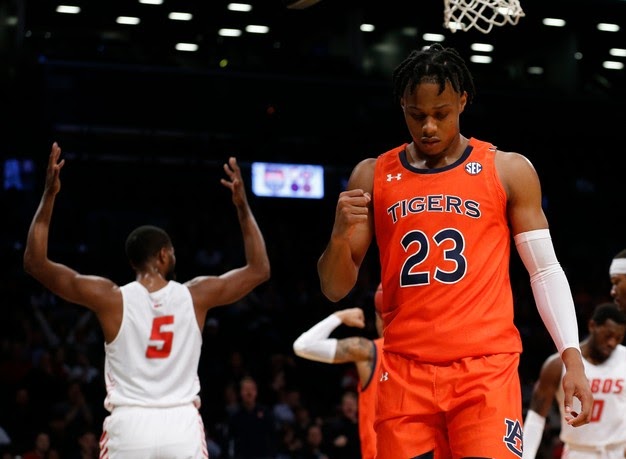 Isaac Okoro NBA Draft Profile
March 30, 2020
By: Dylan Delaney, NBA Analyst
​
​​SMLXL
​With the recent cancellation of sports because of the coronavirus outbreak, we won't be able to witness this year's March Madness tournament, which is a great chance to assess the skills of some of college basketball's best players. Nonetheless, we still have plenty of film from the regular season to look back on, which is what most teams will use for their scouting reports. In this edition of our draft profiles, we'll be taking a look at Isaac Okoro, the wing from Auburn who's draft stock has grown all season long.

Isaac Okoro Draft Profile

Height: 6'6
Weight: 225 lbs
Position: Small Forward
School: Auburn University

Strengths

Right off the bat, Okoro has an NBA-ready body, as he stands 6'6 tall and weighs about 225 pounds, so he'll be able to battle with stronger wing players. He's listed as a small forward, but he's more of a position-less player, as he has the size to match-ups with 2's, 3's and some 4's as well. His specs are ideal for today's game, as it's all about versatility and getting the most out of your players.

On the offensive end, Okoro's main specialty is finishing at or around the rim. He does a great job of using his body strength to muscle around smaller wing players, whether it's in the post or just bullying defenders along the baseline. Against bigger and taller defenders, he excels at using his athleticism to finish around the rim, whether it's contorting his body for an athletic layup or going right at a defender and baptizing him. Okoro knows that scoring around the rim is his main strength on offense- over 55% of his shots come at or around the rim, and it's very rare to see him shoot an ill-advised attempt. He's not the most ideal playmaker, but he does an above-average job in the pick-and-roll, mainly as the ball handler.

However, Isaac Okoro's main selling point is his defense, as he's been touted as one of the best, if not the best defensive wing in this draft class. Like I mentioned earlier, his body type is ideal for his position, although his wingspan could limit his effectiveness against bigger defenders at the rim.  He's an excellent on-ball defender, and not many players have been able to score on him in isolation opportunities. His off-ball presence is just as destructive, as he executes his off-ball rotations precisely and switches onto other players seamlessly. His footwork and motor on defense is unmatched by the majority of players in this draft class. Take a look at his defensive highlights against Arkansas, where he gives viewers a blend of his defensive presence:
Weaknesses

The only gripe in Okoro's game as of now is his jump shooting. Because he relies so heavily on his interior presence, his outside shooting could use some work. Okoro shot 51% from the field in his freshman season, but he only shot 29% from three on 69 attempts, which leaves a lot to be desired. Because the NBA is such a three-heavy league, it could lead to problems down the road. He's also a below-average free-throw shooter at his position, shooting 67% from the charity stripe this past season. Aside from his shooting woes, there aren't many weaknesses in his game, as he appears to be one of the most NBA-ready freshmen in this draft class.

Final Thoughts on Isaac Okoro
​​SMLXL
We've seen a wave of fresh defensive talent enter the league in previous years, with players like Mikal Bridges and Matisse Thybulle making their defensive presence felt early on in their careers. Okoro is primed to be the newest addition to that group, as he'll be giving offensive players nightmares at the next level. I'm projecting him as a rotational piece and a likely starter in the future, and if he can work on a consistent jumper that helps his percentages, he could be an All-Star caliber player in the future. As of now, Okoro's game reminds me of Al-Farouq Aminu's, with their defensive skills being fairly similar and the reliance of interior scoring to their offensive game. However, his ceiling could be an Andre Iguodala-like player that can take over on defense but be able to give you a regular output on offense as well. Overall, I think that Isaac Okoro has a strong future ahead of him, and he should be a lottery pick on draft night.