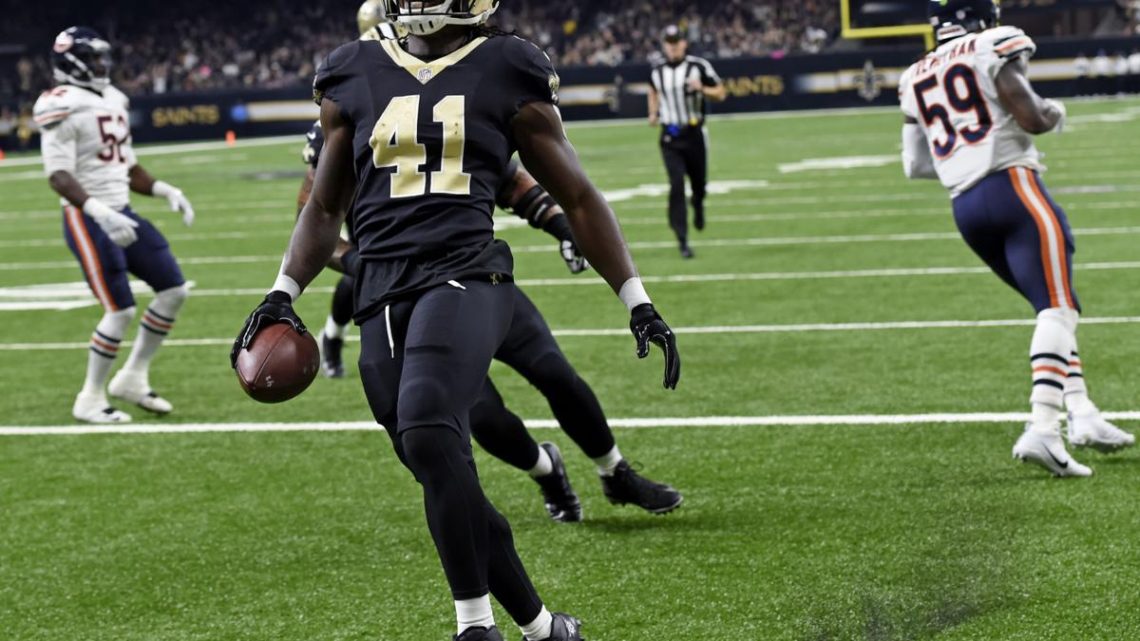 Fantasy Football Awards: 1 Quarter into the Season
October 2, 2018
BY: CJ Buck, Fantasy Football Analyst 
All references to fantasy points are based on PPR scoring
Most Valuable Player:
The player who is single handedly leading fantasy teams to victories.
Michael Thomas, WR:
Michael Thomas is coming off of a sub-par game against the Giants in which he scored just 8.7 fantasy points. If it weren't for that game, he would have a strong argument to be number one on this list. Through 4 weeks Thomas has averaged 25.1 fantasy points per game, good for sixth overall between all positions and first amongst wide receivers. Thomas is clearly Drew Brees top target and if the Saints defense continues to struggle then Thomas should average over 20 points a game this season.
Saquon Barkley, RB:
Barkley has been arguably the most consistent fantasy running back thus far. When the Giants aren't running the ball successfully they force feed Barkley with passes. This was evidenced in week 2 when he rushed 11 times for 28 yards, but finished with a season high in fantasy points due to 14 catches for 80 yards. The lowest point total Barkley has put up through week 4 is 20.8, while the highest is 24.8.  Barkley should be counted on week in and week out due to his high usage and consistent play.
 Todd Gurley, RB:
So Todd Gurley is pretty good at football. Last year is officially not an outlier as he has continued his dominance under Sean McVay's system. Gurley has already scored six touchdowns and doesn't have a game with less than 30 receiving yards. He's averaging 26.6 fantasy points per game, and he should be able to maintain that average the entire season. With Gurley being the clear go-to guy when the Rams are in the red zone, he could end up scoring 20 touchdowns this year.
Melvin Gordon, RB:
The reason I placed Gordon above Gurley was because of where they were drafted. Gurley either went first or second in almost every fantasy draft, while Gordon was selected in the second round of most drafts. Gordon is averaging 26.4 fantasy points per game, but has been a little less consistent than Gurley. While Gordon scored "only" 16.4 points in week 3, he also has two games over 30 points and the other game in which he scored 27.6 points. He's being used in the passing game more than previous seasons, averaging six catches per game. Look for Gordon to maintain an average between 20-25 points per game this season.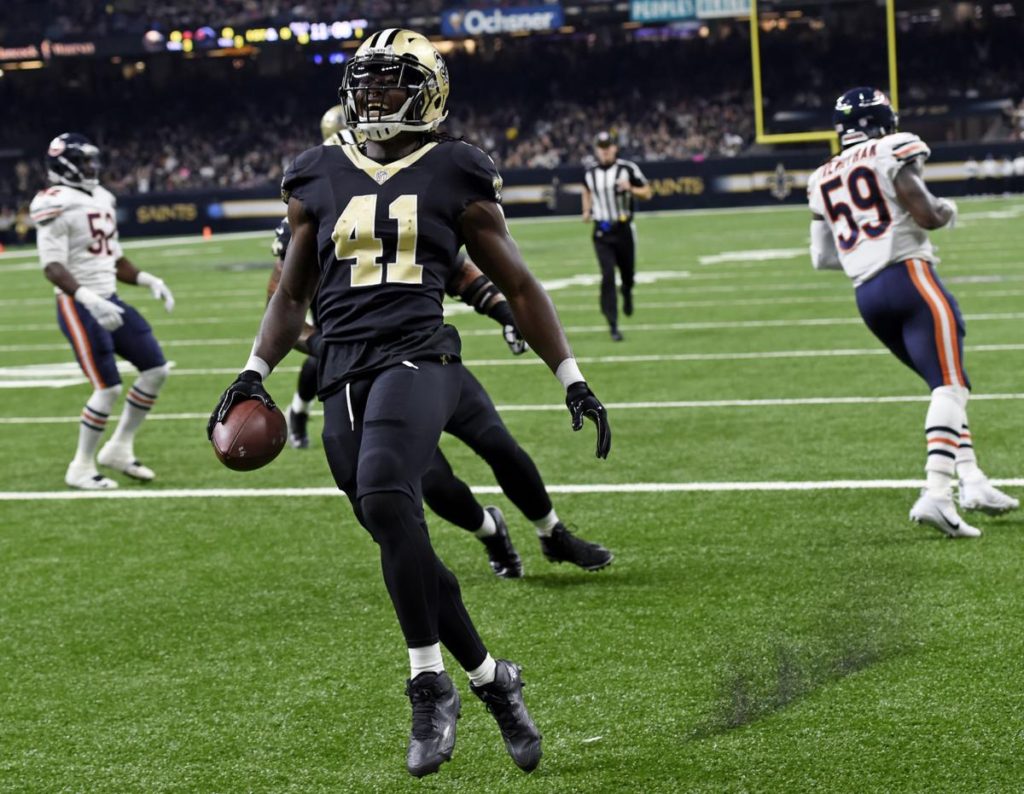 Alvin Kamara, RB:
We're still waiting on the regression everybody projected for Kamara this season. Through 4 weeks, Kamara's second worst fantasy performance came in week 3, where he scored 34 points. He has scored over 40 points in half of his games thus far. All of these points come with Kamara posting only one 100-yard rushing performance. It helps that he also has two 100-yard receiving performances, which is unheard of for most running backs. Averaging almost 9 catches per game; Kamara should be able to maintain his production even when Mark Ingram returns from his suspension.
Least Valuable Player:
The player who is single handedly hindering fantasy teams from winning.
Tom Brady, QB:
Considering Brady's ADP had him being the consensus second quarterback taken in fantasy drafts, his season has been extremely disappointing. He has one game over 20 points through four weeks. He also has one game with less than 10 points. Through week 4 he is the 19th ranked fantasy quarterback, below quarterbacks like Joe Flacco, Mitch Trubisky, and Blake Bortles. Look for Brady's production to increase when Julian Edelman returns and Josh Gordon starts playing more.
Derrick Henry, RB:  
Derrick Henry was drafted as a top-20 running back according to ADP, but has performed as the 55th best running back thus far. He has been extremely consistent this year. Consistently terrible that is. His lowest score total came in week 1 when he scored 4.1 points, and his highest came in week 2 when he scored 5.9 points. Henry's averaging 5.2 points per game and he hasn't shown any signs of hope for the future. I wouldn't drop him just yet but don't start him, even if you're in a 20 team league.
LeSean McCoy, RB:  
McCoy's poor season is mostly due to how bad the Buffalo Bills are. McCoy has yet to receive double digit carries in a game through 4 weeks. He has posted one double-digit fantasy performance, 10.8 points in week 2, but then didn't play due to injury in week 3. If the Bills can improve their offense by the end of the year then McCoy could have fantasy value, but right now he should remain on everybody's bench.
Leonard Fournette, RB:
Fournette has only appeared in two games this year because of a hamstring injury. He also left both of the games he has played before halftime because of the same hamstring injury. He has scored a total of 13 fantasy points through 4 weeks after being drafted as the sixth or seventh running back in most leagues. Until Fournette can prove he can make it through an entire game, he needs to remain on your bench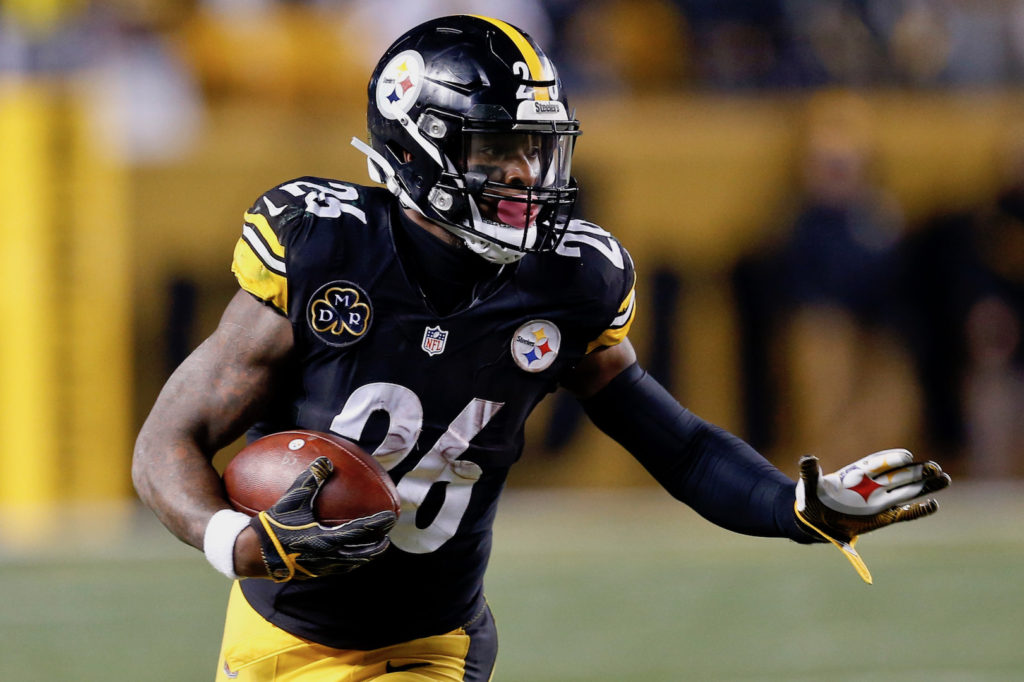 LeVeon Bell, RB:
The same ranking as where most people drafted him, first overall. There's not much to be said here except that I'm sorry if you drafted him.
League Winner:
The player most likely to be the difference maker on a championship roster.
James Conner, RB:
Hopefully if you drafted LeVeon Bell then you also drafted his handcuff in Conner. While Conner has regressed every week this season, he's still a top-10 running back through 4 weeks. He has two games with less than 20 yards rushing, but his consistent usage in the pass game makes up for his poor rushing performances. As long as Bell is continuing his holdout, Conner is an absolute steal as he was a late round draft pick or went undrafted in most leagues.
Adrian Peterson, RB:
Peterson wasn't on a NFL roster at the beginning of the preseason. After three regular season games he was the seventh ranked fantasy running back. Coming off of a bye week, Peterson will be looking to continue his resurgence. He's averaging 79 rushing yards, 33 receiving yards, and 1 touchdown per game. The biggest question for Peterson will be if he can maintain his production throughout the entire season, but for now he needs to be in your lineup.
Calvin Ridley, WR:
Calvin Ridley wasn't targeted once in his first career game against the Eagles. All he's done since then is score 6 touchdowns in three games. In the past three weeks, Ridley is averaging 26.2 fantasy points per game. While the Falcons have used Ridley in the red zone more than any other of their receivers, it's unreasonable to expect Ridley to continue scoring touchdowns at the rate he's currently going. He's still capable of producing as a WR2 or high-end flex player.
James White, RB:
Coming off one of the better games in his career, White has established himself as a top-15 fantasy running back. Through the first three weeks White was averaging 15 points per game, good for 15th amongst running backs. In week 4 he posted 31.2 points on 44 rushing yards, 1 rushing touchdown, 8 receptions for 68 yards and a receiving touchdown. With Rex Burkhead on IR, White is the clear passing down back for the Patriots. Once considered a fringe flex starter, white has high end RB2 upside for the remainder of the season.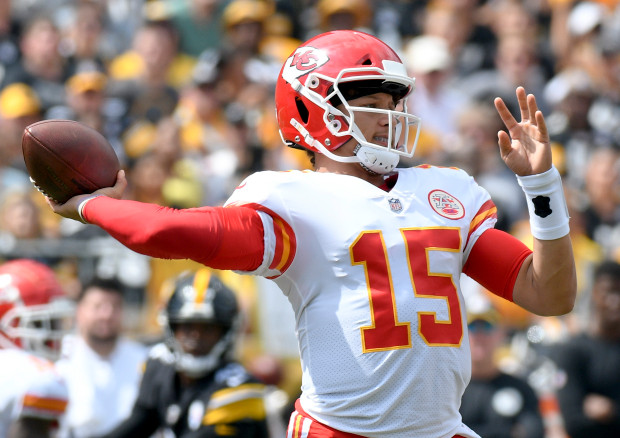 Patrick Mahomes, QB:
Based on ADP, Mahomes was selected outside of the top-10 quarterbacks. He's currently ranked first amongst quarterbacks in fantasy points and passer rating. He set a NFL record for passing touchdowns through 2 games, and then he set the record for passing touchdowns through 3 games. While Mahomes only threw for 73 yards in the first half on Monday Night Football, he still finished the game with 22.9 fantasy points and over 300 passing yards. Even if you have Aaron Rodgers or Drew Brees, Mahomes should be starting for your team (most weeks).
Best Trade Bait:
The player fantasy owners should trade while their stock is high.
Deshaun Watson, QB:
This week aside, most of Watson's fantasy production has come late in games during garbage time. Houston's offensive line has also been sub-par this year, allowing the second most sacks through 4 games. Watson is also one of two starting quarterbacks that has yet to complete a 40+ yard pass this season, along with Eli Manning. Watson has the ability of a top-5 fantasy quarterback, but if you can move him for an upgrade at another position, along with receiving a viable quarterback like Kirk Cousins or Jared Goff, then you need to do it.
Matt Breida, RB:
Breida is averaging 14 fantasy points a game through 4 games. Now that quarterback Jimmy Garoppolo is out for the season, Breida's fantasy value takes a hit. With less of a chance to be leading in games, the 49ers won't be able to run the ball as much as you'd like from your fantasy running back. You should try and sell high on Breida while you have the chance.
Tyler Lockett, WR:
Lockett is having a great season, scoring double-digit fantasy points in every game thus far. With Doug Baldwin returning this past week from injury, Lockett set a season low in receiving yards and failed to score a touchdown for the first time this year. While Lockett should still have a big role in the Seahawks passing offense, His trade value will probably never be higher than it is right now.
Jared Cook, TE:
Jared Cook is currently leading all tight ends in receiving yards. That's something nobody expected after 4 games. In week 1 Cook scored 27 fantasy points and this past week he scored 31. He is clearly an important part of Jon Gruden's offense, but I can't imagine a time where Cook's trade value will be any higher.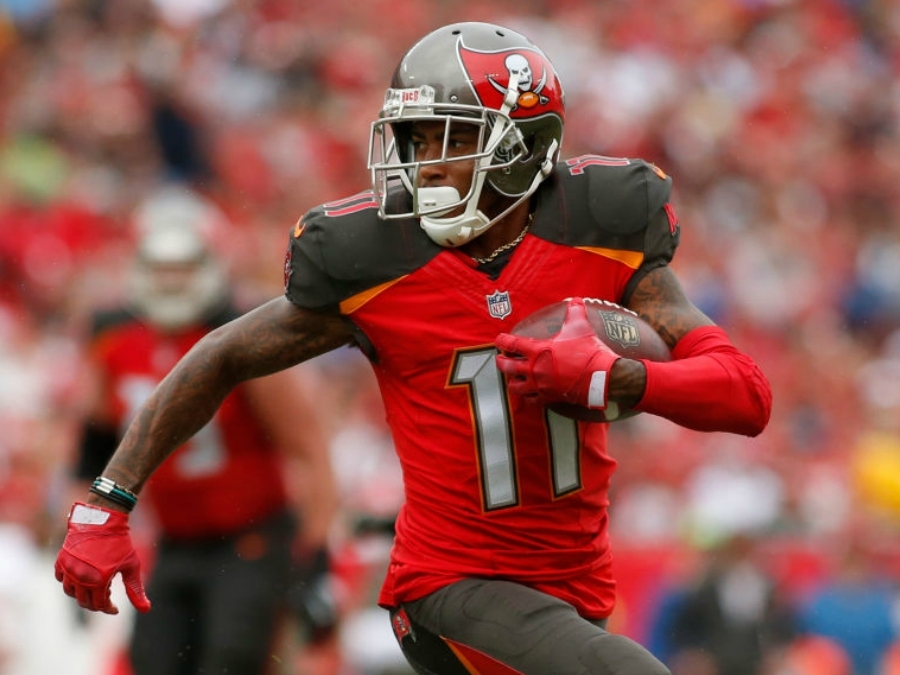 DeSean Jackson, WR:
With Jameis Winston officially being named the starter for Tampa Bay this week, it's time you find a trade for DeSean Jackson. Last season with Winston at the helm, Jackson recorded 668 receiving yards and 3 touchdowns. This year with Fitzpatrick, he has already recorded 424 receiving yards and 3 touchdowns. Fitzpatrick was averaging 10.5 yards per pass attempt this season, which benefitted Jackson greatly. Winston has a career average of 7.5 yards per pass attempt and he didn't show much success with Jackson last year. Look to trade Jackson this week.