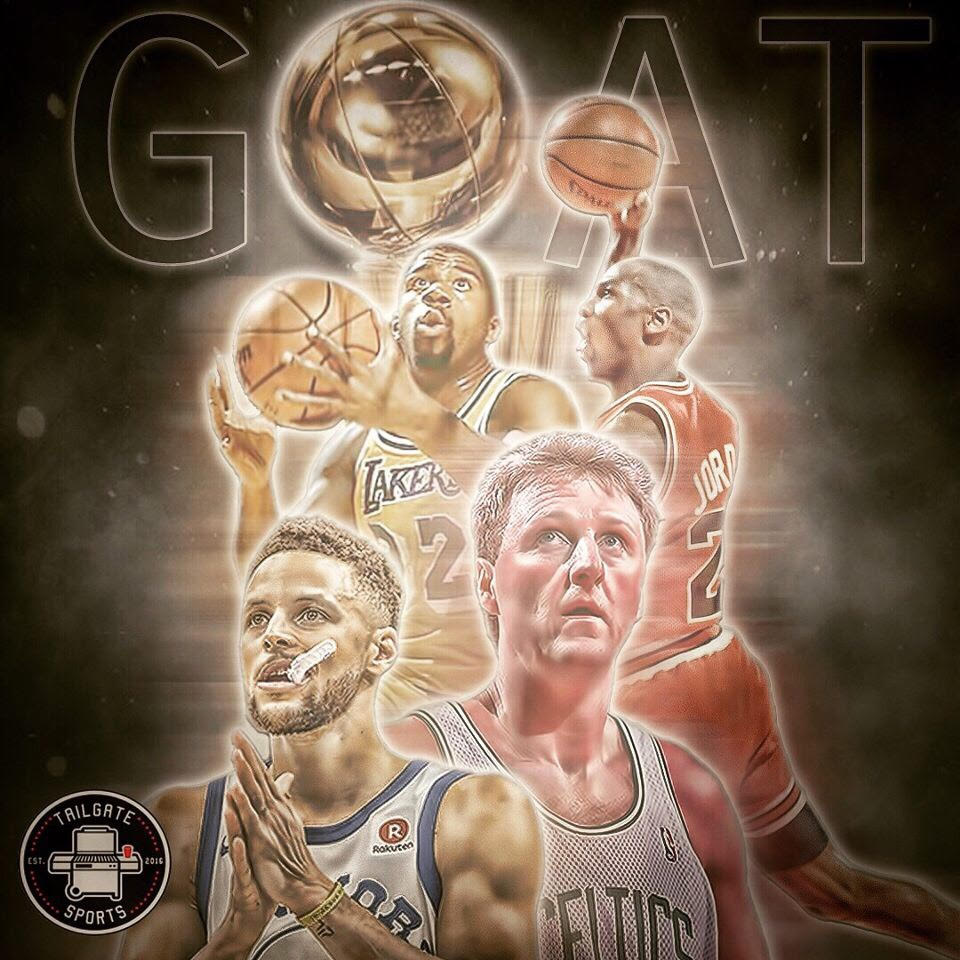 Where Do the Warriors Rank All Time?
July 3, 2018
By Will McGuinness, Senior Basketball Analyst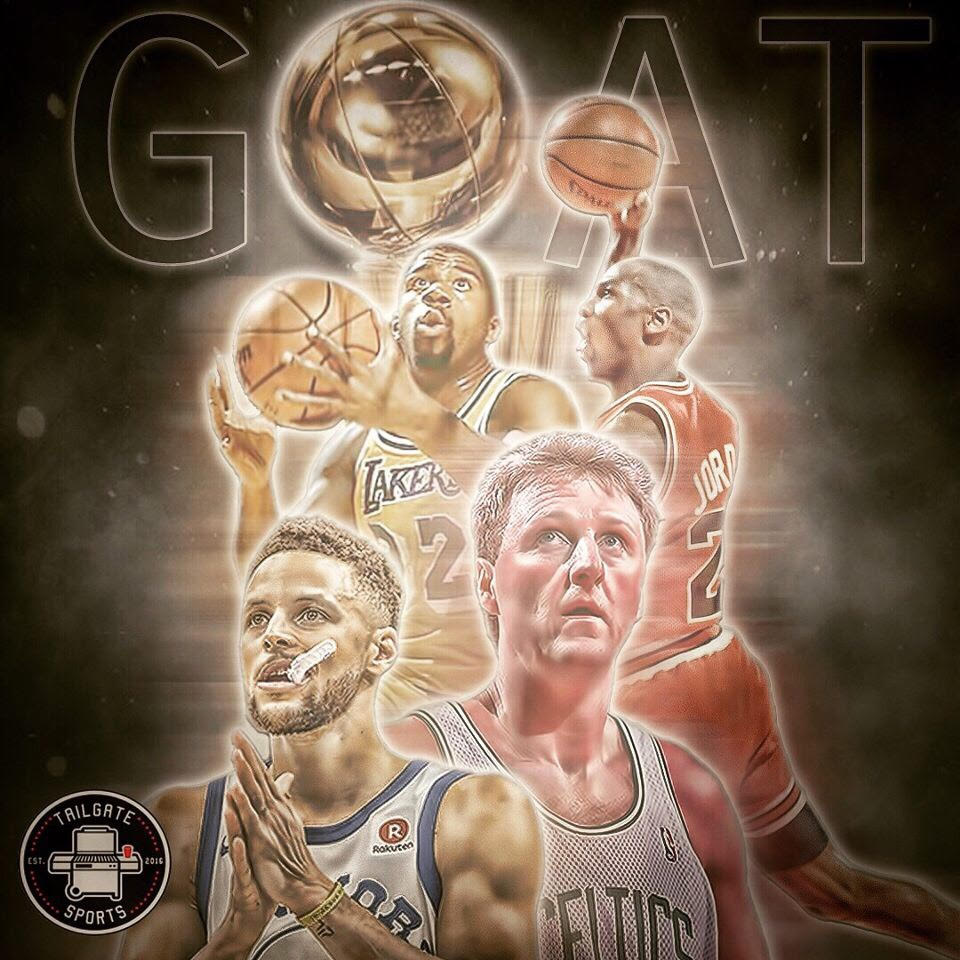 It's been a few weeks now since the Finals. The Warriors have now won 3 titles in 4 years, so where do they stand among other great all-time teams?  Obviously after this year they just added All-Star big man Demarcus Cousins. I will not comment on those ramifications because we have not seen that team play.  But that's another thing to consider: we may not have even seen the best from this dynasty.    Living in today's instant gratification, perceived "everything is better today" culture, it's easy to anoint the Warriors among the top of an all-time list, but do they really deserve that?
Up until the Rockets series, I stood ready to place this team as the best basketball team I'd ever seen.  I was bragging to my dad about how special and also aggravating it was to watch such a stacked team. What makes them so unique is their sheer offensive dominance, very lethal to the point that not many teams can keep up. Armed with two of the best shooters ever and one of the best pure scorers ever, they can shoot you right of a game.  Plus, they remain extremely versatile on the defensive end.
In fact, it did not seem like the Rockets really had a chance in the Western Conference Finals this year until Game 4.  Toward the end of that series, the Rockets exposed the weakness of the Warriors: a lack of toughness and grit. Not that this should come as a surprise to anyone as their best player in Kevin Durant was up 3-1 with Oklahoma City against the Warriors in 2016, blew the series, and moved to the team that beat him a month or so later.  What happens when a team brings intensity physicality to the floor? If PJ Tucker can make life difficult for this team, what would the 1988-1990 Bad Boy Pistons do? Steph Curry would probably be jollying around with his mouthguard like he loves to do and get socked by Rick Mahorn as he's driving down the lane. In Game 5 against the Rockets, PJ Tucker denied KD the whole 4th quarter and he did not look like he even wanted the ball.  He barely cleared half court jogging up the floor.
The blueprint is there.  If you can hang in there and stave off a big run from the Warriors, you can wear them down and win close games.  LeBron almost did it a few times in the Finals this year with an anemic team. There's also the factor that Anthony Davis feasted on this past year's team, so it would be interesting to see a front court of an all-time team like Larry Bird, Kevin McHale, Robert Parish, and Bill Walton, and wonder how the Warriors would match up with them.  For my list below: I considered factors like head-to-head, but also considered dominance in their era because let's face it, the eras of the NBA have been so different. A game between the 2016 Warriors and the 1987 Lakers could come down to who's reffing and what rules they would play under.
Will's All Time NBA Team List
Number 12: 2007-2008 Boston Celtics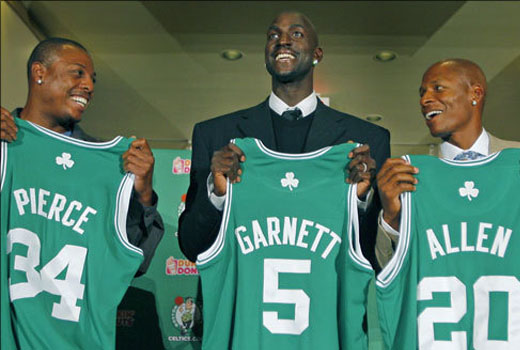 I might be a little partial here (Celtics fan), but this team either sneaks in or deserves an honorable mention.  They started the Superteam movement, featuring 3 Hall of Famers in Kevin Garnett (Defensive Player of the Year), Paul Pierce, and 3-point assassin Ray Allen.  They could go small or big, making them a good matchup for any team on this list. They had assist machine Rajon Rondo, a great Sixth man in James Posey, gritty center Kendrick Perkins, and three-point specialist Eddie House.  Against the Warriors they would play Posey and House more and would keep pace offensively, yet they also would have the defenders to make games very interesting. They rank 12th because they did not win their championship in a convincing manner, even taking the first round 8 seeded Hawks to 7 games.
Number 11: 1970-1971 Milwaukee Bucks
With young Kareem, Oscar Robertson, and also Jon McGlocklin, and then 4-time all-star Bob Dandridge (18.4 PPG, 8.0 RPG), this team featured an all-time lineup.  Known as Lew Alcindor at the time, Kareem averaged 31.7 and 16 rebounds a game. That's a tough matchup for any all-time team. The Bucks wrecked teams on the way to a championship and won 20 straight games to set a record at one point.
Number 10: 1988-1989 Detroit Pistons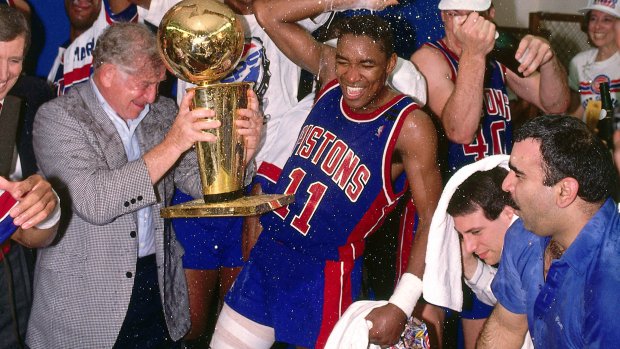 The anti-Warriors, the Pistons had less talent but played ferocious, in-your-face defense.  If they played by the 1980's NBA rules, I would probably pick the Pistons over many teams on this list.  Coach Chuck Daly could dial something up to be extremely physical and restrictive to any offense's top scoring options on this list.  With two All-NBA First team defensive players, the Pistons swept the Finals. Offensively they were led by all-time great point guard Isiah Thomas.
Number 9: 1999-2000 Los Angeles Lakers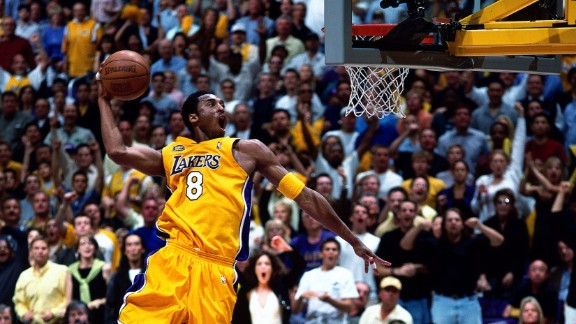 Shaq and Kobe, possibly two top 10 players ever.  At this point Kobe was a budding superstar, not yet at his prime, but pretty dangerous as a scorer and also a dominant defender.  Shaq won MVP and the team went 67-15. Along with Hall of Fame legend coach Phil Jackson, they faced challenges from the Pacers in the Finals and the Trail Blazers in the Conference Finals with young Rasheed Wallace and veteran Scottie Pippen, but bested them in seven games.  The star power and coaching here, coupled with Kobe's killer mentality, and Shaq's sheer talent would make a series against this team extremely difficult for any NBA Team ever.
Number 8: 1982-1983 Philadelphia 76ers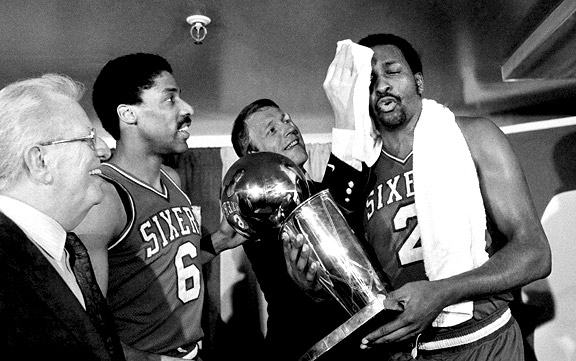 "Fo Fo Fo." That's what most basketball fans remember about this team's dominant playoff run.  MVP center Moses Malone promised 3 series sweeps in the playoffs, and they nearly accomplished the task, going 16-1 in the playoffs. Along with Julius "Dr. J" Erving, you could make a case they had two top 20 players ever. They also had All-Stars Maurice Cheeks, Andrew Toney, and Bobby Jones.
Number 7: 1964-1965 Boston Celtics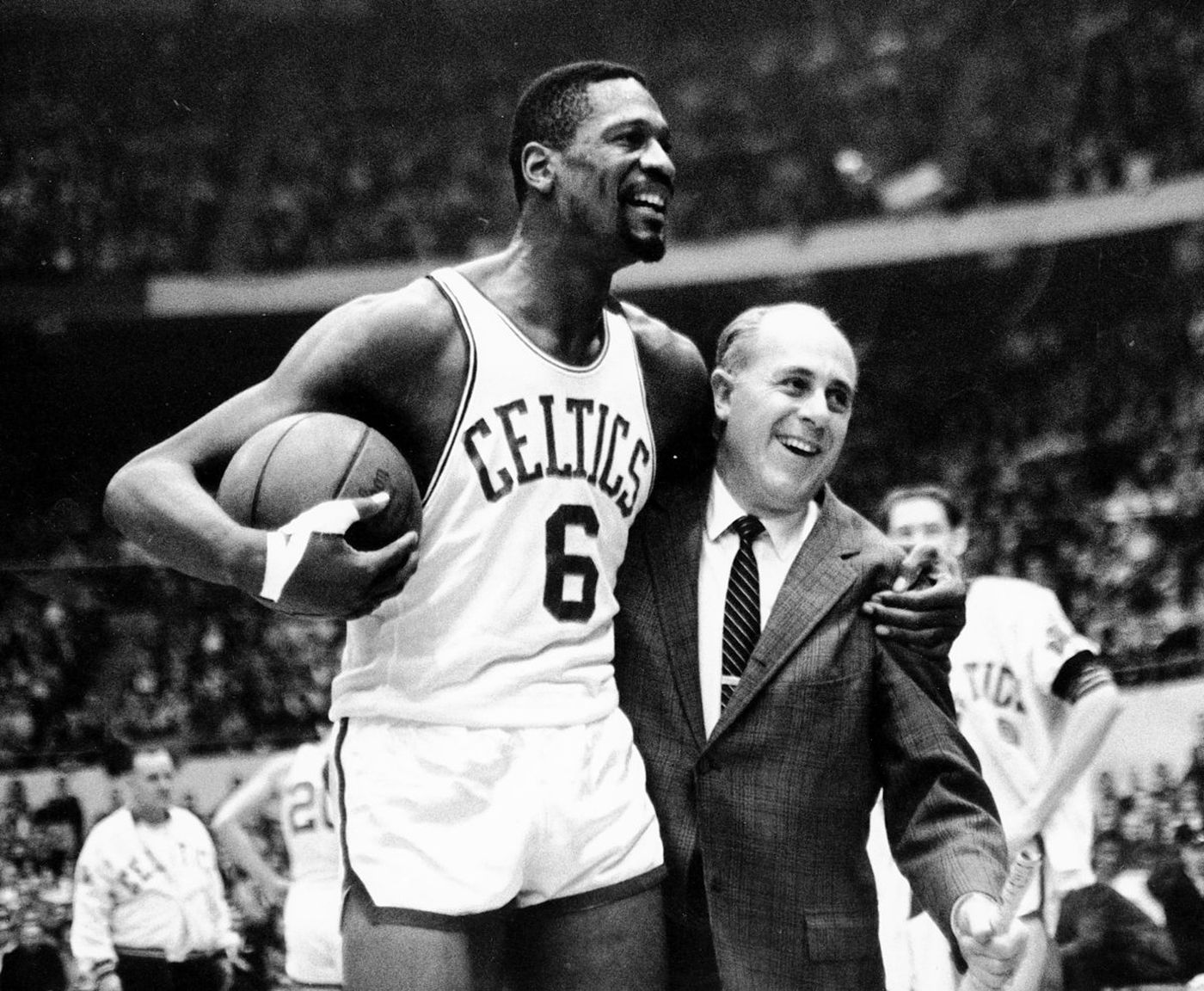 Here I am picking one team from the most dominant dynasty in all of sports.  Regardless of how you say they would play in today's modern NBA, you can't deny how simply dominant they were.  Bill Russell won the Finals in 11/13 seasons and one year he broke his foot. They were simply winners. Consistently in this period he and the Celtics beat one of the 5 or 6 best players ever in Wilt Chamberlain. They also had either the best or second-best coach ever in Red Auerbach.  Over the course of the year they went 62-18, led by Russell (24 RPG), Sam Jones (25.9 PPG), and John Havlicek (18.3 PPG). One thing working against these guys is if a game was played with modern rules they would be at a significant disadvantage.  Obviously players from that era did not practice shots from three point range as much because they were not awarded 3 points.  It may be hard for them to keep pace with teams that had good 3 point shooters.
Number 6: 2012-2013 Miami Heat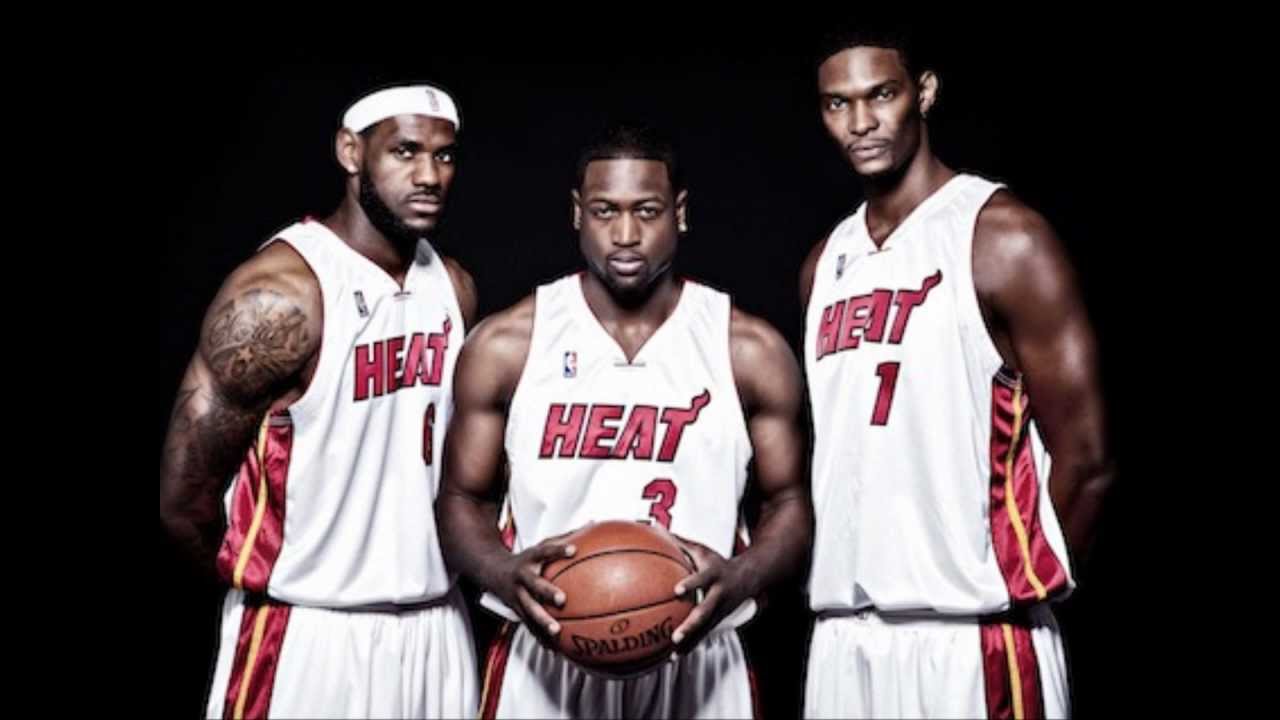 To me, this is the best LeBron James team ever.  With Dwayne Wade, Chris Bosh, and Ray Allen, he had 3 other Hall of Famers with him.  Ray Allen hit "the shot" with regulation ticking down to tie an elimination Game 6 of the NBA Finals. Although the Heat won in 7, they beat a superbly talented team, with many of the same components of my #5 team on it.  The Spurs were well coached, had star power, and were loaded with talent. With the star power and LeBron James on this team, it'd be interesting to see this team play the modern day Warriors, especially since LeBron has been somewhat competitive with the Warriors with far lesser teams.
Number 5: 2013-2014 San Antonio Spurs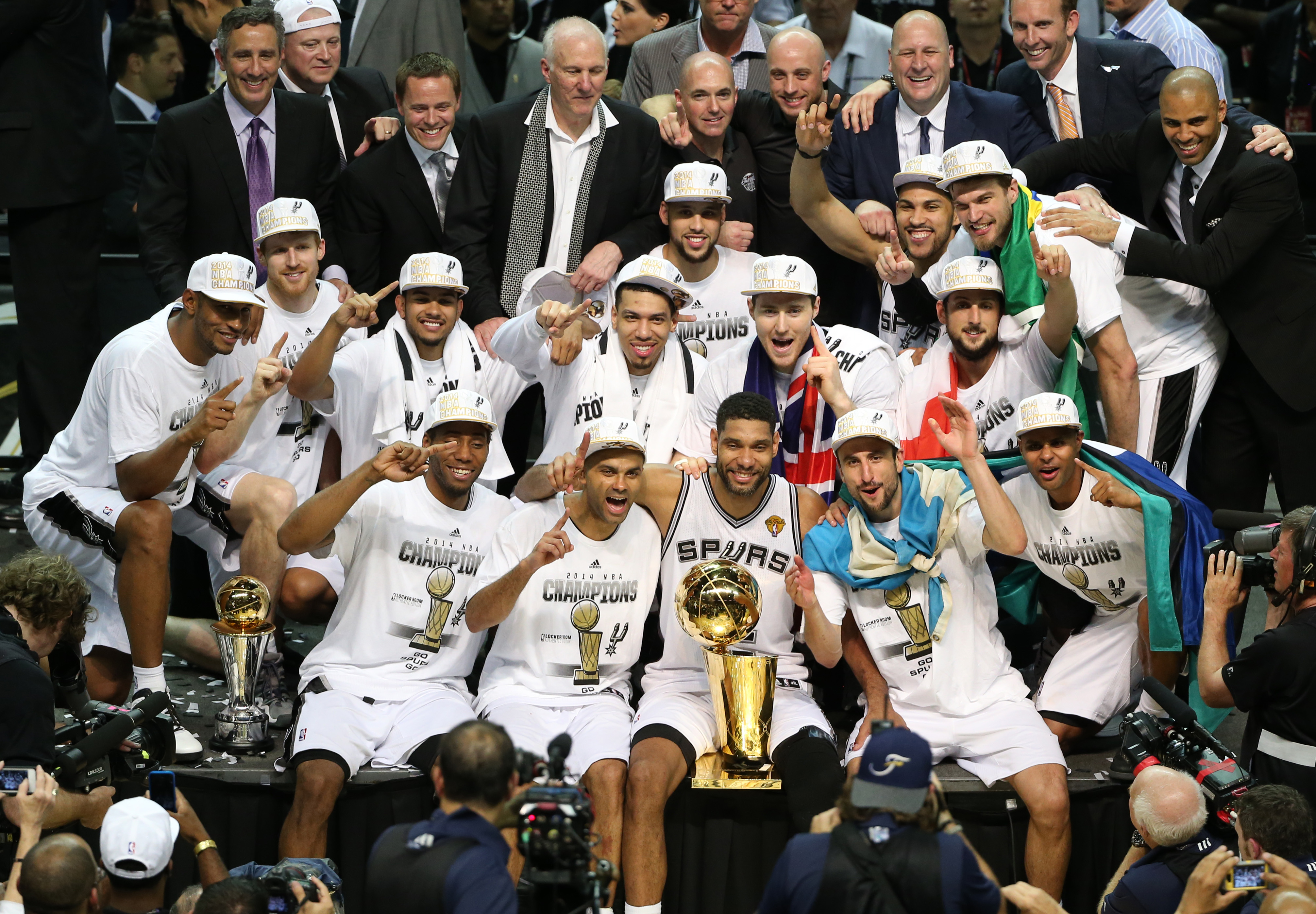 This Spurs team won the NBA Finals versus virtually the same team as the year before by a record margin, avenging their loss to the LeBron led Heat.  Kawhi Leonard emerged as a star, winning Finals MVP. Besides Leonard, they boasted an extremely deep roster. The big three veterans of Duncan, Parker and Ginobili were surrounded by Danny Green, Marco Belinelli, Boris Diaw, Patty Mills and Tiago Splitter. In the Finals Parker, Duncan and Leonard averaged over 15 PPG and Manu Ginobili chipped in 14.4 as well. This Spurs team was one of the deepest I've ever seen, and they were also extremely well coached.
Number 4: 1986-1987 Los Angeles Lakers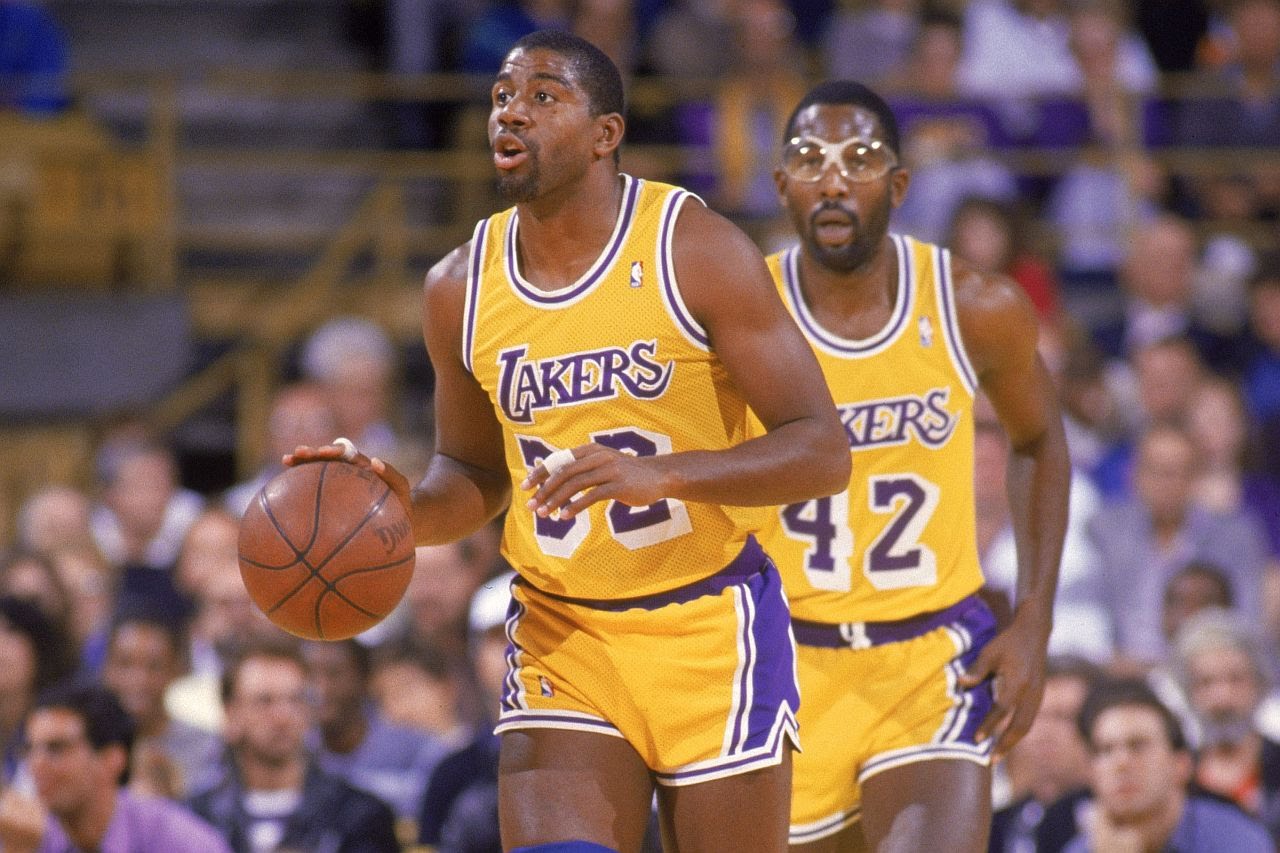 These final four I believe are clear cut the top 4 teams ever. All 4 share the commonality that they won multiple championships, and I picked the best team out of their dynasties. Magic's Lakers teams were great, and it's hard to put them 4th. In 1986-1987, Magic averaged a disgusting 23.9 PPG, 12.2 APG, and 6.3 RPG for his best season ever. They also had an all-time forward in James Worthy, a still solid all-time center in Kareem Abdul-Jabbar, and a sneaky good off guard in Byron Scott, who averaged 17.0 PPG that year. I'd give the Lakers a shot against anyone in the top 4, but they might struggle to keep up scoring wise with a team like the Warriors.
Number 3: 1985-1986 Boston Celtics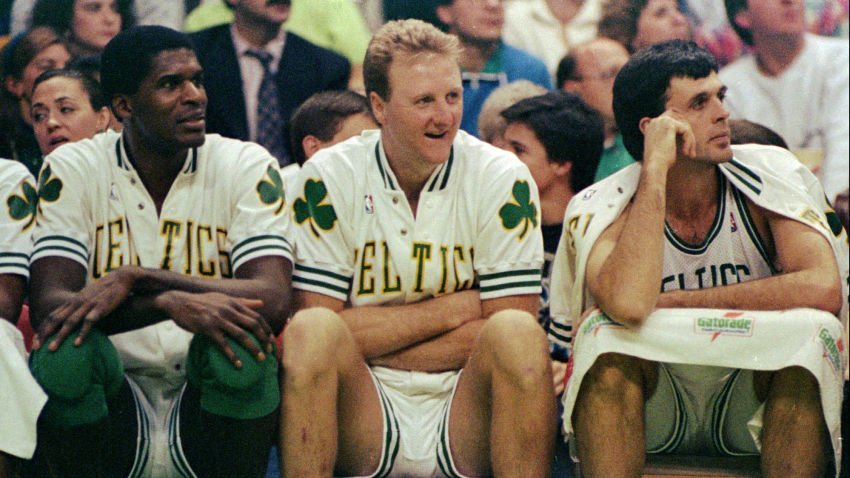 Even though the Celtics had less titles than Magic's Lakers, this was Larry Bird's prime. And in Larry Bird's prime, I place him as a top 5 player you would pick to build a team in NBA history. The problem is his prime did not last too long. By 1985-1986, Larry Legend had won 3 consecutive MVP's. He started having back problems shortly after.  During the Playoffs, the Celts went 15-3, including a sweep of the young Jordan led Bulls. In addition to Bird, the Celtics had impeccable post play, led by Kevin McHale, who many say has the best assortment of post moves ever. In the frontcourt the Celtics had two more Hall of Famers in Robert Parrish and Bill Walton. Defensively they were led by point guard Dennis Johnson and First Team All-NBA defender McHale. It'd be interesting to see them matchup with the Warriors and the 90's Bulls. Both teams would struggle to match the weapons the Celtics have in the frontcourt. I would not be shocked to see the Celtics best either of these teams. They would play physical defense and pound the ball inside. McHale is actually a great matchup for Durant given his height and defensive ability.   The addition of Demarcus Cousins could potentially aid the Warriors immensely in this matchup.
Number 2: 2016-2017 Golden State Warriors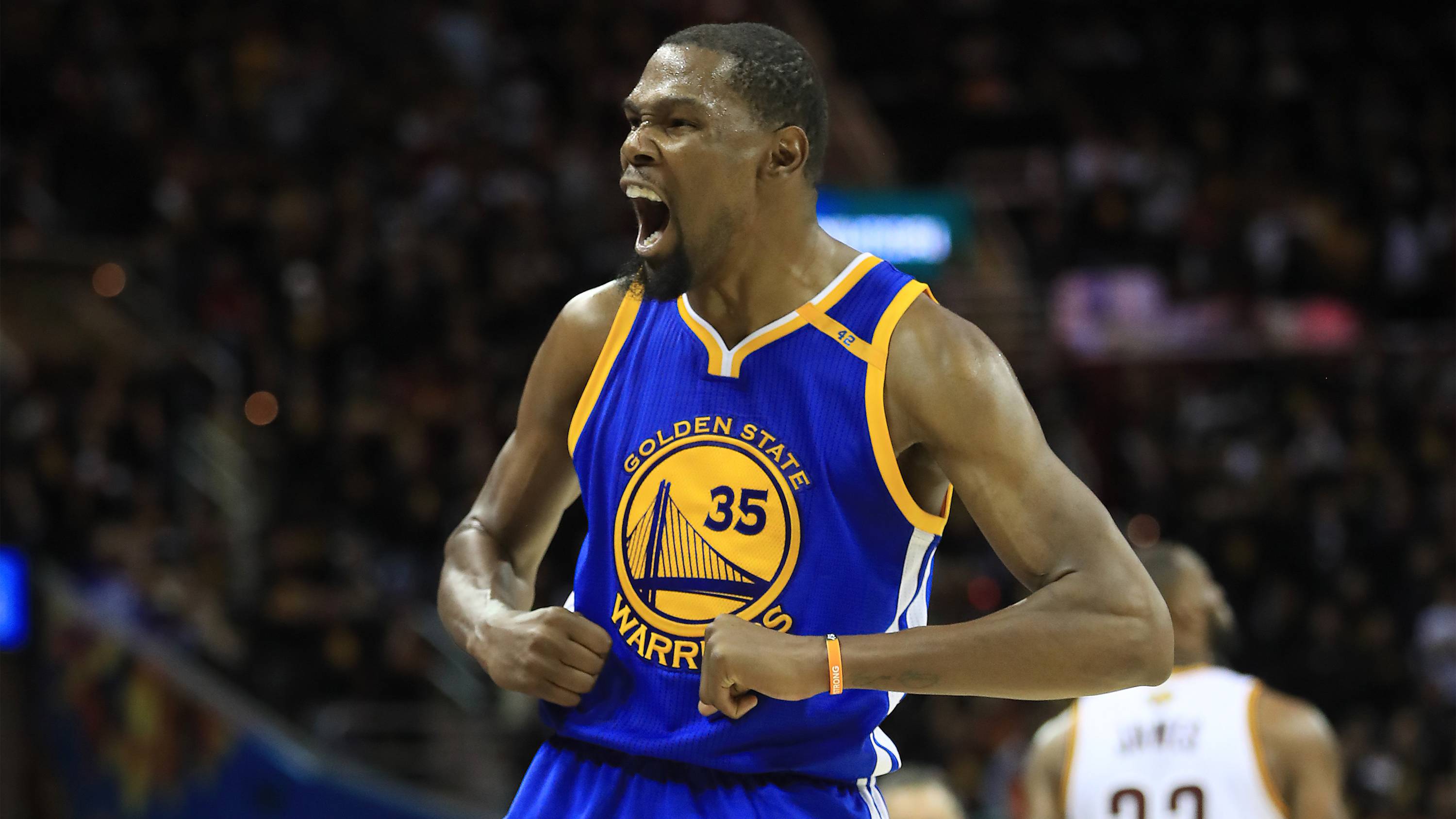 Really I would place this team anywhere in the top 3, but their offensive prowess might be too much for either of the top 3 teams. Then again, size might pose a problem from the Celtics, and the strength of Jordan plus his strong team in certain years could also pose problems. I chose the 2016-2017 Warriors team over this year's because they had seemingly no difficulty rolling through the Playoffs, setting a record at 16-1. Beating a Cavaliers team with Kyrie Irving and Kevin Love along with LeBron stands way more impressive than this year's Cav's squad too.
Number 1: 1995-1996 Chicago Bulls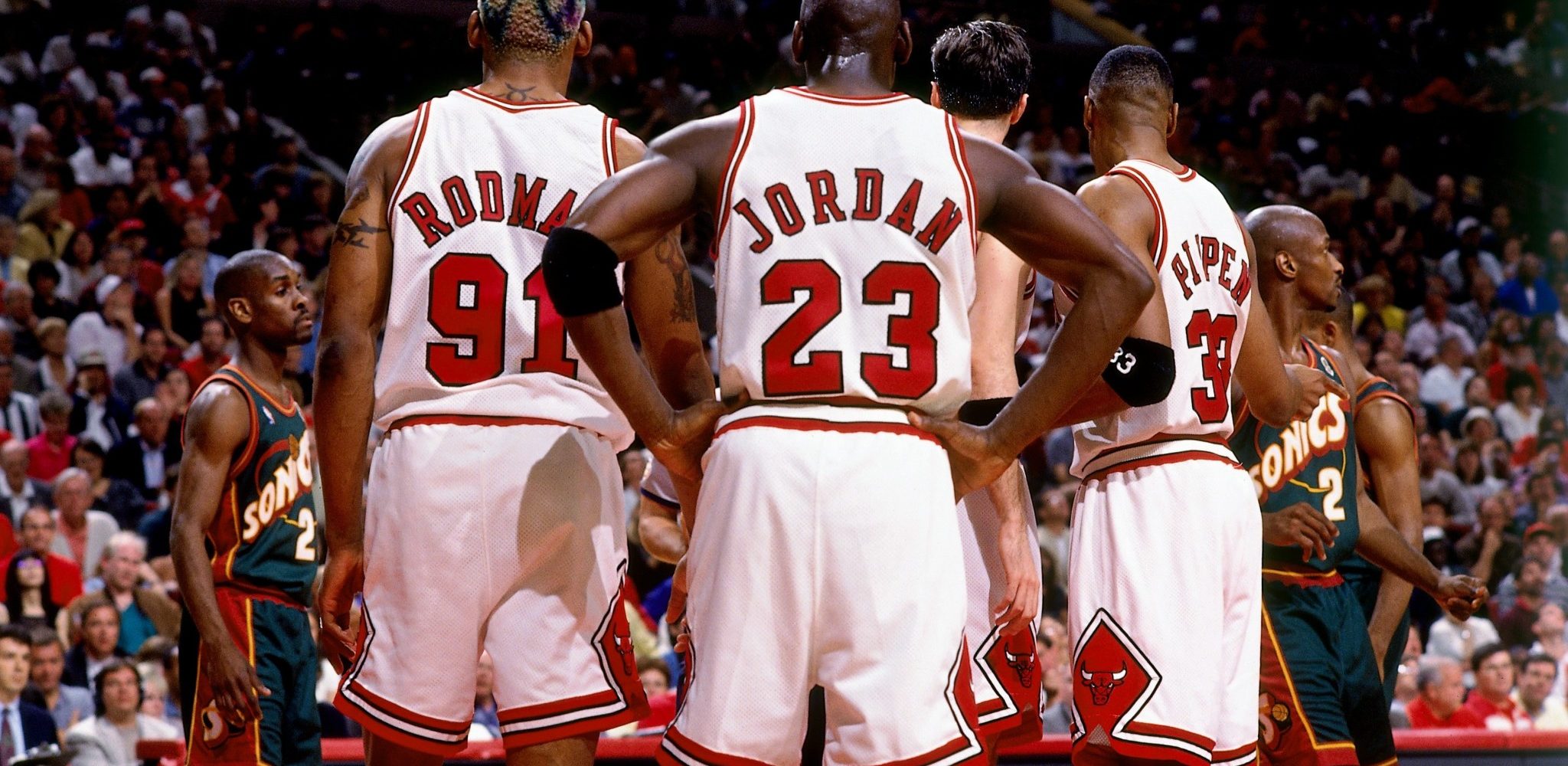 MJ and the Bulls went 72-10 in the regular season and cruised through the Playoffs to beat Gary Payton and the SuperSonics in the Finals. The Bulls were incredibly dominant too, scoring well over 100 points a game all season. The next year they even won 69 games again. Sheer dominance. In addition to Jordan, they had all-time great Scottie Pippen, possibly the best rebounder ever in Dennis Rodman, a solid role player in Toni Kukoc and a sharpshooter in Steve Kerr.  Kerr and the Bulls were stout defensively and had no problem scoring against their opponents, but the team Kerr coaches now might be another animal to keep pace with. I'll give the edge to the Bulls, but if the Warriors maintain dominance for years to come, they might be the better dynasty.