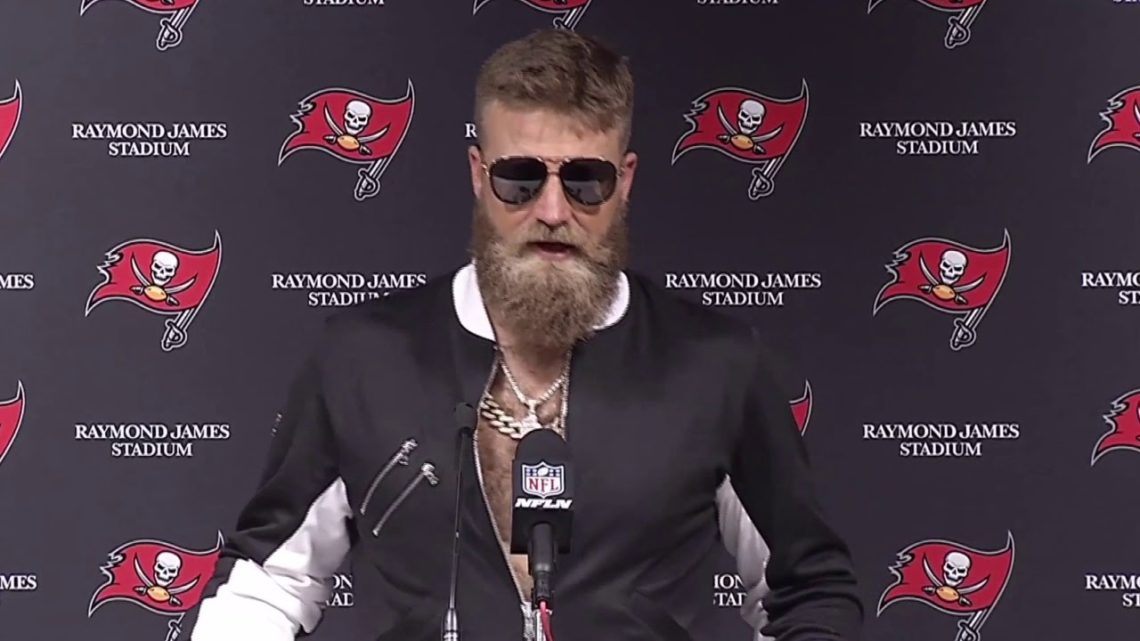 Week 3 NFL Power Rankings
September 21, 2018
BY: Justin Paura, Football Analyst
1.SAME SPOT. Los Angeles Rams (2-0)-

The Rams solidified the fact that they are football's most dominant team. Arizona looked completely lost both trying to stop LA's offense and attempting to score against this stacked defense. In terms of completeness, coaching and stability, there is no team better in the world right now.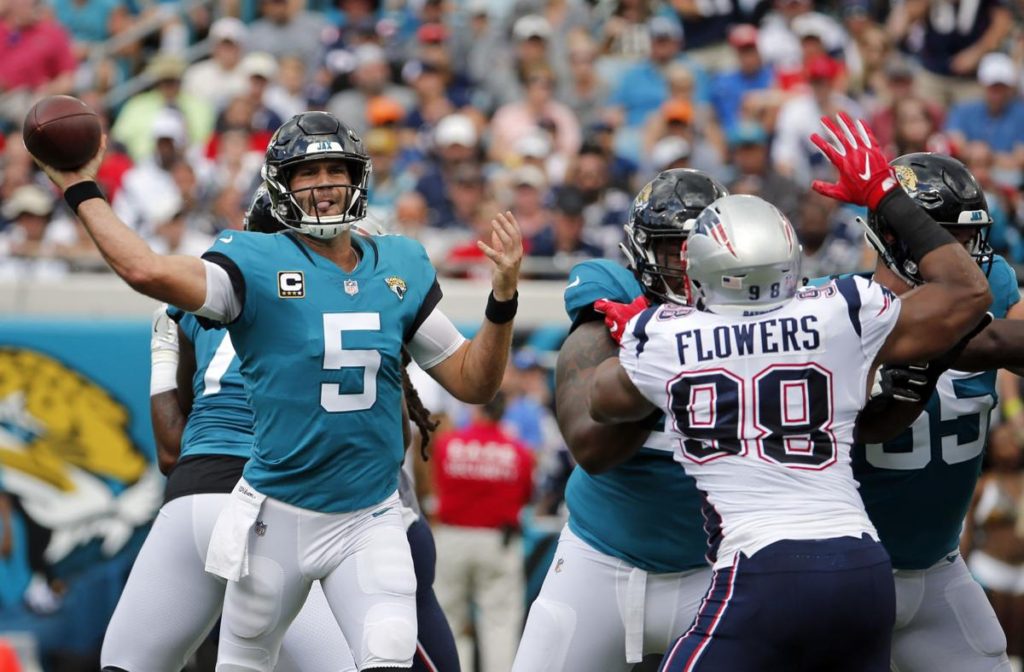 2.UP 4. Jacksonville Jaguars (2-0)-

Jacksonville avenged a painful 2018 AFC Championship loss with a commanding win against New England, a top three team in the AFC. Blake Bortles continues to improve on his decision making and the defense looks as stout as ever. Thirty-one points against Bill Belichick's defense, without Leonard Fournette? Watch out for the Jags.
3.SAME SPOT. Minnesota Vikings (1-0-1)-

It was a battle at Lambeau on Sunday, but the Vikings had this game won. If they had Dan Bailey, the second most consistent kicker in NFL history who they signed Monday, Minnesota would have won the game in regulation, or at least in overtime. Instead, they must live with the tie against their toughest divisional rival on the road. Not a bad result to settle for.
4.SAME SPOT. Green Bay Packers (1-0-1)-

Speaking of Minnesota's toughest divisional opponent, the Packers sit at four. Aaron Rodgers' injury didn't seem to impact him much Sunday which is a great sign for the rest of the season. Multiple different receivers got involved, including new addition Jimmy Graham, who after only hauling in two catches for eight yards in the season opener, led the team with 95 yards.
5.DOWN 3. Philadelphia Eagles (1-1)-

It's understood why someone would be concerned with Philadelphia after a rough loss to Tampa Bay, but from here on out, they will have their best player back. Carson Wentz is set to make his 2018 debut Sunday against the Colts to ignite an offense that is playing severely below its potential. The defense is still one of the best in the league, it just fell last week to one of the most surprising, hottest offenses in football.
6.UP 1. Kansas City Chiefs (2-0)-

Who needs defense when you can put up points like Kansas City? Everyone is so hyped up about Patrick Mahomes, the only QB ever to throw 10 touchdowns in the first two weeks of the season, that they don't realize the Chiefs' D is the only unit to allow over 1,000 yards through the first two weeks. But honestly, it hasn't mattered in the slightest. Mahomes is slicing defenses and has led his squad to two road wins against quality teams.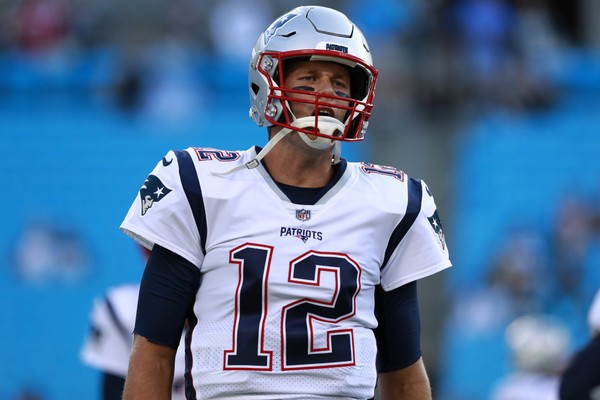 7.DOWN 2. New England Patriots (1-1)-

To be frank, Tom Brady's age showed in Sunday's loss to Jacksonville. He is still one of the best in the NFL, but the pressure the Jags' defense asserted forced Brady into a lot of bad throws that the world is not used to seeing him make. However, he gets a new weapon in Josh Gordon AND Julian Edelman returns from his suspension week 5. This should take way from the heavy load on his shoulders.
8.UP 2. Atlanta Falcons (1-1)-

Something that really hurt Atlanta week 1 was lack of success in the red zone. After going 1-5 from 20 yards out in the season opener against Philadelphia, the Falcons were a perfect 4-4 scoring touchdowns against the Panthers. If the offense clicks as well as it did Sunday, which is what got them to the Super Bowl just two seasons ago, this team will be a top-10 team all year.
9.UP 3. New Orleans Saints (1-1)-

It has been a brutal first two weeks for the Saints. They got stunned week 1 when the Bucs posted 47 points on them in the Superdome, then the Browns come to town and hold them to just 21 points. Luckily for New Orleans, Cleveland's kicker missed four different kicks and they escape 1-1. The ceiling for this team is higher than most teams in the league and behind Drew Brees and Sean Payton, they will compete week-in and week-out.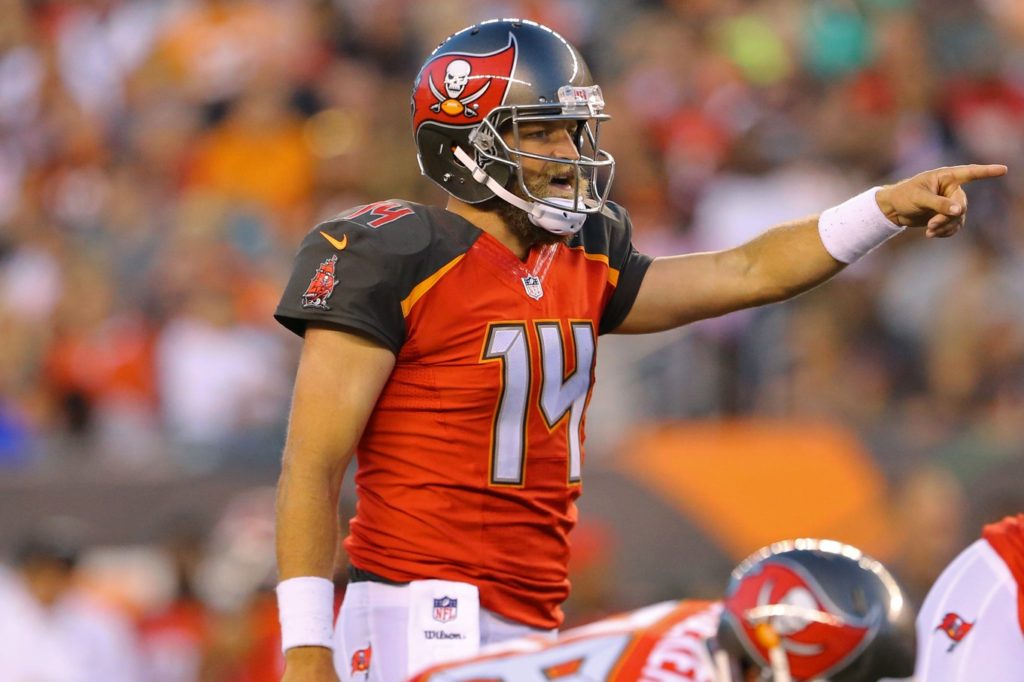 10.UP 18. Tampa Bay Buccaneers (2-0)-

The Bucs were kept out of the top 25 last week because nobody could have possibly seen that performance coming. This time around, they are getting the respect they deserve. Ryan Fitzpatrick is statistically the best signal caller in football thanks to back-to-back 400-yard games. Their two wins include a 47-40 game in the Superdome and a home victory against the defending Super Bowl champs. If Fitz-magic fizzles out, the team will tank with him, but you can't predict that based on how great he has been.
11.UP 4. Denver Broncos (2-0)-

Case Keenum has nearly as many interceptions in the first two weeks of this season (4) than he did all last season (7). However, the Broncos have rallied behind their running game, defense and home crowd at Mile High to start the season 2-0. A reality check may be waiting for them in Baltimore this week, but for the time being, Denver is riding the ground-and-pound technique to wins.
12.DOWN 3. Pittsburgh Steelers (0-1-1)-

Things in Pittsburgh are starting to reach a boiling point. Antonio Brown tweeted "Trade me and let's find out" in response to an ex-Steelers employee who said he was drafted into a great situation and then failed to show up to the team's facility Monday. Reports have come about that Mike Tomlin has lost control of his players, not to mention Le'Veon Bell is still nowhere to be found. It's the first time since 2013 Pittsburgh is winless before week 3, they still ooze talent, but there is plenty of reason to believe in a massive collapse.
13.UP 3. Los Angeles Chargers (1-1)-

Los Angeles got outplayed by an exciting Chiefs offense in week 1, but that shouldn't fool you; the Chargers are a very good team. They started 0-4 last season before barely missing out on a playoff spot and both sides of the ball are much improved. They needed a win like Sunday's at Buffalo to help them find their footing, setting up a fun LA-clash with the Rams this week.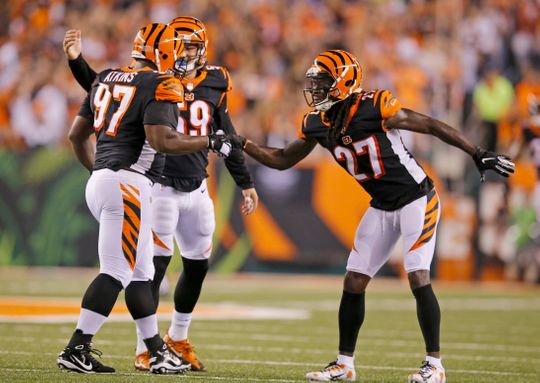 14.UP 10. Cincinnati Bengals (2-0)-

Just like the Bucs, the Bengals week 1 win was tossed to the side. They played a Colts team with a terrible defense in a game they probably would have lost if Jack Doyle doesn't fumble in the red zone. However, this week they hosted the Ravens, who have a reputable defense, and were in control for the entire bout. Is this the year Andy Dalton steps up and gets this team over its playoff-win drought?
15.DOWN 7. Baltimore Ravens (1-1)-

Everyone was high on the Ravens after they pummeled Buffalo in their season opener. It wasn't just because they won by so much, but rather that the team looked polished and complete. But on Thursday, Baltimore could not contain A.J. Green in the first half, someone who has historically had their number. Joe Flacco came back down to earth and now faces the dangerous Von Miller with an opportunity to get this team back on track.
16.DOWN 5. Carolina Panthers (1-1)-

Carolina's defense did not show up to Atlanta ready to play. The Falcons worked their way up the field with ease in each of their four touchdown drives and the Panthers flat out didn't have an answer. The offense wasn't much better, only making the game close in the fourth quarter. Adjustments need to be made on both sides of the ball if they want to make another playoff push.
17.UP 2. Chicago Bears (1-1)-

The Bears' defense has the potential to be the best group in the league. Khalil Mack is almost certainly the best pass rusher while Leonard Floyd and Akiem Hicks contribute in making opposing quarterbacks' lives miserable. Mitchell Trubisky doesn't have the ability or experience to do enough for Chicago to win them in games when they need him, but because of how stacked the defense is, the Bears will be competitive in every game this season.
18.SAME SPOT. Dallas Cowboys (1-1)-

After a lack luster showing in Carolina, the Cowboys came home and beat the Giants in very convincing fashion. There is a problem with Dallas' play calling in the respect that Ezekiel Elliott is still not getting enough touches and whenever they do feed him the ball, he looks unstoppable. Dak Prescott needs Zeke to keep the defense on its feet so he has more time to find the open receiver.
19.UP 8. Miami Dolphins (2-0)-

The Dolphins beat the Titans in a bizarre seven-hour game week 1 and the Jets in Sam Darnold's second career start in week 2. Not the most impressive two wins, but nonetheless they are 2-0. Rookie Minkah Fitzpatrick is already making a huge impact on Miami's defense while Ryan Tannehill is playing well enough to prevent them from losing. They get the Raiders at home this week, but future matchups against the Patriots, Bengals and Bears will test how good this team really is.
20.DOWN 3. Tennessee Titans (1-1)-

Bouncing back from a wild week 1, Tennessee earned a nice win over the Texans. Marcus Mariota was suited up, but did not spend time on the field as he's dealing with an injury. The Titans need him back if they want to make some noise in their division, especially for Sunday's matchup with Jacksonville.
21.DOWN 7. Washington Redskins (1-1)-

Washington came back down to earth after downing the Cardinals week 1. They could not handle Andrew Luck like he was Sam Bradford, nor could they put up double digits against a poor Colts defense at home. So the question stands, are the Redskins good or did they have a really good opener? The rankings are assuming the latter.
22.DOWN 1. San Francisco 49ers (1-1)-

Welcome to the top of the rushing charts, Matt Breida. The second-year tailback exploded for a 66-yard touchdown run and played a big part in San Francisco's win over Detroit. The run game is going to be crucial for this offense as it is not fair to expect the world from Jimmy Garoppolo, who is only the solidified starter for the first time in his career.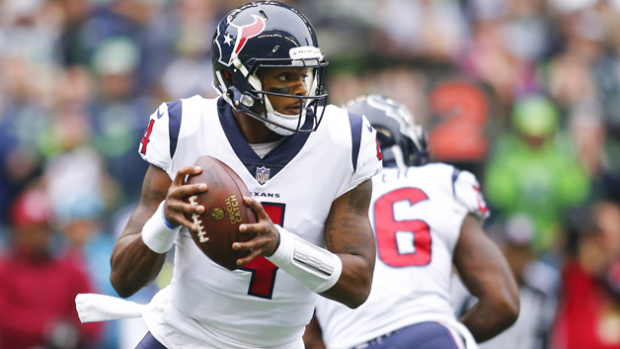 23.DOWN 10. Houston Texans (0-2)-

Houston has a bad offensive line. If there is no protection, then the offense cannot perform to its full ability, or even close for that matter. We can drool over how talented Deshaun Watson and DeAndre Hopkins are, but the fact of the matter is they won't put up points if they don't have time to get the ball down the field.
24.UP 1. Indianapolis Colts (1-1)-

The defense played much better on the road against Washington than it did at home against Cincinnati week 1. Andrew Luck continues to look like he did three years ago, which is a great sign for the Indianapolis organization. But for now, he is the only player on this team with game-changing ability.
25.UP 1. Cleveland Browns (1-1-1)-

Hot take: The Browns really do not suck this year. Yes, they have a loss and a tie that really should be two wins if they had a kicker. But the fact that they went to the brink with a couple of top tier teams in their first two games of what is a massive rebuilding year. The defense led by youngsters Myles Garrett and Denzel Ward gave Big Ben and Drew Brees problems. That should speak volumes as to what this team is capable of.
26.DOWN 3. New York Jets (1-2)-

Jets fans were on Cloud Nine after Sam Darnold's NFL debut last Monday night. The rookie was still impressive, throwing for over 300 yards and a score in New York's home opener Sunday. There is reason to be optimistic for this team's future and this season is a good benchmark for what this team can be in a couple years.
27.DOWN 7. Oakland Raiders (0-2)-

Game two of the Jon Gruden comeback tour was more of a letdown than the first. The Raiders had the Broncos on the ropes heading into halftime with a 12-0 lead. But once again, the defense practically rolled over in the second half and the offense failed to show up.
28.DOWN 6. New York Giants (0-2)-

Hopes were high for Big Blue coming into this season. Young franchise running back, star wide receiver coming back, new head coach and GM. But in the end, there's still Eli Manning and the offensive line is still awful. Those two factors continue to hold this club back.
29.UP 1. Seattle Seahawks (0-2)-

Russell Wilson did what he could to try and make Monday night's game with Chicago interesting in the fourth quarter. Outside of him, there isn't anything to look at and be proud of in Seattle. The line is bad, the playmakers (except the injured Doug Baldwin) are mediocre and the defense is losing games to Case Keenum and Mitchell Trubisky.
30.DOWN 1. Detroit Lions (0-2)-

Not as rough as the home opener against the Jets, but another bad week for Detroit. They showed too little, too late against an average 49ers team that they have much more talent then. But hey, no picks from Stafford after five in week one. So that's something to smile about, right?
31.SAME SPOT. Arizona Cardinals (0-2)-

Arizona and Buffalo are so far behind every other team in the league that it is kind of sad. Sam Bradford had a QBR of 29.1 this week while David Johnson and Larry Fitzgerald, the team's only all-star playmakers, combined for 18 touches and 79 yards. Give it one more week before Josh Rosen gets his chance.
32.SAME SPOT. Buffalo Bills (0-2)-

They didn't lose by 44, Josh Allen didn't look like dog feces and they were four points away from beating the spread. Other than that, nothing else is good.