The Impact of the Major NBA Acquisitions of the 2016 Offseason
December 30, 2016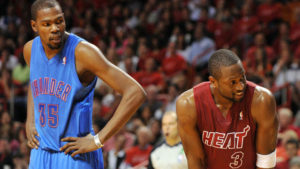 The 2016 NBA offseason left us all in massive suspense of what would be to come the following season. Kevin Durant highlighted a class loaded with All-Stars, and his decision to take his talents to Cali left the NBA world in utter disbelief. He wasn't the only tectonic plate to shift over the summer, though. Dwyane Wade left the Miami Heat after 13 seasons and 3 championships, Al Horford left the Hawks after 9 seasons and 4 All-Star appearances, and the Thunder and Magic orchestrated a blockbuster deal sending young stars in both directions. I think I speak for all coherent NBA fans when I say I've been chomping at the bit to see how these moves would work out for all teams, not just my home town favorite Boston Celtics. As we stand just over a third of the way through the regular season, I've found it acceptable to issue report cards for a few of those new stars on new teams, and just for the hell of it I threw in some low level guys making an impact on teams that are, well, not so good (think Nets and 76ers).
I'll start with the aftermath of the Magic/Thunder trade that sent Serge Ibaka to the Magic in exchange for Victor Oladipo, along with a few other less important pieces. It's important to remember that the Magic weren't a playoff team to begin with, while the Thunder were a game away from the NBA Finals (with KD, I might add). I've got some thoughts on the players and the deal. Oladipo hasn't quite lived up the hype of a number 2 overall pick, but he's definitely coming along nicely as a 2 way guard. He's become an excellent Robin to the former Robin himself, Russell Westbrook. With a statline of 16 points, 4 rebounds, and 3 assists to start the season, it appears his production hasn't changed much despite playing in an entirely different setting. What's important to note, however, is that Oladipo is on pace to set career highs in field goal and 3 point percentage, and a career low in turnovers per game. That's why the Thunder get a B+ for the move. In other words, things are looking great for the surging 6 seed Thunder.
Speaking of Serge, Ibaka has seen the reverse effect in terms of usage. He's on pace to set career highs in points per game and shots attempted- from both the field and 3 point range. He's actually been very efficient from 3 as well, as he's shooting well over 40% while taking more than 3 shots per game. That's outstanding for a big man, and if the Magic didn't have three other startable big men on their squad, I'd say this was a fantastic move. But with Bismack Biyombo, Aaron Gordon, and Nikola Vucevic all deserving of 20+ minutes per game, swapping out a talented young guard for Ibaka was just flat out dumb. Until they move one or two of their big men for a star guard (aka reverse the move they just made) the Magic get a C+ for this trade for pure stupidity.
Next up is the move literally no one saw coming, even though literally everyone sees it coming every time he enters free agency. Yeah, I'm talking about Dwyane Wade finally leaving the Miami Heat. I say finally because every time he hits free agency he makes these huge claims like he's gonna walk out on the team he's spent his whole career with (and taken countless home town discounts for). This time he finally did it. Even though the y is in the wrong spot in his name, Dwyane has had an awesome career, and for an aging superstar, I think we're getting a little more than we expected. He's pretty much picking up where he left off the last couple years, hovering right around 20 points per game, with roughly 4 rebounds and assists each per game, and Wade has somehow managed to develop range on his shot, as his 32% 3 point rate will be the highest in any of his 14 seasons if he continues at this pace. Whatever's in the water in Chicago is working for Wade's range, but definitely not for the Bulls success as a team. To this point in the season, this team is not working out nearly to the extent that was expected, as they sit at 16-16 and a half game from missing the playoffs- and that's in the garbage pit that is the Eastern Conference. I guess that's what you get for bringing on two more guys that don't shoot threes next to Jimmy Butler. So much for that super team, huh. I give you a B- for the Wade move since he hasn't really done anything wrong, and he's the second leading scorer on the team. Who knows, maybe it's just shitty coaching.
Ok, so Durant bitched out and joined a super team instead of manning up with his boy Russ. So, here we are with the greatest super team (on paper) we've ever seen. The Warriors offense has put up historic numbers to this point as far as points scored per game, and have only lost 4 games so far this season, including their narrow loss to the Cavs on Christmas Day (Kyrie's a baaaaad man). KD's 26 points per game so far is only just over a point below his career average of 27.3, but his efficiency is absolutely off the charts at this point. His 54% field goal percentage is a full 3% higher than any other number he's produced in his Hall of Fame career, and that certainly speaks to the efficiency of their offense to this point. I have to admit this team is fun to watch, and yet at the same time I hope Golden State's entire roster and front office suffers for eternity in the depths of hell. A+ job so far, though, Kevin.
Finally, there's the acquisition of Al Horford by the Celtics. I think (and hope) this is the first of many marquee free agents to find Boston to be a major market to sign with. His fit with the Celtics is predictably perfect, although he has underwhelmed at times this season. This actually isn't totally his fault, though. The way the Celtics offense is run isn't exactly optimal for individual scoring… besides the 5'9" guy running point guard. Big Al's only averaging 16 points per game this year, and his rebounding is right about what it was with the Hawks last year at 7 boards per game. What's been very impressive is his uptick in assists, as he's on pace to set a career high in APG with 5 dimes per contest so far this season. Add onto the fact that Horford's been a much better shot blocker this season than he's been in the past (7th in the league in blocks), this move looks like a huge success for the C's. I'll give the Celtics an A for the signing and how well they've fit him into their offense, although I would've been shocked if he wasn't an upgrade over the less than dominant front court from last year in Tyler Zeller and Kelly Olynyk.
Don't worry, I've got some jokes here, too. To be honest, I absolutely loved the Jeremy Lin signing by the Nets. He's definitely the guy you want leading your team to a top lottery pick, as he's racking up a mediocre 14 points per game, and shooting a menacing 70% from the free throw line. The only problem with having your "star" playing so poorly is the fact that their pick is still going to the Celtics this year. Don't worry, though, it's just a swap so they'll still have a pick somewhere in the 20's! On a slightly different note, the 76ers are actually having a fantastic season compared to what they're used to, as they've already won 7 (!!) games so far this year. Obviously Joel "The Process" Embiid is having a fantastic rookie season in his 3rd year (injuries), but the real stud has been none other than Sergio Rodriguez. His surprisingly decent play in the Olympics landed him a spot on an NBA for the first time since the 2009-10 season. He is 14th in the league in assists, averaging over 6 per game and shooting 36% from three, and he very well may carry the Sixers to the second worst team in the NBA! I give Sam Hinkie's replacement in Philly an A+ for the Sergio signing, but I give Sam Hinkie's former boss an F- for not trusting the process.
These grades might be more premature than declaring Hillary Clinton our next president a year before the election, but I'm pretty sure they'll be 100% accurate. The Thunder will make the playoffs and might even win a series if they don't play the Dubs or Spurs in the first round with their Westbrook/Oladipo duo. The Warriors will win the NBA Finals with the addition of the Slim Reaper. The Celtics will make the Eastern Conference Finals with their acquisition of a real big man, and the Bulls will miss out on the postseason without a real 3 point shooter. And just for the hell of it I'm gonna go ahead and call the 76ers drafting after the Nets- I mean Celtics- this year. What can I say, you gotta trust the process.
Written by Connor Peterson