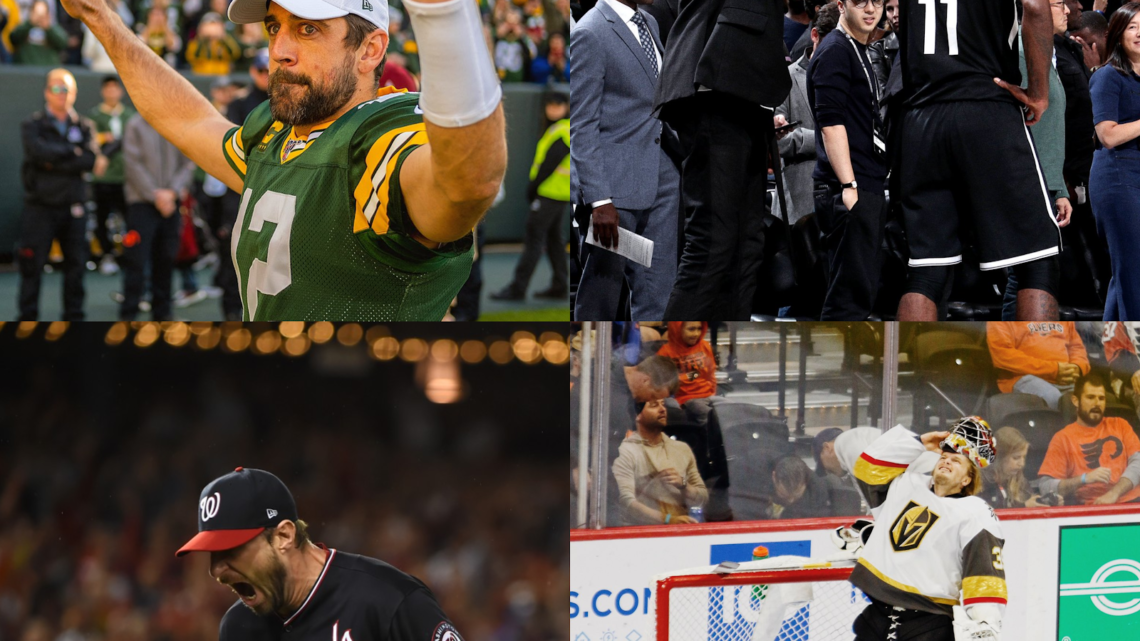 October 26th 2019 – The Sports Equinox
October 28, 2019
By: Cory Vega, Sports Analyst
It's no secret the Fall is the best time of year for sports. The MLB is at its climax, the NFL is in its stride, and both the NBA and NHL are in their beginning stages. But thanks to the Astros win on Friday to avoid a World Series sweep, the sports planets will align for a Sunday to end all Sundays. A Sports Equinox. For those who do not know of this rare occasion, it's when all four major American sports (NFL, MLB, NBA, and NHL) align and play on one day. If the MLS played, it would have been a super equinox. Even so, we still have the English Premier League for some morning soccer action. While it isn't as rare an event as it used to be thanks to the NBA season starting earlier (before 2015, there had only been 14 sports equinoxes ever and from 1985 to 2001 there wasn't any), it's still a fun occurrence. It gives us sports fans an excuse to fire up every single TV and computer in the house to a different game and completely vedge out. The holiday is also a blessing for avid sports bettors. Fanduel is offering a free to play contest where fans pick 20 winners out of the 26 games in total. No overs, unders, or spread. Dedicated degenerates will probably parlay every single game. To that, I say God bless you on your journey. With so many sports games going on, many won't know what to do with themselves. Well, I got you covered. Here is a guide to enjoying this momentous Sunday.

Morning
Sunday is always the day to recover from a nasty Saturday hangover. The perfect way to do it? A good brunch and Premier League soccer. Maybe even with a few mimosas to get you started for the day (or a couple of screwdrivers for the bold ones).

At 9:00 Newcastle take on Wolverhampton. Wolves are fresh off their Europa League win over Slovakian side Slovan Bratislava while Newcastle look to avoid slipping into the relegation zone. Later on at 11:30, Liverpool square off against Tottenham. Liverpool would love to come away with the three points and further their title chances while Spurs look to reverse their fortunes after a sluggish start to the season. This matchup perfectly transitions into…
Noon
With NFL games kicking off at noon, you can start using multiple devices to watch games. Multitasking at its best. While watching the Spurs – Liverpool game, you can tune in to the Eagles – Bills game at noon. That game should be an entertaining one, as the Eagles look to rebound after a devastating loss to the Cowboys and re-cement themselves in the NFC East race. The Bills, on the other hand, look to put more pressure on the Patriots in the AFC East. A solid QB duel of Carson Wentz and Josh Allen should make for some fun football. Plus it's in Buffalo, so you know the Bills Mafia is going to be there in full capacity. They're even debuting a new tailgate attraction. Hatchet throwing. That should make for some legendary videos.
Afternoon
As the noon games wrap up, arguable the best NFL game this week kicks off in San Fran, as the 6-0 49ers (wow) take on the 4-2 Panthers at 3:05 PM. It's a matchup of strength versus strength. Superb rushing attacks and stout defenses collide. It'll be an interesting QB match-up as well, as Jimmy G takes on Kyle Allen. This type of game could even bring out the best in both QBs, or they could be shut down by immense pressure. During this time, the Warriors take on the Thunder in the first NBA Sunday. This season could be a long one for Curry and the gang without Durant and Thompson. We all know it'll be a long one for the Westbrook, Paul-less Thunder. Hockey also tips off, as the Florida Panthers take on the red hot Edmonton Oilers at 3:00 PM. James Neal has had a revival season so far, already surpassing his goal total last year with the Flames.
Evening

The pinnacle of the sports equinox. Where all of the major sports are happening at once. Unsurprisingly, the most crucial game here is game 5 of the World Series. At the time of writing, the Astros are beating the Nationals 4-0 in the 6th inning, so more than likely the Astros will win and the series will be even at 2-2. The Astros will look to continue their revival while the Nationals will try to reclaim the series lead. October baseball at its best. More than likely Gerrit Cole and Max Scherzer will pitch in game 5. Barstool's PFT Commenter should also have his usual live stream up, and that has been some can't miss entertainment, especially when the Nats are up. All in all, this is a can't miss game. But, you can have some other games on another device or in the background. The Packers and a white hot Aaron Rodgers take on the Patrick Mahomes-less Chiefs in primetime. The Boston Bruins – New York Rangers rivalry game tips off at 7 PM. And the Portland Trail Blazers take on the Dallas Mavericks in a potential playoff matchup at 6 PM, so that game can get you started before the World Series. Luca Doncic and Porzingas have already proved to be a deadly duo. With a freshly ordered pizza, beer, and plenty of great sports action on tap, you should be ready to enjoy a historic night all sports fans can cherish.