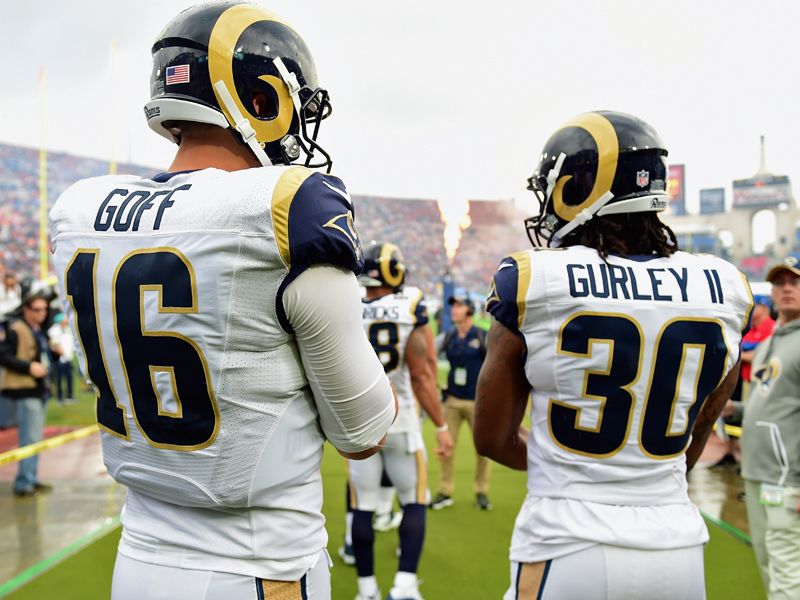 NFL Power Rankings Week 9
November 2, 2018
BY: Justin Paura, Football Analyst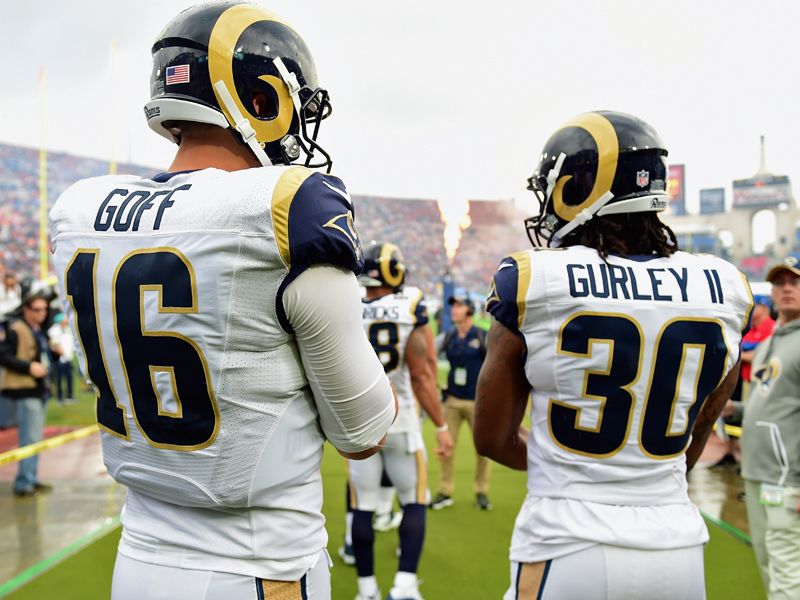 1. SAME SPOT. Los Angeles Rams (8-0)- The Rams slaughtered the first half of their
schedule in perfect fashion, but now they face their toughest three-game slate of the
year before their week 12 bye. Their first test is against the Saints in the Super Dome, if
they get passed that I don't know who will stop them.
2. SAME SPOT. New England Patriots (6-2)- Right when you thought the Patriots might
have fell into the trap Monday night, they blow out the Bills in the fourth cover and
prove they are as great as always. Brady is as methodical of a passer as ever and he has
legitimate big play weapons with a dynamic running game that will only get better when
Sony Michel returns.
3. UP 1. New Orleans Saints (6-1)- They deserve a top-3 bid after going back to Minnesota,
where their 2017 season was crushed, a convincingly beat the Vikings. This offense is
running on all cylinders and the defense held a high-octane offense to just 20 points in
their own backyard on primetime. They have an opportunity at a season-defining win in
front of the "Who Dat" faithful, looking to give the Rams their first loss.
4. DOWN 1. Kansas City Chiefs (7-1)- It isn't the Chiefs fault that they moved down this
week as it's more a product of how good the Saints are. The one knock on this team is
the defense and they failed to address that issue during the trade deadline quite like
New Orleans did with the addition of Eli Apple.
5. UP 1. Los Angeles Chargers (5-2)- The Chargers will make some noise in January as a
wild card team. Book it. They hardly have a home field advantage, so they don't care
about playing on the road. Just watch what they're capable of after one week of rest.
6. UP 3. Carolina Panthers (5-2)- Cam Newton has looked incredible through Carolina's
first seven games. He is posting career highs in completion percentage and is on pace
for a career-low in interceptions. As we saw in 2015, if teams can't stop Cam, the
Panthers are near unstoppable.
7. SAME SPOT. Pittsburgh Steelers (4-2-1)- James Conner may be Le'Veon Bell's worst
nightmare, but he is the best thing that has happened to the Steelers this year.
Pittsburgh scores more, puts up more yards and is more efficient in the red-zone
without Bell since 2015 and while it may be a surprise that he hasn't joined the team, it
isn't effecting their play on the field.
8. UP 2. Washington Redskins (5-2)- The Redskins went out on Deadline Day and got
another force in Ha Ha Clinton-Dix. This defense already ranks amongst the best in the
league and now with Clinton-Dix lining up alongside D.J. Swearinger, watch out.
9. DOWN 4. Minnesota Vikings (4-3-1)- It was a tough week 8 loss Sunday night for the
Vikings at home on Sunday night, but that doesn't move them outside the top 10. Dalvin
Cook and Emerson Griffin both need to return for this team to become a contender as
they clearly do not stack up with the teams like Los Angeles and New Orleans.
10. UP 9. Houston Texans (5-3)- I was initially high on Houston, got discouraged by their
first three weeks, but now I'm all-in. This team over the past five weeks, especially this
Thursday night, has proved that they are a special group. Deshaun Watson is great,
DeAndre Hopkins is even better and they don't even have to worry about the Will Fuller
injury because they acquired Demaryius Thomas from Denver. With J.J. Watt getting
back to his DPOY form, this team is complete top-to-bottom.
11. SAME SPOT. Philadelphia Eagles (4-4)- Philadelphia made a big splash and got Golden
Tate, keeping them firmly in contention for the NFC East. Carson Wentz now has Tate,
Alshon Jeffrey and Zach Ertz at his disposal. This team as a whole is much more talented
to the squad that won the Super Bowl in February, so who knows what the second half
of the season holds.
12. DOWN 4. Baltimore Ravens (4-4)- Two loses in a row for Baltimore and a date with
Pittsburgh this week? Things are going downhill rather quickly for a team in one of the
league's toughest divisions.
13. UP 2. Cincinnati Bengals (5-3)- Another team in the AFC North that has a lot of
firepower is the Bengals. They withstood the power of Fitz-magic late due to the three-
headed monster of Joe Mixon, AJ Green and Tyler Boyd running ramped all afternoon.
Another case of a defense that needed a lot of help and could have done something at
deadline, but Marvin Lewis hasn't proven to care.
14. UP 2. Chicago Bears (4-3)- Getting to play the AFC East is a blessing for all these NFC
North teams. The Bears beat the brakes off the Jets, Sunday they'll beat the brakes off
Nathan Peterman and the Bills. What a couple of weeks to be a Bears fan.
15. UP 3. Seattle Seahawks (4-3)- Part of me keeps telling me I have severely
underestimating the Seahawks because of the wins they keep getting, but I'm not
convinced they have the talent to make an honest push this season. All this proves is
that Pete Carroll is one hell of a coach.
16. DOWN 3. Atlanta Falcons (3-4)- The Falcons are falling behind in a stacked division and I
don't know how safe it is to say this team will make the playoffs. New Orleans is a world
better, Carolina is also much better and the Bucs' offense is a lot more dynamic than
Atlanta's. It'll be interesting to see how Matt Ryan and this dreadful defense rebound
coming off the bye week.
17. DOWN 3. Jacksonville Jaguars (3-5)- The Blake Bortles' ship is sinking at a rapid rate. It
seems as if management agrees as they traded away Dante Fowler for draft picks.
Maybe to draft a new quarterback in the near future? For their fans' sake, I hope.
18. DOWN 6. Detroit Lions (3-4)- It's about that time of the year where the Lions are going
off the rails. Damon Harrison did get a sack, but didn't do much help in stopping the run
as Chris Carson ran for 105 yards and a score. Their next two games are on the road in
Minnesota and Chicago, then they get three games at home against the Panthers, Bears
and Rams. I think betting against them from here on out seems like the right call.
19. UP 1. Dallas Cowboys (3-4)- The time for excuses is over with this Cowboys offense.
Amari Cooper gets the bye week and an extended game week to build a relationship
with Dak Precott and he needs to deliver with the spotlight on him like never before.
20. UP 2. Tampa Bay Buccaneers (3-4)- Move over Jameis, FITZ-MAGIC. IS. BACK.
21. DOWN 4. Green Bay Packers (3-3-1)- A couple of questionable moves from the Packers
this week put them outside the top 20. Ty Montgomery got dealt for a bag of peanuts
just for pissing off Aaron Rodgers and arguably their best defensive player went for a
fourth-round pick. You'd think a team with the best quarterback on the planet would be
trying to win now.
22. UP 1. Cleveland Browns (2-5-1)- Moving up by default; that's the real Cleveland way.
23. UP 3. Indianapolis Colts (3-5)- The Andrew Luck train is full steam ahead. I know that
Baker Mayfield also put up 42 on Oakland, but Luck did it with much more efficiency and
finesse. Marlon Mack is also emerging as a true RB1 for a team that hasn't had a decent
running back since Joseph Addai.
24. SAME SPOT. Tennessee Titans (3-4)- Which Marcus Mariota will we see Monday night?
It's starting to become the most unpredictable question in sports.
25. DOWN 4. Miami Dolphins (4-4)- Miami has lost four of their last five games now and
have fallen off from their very promising start to the season. bUt BrOcK oSwEiLeR bEaT
tHe BeArS!
26. DOWN 1. New York Jets (3-5)- Sam Darnold seems to be getting progressively worse
each week. Not a great sign for Jets fan that are counting on him being the messiah. I
am sure he will be fine down the round, but for the short term, it looks ugly.
27. SAME SPOT. Denver Broncos (3-5)- Denver will be honoring Demaryius Thomas five
days after trading him away. That might be the last time that Broncos fans pack Mile
High this season.
28. UP 1. Buffalo Bills (2-6)- The Bills hung around with the Patriots for three quarters. But
yet again, they fail to finish. Now, it's Peterson SZN!
29. UP 3. Arizona Cardinals (2-6)- The Cardinals have beaten the 49ers twice and that
makes them not the worse. Roll 'Zona.
30. DOWN 3. San Francisco 49ers (2-7)- Nick Mullens gets the start for the 49ers Thursday
against the Raiders. Don't worry, I had to look him up on Wikipedia, too.
31. SAME SPOT. Oakland Raiders (1-7)- Think about how excited everyone was about the
Raiders coming into this season. Now, look at where they are. That's the Gruden effect,
people.
32. DOWN 1. New York Giants (1-7)- It finally happened: The Giants are officially the worst.
I don't know how, and I don't know why it's happening, but they got here. It breaks my
heart as a Giants fan, but this team can't get it together for the life of them.