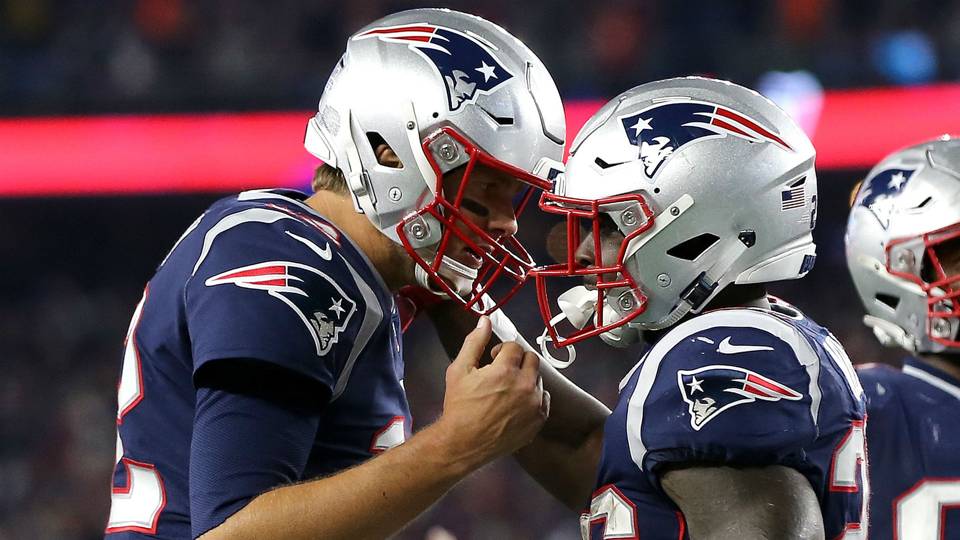 NFL Power Rankings: Week 7
October 18, 2018
BY: Justin Paura, Football Analyst 
1. SAME SPOT. Los Angeles Rams (6-0)- Snow, cold, rain, warm, clear skies; it really doesn't matter with this team. The way Sean McVay uses Todd Gurley makes him virtually unstoppable, while Jared Goff is good enough to get the ball to any of his lightning quick receivers. All of that with a star-studded defense makes the Rams seem like nobody can beat them this season.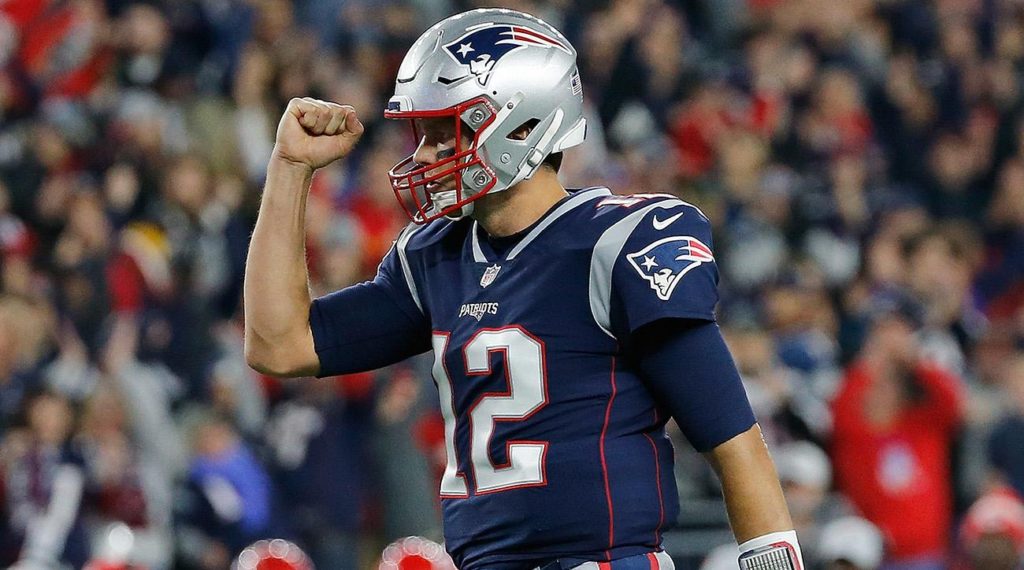 2. UP 2. New England Patriots (4-2)- New England has been easing their way back to dominance with wins against Miami and Indianapolis, but no win solidifies their place at the top of the AFC like Sunday night's war with the Chiefs. Kansas City was making their bid at a comeback when, per usual, Tom Brady and Bill Belichick proved they are much smarter than anyone and made sure not to let Patrick Mahomes back on the field. We were blessed with the best game of the season already between two teams that, hopefully, meet again in January.
3. DOWN 1. Kansas City Chiefs (5-1)- Patrick Mahomes finally loses his first game as a start, however you cannot say enough about the effort he put on in Foxboro. He looked lost in the first half and followed it up with a 39-point second half with four passing touchdowns. They lost in primetime at Gillette Stadium, which almost every team does, so you can't put too much stock into it on the Kansas City side.
4. DOWN 1. New Orleans Saints (4-1)- ​Can't wait to see the Saints do fresh off the bye against Baltimore. Drew Brees has never beaten the Ravens in his career, but he's never played them with the offensive weapons he has right now. This game promises to be the best of the week.
5. SAME SPOT. Minnesota Vikings (3-2-1)- After a slow start to the season, the Vikings seem to be back on track. Adam Thielen and Stefon Diggs have emerged as the best 1-2 punch in the receiving game, earning great success even without Dalvin Cook keeping defenses honest in the back field.
6. UP 3. Baltimore Ravens (4-2)- A dominant performance against Tennessee on the road solidifies the defensive dominance of the Ravens. They've allowed just 77 points through six games this season. In second place is the Bears, who have allowed 96 points… in five games.
7. UP 3. Pittsburgh Steelers (3-2-1)- Just like the Vikings, the Steelers are back. With Le'Veon Bell expected to come back at some point this week and the defense performing exceptionally, this team will be just as good as they've been consistently over the past half-decade.
8. UP 3. Los Angeles Chargers (4-2)- This team has come to full fruition. Los Angeles scored 17 more points than any team has at the "Dawg Pound" this season and the defense has been holding up its end as well. Phillip Rivers may finally have the talent around him to go all the way.
9. UP 3. Philadelphia Eagles (3-3)- The defending Super Bowl champions finally got back on track. Now with an extended week to prepare and get well, I think it's fair to assume this team is ready to run away with the NFC East.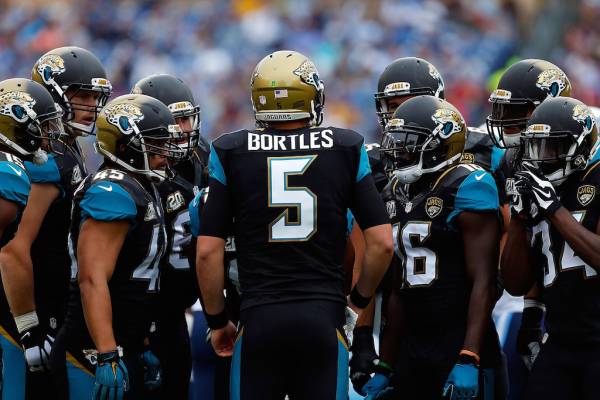 10. DOWN 4. Jacksonville Jaguars (3-3)- The Jaguars game in Dallas last week was a fluke, but it can't go unpunished. Jacksonville is supposed to feed off the idea that they have the best defense in the league and they lost by 33 to one of the league's worst offenses. Not a promising sign for Duval fans.
11. DOWN 4. Cincinnati Bengals (4-2)- The play-calling against the Steelers was very questionable. Joe Mixon came off an outstanding game against Miami and even averaged just under 6 yards per carry in this contest, but his carries were cut in half, meaning Andy Dalton threw the ball over 40 times. As good as A.J. Green and Tyler Boyd have been, that's not the recipe to success.
12. UP 3. Atlanta Falcons (2-4)- I keep convincing myself this offense is good enough to give this team a chance. I doubt they let me down playing the Giants at home Monday night, so they stay high up on the list.
13. DOWN 5. Carolina Panthers (3-2)- Josh Norman finally made the Panthers' pay for not dropping the bag for him. Picking off Cam Newton and forcing a fumble while denying Carolina a chance to win their third straight was a big personal win. As for the Panthers, this loss stings a lot because it was a game they should have won and every win is going to count for NFC South competitors.
14. UP 4. Washington Redskins (3-2)- Looking at the Carolina/ Washington game on the other side, this was a nice win for the Redskins. They got pummeled in prime time the week before, but returned home and did exactly what they needed to do to maintain first in the NFC East. Who would have thought we'd be talking about the success of Alex Smith and Adrian Peterson at the beginning and at the end of this decade?
15. UP 1. Green Bay Packers (3-2-1)- Aaron mother f*****g Rodgers. The "baaaad man" did it again and saved Green Bay from a big upset Monday night. On a more concerning note, this defense is very bad and cannot allow 30 points to C.J. Beathard.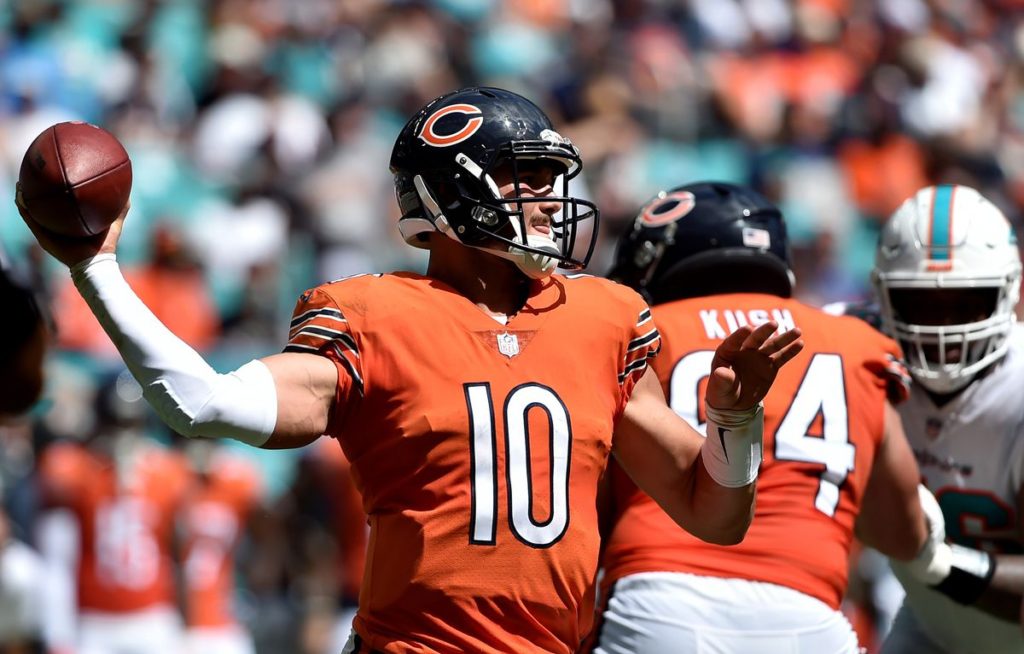 16. DOWN 3. Chicago Bears (3-2)- Mike Nagy did not give the Bears offense a chance for them to win the game in overtime. He settled for letting Cody Parkey take a 53-yard field goal while running the ball five times before that. It was Trubisky's game to lose and Nagy needed to let him take a shot because when it was all said and done, he lost to Brock Osweiler.
17. UP 5. Miami Dolphins (4-2)- Again, Brock Osweiler. He came out of nowhere and swooped the starting job right from under Ryan Tannehill with a booming 380-yard, three-touchdown performance. The Dolphins are looking a lot better than I could have imagined.
18. UP 1. Detroit Lions (2-3)- The Lions avoid the cold weather for another week as they head to Miami after their bye week. Personally, I would have been there already to get a head start "preparing for the game." But you know, that's just me.
19. DOWN 2. Cleveland Browns (2-3-1)- the Browns are supposed to be able to hang their hats on defense while their rookie quarterback is still developing. But against the Chargers, they looked like the worst versions of themselves in front of their home crowd. With their next five games being all against top nine scoring offenses in the league, they are going to need to get right, quickly.
20. UP 4. Seattle Seahawks (3-3)- Don't check now but the Seahawks are rolling. After dropping their first two games, they've won three of the last four, the only loss being to the Rams where they put up a legit fight. They get the week off, which may work as a disadvantage given how hot they've been. It is going to be interesting to see how they come back.
21. DOWN 7. Tennessee Titans (3-3)- A team that I was admittedly very high on for the first month and a half looks to have fallen back to earth. One week they beat up on the Jaguars and another the Eagles, then the next they can't score a single point. Marcus Mariota needs to be doing something, really just anything at this point.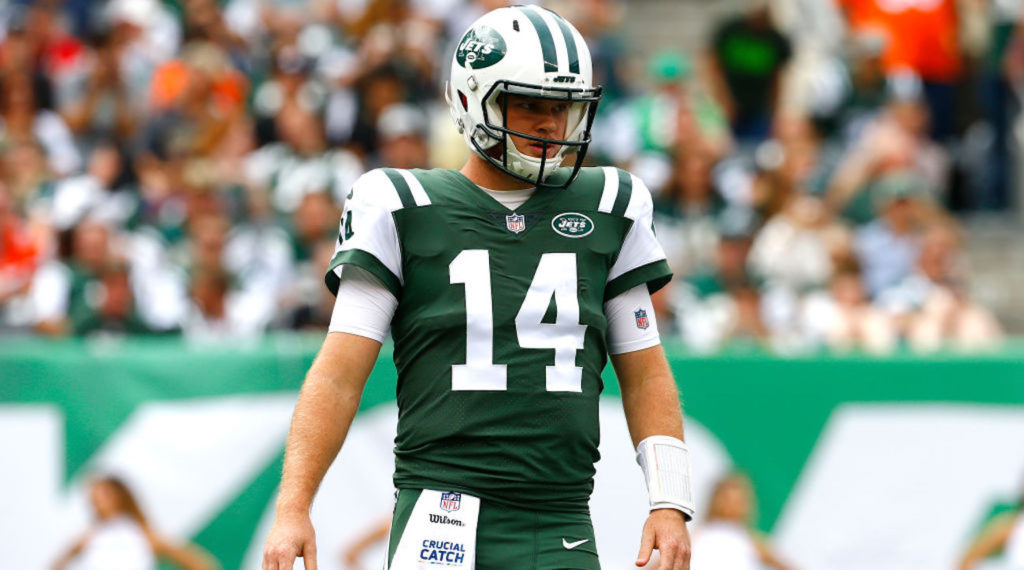 22. UP 3. New York Jets (3-3)- Another convincing win at home for Sam Darnold. The Jets are handling him perfectly, letting him do his thing while making sure he isn't doing everything on his own by utilizing the run game. For the first time in quite a while, New York is doing everything right.
23. DOWN 3. Houston Texans (3-3)- Most eye opening statistic of this NFL season: quarterback hits allowed. In a tie for 30st, it's the Browns and Falcons at 49. In last, the Texans with 70. Poor Deshaun Watson.
24. DOWN 3. Tampa Bay Buccaneers (2-3)- We got our first full look at Jameis Winston starting this season. All of the offseason distractions proved irrelevant in terms of his play as he looked great. Granted he played a crapshoot Atlanta defense, but it was a substantial upgrade from their last matchup at Chicago.
25. UP 1. Dallas Cowboys (3-3)- As previously mentioned, the Cowboys' game against Jacksonville was a fluke. Dallas, a team where the offense has been a walking dumpster for the first five weeks, suddenly showed out against the best defense in the league. I don't buy into the idea that this trend will continue.
26. DOWN 3. Denver Broncos (2-4)- They started out strong, but now it's four straight loses for Case Keenum and Denver. They're falling out of relevance in the AFC West, despite having the best pass rusher in the league.
27. SAME SPOT. Indianapolis Colts (1-5)- I'm going to keep saying it: Andrew Luck is excellent. However, I've come to terms that he isn't Aaron Rodgers-excellent to the point where he can lead this team. It's worth noting that they have much less help and a much worse coach.
28. UP 3. Arizona Cardinals (1-5)- Though the Cardinals lost this week, they have much more potential than I thought. Josh Rosen has stepped in and commanded this offense ever since taking over. Will they win more than four games? I don't think so. But it seems the foundation is sound in the desert.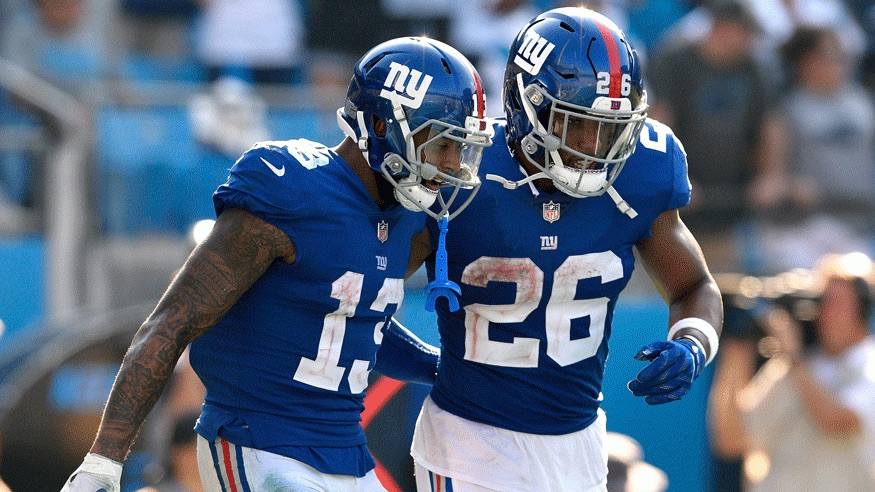 29. SAME SPOT. New York Giants (1-5)- I cannot stand the New York Giants this season. They have a top-five wide receiver, a top-five running back, yet they have a bottom-five quarterback that ruins the entire system. Bold idea: give Colin Kaepernick a call.
30. UP 2. San Francisco 49ers (1-5)- The 49ers pushed Green Bay to the brink at Lambeau in prime time, but fell just short. Good enough to propel them from 32nd in the rankings, but that's about it.
31. DOWN 3. Oakland Raiders (1-5)- This team is BAD. Jon Gruden robbed the Raiders and deserves none of his $10 million that he will get over the next decade. Get this guy out of here.
32. DOWN 2. Buffalo Bills (2-4)- It was just announced Derek Anderson is going to start for the Bills. I mean, at least it isn't Nathan Peterman.