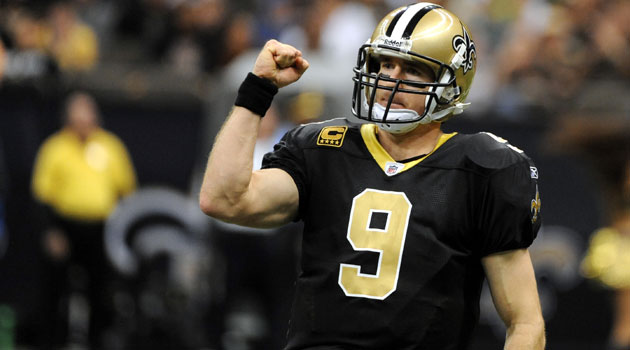 NFL Power Rankings: Week 6
October 12, 2018
BY: Justin Paura, Football Analyst
1. SAME SPOT. Los Angeles Rams (5-0)- The Rams got tested in one of the toughest environments in the NFL this past week and they stood tall to remain undefeated. Trailing by a touchdown going into the fourth, LA's defense turned to stone and kept Seattle from moving up the field, while the offense controlled the flow of the game at its pace. No team is more complete and in control of every game quite like Sean McVay's squad, and it isn't necessarily close.
2. SAME SPOT. Kansas City Chiefs (5-0)- We referred to Kansas City's matchup at Denver last week as the first true test that the team passed. This week, the Chiefs played hosts to the Jaguars, a team that is eying a second straight AFC Championship game, and absolutely pounded them. It was the first time the defense really made a statement this season and Patrick Mahomes, who struggled against the top tier defense of Jacksonville, stayed composed and posted 30 points of them, 10 more points than any other team has this season.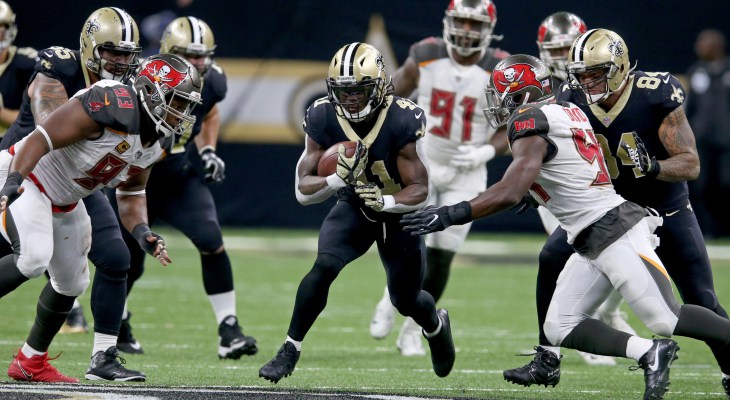 3. SAME SPOT. New Orleans Saints (4-1)- Drew Brees is now the NFL's all-time leading passer and grasped the record in style. Not only did Bress celebrate the moment at home with his family, he celebrated it with a huge Monday Night Football win. Mark Ingram returned and eased his way back into the offense with a casual two touchdowns. This offense is electric and will not slow down any time soon.
4. UP 1. New England Patriots (3-2)- All of the kinks in the Patriots' system in September seem to be fixed. This team is operating on all cylinders and is back to being the manipulative, smarter, merciless team they've been for the past 15 years. It may not be what everyone wants to see, but it's the reality we have been and will continue to be living in for at least another year.
5. UP 2. Minnesota Vikings (2-2-1)- Minnesota needed to get that elusive second win to really thrust themselves into the top-5 conversation. A victory at the defending Super Bowl champions seemed too perfect of a fit. Kirk Cousins was great and had elite protection, while the defense hung on and kept Carson Wentz from having his breakout game. They still need to get Everson Griffin back to mimic the defense that was a win away from the Super Bowl last season, however things are looking up for a team that started far short of expectations.
6. DOWN 2. Jacksonville Jaguars (3-2)- Leonard Fournette needs to return in the worst way. Blake Bortles can not be expected to throw the ball 61 times if this team wants to win games. It's hard to hate on Bortles too much because that's just not the quarterback he is; he needs to rely on his running back to keep the defense honest so he can make his throws. With him on the sidelines, this offense is flawed to a concerning extent.
7. UP 4. Cincinnati Bengals (4-1)- This team looked dead in the dump in the first half against Miami. Trailing 14-0, Cincinnati did not look anything like the squad that defeated Baltimore and Atlanta; that team did not show up until halftime. Andy Dalton looks as sharp as he has ever been and Joe Mixon seems 100%, which means this offense is as lethal as any unit in the league.
8. UP 1. Carolina Panthers (3-1)- "¡GANO LO GANÓ! ¡GANO LO GANÓ! ¡GANO LO GANÓ!" Graham Gano ripped the hearts out of Giants fans Sunday with one of the longest game-winning field goals in history. Outside of that, Carolina came off the bye sluggish, but was good enough to get the win and did not provide reason to believe they'll spiral down from here.
9. DOWN 3. Baltimore Ravens (3-2)- This defense is not one to be messed with. Say what you will about an overtime loss to the Browns, the defense contained an above average offense to just 12 points. What is troubling, though? This offense is too inconsistent. One week, they'll go off at Heinz Field and the next they're only good for three field goals in Cleveland. Just like some other teams in the top-15 (Jacksonville, Chicago, Tennessee), Baltimore's defense will keep them in a lot of tough games against anyone, but it's on the offense for them to reach their full potential.
10. UP 5. Pittsburgh Steelers (2-2-1)- Pittsburgh is officially back for good. We knew that the offense would have a field day against a crippled Atlanta secondary, but the fact that their defense stoned Matt Ryan and company eight out of 11 times is what makes this team so dangerous. The Steelers haven't had a defensive performance even close to that and now this team is ready to tackle the rest of the season with only one more game to suffer without Le'Veon Bell.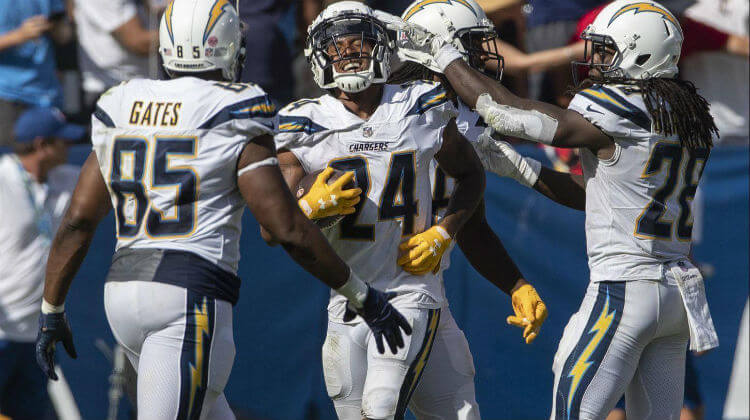 11. UP 5. Los Angeles Chargers (3-2)- We caught a glimpse of what this team could evolve into with more experience. The young defense flexed its muscle against an explosive Oakland offense while Phillip Rivers continued to do his thing on the other side of the ball. Like I've been saying, this team will only improve as the season goes along and the fact that they're 3-2 now means they are in a great position.
12. DOWN 4. Philadelphia Eagles (3-3)- The defending champions need to take some Advil and get over this hangover quickly. The only excused performance is Carson Wentz as he is coming off an ACL injury, but the defense is sloppy, the play-calling is questionable, the offensive line is vulnerable and this team just isn't performing. It'll be a short week for them as they try to get back to their winning ways.
13. UP 1. Chicago Bears (3-1)- Will we see the same Mitch Trubisky that balled out against Tampa right before the bye week? If we do, the Bears are a top-10 team, no doubt about it.
14. DOWN 2. Tennessee Titans (3-2)- I was admittedly high on the Titans after two wins against Jacksonville and Philadelphia, but then they showed up as an entirely different team against Buffalo. Marcus Mariota was flabbergasted trying to get passed the Bills defense while Joe Flacco threw for three touchdowns in just three quarters against them. Another team with a great defense and a suspect offense.
15. DOWN 2. Atlanta Falcons (1-4)- The fact that the Falcons couldn't keep up with Pittsburgh this weekend was shocking. Most people were expecting a shootout when in reality, it was Big Ben showing out and Matt Ryan flopping. He got no protection from his offensive line and couldn't make the throws he needed to put points on the board. In the NFC South, they are in big time trouble.
16. DOWN 6. Green Bay Packers (2-2-1)- Aaron Rodgers cannot carry this team. He did his best to lead another huge comeback against a NFC North rival, but his playmakers and kicker let him down. If Sunday's game was a legitimate indicator, they fell to the worst team in the division and are slowly, but surely, starting to fit better in that role.
17. UP 5. Cleveland Browns (2-2-1)- Uh oh, two wins for a team that only won one game over its last two seasons. The rebuild is REAL! But seriously, Cleveland's defense is for real, not letting quarterbacks casually pick it apart like always, and Baker Mayfield has solidified himself as the QB of the future. Case and point: the Browns aren't an instant W in your team's schedule anymore.
18. DOWN 1. Washington Redskins (2-2)- Monday was Drew Brees' night and Washington had no business spoiling it, but they could have at least showed up. Adrian Peterson and Chris Thompson are both dealing with some injury problems and this defense looked far from the one that topped the league through the first three weeks.
19. UP 7. Detroit Lions (2-3)- Detroit pulled off a giant win in front of their home crowd to avoid the dreaded 1-4 club. They benefitted a lot from the horrendous performance of Mason Crosby, but Matt Stafford looked great against a Packers defense that goose egged the Bills just a week ago. Next on the schedule are back-to-back matchups with the Dolphins and Seahawks, so expect this team to get over the .500 hump and remain at least relevant in their stacked division.
20. UP 5. Houston Texans (2-3)- Even with the offense all out of sorts, the stars continue to get theirs. Deshaun Watson posted over 400 total yards and DeAndre Hopkins ran ramped for 151 yards, both doing just enough for Houston to edge out Dallas Sunday night.
21. SAME SPOT. Tampa Bay Buccaneers (2-2)- The Bucs are standing behind the guy they drafted number one three years ago after their bye week. Jameis Winston retakes the reins and we'll all be waiting to see if Tampa's explosive first few games lied all on Fitz-magic or if these weapons are overpowering.
22. DOWN 4. Miami Dolphins (3-2)- Brutal collapse against Cincinnati brings the Dolphins all the way back down the list, nearly to where they opened on the season. The Bengals outscored them 24-0 in the fourth quarter, two of the three touchdowns coming directly off Miami turnovers. The sum of Ryan Tannehill's QBR from the last two games is 20.1, a clip that would rank dead last among starting signal callers.
23. DOWN 3. Denver Broncos (2-3)- Denver has been historically terrible on the road over the past few years. They go east and suddenly lose the ability to play, going from one good throw away from topping the Chiefs to getting pummeled by the Jets. Absolutely ludicrous.
24. SAME SPOT. Seattle Seahawks (2-3)- Seattle gave the Rams their closest game of the season, but let's not act like the Seahawks really had a chance. When push came to shove, LA did not let the Seattle move more than 50 total yards down the field in two fourth quarter drives. Worth noting though that they are the second-best team in the NFC West…by a lot…
25. UP 3. New York Jets (2-3)- Sam Darnold did not throw the ball much against Denver, but boy when he did, he turned a bunch of heads. Isiah Crowell also amped up this offense with a surprising 200 yards on the ground while the defense stayed strong. They are right now the best team in New York until the Giants prove otherwise (sorry, Buffalo).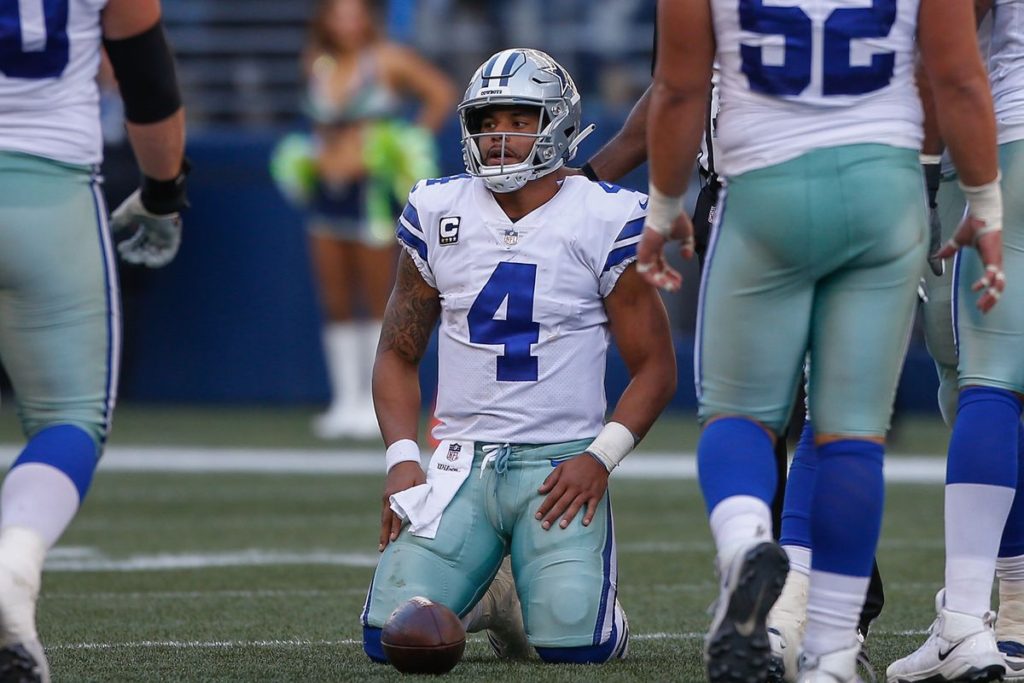 26. DOWN 7. Dallas Cowboys (2-3)- The Cowboys' offense is getting ugly to watch. There is no receiver that gets consistently open, Dak Prescott can't fire the ball down the field and Ezekiel Elliott is getting frustrated. The defense does it part to keep Dallas in games, but this offense is too disgusting to give them any sort of advantage.
27. UP 2. Indianapolis Colts (1-4)- I have not lost hope on the Colts, but they give me no reason to put any higher on the list. They go into Foxboro and lose badly, however Andrew Luck is still one of the top quarterbacks in the league and he is doing so much with so little help. Get them out of the primetime against a beatable team (like the Jets) and I'll pick them to turn things around.
28. DOWN 5. Oakland Raiders (1-4)- Remember when Jon Gruden was just gifted 10 years and $100 million? Wow, don't you think Al Davis would love to come up from his grave and strangle his son for that one?
29. DOWN 2. New York Giants (1-5)- Hot take: Odell Beckham jr. is a better quarterback than Eli Manning. All joking aside, how have the Giants not even entertained the idea of searching for Manning's backup? Alex Tanney is not a viable option and this team has too many weapons offensively to let the 37-year old hold them back. And the defense isn't bad, so I don't know what they're waiting for.
30. UP 1. Buffalo Bills (2-3)- Josh Allen threw for 82 yards and no touchdowns, yet the Bills beat one of the hotter teams in the league coming into week 5. Some things we'll just never find out.
31. UP 1. Arizona Cardinals (1-4)- Hold your horses everybody, there is a worse team in town than the Cardinals.
32. DOWN 2. San Francisco 49ers (1-4)- Here's the worse team. San Francisco hosted rookie Josh Rosen in maybe their only winnable game left on their schedule and just looked embarrassing. They scored three touchdowns in a 28-18 loss; they couldn't even convert on extra points correctly.