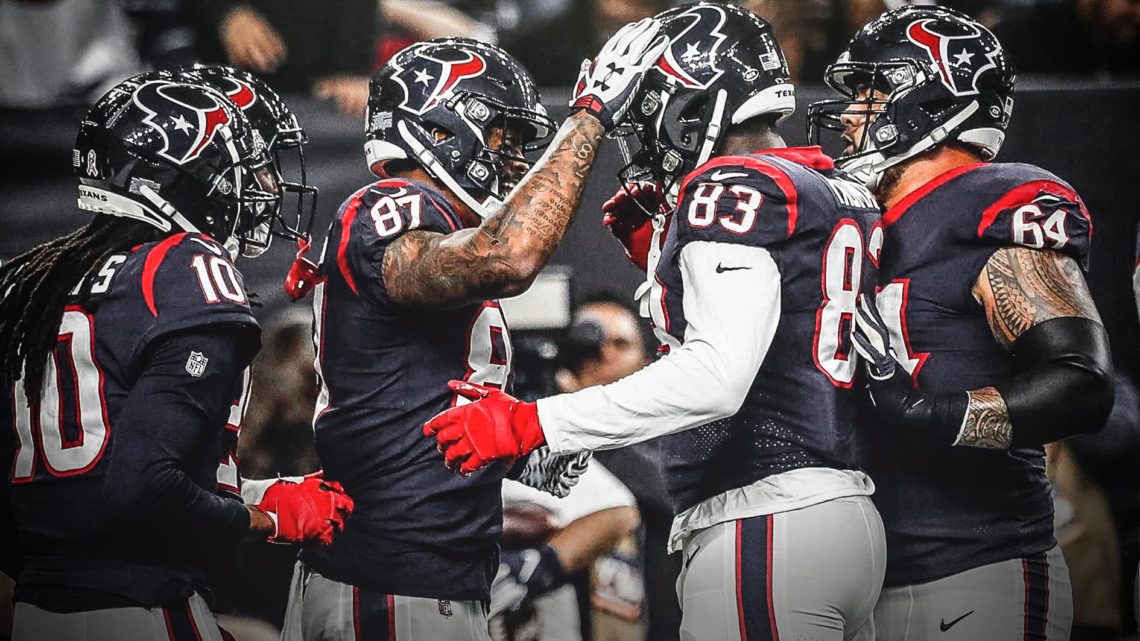 NFL POWER RANKINGS WEEK 13
November 29, 2018
By: Justin Paura, Football Analyst 
1) SAME SPOT. New Orleans Saints (10-1)- Drew Brees tops not only the Power Rankings,
but the MVP race as well. Near 40 years old, Brees commands the league's most
efficient offense and rarely makes mistakes. He is the perfect quarterback for the three
headed monster of Alvin Kamara, Mark Ingram and Michael Thomas as he gets the most
out of them as both a passer and a leader. And, unlike the other top teams with elite
offenses, their defense isn't too bad either.
2) UP 1. Los Angeles Rams (10-1)- The Rams and the Chiefs played the game of the year
week 11 and I, along with most of the football world, would love to see a rematch at
Super Bowl 53. However, you can't assume that the Rams could beat the Saints in the
SuperDome in January, especially after already losing in convincing fashion earlier this
year. However, there is no denying the unbelievable talent they have on both sides of
the ball and the innovation of Sean McVay is like no one else in the league. The NFC
Playoffs promise to be absolutely wild.
3) DOWN 1. Kansas City Chiefs (9-2)- I don't know if I've ever seen a young team more fun
than the Chiefs. Patrick Mahomes is another guy firmly in the MVP race by making
defenses, and the nine teams who picked before the Chiefs in the 2017 Draft, look silly.
Defense is an anomaly for Kansas City, but when you average over 36 points a game it
doesn't matter at all.
4) UP 2. New England Patriots (8-3)- There isn't much excitement surrounding the
Patriots, but we all know what they bring to the table. No team in the AFC draws nearly
the same respect while also being dreadfully feared than Bill Belichick as he forces other
teams' collapses at will. No matter what you think you've seen out of New England this
year compared to years past, just know that they will be there till the bitter end.
5) UP 4. Houston Texans (8-3)-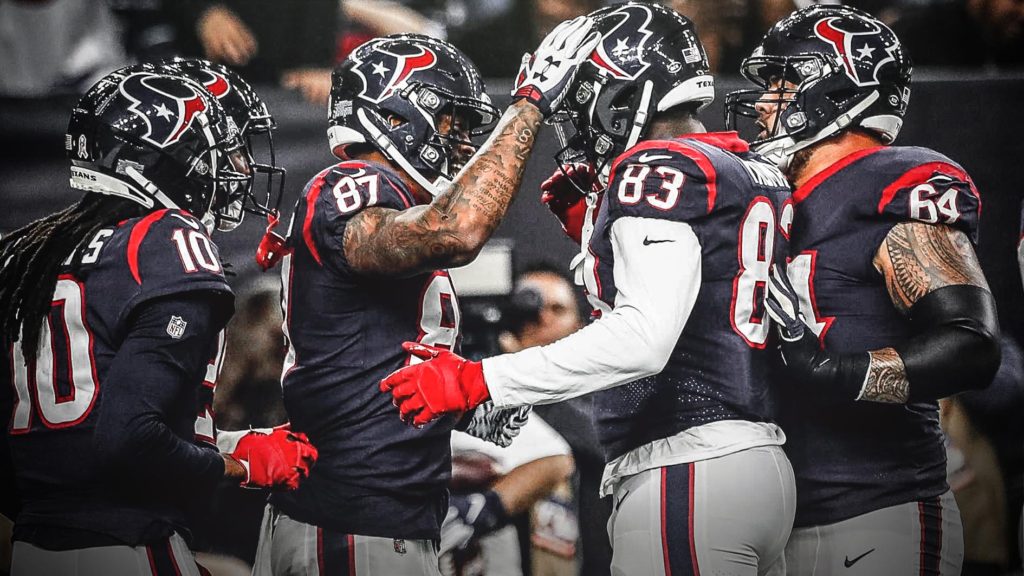 Ever since losing to the Giants week 3, Houston has pulled
their act together and not lost a game since. Deshaun Watson is proving that he is one
of the next great franchise quarterbacks in the league while DeAndre Hopkins
continuously makes his case for best WR in the world. JJ Watt is confirmed back with
11.5 sacks on a defense that ranks seventh in the NFL in stopping the run. Outside New
Orleans, no other team has been as successful since September than Bill O'Brien's
group.
6) UP 4. Chicago Bears (8-3)- The Bears impress me more and more with each win. In their
latest victory, Chase Daniel proved than anyone can play in Mike Nagy's system while
the league's top defense held stout against Matt Stafford. This team has a lot of
reminiscence of the 2006 squad that made the Super Bowl, though in the bigger picture
Mitch Trubisky has a lot more room to grow than Rex Grossman ever did, that was able
to overpower anyone with their assertiveness on the defensive end.
7) DOWN 2. Pittsburgh Steelers (7-3-1)- Ben Roethlisberger makes one of his worst
decisions of the year to cost Pittsburgh a key game against Denver as he threw an end
zone interception with a hair over one minute to go Sunday. A veteran quarterback with
the pedigree of Roethlisberger needs to be more disciplined in situations like that where
every outcome matters from here on out. Instead of second in the AFC, they slide down
to fourth with critical games against the Chargers, Patriots and Saints ahead.
8) DOWN 1. Minnesota Vikings (6-4-1)- Kirk Cousins has incredible talent and nobody will
deny that, but he has to be more consistent for what he is worth. Making nearly $25
million a year, Cousins fades into oblivion when the light shines brightest to set up
disappointing results. Five of their next four games are against team looking to play into
2019, so Cousins needs to stay ready if Minnesota wants a bid.
9) UP 3. Indianapolis Colts (6-5)- Make it five straight dubs for Andrew Luck and company
as the Colts are surging through the AFC. Luck is playing his best football since 2015 and
has only been sacked one time in the last six games. Their schedule gives them a
probable path to January as long as their quarterback continues to look like an MVP.
10) DOWN 6. Los Angeles Chargers (8-3)- Watching the Chargers loss to the Broncos really
derailed my opinion of this team's ceiling. They had that game won at home, but Phillip
Rivers in their final offensive drive was horrible, as was the play calling, then the defense
came in and let Case Keenum tear them apart to set up a walk-off field goal. I
understand how incredible Rivers' last game was, but I don't believe he can keep up
anywhere close to that performance as he is streaky at best. Each team they play for the
rest of the year, except Cincinnati, is vying for a playoff spot, so they will have to bring
their A-game every game.
11) UP 5. Seattle Seahawks (6-5)- Russel Wilson is a baaaaaaad man. On a team with very
limited weapons, Wilson keeps this team afloat and wins them games with his accuracy
and poise. A primetime win over Aaron Rodgers and a massive road victory in Carolina
only add to this improbable year that the Seahawks are having. Three of their remaining
five games are against teams with a combined four wins as they are barely on the
outside looking in.
12) UP 3. Baltimore Ravens (6-5)-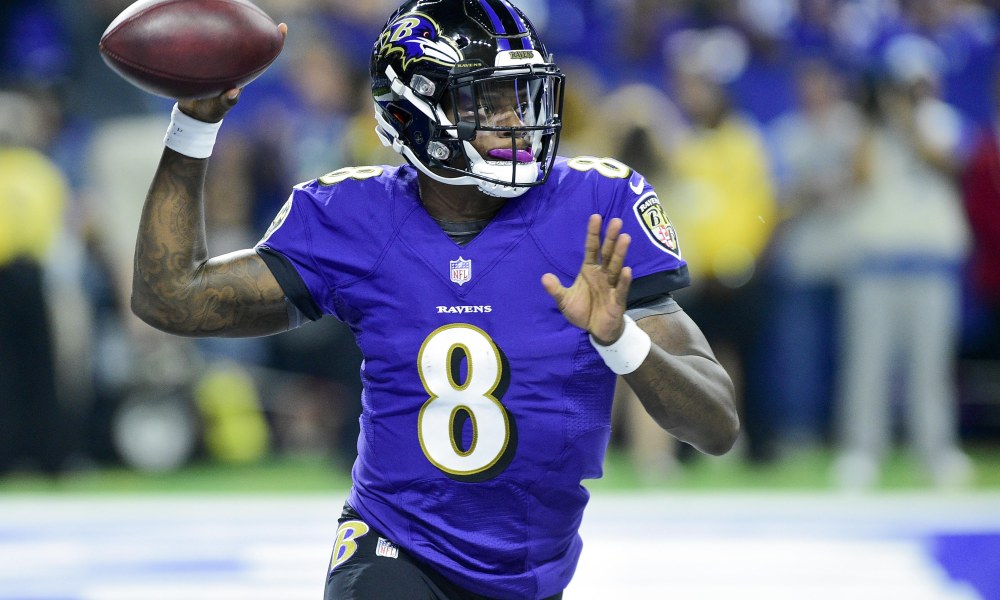 Gus Edwards has secured his role as the guy in the
Baltimore backfield. Alongside rookie signal caller Lamar Jackson, the Ravens dynamic
new rushing attack is working wonders for a team that before couldn't find an offensive
rhythm. With the top defense in the league working the other side of the ball, the
identity of John Harbaugh's squad is starting to emerge as a dangerous group.
13) DOWN 5. Carolina Panthers (6-5)- Three straight bad losses from the Panthers really
derail their playoff hopes. They had no business losing to the Lions and they let the
Seahawks find a way to cut up their secondary in the most pivotal moments of the
game. I'm concerned about how this team will finish off the year with the way their
defense is right now.
14) UP 6. Dallas Cowboys (6-5)- Who would have thought that the Cowboys would shoot up
to the top seed in the NFC East? By default, they are the easily the best team in the
division. Washington's season got derailed by the horrific injury to Alex Smith,
Philadelphia are still suffering from their brutal Super Bowl hangover and the Giants,
well, they suck. Jason Garrett is feeding Zeke an average of 22 carries per game over
Dallas' latest three game win streak and the Boys are rolling.
15) DOWN 2. Tennessee Titans (5-6)- Inconsistency kills and the Titans are the definition of
that. They've had games this season where they look like legit contenders, but they also
have games where they look like they don't even belong. The confusion is too much to
handle and it's not sustainable for a 16-game season.
16) DOWN 5. Washington Redskins (6-5)- As referenced before, the injury to Alex Smith
really puts a damper on the Redskins' season. The defense has steeply declined since
the beginning of the season and there is no reason to believe in this offense with Colt
McCoy at the helm.
17) UP 9. Denver Broncos (5-6)-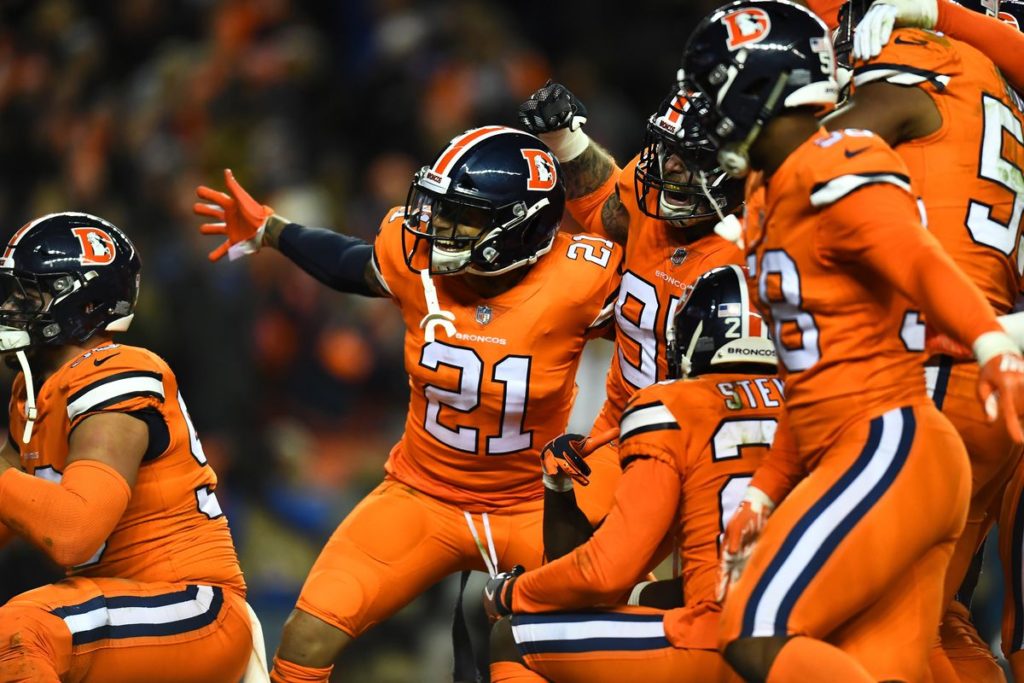 The Broncos are rolling and could very well find themselves
in the playoffs. They won their two toughest games of the ladder portion of the season
at the Chargers and against the Steelers and now only play one team with a winning
record (the Chargers at home) to close the year. A restless pass rush and a sneaky
dynamic run game are the stories of the season for one of the most surprisingly hot
teams right now.
18) SAME SPOT. Philadelphia Eagles (5-6)- The Eagles did not beat the Giants; the Giants
lost to the Eagles. That game was given to Philadelphia due to horrific play calling and
awful decision making. New York led 19-3 in the first half and absolutely collapsed and
surrendered to Carson Wentz and the Eagles defense. Both teams that played in this
game are bad, don't be encouraged, Philly fans.
19) UP 2. Cleveland Browns (4-6-1)- The Browns are becoming one of the most fun teams in
the league. You can have your opinion on Baker Mayfield's comments towards Hue
Jackson, or Damarious Randall handing Jackson the ball after a pick, but it was nothing
short of comedic gold in a sports world that is driven by drama. Not only are they
creating memes, but they are playing fairly well. I saw their logo on a "playoff hunt"
graphic. IT'S WEEK 13! What a turn around for a team that won just one game the last
two seasons.
20) DOWN 3. Atlanta Falcons (4-7)- I had blind faith for the majority of the season that
Atlanta's offense was too good to let this team suffer. However, their defense is in the
bottom seven of every major defensive category and is not giving the offense
opportunities to get into games. In a tough NFC South, there isn't any room to lack on
an entire side of the ball.
21) DOWN 7. Cincinnati Bengals (5-6)- AJ Green still isn't playing, now Andy Dalton is on the
IR; things are back on the downward spiral for Marvin Lewis. It amazed me that he got a
new deal this past offseason, now seeing him manage a team that was 4-1 at time into
the ground seems all too familiar. Cincinnati has one of the league's worst defenses and
now without any stars on offense, there is nothing exciting about this team outside their
severely underrated uniforms.
22) DOWN 3. Green Bay Packers (4-6-1)- Aaron Rodgers is not a top-3 quarterback in the
league this season. Prove me wrong? I understand that the defense isn't the best, but it
isn't horrible. I get that there aren't amazing weapons alongside him, but Aaron Jones
and Davante Adams are both well above average. Why is this team 4-6-1? Aaron
Rodgers is not playing phenomenal football like we are accustom to seeing. He's playing
fine, but not at the level necessary to make Green Bay beat good teams.
23) UP 6. Buffalo Bills (4-7)- Remember when Jalen Ramsey called Josh Allen "trash"? He
wasn't saying that after Sunday's game where Allen totaled 259 yards, two touchdowns
and no mistakes in Buffalo's win over Ramsey and the Jags. This defense has suddenly
worked its way up to second in the league in terms of yards allowed, being well enough
to give the Bills offense a chance.
24) UP 1. Miami Dolphins (5-6)- In Miami's last five games, the only team they've been is
the Jets in a 13-6 barn burner. The offense is in disarray, no matter if it's Ryan Tannehill
or Brock Osweiler under center, and even the receivers on the team are fed up with it.
Kenny Stills said he "can't throw the ball to himself" when asks whether or not he is
frustrated by the lack of targets he's getting. Maybe he should try. Anything is better
than whatever is happening now.
25) DOWN 1. Tampa Bay Buccaneers (4-7)- The biggest question of the NFL offseason will
be if Jameis Winston deserves a long-term contract. Though there are a lot of things that
need to be corrected, Winston nearly led a comeback against New York off the bench
and then through for over 300 yards against the 49ers without turning the ball over. In
my opinion, he's the best shot Tampa has.
26) DOWN 3. Detroit Lions (4-7)- The offensive line works great for the run attack of Detroit
for once. Kerryon Johnson ate when he was playing at full strength and even LeGarrette
Blount scored twice on one of the best run defenses in the league. The problem now is
what is happening through the air. Matt Stafford threw a pair of interceptions and failed
to find the end zone on Thanksgiving, adding more context to the argument of whether
or not he is elite.
27) DOWN 5. Jacksonville Jaguars (3-8)- The Super Bowl hangover from the Eagles is really
bad this season, but no team fell off quite like the Jaguars. We were talking about how
we may have been wrong about Blake Bortles, that this defense is the real deal, that this
could be the team that breaks the drought in Jacksonville. But no. Bortles is now on the
bench, the defense is in fact vulnerable and the Jags aren't even sniffing the playoffs. All
is normal once again in northern Florida.
28) DOWN 1. New York Giants (3-8)-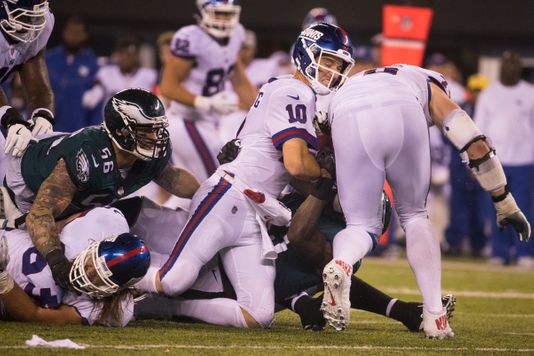 If you didn't guess by now (or if you don't listen to the
Sleepless City Sports podcast), I am a Giants fan and I'll be the first to tell you that this
team stinks on ice. New York had Philly Sunday and then Pat Shurmur ruined it all by
failing to give Saquon Barkley the ball after he ran for 100 yards in the first half. Maybe
next year with a new quarterback and a new play caller things will be different.
29) DOWN 1. New York Jets (3-8)- Speaking of bad coaching in New York, cue Todd Bowles.
There is zero reason that Bowles should have a job with the Jets next season because as
a "defensive specialist" you're supposed to make sure the defense is at least efficient.
Instead, the Jets don't crack into the top half of the league in any defensive category
except pass defense where they are exactly at the barrier at 16.
30) SAME SPOT. San Francisco 49ers (2-9)- On the real, the Nick Mullens hype train was
sensational while it lasted. Many people still might not know who he is, nor is there any
guarantee he starts another NFL game after this season, but it's hard to hate the kid.
Glad to see he is going to finish the year a starter barring anything drastic.
31) UP 1. Oakland Raiders (2-9)- Raiders wins nowadays are always something to marvel at.
Except in this case, it was against the Cardinals. So, does it even count? I beg to differ.
32) DOWN 1. Arizona Cardinals (2-9)- This offense makes the Bills offense look like
dynamite. They average 40 yards less per game than Buffalo, a whopping 232.5 per. A
lone bright side, they rank fourth in the league in pass defense. I could only imagine how
those practice scrimmages go.