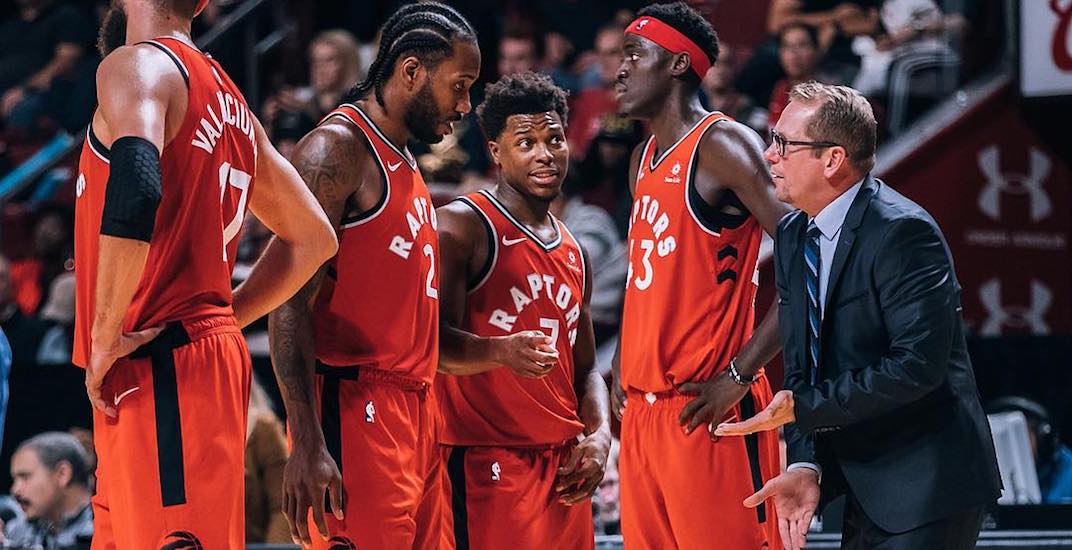 NBA Power Rankings: Week 3
November 5, 2018
BY: CJ Buck, Basketball Analyst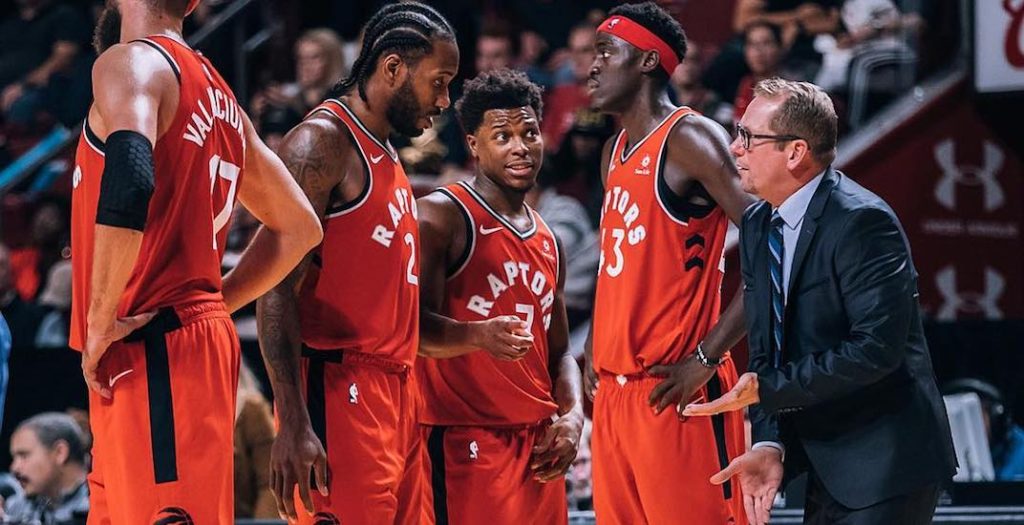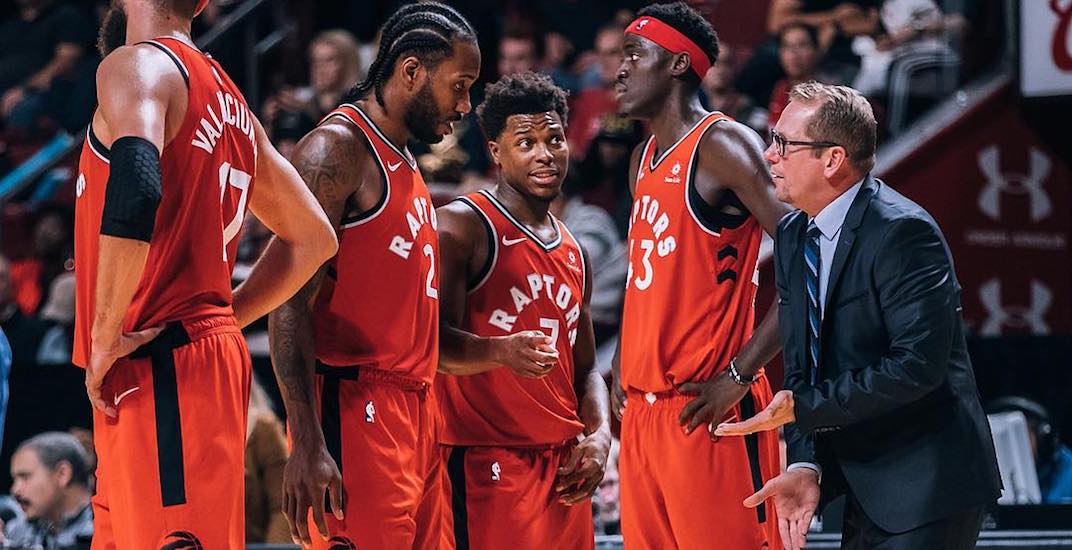 1. Golden State Warriors (9-1)
Previous: 1
They very well might hold this number one spot all season.
2. Toronto Raptors (9-1)
Previous: 2
The Raptors suffered their first loss of the season last week against the Bucks, but
Kawhi didn't play in that game. As long as Kawhi is healthy and Kyle Lowry
continues to lead the league in assists, the Raptors are a serious contender.
3. Milwaukee Bucks (8-1)
Previous: 3
While the Bucks lost their first game of the season last week to the Celtics, they still
had a chance to win at the end of the game. Mike Budenholzer has this team clicking
on all cylinders and Giannis looks primed to make a deep run in this year's playoffs.
4. Denver Nuggets (8-1)
Previous: 4
Denver looked like they might lose their second game of the season Saturday night
against Utah, but they outscored the Jazz by 20 points in the fourth quarter for their
eighth win. With Denver still not fully healthy, they should be the top challenger to
the Warriors in the West by the end of the season.
5. Boston Celtics (6-3)
Previous: 5
The Celtics looked better last week then in previous weeks, but their offense is still a
work in progress. As long as the Celtics have the deepest team in the NBA and they
keep playing top-notch defense they should be favorites in almost every matchup.
6. Indiana Pacers (7-3)
Previous: 9
Like the Celtics, the Pacers got off to a slow start to this season, but they've started
to find their rhythm after a couple weeks of games. I wrote about it in last week's
power rankings, but if the Pacers implement Domantas Sabonis into their starting
lineup over Thaddeus Young, they could get even better.
7. San Antonio Spurs (6-3)
Previous: 12
While the Spurs haven't played any of my top-6 teams yet, they have exceeded
almost everybody's expectations this early into the season. With injuries to their
top-2 point guards and having to integrate a star player into their system, it would
have been acceptable if the Spurs struggled to start this season, but that definitely
has not been the case.
8. Portland Trail Blazers (7-3)
Previous: 10
Portland is another team that has yet to play a top-6 team according to these
rankings. With all three losses coming against sub-.500 teams (Lakers, Heat, and
Wizards), Portland fans may want to limit their excitement this early into the
season.
9. Philadelphia 76ers (6-5)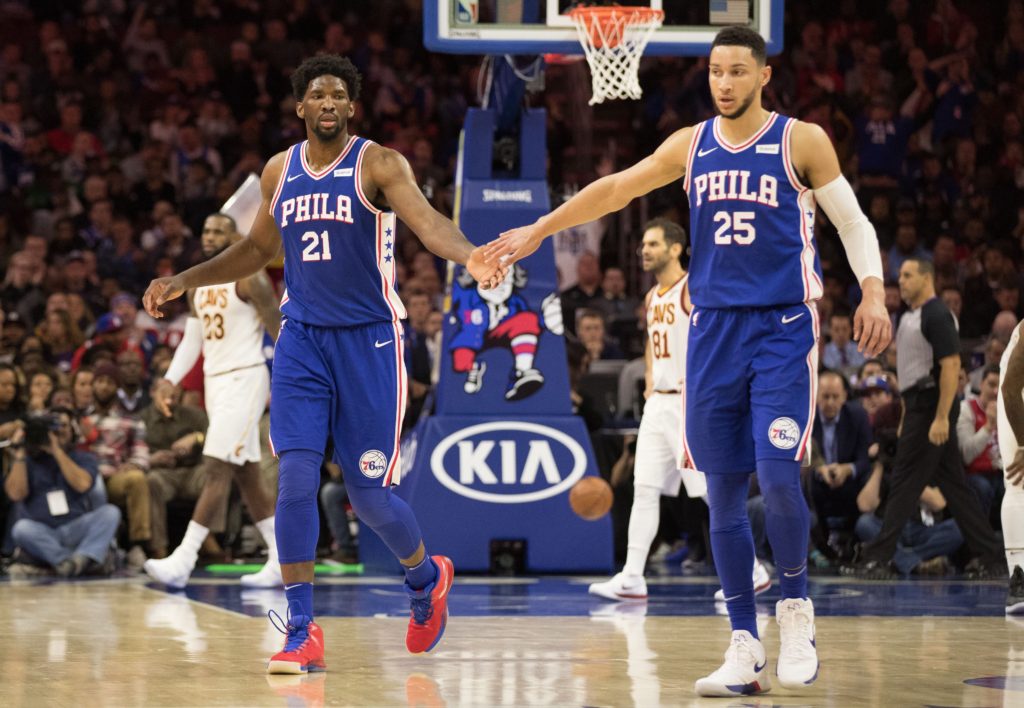 Previous: 13
While the 76ers have looking wildly inconsistent this year, three of their five losses
have come against top teams (Raptors, Bucks, Celtics). They'll obviously need to
beat at least one those teams to make it to the Eastern Conference Finals, but with
Joel Embiid currently playing at an MVP level, the gap between them and those
other top teams is shrinking.
10. Los Angeles Clippers (5-4)
Previous: 8
The Clippers had a bad week last week, but they still have the talent and depth to
win just about any game. As long as Gallinari can stay healthy this season, the
Clippers have a sneaky amount of firepower that can put up points with the top
offenses in the NBA.
11. Oklahoma City Thunder (4-4)
Previous: 18
Don't look now, but here come the Thunder. After starting the season with four
straight losses, they've now won four straight games. Even with Paul George
currently struggling with his shot, the Thunder looked much-improved last week.
When Andre Roberson returns from injury, the Thunder will be a nightmare
matchup for any team.
12. Utah Jazz (4-5)
Previous: 6
After a great start to the season, the Jazz have lost three straight games. Donovan
Mitchell will need to start shooting as well as he did last season, if not better, if the
Jazz want to make serious noise in the West.
13. New Orleans Pelicans (4-5)
Previous: 7
The Pelicans started the season 4-0, which was great, but they're currently on a five
game losing streak. While Anthony Davis looked like the number one MVP candidate
during his first four games, he's only played in two of the past five games and he
scored just 17 points in both games. If Davis struggles to stay healthy this year, the
Pelicans could finish in the basement of the Western Conference.
14. Charlotte Hornets (5-5)
Previous: 15
Charlotte is one of nine teams that currently have a positive offensive and defensive
rating (Warriors, Raptors, Bucks, Nuggets, Pacers, Trail Blazers, Clippers, and the
Jazz). That's a pretty good group to be included with. New head coach James
Borrego has this team moving the ball extremely well, currently fifth in the league in
team assists per game. Look for them to compete for the 4 through 6 seed in the
East.
15. Los Angeles Lakers (4-6)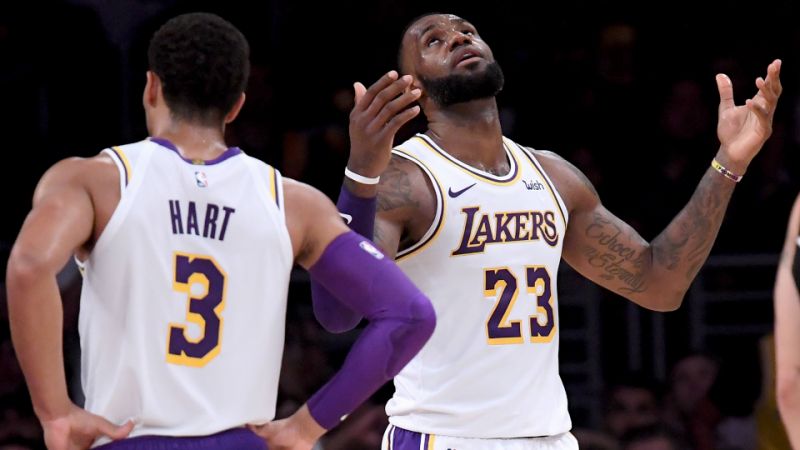 Previous: 14
If only the Lakers could play defense. They've played offense at a more efficient rate
than the Nuggets, which is impressive considering all the new players this team has.
But their defensive has been worse than the Knicks and Kings. Hopefully the
reported addition of Tyson Chandler can help their defense even a little bit.
16. Houston Rockets (3-5)
Previous: 17
Here come the Rockets! Not so fast, as their past two wins have come against
Eastern Conference bottom feeders (Bulls and Nets). This teams defense has been
abysmal this season. While their atrocious defense has been the headline thus far,
they actually have a negative rating in offensive efficiency as well. Not good for a
team that was a preseason favorite to be the top-contender to the Warriors.
17. Memphis Grizzlies (5-3)
Previous: 19
The Grizzlies been led by veterans Mike Conley and Marc Gasol. Their success has
been a welcomed sight and as long as those two key players stay healthy, the
Grizzlies could sneak into the playoffs.
18. Detroit Pistons (4-4)
Previous: 11
Four straight wins to start the season have now been followed by four straight
losses. Andre Drummond is currently averaging over one three point attempt per
game, while shooting just 11%. Drummond and the Pistons will need to improve if
they want to make the playoffs in the East.
19. Sacramento Kings (6-4)
Previous: 21
I'm a huge fan of this Kings roster. While they currently have a winning record, I
don't think they'll finish the season with one. They do, however, have a great young
core that could be making serious noise in the West in a couple seasons.
20. Minnesota Timberwolves (4-6)
Previous: 20
Last weeks 50-point performance by Derrick Rose overshadowed the fact that the
Timberwolves are still in a bad situation. While Karl-Anthony Towns looked better
last week, he and Andrew Wiggins are still averaging less than 20 points per game.
Not ideal for two players under $100 million contracts.
21. Brooklyn Nets (4-6)
Previous: 24
The Nets have looked like a better team every week so far, and that makes sense for
such a young roster. With the emergence of Jarrett Allen and Caris LeVert, this team
has the talent to sneak into one of the last playoff spots in the East.
22. Miami Heat (3-5)
Previous: 16
This team only has four players currently playing above average basketball
according to PER. Playing average basketball results in a PER score of 15, and the
Heat have 6 of their 10 main players with scores less than 15. The four guys with a
higher score: Hassan Whiteside, 18.4; Josh Richardson, 16.5; Rodney McGruder,
15.7; Kelly Olynyk, 15.6. Even the Cavaliers and Kicks have players with PER scores
over 20, the Heat will need improvement from multiple players if they want to make
the playoffs this season.
23. Orlando Magic (3-6)
Previous: 27
The Magic have been competitive in most of their games thus far this season. This
team has a relatively low ceiling though, with their limitations at the point guard
position.
24. Dallas Mavericks (2-7)
Previous: 22
Dallas started the season off 2-1 and some people thought they had a chance to
compete for the eighth seed in the West. Now that they've lost six straight games the
future doesn't look nearly as bright, at least for this season. While Dennis Smith Jr.
has been a huge disappointment this year, Dallas shouldn't mind considering Luka
Doncic is averaging almost 20 points, 7 rebounds, and 5 assists per game as a rookie.
25. Washington Wizards (2-7)
Previous: 23
All I'd like to say about the Wizards is that I hope they start selling sooner rather
than later. Having any combination of Bradley Beal, John Wall, Dwight Howard, Otto
Porter Jr., and Kelly Oubre on the trade market would be great entertainment for the
NBA.
26. Chicago Bulls (2-8)
Previous: 25
While Chicago has been struggling all season, last week they got some great
performances from rookie Wendell Carter Jr. Even though Jabari Parker looks like a
clear bust, the bulls finishing this season with a top-5 draft pick could set them up
for an extremely bright future built around Carter, Zach LaVine, Lauri Markkanen,
Kris Dunn, and another top draft pick.
27. Phoenix Suns (2-7)
Previous: 26
Devin Booker and Deandre Ayton could develop into one of the best one-two
punches in the league in due time, but that won't help them much this season. Josh
Jackson has looked horrendous this season, but rookie Mikal Bridges has looked like
he could be a big part of the Suns future, lessening the blow of Jackson being a bust.
28. New York Knicks (3-7)
Previous: 29
Other than back-to-back games against the Heat and Warriors, every Knicks game
has been close this season. That's basically the best-case scenario for this team,
however, since they have arguably the least talented roster in the NBA.
29. Atlanta Hawks (3-6)
Previous: 28
Trae Young has been great so far as a rookie, averaging 19 points and 8 assists per
game. While the Hawks are clearly rebuilding and would probably rather lose than
win games this season, they definitely have an exciting young core for the future.
30. Cleveland Cavaliers (1-8)
Previous: 30
Shout out to the Cavaliers for recording their first victory last week against the
Hawks!