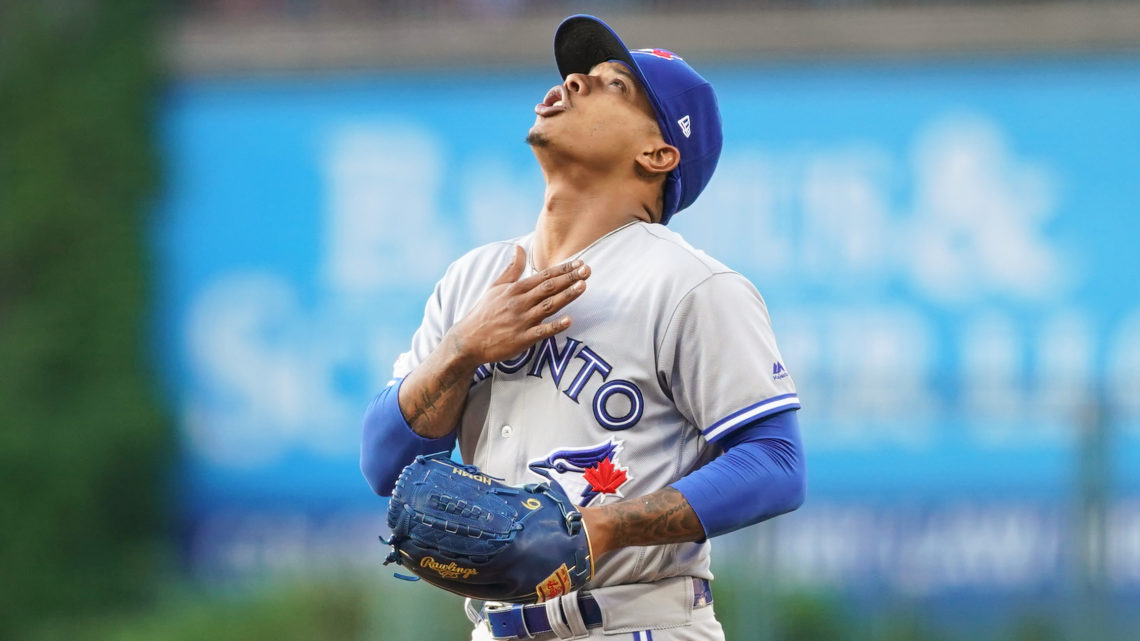 Five Potential Marcus Stroman Replacements
July 22, 2019
By: Dave Furtado, Sports Analyst
With the July 31st trade deadline fast approaching the Toronto Blue Jays are in an enviable spot. With 2019 being a rebuilding year for the Jays they will clearly be sellers in the come the end of the month, and oh man do they have some great trade chips. Their greatest trade piece lies with none other than ace right hander, Marcus Stroman. Stroman, who turned 28 during this season isn't set to hit free agency until after the 2020 season, making him more than just a rental arm for a contender. He is also in the midst of a career year pitching to a 3.06 ERA through 117 ⅔ innings. His record is lackluster at just 6-10, but that can be attributed to playing for what is currently the fourth worst team in baseball. Despite the rough looking record Stroman has given Toronto thirteen quality starts in twenty games to this point. In addition to that he also boasts one of the highest ground ball rates in baseball year in and year out. He is very likely to be traded at this year's deadline. The move will certainly garner the Blue Jays a nice haul of prospects, however it will leave a gaping hole on their pitching staff going forward. Now is a better time than any to evaluate some of the candidates to replace Stroman as the Jays ace in the coming years.
Nate Pearson
Nate Pearson is the most likely candidate to slide into the ace role north of the border. At a whopping 6'6" 245 pounds, he certainly has the size makeup for a front end starter. Pearson also has the stuff to match his size. His fastball ranges anywhere from 98 to 104 mph, and with a slider sitting around 88-90 mph that when on can be absolutely devastating, Pearson poses a major threat to batters at the next level. It is likely that fans will see the 23 year old flamethrower up with the big club next year as he is currently pitching for the Blue Jays Double A Affiliate the New Hampshire Fisher Cats. He currently holds a 3.41 ERA with 37 strikeouts in just 34 ⅓ innings for New Hampshire. Nate Pearson certainly has the makeup of a future all star in the bigs, but he will have to prove to people that his velocity can be sustainable through an entire season before being considered the next ace in Toronto.
Eric Pardinho
At just 5'10" 155 Brazilian hurler Eric Pardinho more closely resembles the physical attributes of Marcus Stroman than Nate Pearson does. Pardinho, who is just 18 years old is currently playing for the Class A Affiliate of the Blue Jays, the Lansing Lugnuts. Through four starts with Lansing Pardinho possesses a miniscule 1.89 ERA with 17 strikeouts. He has gashed his way around the lower levels of the Blue Jays farm system never having an ERA over 3.00, an extremely impressive feat for a player who just recently turned 18. As far a pitching repertoires go Pardinho has an impressive one, he boasts a fastball in the low to mid 90s as well as a plus curveball and a slider and changeup that project to be at the very least league average. The most impressive part about Eric Pardinho is his maturity, he brings an approach to pitching that goes well beyond his years, and his ability to execute pitches at a high level is something that will play well at the Major League level. Pardinho is likely a little further off from making his debut than other guys on this list just due to his age and limited professional experience, but a 2021 debut for Pardinho is definitely in the picture. Once he arrives there is a very good chance he can become the go to guy in the Toronto rotation for years to come.
T.J. Zuech
Next up on the list of potential Stroman replacements is towering right hander T.J. Zuech. Zuech stands at an imposing 6'7" and weighs 225 pounds and possesses a fastball in the mid 90's with some late movement. In addition to his power fastball, Zuech also throws an above average curveball as well as a slider and changeup that should round out a solid starting repertoire. He is currently pitching for the Blue Jays Triple A Affiliate, the Buffalo Bisons. He has pitched himself to a 4.73 ERA in his first five starts with the club. Zuech is definitely more of a reach to become an ace, but his sheer size and solid pitch mix will at least give him a shot at becoming a front end starter. One major question mark surrounding Zuech is his durability. He has dealt with injuries at almost every level of the minors, but if he is able to stay healthy he should be able to become a successful starter in the big leagues, and possibly the replacement to Marcus Stroman in the Blue Jays rotation.
Alek Manoah
Alek Manoah was selected 11th overall by the Blue Jays during this year's MLB Draft. The right hander from West Virginia is yet another physically imposing arm in the Toronto farm system. At 6'6" 260 Manoah has the size and build to sustain a long MLB season and seems like a guy who can rack up 200 innings per season. As far as his pitch mix is concerned Manoah possesses a lively fastball that sits in the mid to upper 90's as well as a plus slider and a solid changeup. Manoah also brings a fiery demeanor to the mound, similar to that of Marcus Stroman. While Manoah was just drafted and has yet to officially begin his journey to the MLB, he likely won't take very long to arrive. Being drafted so high and already having a wealth of college experience, Manoah may find himself on the fast track to the MLB, and he could be pitching in Toronto sooner rather than later. Once he gets to the bigs there is a very good chance he can become that front line starter to replace what the Jays will lose in Marcus Stroman.
Ryan Borucki
The final pitcher on this list is none other than left hander Ryan Borucki. Borucki debuted in the majors last season and impressed with his poise on the bump as well as his excellent changeup. Borucki has missed all of the 2019 season to date with elbow inflammation, but he has recently returned to the team. As for how he can fill the ace role in the Blue Jays rotation going forward, well his cool attitude will go a long way in helping him. Borucki made his debut in 2018 on the road against the then defending champion Houston Astros. He shut them down for six innings that night. This performance was followed by stellar outings both home and on the road against the likes of the Red Sox and Yankees finishing his rookie season with an ERA of 3.87. Borucki never seems to get too high or too low on the mound and that is the attitude it takes to anchor a rotation. His demeanor and pitching style are eerily similar to that of Mark Buerhle, who coincidentally Borucki views as a model for his career. If he can amount to what Buerhle was in his career, and he has certainly gotten off to a great start, then Ryan Borucki can absolutely fill the void that will be left if and when Marcus Stroman gets traded at the deadline.