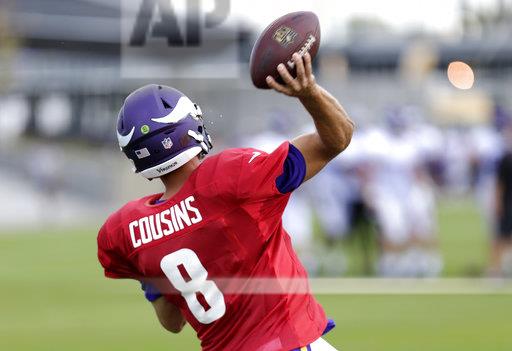 Fantasy Football Preview: Same Faces in New Places
August 3, 2018
Kirk Cousins, QB Minnesota Vikings
Vikings QB Depth Chart: Cousins, Trevor Siemian, Kyle Sloter
Outlook: Cousins is headed to Minnesota after throwing for 4,000 yards in three straight seasons for the Redskins. He has also been a top-10 fantasy quarterback for three straight seasons, with his best finish being fifth in 2016-2017. With Cousins joining a more talented offense and one of the best defenses in the league, he should be set for a top fantasy season.
Prediction: Throwing to Adam Thielen, Stefon Diggs, and Kyle Rudolph all season will work out a lot better than throwing to Jordan Reed, Terrelle Pryor, and Josh Doctson. Cousins finishes as a top-5 quarterback.
Brandin Cooks, WR Los Angeles Rams
Rams WR Depth Chart: Cooks, Robert Woods, Cooper Kupp, Pharoh Cooper
Outlook: Brandin Cooks was traded to the Rams from the Patriots this offseason. He recently signed a 5 year, $80 million dollar contract extension to stay in Los Angeles. The Rams must be expecting a lot of production from their new receiver and for good reason. Cooks has posted three straight seasons of 1,000 receiving yards and two straight seasons of being a top-10 fantasy receiver. He has improved his fantasy production every season and the same should be expected this year.
Prediction: Sean McVay uses Cooks all over the field and he finishes the season with at least 5 touchdowns of 30 or more yards. Cooks finishes as a top-10 receiver.
Jimmy Graham, TE Green Bay Packers
Packers TE Depth Chart: Graham, Lance Kendricks, Emanuel Byrd
Outlook: Graham has a reputation as being injury prone, leading to his consistent fantasy production being overlooked. He has been a top-4 fantasy tight end in six of the past seven seasons. Not even Gronk or Travis Kelce has been able to do that. When Graham was playing for an offensive coach in New Orleans, he posted two seasons of being the top fantasy tight end. His other two seasons there he finished second and third, respectively. Now joining the Packers, he should be able to replicate that kind of production.  
Prediction: He should be able to score double-digit touchdowns rather easily playing as a red zone threat for Aaron Rodgers this season. Graham finishes as a top-3 tight end.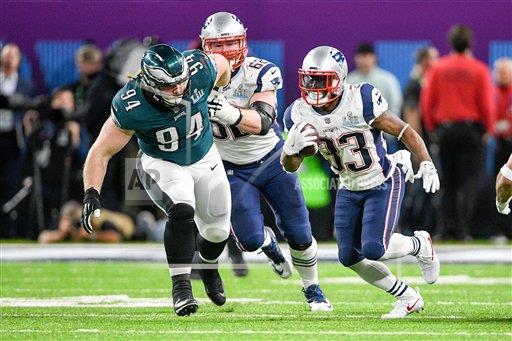 Dion Lewis, RB Tennessee Titans
Titans RB Depth Chart: Derrick Henry, Lewis, David Fluellen
Outlook: Lewis had a breakout season last year for the Patriots. He rushed for 896 yards and six touchdowns, which was good enough to be the 12th ranked fantasy running back. He wasn't the primary ball carrier in New England until week six, so he may have been able to post even better stats. Joining a backfield led by a younger and bigger Derrick Henry, however, will certainly hinder his fantasy value this season. While Lewis may be the better pass catcher and third down back, Henry will probably handle the goal line work, leading to few touchdown opportunities for Lewis.
Prediction: At best, Lewis will be splitting carries with Henry this season, leading him to finish outside of the top-25 running backs.
C.J. Anderson, RB Carolina Panthers
Panthers RB Depth Chart: Christian McCaffrey, Anderson, Cameron Artis-Payne, Fozzy Whittaker
Outlook: Owning C.J. Anderson in fantasy last season had to be extremely frustrating. He was running the ball really well and it led him to finish the season with over 1,000 rushing yards. The frustrating part of his season was the fact that he only scored three touchdowns. The Broncos offense was one of the hardest things to watch in the NFL last year, leading to very few opportunities for Anderson. Although he's joining a Panthers backfield led by Christian McCaffrey, he could see more goal line opportunities this year.
Prediction: McCaffrey never showed the ability to run in between the tackles last year. If it's more of the same this season, Anderson could become the primary ball carrier. If not, Anderson should still be short-yardage back, leading to more touchdowns than last year. Anderson finishes as a top-25 running back.  
Michael Crabtree, WR Baltimore Ravens
Ravens WR Depth Chart: Crabtree, John Brown, Willie Snead, Breshad Perriman
Outlook: Crabtree is the first player on this list that didn't have a successful season last year. After back-to-back top-20 fantasy seasons, Crabtree slipped to the 28th ranked receiver last year. He only posted 618 receiving yards but still managed to score eight touchdowns. Crabtree has been one of the most reliable red zone threats the past three years, never scoring less than eight touchdowns in any of those seasons. He should provide the Ravens with a consistent receiver, which they haven't had in awhile.
Prediction: He finishes with 10 touchdowns and one of the best seasons of his career. Crabtree finishes as a top-15 receiver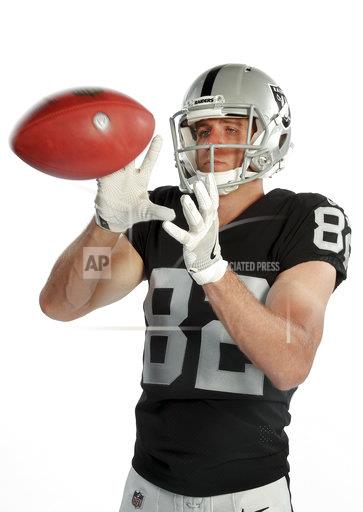 Jordy Nelson, WR Oakland Raiders
Raiders WR Depth Chart: Amari Cooper, Nelson, Martavis Bryant, Ryan Switzer
Outlook: With Aaron Rodgers missing most of last season, Nelson was due for a down season. With the emergence of DaVante Adams, Nelson's production slipped more than anybody could've expected. Nelson finished the year with 482 receiving yards, his lowest since 2009. Joining a talented receiving corps of Amari Cooper and Martavis Bryant will almost certainly end Nelson's run as a top receiver in the NFL.
Prediction: While Nelson finished as the second receiver in fantasy in 2014 and 2016, his run as a top receiver is over. He'll finish outside the top-15 receivers, but inside the top-25.
Jerick McKinnon, RB San Francisco 49ers
49ers WR Depth Chart: Mckinnon, Matt Breida, Raheem Mostert, Joe Williams
Outlook: McKinnon enjoyed the best season of his career last year, and it led to him getting paid by the 49ers. He finished as a top-25 fantasy running back due to Dalvin Cook getting injured early in the season. McKinnon has never been a dominant runner, never having finished a season with over 600 rushing yards, but he showed to be an excellent receiver last year. The 49ers will likely split their carries pretty evenly between McKinnon and Breida, but McKinnon's receiving ability will lead to him getting more overall touches.
Prediction: McKinnon repeats his production from last year and finishes just inside the top-25 running backs.
Carlos Hyde, RB Cleveland Browns
Browns RB Depth Chart: Hyde, Duke Johnson Jr, Nick Chubb, Matthew Dayes
Outlook: The Browns have almost entirely new offensive personnel this year. Hyde is coming off back-to-back top-15 fantasy seasons and the Browns expect him to improve their running game. While he has never finished a season with over 1,000 rushing yards, he has came close the past two years. Duke Johnson takes the majority of his snaps as a slot receiver so he shouldn't take too many carries away from Hyde, but rookie Nick Chubb will be a threat. If Hyde can start the season off strong he should be able to hold off Chubb and handle most of the carries for his team
Prediction: With a crowded backfield don't expect Hyde's first 1,000-yard season. He finishes outside the top-20 running backs.
Case Keenum, QB Denver Broncos
Broncos QB Depth Chart: Keenum, Paxton Lynch, Chad Kelly
Outlook: Case Keenum enjoyed a career saving season last year. He was signed in Minnesota to be a backup, but when Sam Bradford got injured Keenum took over and led his team to the NFC Championship game. He finished with 3,547 yards and 22 touchdowns; good enough to be the 14th ranked fantasy quarterback. Keenum is leaving one elite defense just to join another one in Denver. With Demaryius Thomas and Emmanuel Sanders at wide receiver, he's also be joining another strong supporting cast.
Prediction: Keenum carries his momentum from last year over to this season and finishes as a top-12 quarterback.
Allen Robinson, WR Chicago Bears
Bears WR Depth Chart: Robinson, Taylor Gabriel, Kevin White, Bennie Fowler, Anthony Miller
Outlook: Robinson missed all but one game of last season due to injury. He'll be looking to bounce back and lead a revamped receiving corps this season in Chicago. He's two seasons removed from being the fourth ranked fantasy receiver. That season he posted 1,400 yards and 14 touchdowns while catching passes from Blake Bortles. Mitch Trubisky should be a slight upgrade from Bortles and he'll be looking to air it out this year after being eased into the NFL last season.
Prediction: Robinson has a bounce back season and finishes as a top-20 receiver
Sammy Watkins, WR Kansas City Chiefs
Chiefs WR Depth Chart: Tyreek Hill, Watkins, Albert Wilson, Demarcus Robinson, De'Anthony Thomas
Outlook: Watkins has dealt with injuries since joining the NFL, but last year he was available for all sixteen regular season games. Even with good health, he only managed 593 receiving yards, but he did manage to haul in 8 touchdown catches. Watkins will be the clear third target for the Chiefs behind Tyreek Hill and tight end Travis Kelce, so his fantasy ceiling is rather limited.
Prediction: Unless Patrick Mahomes is dropping 70 yard bombs all season, Watkins will finish outside of the top-30 wide receivers.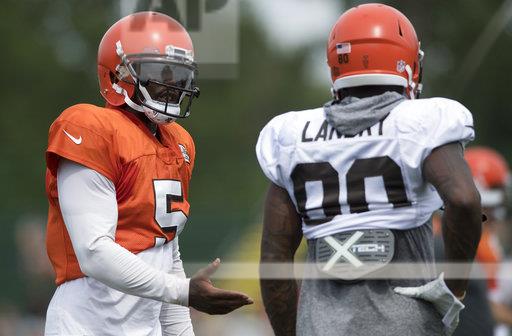 Tyrod Taylor, QB Cleveland Browns
Browns QB Depth Chart: Taylor, Baker Mayfield, Drew Stanton
Outlook: Tyrod Taylor had a rough season last year, his worst as a starter statistically. He'll be looking for a bounce back season and the Browns might just be the place to do it. For the first time in a long time, there is optimism surrounding Cleveland's offense. Taylor will be joining a team with much more offensive talent then he had in Buffalo. He's never played with as talented of receivers as Josh Gordon and Jarvis Landry, that and his rushing ability give him a high fantasy ceiling. His only issue will be holding off number one pick Baker Mayfield.
Prediction: Assuming he can hold off Mayfield for the entire season, Taylor should finish with a top-12 quarterback year.
Jarvis Landry, WR Cleveland Browns
Browns WR Depth Chart: Josh Gordon, Landry, Corey Coleman, Rashard Higgins, Ricardo Louis
Outlook: Landry is coming off of three straight seasons of being a top-20 fantasy wide receiver. Joining the Browns this season will make it a little harder to repeat that kind of production. Landry will no longer be the clear-cut number one receiver, with Josh Gordon playing opposite him. He should still be a pass catching machine, but repeating his nine touchdowns from last year is extremely unlikely. Tyrod Taylor isn't the best passing quarterback either, which will limit Landry's ceiling as well.
Prediction: Unless Mayfield exceeds expectations early, Landry will finish outside of the top-25 receivers, at least in non-PPR formats.
Alex Smith, QB Washington Redskins
Redskins QB Depth Chart: Smith, Colt McCoy
Outlook: After never finishing as a top-10 fantasy quarterback in his career, Smith finished last season ranked fourth. He had a drop in interceptions and set career highs in passing yards and touchdowns, with 4,042 and 26 respectively. After back-to-back strong fantasy seasons from Kirk Cousins in Washington, Smith will surely look to repeat that type of success. He's leaving one creative playcaller in Andy Reid for another in Jay Gruden. While the Redskins have less offensive firepower than the Chiefs, they have enough for Smith to have success.
Prediction: Smith won't repeat his fantasy season from last year, but he will have success in Washington. He finishes outside the top-10 quarterbacks but inside the top-15.
Written by Clifford Buck