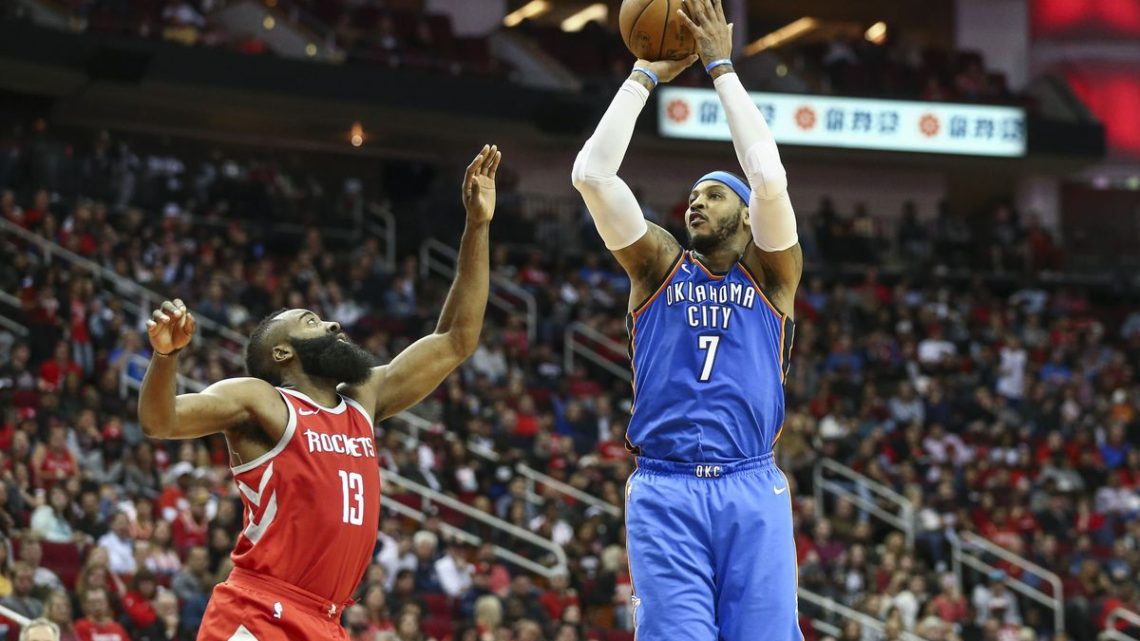 Could Melo Save the NBA?
July 28, 2018
By Cody O'Brien, Senior Basketball Analyst
It is now all but certain that Carmelo Anthony will be joining the Houston Rockets next year. The acquisition of Anthony could make Houston a legitimate threat to the Golden State Warriors this season, making them the NBA's only hope in avoiding another Golden State championship.
I know what you're thinking, "Melo is old and coming off his worst season ever! Golden State got Demarcus Cousins this year! How does Melo make Houston better?!"
Listen. Anthony fits perfectly into Mike D'Antoni's system, which is why Houston wanted to acquire him last summer before Oklahoma City swooped in and made the trade. We have plenty of examples of players flourishing in D'Antoni's offense. Steve Nash won back-to-back MVP's and led the league in assists for three straight seasons under D'Antoni. Amar'e Stoudemire was an All-Star three times while playing for D'Antoni, averaging more than 23 points and 9 rebounds per game. The most recent example of a player elevating his game in D'Antoni's system would be our reigning MVP James Harden, who has averaged 29.8 points and 10 assists in his two seasons under D'Antoni.
Wait, Anthony has played for D'Antoni before though. How did it work out then?
Well, when Anthony was first traded to the New York Knicks, he saw his field goal percentage go from .452 to .461, with his three-point percentage skyrocketing from .333 to .424. His points also went up to 25.2 to 26.3. The next season with D'Antoni wasn't so great, as Anthony's points and field-goal percentage both went down to 22.6 and .430, respectively. However, it is important to remember that was not only Anthony's first (and only) full season under D'Antoni, but also his first full season with the Knicks; meaning there was immense pressure on him. In Houston, Anthony will be the second – if not the third – scoring option. He'll be playing on a team that has already established who they are. They won't need him to be the guy like he had to be in New York.
Anthony won't just have a good season because he'll be in D'Antoni's system. However, he will have a great season because he is looking to prove himself. Coming off his worst season, Anthony will be looking to regain some respect Playing alongside two of the league's best playmakers in James Harden and Chris Paul, he should be able to do just that. If Anthony plays up to his potential, he should take Houston's offense to the next level, making them almost impossible to outscore.
Now that we've established that Anthony will turn a good Houston team into a great one, let's address the team that kicked them out of the playoffs last year. Golden State has obviously gotten a lot better now that they've added Cousins, but remember that Houston was the best team in the regular season last year and it took Golden State seven games to beat them. Not to mention, had Houston shot any better than 7-of-44 from three, they might have won that Game 7.
Also, if any superstar could go to Golden State and totally mess things up for them, it would be Cousins; his bad attitude and selfishness has been a problem for his teams his whole career. It seemed that might have changed last year with the New Orleans Pelicans, but being in California on the most popular team in the league might get to his head and turn him into the Boogie Cousins we remember. Let's not forget that Cousins is also coming off a very serious injury; most big men don't come back from an Achilles injury the same as they were before.
Anthony will be a stud this season. Cousins is a wild card. Don't sleep on the idea of Houston surpassing Golden State this season.