Astros Are the Cubs of the American League
December 30, 2016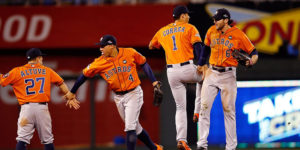 The Cubs rise to baseball dominance was a picture-perfect mold of how a baseball team should rebuild. In 2011, Theo Epstein was hired as the president of baseball operations for a last place team with a starved farm system. A clean, three years of rebuild (and a little luck) took the Cubs to a playoff berth in 2015, and a World Series victory in 2016. You're seeing all around baseball now – Yankees, Phillies, Reds, soon to be the Tigers – following a similar rebuilding structure of growing that coveted young core of talented players. Actually cashing in those high draft picks for young superstars is not easy, and don't be surprised if some of these teams I mentioned are stuck in a state of mediocrity for the next decade because their young players didn't turn out to be Kris Bryant, Kyle Schwarber, or Addison Russell. However, when your farm system does pump out immediate-impact superstars, you have an above-average rotation, and you start adding on veterans to fill in the little holes of your lineup … that's when you start winning games in October. That's the Astros in 2017.
           Some of you baseball fans might remember when the Astros were the Cleveland Browns of the MLB. They sucked. They lost 111 games in 2013 and their winningest pitcher was Jordan Lyles (who?) with a whopping 7 wins. The largest Houston TV carriers weren't even offering their games. But then fast-forward two years to 2015 (let's call it a nice three year rebuild, like the Cubs) and you start getting young players making an impact. George Springer took his ridiculous minor league stats and developed into a young stud leader. Jose Altuve took what he did well – batting average – and got better at it. The 2012 #1 overall pick Carlos Correa got the call-up, and absolutely mashed major league pitching. Combine those with impact players like Cy Young-winner Dallas Keuchel, Lance McCullers, and Evan Gattis – and you have yourself a well-rounded team. I was really excited for this team in 2016, especially after winning the wild card round in 2015. Unfortunately, they started the season off in a slump and never fully recovered. Keuchel regressed (somewhat due to bad luck, according to baseball metrics), McCullers got hurt, and there was just an overall lack of execution. The season wasn't a complete wash, though – 2nd overall pick in the 2015 draft Alex Bregman got the call-up and proved his worth quickly. Give this kid a comfortable full year in the majors, and you have a potential MVP candidate in the middle of your lineup. Between the power-hitting leadoff man Springer and the AL batting champ Altuve. That's just damn scary.
        So what's the next step for this team? They cashed in their draft picks for studs. They got their young leadership in Springer and Altuve – similar to Anthony Rizzo's role on the Cubs. Dallas Keuchel is bound to improve off a disaster, unlucky 2016 season. McCullers might be your Jon Lester-like strikeout artist. You have a few up-and-coming pitcher prospects, like Joe Musgrove, who might be able to fill in the back end of your rotation. Oh yeah, and you can mark Evan Gattis down for 30 homers next year (Kyle Schwarber, anyone?). General Manager Jeff Luhnow realizes just how close this team is to a championship. His recent addition of veteran catcher Brian McCann mimics the Cubs acquisition of veteran utilityman Ben Zobrist. Acquiring Carlos Beltran, too, brings some switch-hitting power (.295, 29HR in 2016) and veteran leadership to a clubhouse full of kids with little playoff experience. Perhaps the only things left to do are acquiring a veteran arm for a #4 starting pitcher slot and a power arm to solidify a shaky bullpen. Here is your rotation: Lance McCullers, Dallas Keuchel, Colin McHugh, [insert veteran pitcher here], and Joe Musgrove. Hard-throwing Charlie Morton is just an insurance arm as a sixth man. Give those guys 5 runs a game in support and you will cruise through the first couple rounds of the playoffs. Hey Jeff Luhnow – go all in this year. Trade some big prospects. Go get Jose Quintana from the White Sox. Spend some big money. You need to take some risks to win a championship, and the Astros are in a perfect spot with much of their young core under rookie contracts.
        I never want to really bet against my Red Sox, especially this year with the acquisition of Chris Sale. But a pattern I've seen in baseball is that there is always one team that emerges into the playoff picture that makes everyone say *wow, how could we not see that coming*. Take, for example, the Cleveland Indians. Before this year nobody predicted they could push the Cubs to a World Series Game 7, let alone get past the first few rounds of the playoffs. But take a closer look at their roster – a truly complete, harmonious team – and it really shouldn't shock anyone that they were as successful as they were in 2016. A few years ago it was the Royals. In 2017 it's going to be the Houston Astros. Look past the notion in your head about the teams that are a "lock" for the playoffs. It isn't that common that the overwhelming World Series favorite going into the season actually ends up winning the World Series (2016 Cubs were a special team; that's different). There's always a sneaky good team hidden in the fold.
        You heard it here first, folks. Astros: 2017 World Series Champions.
Written by Matt Loehle