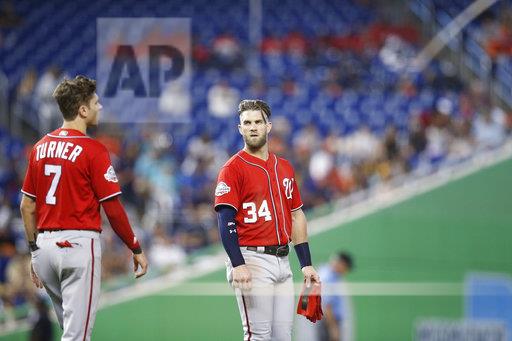 Why Are the Nationals Not Trading Bryce Harper?
July 31, 2018
This morning, the world woke up wondering if Bryce Harper would be traded before the MLB's deadline at 4 PM. Teams in play included the Cleveland Indians, LA Dodgers, and the Chicago Cubs, according to ESPN's Buster Olney. But suddenly, the Nationals' President and General Manager Mike Rizzo has stated he will stay put, not moving Harper. Was this the right decision for the Nats?
Although having a tough year making consistent contact (.220 BA), Bryce Harper flashes rare talent and still poses a threat every time he comes to the plate with 25 home runs thus far.   He will hit free agency this winter and command upwards of 300-400 million. He's a PR dream for an owner in a sport that struggles to market itself, and he's a year removed from hitting .319 and 29 home runs and a few years removed from a ridiculous 2015 MVP season (.330 HR, 42 home runs).  When evaluating this move from the Nationals' standpoint, you have to consider that losing a guy like Harper with no return is gut wrenching and a huge missed opportunity. I guarantee Rizzo took calls and tried to get an offer similar to what the Orioles got for Manny Machado. He's not an idiot and knows he will probably lose Harper to the open market.  
Here's what happened: Those 3 teams did not put together an offer worthy enough of Harper.  In other words, the Nationals would not have gained anything they would have missed out on. Of those 3 teams, the Cubs have 1 top 100 prospect according to MLB.com and he's number #96, and the Indians also only have one, having traded their sterling young catching prospect Francisco Mejia for reliever Brad Hand. These two teams have two of the worst farm systems in baseball.  Then there's the Dodgers who have prospects (4 top 100's), yet they already depleted a lot of their young talent for Manny Machado. I still think if a team like the Dodgers offered one or more of their top 100 prospects, or another contender with prospects like the Yankees stepped in, Rizzo would have no choice but to take the offer.
So when GM Mike Rizzo tells the Washington Post Harper is "not going anywhere," he tries to make it look to Harper that he turned down offers because he could not bring himself to trade the franchise player.  Wrong. There was no offer tantalizing enough, so Rizzo would rather make a push for the NL East or at least a wild card in a wide open National League. That seemed like the better option. It seems all but inevitable that the Nationals will walk away empty handed with no prospects or rings from the Bryce Harper era.
Written by Will McGuinness