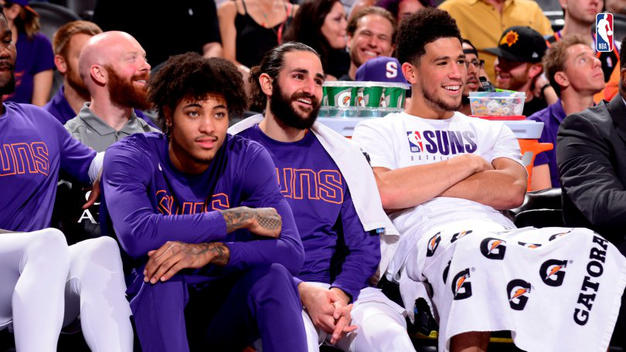 2019-20 Phoenix Suns Season Outlook
October 17, 2019
They're back!

We all know the Phoenix Suns have been, well, a pit of misery for the past decade. From barely missing the playoffs multiple times, to being cellar dwellers for WAY too long, to questionable front office moves, including a live goat pooping on former GM Ryan McDonough's desk, the Suns have failed to really accomplish anything since their last trip to the Western Conference Finals in 2009-10. Phoenix did make a lot of changes over the summer, and there are only a few familiar faces left in the Valley from last season. Let's check on the Suns and see what's in store for them for the upcoming season.

2019-20 Phoenix Suns Season Outlook
​​SMLXL
Key Additions: Ricky Rubio, Aron Baynes, Frank Kaminsky, Jevon Carter, Dario Saric, Cheick Diallo
Key Subtractions: T.J. Warren, Richaun Holmes, Jamal Crawford, Dragan Bender, Josh Jackson, Troy Daniels, De'Anthony Melton
Draft: Cameron Johnson, Ty Jerome, Jalen Lecque
Head Coach: Monty Williams

The common consensus throughout the NBA landscape when talking about the Suns is that they had a very bad offseason with some bloated contracts. And sure, I may be a biased Suns fan, but I thought that Phoenix addressed a lot of concerns that needed to be fixed this summer. The first task was to let certain players that didn't fit the team's mold or future walk away, including Josh Jackson (there are too many reasons to count), Dragan Bender (we really drafted him over De'Aaron Fox), and T.J. Warren, who simply was let go in favor of other wing players, which is okay. The first order of business was to hire a new head coach after they let Igor Kokoskov go after one season, and they were able to hire their top choice in Monty Williams. Williams was a coveted coach in this year's market, and he's expressed a lot of desire to change the culture in Phoenix, which is something I don't think I've ever heard a coach say here. He's one of the most respected faces in basketball and possesses not only a high basketball IQ, but also previous head coaching experience with the Pelicans. He's got a knack for developing big men, and his resume includes names such as LaMarcus Aldridge, Greg Oden, Anthony Davis, Steven Adams, and Joel Embiid, an extremely impressive group of big men. One major concern that was fixed was the need for a point guard, and Ricky Rubio is a great pick-up for this team. Rubio is going to do wonders for the Suns' offense, as he excels in the pick-and-roll and will do a great job at getting other players open. Also, he's a NBA-caliber point guard, which is nice. A lot of people were really disappointed with Phoenix's draft night, and I was as well initially. However, after taking a step back and watching how they've performed as of late, I'm very excited for what these rookies bring to the table. Sure, Cameron Johnson may have been a reach at #11, but he was the top three-point shooter in the nation last season at North Carolina, and he's already showing off his impressive range in the preseason. Ty Jerome brings a winning attitude to Phoenix after playing at Virginia, and while he's not the most explosive player by any means, he's one of the smartest players from this draft class and has a good jumper and sneaky good dribble moves to make him a force on offense. Undrafted rookie Jalen Lecque is one of the most explosive rookies and will probably spend a lot of time in the G-League and on the bench, which is appropriate since he never played in college. Phoenix is tired of using top selections to take long-term risks (see Alex Len, Josh Jackson, Dragan Bender, etc.) and instead opted for NBA-ready bodies who can contribute right away, which is essential for improvement this season.

And that was a theme throughout the off-season, as they picked up a lot of low-profile names, but NBA-caliber players rather than, say, Jimmer Fredette or Ray Spalding. By sending Jackson and Melton to Memphis, they received Jevon Carter, a back-up point guard who has looked great thus far. He's a DOG on defense and is tenacious on the ball, and he's definitely earned himself some rotational minutes this season. Speaking of defense, the Suns have two quality back-up centers in Aron Baynes and Cheick Diallo, and I'm very excited to see Baynes this season. Aside from having one of the best fan pages on Twitter, Baynes is a great mentor for Deandre Ayton, and is going to be a great rim protector and rebounder for the second unit. The Suns also acquired Dario Saric in the deal for Cameron Johnson, and while he had a down year with Minnesota last season, Saric could be in for a bounce-back season. A lot of attention will be towards Devin Booker and Ayton on the offensive end, which will lead to opportunities for Saric, and he had the best seasons of his career with not just Philadelphia, but with Monty Williams as the assistant of the 76ers coaching staff. The signing of Frank Kaminsky was a bit of a surprise, but he does provide depth at the power forward slot and if he can reach some of his potential he flashed while he was at Wisconsin, he'll be a beneficial addition.
​​SMLXL
We can't talk about the Suns without mentioning their four core pieces that are returning from last season (aside from Tyler Johnson and Elie Okobo). One important move the Suns made this off-season was to bring back the "Tsunami Papi" and the Drip Master of the NBA, Kelly Oubre Jr., on a team-friendly, 2-year, $30 million deal. Oubre was acquired in exchange for Trevor Ariza last season, and showed strong potential on the offensive end for Phoenix, posting career bests in every category during his half-season with the Suns. He still has work to do on the defensive end, and his decision-making could be a little better, but the energy he brings to Phoenix is cannot be matched. He's a big reason for the culture change in Phoenix, and he even coined the term "Valley Boyz" to describe the team, showing he's dedicated to a future with the Suns. While the defense may be shaky, Mikal Bridges is no reason to blame for that, and he was a really bright spot for the Suns last season. Because of his elite defensive skills and his ability to knock down the open jumper, he quickly earned a starting spot on the team and ended up finishing 8th in the NBA in steals, a very impressive feat for a rookie. If he can improve his game on the offensive end, particularly becoming a more consistent shooter and driving to the basket more, the sky is the limit for Bridges, and when I watch him, I see flashes off, dare I say it, Kawhi Leonard in Bridges' game. Speaking of second-year players, former #1 pick Deandre Ayton is back this year and ready to prove that he was deserving of said selection. He had a very solid rookie season that was overshadowed by players like Luka Doncic and Trae Young but still managed to make the All-Rookie First Team. He's had a tough time transitioning defensively, but has shown a lot of promise on both ends to become a All-Star caliber, prototypical center. His development is essential to Phoenix's success, and remember how I mentioned Monty Williams has a knack for getting the most out of big men? I'm positive we can add Ayton's name to that list in the future, and he's already showing progress in a few preseason games. Finally, you can't talk about the Suns without mentioning Mr. 70, Devin Booker. He's the leader on this team playing with a new contract, and he's already had to experience so many different players and coaches throughout his short NBA career to really have any sort of comfort-ability. He's one of the most lethal scorers the game has seen in recent memory, as we've all seen his ability to take over games, albeit mostly in losing situations. What's crazy about Booker is that he's not even in his prime yet; he turns 23 at the end of October. At this stage in his career, the durability of Booker worries me the most as he has missed a significant portion of time over the past 2 seasons. And yes, he may be a liability on defense, but he's worked on that over the summer and has already shown some slight promise on that end in recent games.

Final Outlook for the 2019-20 Phoenix Suns
​​SMLXL
As much as I can praise the Suns for who they have right now and the moves they've made, I can unfortunately say that they still have some improvement to work with and aren't a playoff team yet. However, this team is going to be better than a lot of people are expecting them to be. They may have won only 19 games last season, but we saw them defeat some great teams last season, including a season sweep of Milwaukee and road victories against Golden State and Boston. With everyone healthy, they have the talent to be competitive in every game this season. With Williams at the helm, I'm expecting a big season from Deandre Ayton, as well as a huge leap from Mikal Bridges. As for Booker, this could be the season that he finally cements himself as an all-star in the loaded Western Conference. We all know he's tired of losing, and even though the Suns have a much better squad than last year, they are simply too young and there is too much competition to realistically expect a playoff berth this season, but I could definitely see them in playoff contention next season. The Phoenix Suns will not be losers for much longer. My record prediction for Phoenix is 33-49, a 14-game jump that looks similar to what the Sacramento Kings did last season. The future in the Valley is bright, and I'm very excited for what this upcoming season holds for the rising Suns.