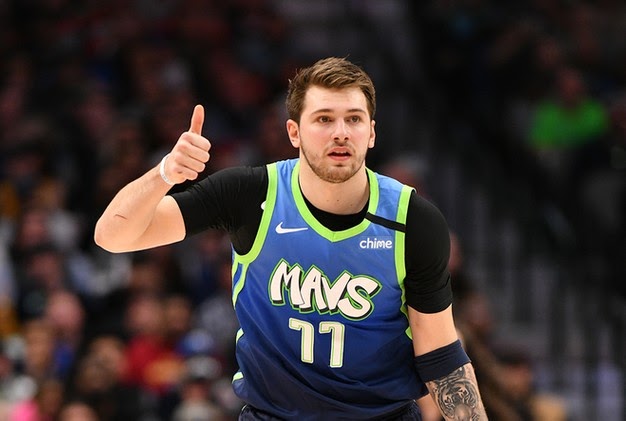 2019-20 NBA All-Star Game Picks and Predictions
January 21, 2020
By: Dylan Delaney, Basketball Analyst
The NBA All-Star Game's fan voting is coming to a close soon, which means that the NBA All-Star teams will likely be announced sometime soon. No, fan favorites like Tacko Fall and Alex Caruso (much to Bleacher Report's chagrin) will more than likely not be part of February's festivities, but there will be plenty of starpower in attendance for this year's All-Star Game. We've seen some major improvements from up-and-coming superstars like Luka Doncic and Trae Young, as well as some of the game's best like Giannis Antetokounmpo and LeBron James put on a clinic for basketball enthusiasts night after night. With all of that being said, I've decided to put my analysis into effect and choose my selections for the All-Star Game for the second consecutive year, and I would say I did a pretty good job predicting last year's results, so here's to hoping we can keep the hot streak going.

Eastern Conference

Giannis Antetokounmpo- Do I really need to make a case for Giannis?
​​SMLXL
Kemba Walker- Kemba filled Kyrie Irving's flat-earth-sized void at point guard and has fit in seamlessly, and the Celtics are one of the best teams in not only the Eastern Conference, but the NBA as a whole. Easy lock.

Pascal Siakam- I've wrote about the rise of Pascal Siakam previously and he's a primary reason the Raptors are so successful in the post-Kawhi era. Many other players have stepped up as well, but Siakam's improvement should undoubtedly be noticed with an All-Star selection.

*Joel Embiid- Embiid has regressed a little bit across the board and has been recently dealing with a finger injury, but that won't stop him from being an All-Star. There are two players in the NBA who are averaging 23 points and 12 rebounds a game: Embiid and Giannis Antetokounmpo.
*- Embiid may be injured for the game, injury replacement listed below

Trae Young- Yes, Ice Trae does play for the Hawks who currently own one of the worst records in the NBA, but that is not Trae's fault. Young is averaging a ridiculous 29.2 PPG, which is a 10-point increase from last year, and he increased his 3PT% another 5% to 37.6% in 2019-20.

Bradley Beal- Beal is a situation similar to Trae, especially since John Wall is in for another lost season. The Wizards are 5th in PPG this season, and Beal is the catalyst in their offensive rampage by averaging over 27 PPG. I won't bother talking about their defense.

Jimmy Butler- The Heat are flourishing in Butler's first season in South Beach, and Butler's arguably doing the most that he's ever done on the court. He's shied away from the three-point line and is shooting them at a miserable 27% clip, but he's breaking career-highs in assists and rebounds by a landslide. He's in elite company, as the only other players to have a similar statline of 20 points, 7 rebounds, and 6 assists are Luka Doncic, LeBron James, and Russell Westbrook. He's also provided us with some truly amazing soundbites and is an investor, as he owns real estate in T.J. Warren's head.
​​SMLXL
Domantas Sabonis- I chose Domas for last year's game, and it would be criminal if he wasn't included in this season's festivities. To show how truly special of a season he's having, only 3 players in NBA HISTORY have posted a season statline of 17 PPG, 13 RPG, and 4 APG on 50% shooting. Those three players are Bill Walton, Charles Barkley, and Kevin Garnett. Indiana is rolling and needs a rep in Chicago, so hopefully Sabonis is able to showcase his game on a broader landscape for the world to see.

Bam Adebayo- The Heat are rolling this year, and while Jimmy Butler's addition has been extremely beneficial, the improvement of Bam Adebayo is a major reason why the Heat have been so successful. Adebayo has been a key interior presence for Miami all season, and his statline averages of 16 points, 10 rebounds, 4 assists, and 1.2 blocks and steals tells you everything you need to know about Adebayo's impact. He's had 24 double-doubles and two triple-doubles this season, the latter being very impressive given that he's a center.

Zach LaVine- If Trae Young can be a starter in this year's game with one of the worst records in the league, then LaVine should be in even if the Bulls are on the outside of the playoff picture. LaVine has asserted himself as a true #1 option on the young Bulls squad, averaging 25 PPG to go along with about 5 boards and 4 assists a contest. LaVine's sweet spot has been the corner, as he's shooting an impressive 51.2% clip from the corner this season. Plus, it's in his city of Chicago, so you gotta let the kid shine for the home crowd. I got LaVine making an appearance.

​​SMLXL
Jaylen Brown- The last two selections are really tough, and I'm narrowing the selections to Brown, Khris Middleton, and Jayson Tatum. I feel like at least one more Celtic should be included this year, and if I had to decide between Tatum and Brown, I'm leaning towards Brown. He's been more consistent than Tatum this season, as he's shooting about 50% from the field and 40% from three-point land, which are both considerable jumps from the previous season. He's also got a defensive rating of 106, which is impressive considering he is usually guarding the opponent's best offensive wing, and his +6 net rating is another reason why he's blossoming into one of the league's best two-way players. He has definitely earned his extension money.

Khris Middleton- This is was easily the toughest decision I made thus far, as I really wanted Jayson Tatum on this team because he's been spectacular for Boston this season and he's been instrumental to the Celtics' success. But, when you break down the performances between Middleton and Tatum, Middleton has had a slightly more impactful season as the Robin to Giannis' Batman. Middleton is in serious contention for joining the 50/40/90 club, as he's got splits of 49/41/89. It's also interesting that he's receiving the least amount of minutes since his rookie season with Detroit (likely because of the Bucks destroying just about everyone), but he's having (arguably) his best season to date, as he's averaging 24.6 PPG, 7.2 RPG, and 4.8 APG per 36 minutes. Plus, the Bucks have the best record in the league and it feels weird just sending one representative to Chicago. Middleton edges out Tatum and is my final selection for the Eastern Conference All-Stars.

*Injury Replacement: Jayson Tatum

Just Missed The Cut:
– Spencer Dinwiddie
– Andre Drummond
– Ben Simmons

Western Conference

LeBron James- Yeah, I have no words.

James Harden- Yes, the free-throw shooting, step-back-splashing, jump-shot-jacking, 37-point-per-game, bearded man will be Chicago without a doubt.
​​SMLXL
Luka Doncic- Luka is taking the league by storm and gets to put on a display on the biggest stage. No discussion necessary.

Anthony Davis- Davis gets to play in front of his home town, where Chicago fans can only dream that he'll be in a Bulls jersey next year.

Kawhi Leonard- Mr. Load Management manages to post some ridiculous games when he's in action, and he's continued to show why he's one of the best players in the league in his initial action with the Clippers.

Nikola Jokic- The Joker started off slow this season, but he's picked it up down the stretch to lead the Nuggets to another strong start this season. His shooting splits have increased over the season and he's shooting 33% from 3-land, but his 105.6 defensive rating is the highest it's been since his rookie season, so that's improvement on both ends. He is truly a one-of-a-kind player.

Damian Lillard- The Trailblazers have struggled this season after sending OKC into a rebuild (or the 7th seed….. funny how things work!) and making it to the Western Conference Finals. However, that won't stop Lillard from making another All-Star appearance, as his 27 PPG and 7.6 APG are too much to overlook. It's Dame Time in Chicago.
​​SMLXL
Donovan Mitchell- Mitchell has taken his game to another level this year as the offensive leader for the Jazz. He's been able to get a bucket whenever the Jazz need it, and he's had some truly incredible performances over the Jazz' impressive winning streak since acquiring Jordan Clarkson. What's impressive about Mitchell's offensive game is that he can score from all over the court, as he's shooting 48% from mid-range shots and 36% from three-point shots. Spida makes his first all-star appearance, and it's well-deserved.

Rudy Gobert- Gobert was surprisingly snubbed from last year's contest, and that opened up some waterworks from the French big man. He's got to be a lock for this year's game, however, as he's having one of his best seasons to date. He's making over 2/3 of his shots (67.8%!!) and is one of the few players, maybe ever, to have a higher field goal percentage than their free throw percentage (67.8 to 62.1). Combine that with his incredible rim protection, and he's got a case to be a top 5 center in the league today. There will be no tears for Rudy this time around, as he makes his first All-Star appearance.

Brandon Ingram- BI was the crown jewel heading back to the Pelicans in the Anthony Davis trade, as New Orleans recognized his play prior to his season-ending injury. Ingram has rewarded them by being an absolute force for the Pels this season. He's averaging 25.6/6.8/4.3 on 48/40/86 splits, a massive improvement from his previous years with the Lakers. While the Pelicans defense has been abysmal for most of the season, BI and the Pels have been playing some great basketball of late can still make a run at the playoffs, especially with Zion Williamson returning from injury.
​​SMLXL
Devin Booker- We all know what the general opinion of Devin Booker has been in recent years: great player, great scorer, but can he lead his team to wins? Last season, the Phoenix Suns had 19 wins in the ENTIRE season. This year, they're already at 18, and most of those have came without big man Deandre Ayton. Say what you want about Booker's defense, but he's improved drastically from last year on the defensive end, and he's proved it in crunch time against teams like Orlando and Boston, where he was all over the place. He's placed himself in a bunch of elite clubs with his performance this season, so I'll just mention one exclusive one: there are only two players in the top 30 in the NBA in PPG, APG, and FG%. One of those players is Devin Booker. The other is Giannis Antetokounmpo. It's time to stop ignoring the obvious and Book Devin in this year's all-star game.

Chris Paul- The Oklahoma City Thunder have shocked just about everyone with their record this season, as they currently sit 7th in the Western Conference. And for some reason, a lot of people thought Chris Paul would be washed up after being dealt for Russell Westbrook, and boy, has he proved everyone wrong. Paul has flown under the radar this year, posting a statline of 16.7/5/6.5 to go along with 1.6 steals, and he's shooting splits of 48/36/90, with an EFG of 54.7%. Next, he has an astounding net rating of +13, with his offensive rating being a ridiculous 121 and his defensive rating at a 108. Finally, he's been ridiculous in the clutch this season, as according to NBA Stats Clutch Player Stats, Paul has averaged 3.6 PPG on 55% shooting from the field and led the Thunder to a 17-12 record in close games, which are all unreal statistics, especially from someone that everyone counted out this season. It's a great story from CP3, and I believe he should be awarded by receiving another all-star appearance to add to his illustrious resume.

Just Missed The Cut:
– Paul George and Karl-Anthony Towns (injury)
– DeMar DeRozan
– Russell Westbrook
– Shai Gilgeous-Alexander

All Stats come courtesy from NBA Stats or Basketball Reference, unless otherwise noted.