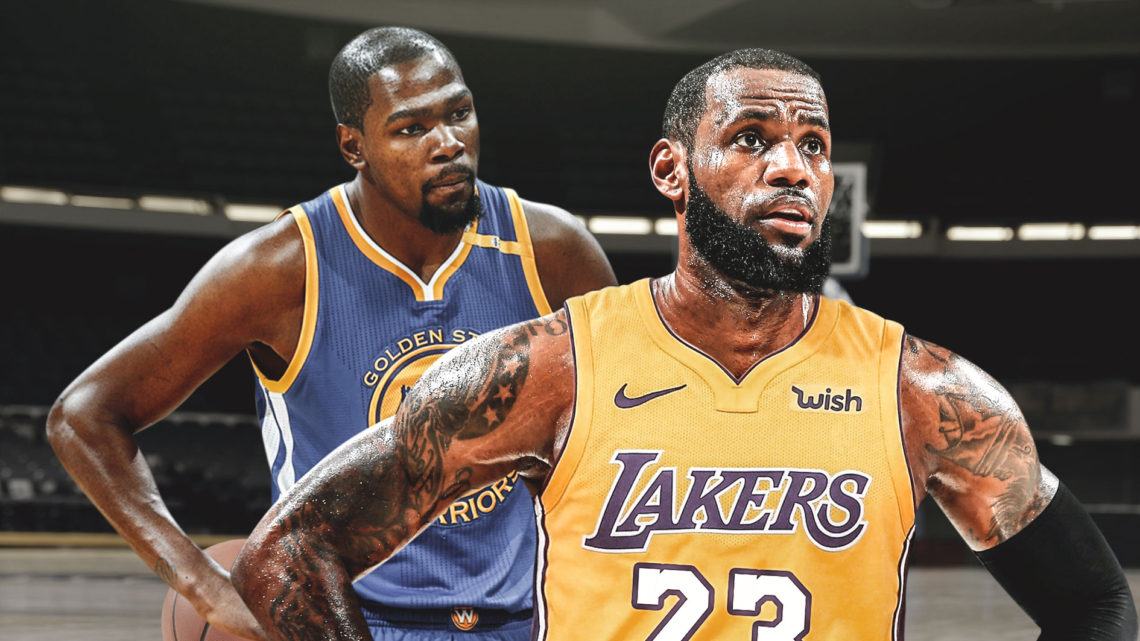 2018-19 NBA Power Rankings
October 16, 2018
By Clifford Buck Jr., Senior Basketball Analyst
1. Golden State Warriors
The two-time reigning champions lost Javale McGee and Zaza Paculia, but replaced them with 6-time All Star DeMarcus Cousins. They're the clear favorites to repeat coming into this season.
2. Boston Celtics
Kyrie Irving and Gordon Hayward are back after the Celtics made it to game seven of the Eastern Conference Finals without them. Another year of development from Jayson Tatum and Jaylen Brown make this team the most likely to knock off the Warriors. 
3. Houston Rockets
The Rockets lost key defenders in Trevor Ariza and Luc Mbah a Moute, only to replace them with Carmelo Anthony. If Anthony can buy in to a complementary role, the Rockets could meet the Warriors in the Conference Finals again.
4. Toronto Raptors
Toronto finished as the one seed in the East last year, then traded Demar Derozan and Jakob Poeltl for Kawhi Leonard and Danny Green. With a starting lineup of Kyle Lowry, Green, Leonard, Serge Ibaka, and Jonas Valanciunas, the Raptors will be a scary team, as long as Leonard is playing like he wants to be there.
5. Los Angeles Lakers
LAbron fever is just getting started. With a potential breakout year coming from Brandon Ingram, along with added depth from Rajon Rondo, JaVale McGee, and Lance Stephenson, the Lakers could finish as a top-3 seed in the West.
6. Philadelphia 76ers
The 76ers plan to start Markelle Fultz this year. If he shows he's capable of making plays for himself and others, then the 76ers will be an improved team coming off a 52-win season.
7. Utah Jazz
With the entire core from last year's Jazz team returning, they're banking on internal development to improve upon their 48-win season last year. While they made it to the Western Conference Semifinals, they'll need more development from Donovan Mitchell and Rudy Gobert to make some noise in the Western Conference Playoffs.
8. Oklahoma City Thunder
Carmelo Anthony is gone and Paul George is back, which means the Thunder should slightly improve this year. Anthony had easily the worst season of his career last year, single handedly shooting the Thunder out of games. A team led by George, Russell Westbrook, and Steven Adams can win against almost any opponent.
9. Denver Nuggets
A potential healthy season from Paul Millsap and continued development from the Nuggets young core should lead this team to compete for a top-4 seed in the West.
10. Milwaukee Bucks
One of the best free agent singings this summer was the Bucks signing head coach Mike Budenholzer. Budenholzer should be able to build a strong offense around Giannis and Khris Middleton. They should finish with a top-4 seed in the East.
11. Portland Trail Blazers
Portland is bringing back the same core that finished third in the West, only to lose in the first round of the playoffs to the Pelicans. This season will be the most important for their young backcourt. If they continue to improve then all will be well, but if they struggle the trade rumors will begin to heat up around Damian Lillard or C.J. McCollum.
12. Indiana Pacers
A young and upcoming team in the East, Indiana added some key role players this summer. The Pacers added Tyreke Evans and Doug McDermott to a young core built around Victor Oladipo and Myles Turner. If Turner and Oladipo can continue to develop and Evans can become another key playmaker for the team, then Indiana should compete for a top-4 seed in the East.
13. Minnesota Timberwolves
The Timberwolves have so many questions coming into the season. With Jimmy Butler likely to be back with the team for at least a couple months, Minnesota has the talent to compete with the best teams in the West. Team chemistry will be the biggest issue with this team, but they should still ultimately make the playoffs.
14. Washington Wizards
Adding Dwight Howard to a core of John Wall, Bradley Beal, and Otto Porter Jr. might seem like a good move, but Howard hasn't made a team better since he was in Orlando. If they don't click early, look for a lot of internal issues with this team for the majority of the season.
15. New Orleans Pelicans
The Pelicans lost a key player from last year's team in Rajon Rondo. If Anthony Davis can play like an MVP all season, then the Pelicans should perform like a seven or eight seed, but if he struggles at all then the Pelicans could end up missing out on the playoffs this year.
16. Miami Heat
Unless the Heat make a trade for Jimmy Butler, they're best outcome will be competing for a six seed in a weak Eastern Conference. This team has some young talent, but nobody that looks like a future superstar. Miami is a team without a clear direction and not enough salary cap space to pursue a max-level free agent next summer. Look for Miami to make some serious moves this year.
17. San Antonio Spurs
Dejounte Murray being lost for the season is a big blow to the Spurs. Already one of the best defenders at the point guard position in the NBA, Murray and Derozan would have quietly been one of the best backcourts in the West. With Manu Ginobili, Tony Parker, and Danny Green all gone, look for a slight regression from a very consistent Spurs franchise.
18. Detroit Pistons
The Pistons roster consists of Andre Drummond, Blake Griffin, and a lot of question marks everywhere else. Drummond and Griffin both have the talent to be top-25 players in the NBA, which should help to compete in a weak Eastern Conference, but if they don't get consistent production from players like Reggie Jackson, Stanley Johnson, and Luke Kennard, then they will struggle the majority of the year.
19. Charlotte Hornets
The Hornets traded Dwight Howard and will replace him in the starting lineup with Cody Zeller. Charlotte has actually performed like a top team in the East when Nic Batum, Zeller, and Michael Kidd-Gilchrist play with Kemba Walker, but that has been the Hornets biggest issue the past couple of seasons, health. If the Hornets can stay healthy this season look for the to finish 5th-7th in the East, but that's a big if.
20. Los Angeles Clippers
The Clippers have one of the deepest benches in the NBA. Too bad their bench players are just about as good as their starters. A starting lineup of Patrick Beverley, Avery Bradley, Danilo Gallinari, Tobias Harris, and Marcin Gortat won't compete with most starting lineups in the NBA.
21. Dallas Mavericks
This Mavericks season will depend on how quickly Luka Doncic can adapt to the NBA game, and how much Dennis Smith Jr. improved this offseason. If both players can have successful seasons, including meshing with new acquisition DeAndre Jordan, the Mavericks could be a sleeper to compete for a playoff spot this year.
22. Chicago Bulls
Chicago has one of the best young cores in the NBA. Kriss Dunn and Zach Lavine have the potential to become a scary backcourt in the future, with Dunn's lockdown defense and Lavine's potentially elite offense. Pair their backcourt with an equally skilled young frontcourt of Lauri Markkanen, Wendell Carter Jr., and Jabari Parker, and the Bulls have a handful of young players to build around for the future.
23. Brooklyn Nets
Brooklyn finally has their own draft pick this year, after years of turmoil after trading their future for an aging core built around Paul Pierce and Kevin Garnett. While they won't be tanking to start the season, they don't have near the incentive to win as many games as possible anymore. If they struggle the first couple months of the season, the Nets should explore trading for more draft picks and to start losing on purpose.
24. Memphis Grizzlies
The Grizzlies have one of the widest possible outcomes to expect for this season. If Mike Conley, Chandler Parsons, and Marc Gasol stay healthy all year, the Grizzlies could finish as high as the fifth seed in the West. If they struggle with injuries all year again, they could end up being the worst team in the conference. Only time will tell with the Grizzlies.
25. Cleveland Cavaliers
With LeBron playing for the Lakers, the Cavaliers could struggle to find a new identity all year. The Cavs will led at point guard by an inconsistent George Hill, a young Jordan Clarkson who doesn't pass, and a rookie in Collin Sexton. Look for Cleveland to shop players like Kyle Korver, JR Smith, Rodney Hood, and Tristan Thompson when they start struggling.
26. Sacramento Kings
The Kings have a solid young core with a lot of upside. The downside of having an entire roster comprised of young players, outside of Zach Randolph, is that they all play for the Sacramento Kings. The Kings haven't shown any signs of being able to consistently develop young talent. Until they do that they should continue their losing ways.
27. Orlando Magic
All you need to know about the Magic and their upcoming season is that they only have two point guards on their roster, D.J. Augustin and Jerian Grant. With an entire backcourt built around Augustin, Grant, Evan Fournier, and Terrence Ross, it won't matter how good their frontcourt is. The Magic will struggle all season.
28. Phoenix Suns
Phoenix has a solid core to build around for the future, but not to compete this year. Considering the best options they have at both guard positions is Devin Booker, and the next option is….. Troy Daniels? Elie Okobo? Isaiah Cannon? The Suns have a young and promising frontcourt, but outside of Booker they have no ball handlers to help them win now.
29. Atlanta Hawks
All aboard the Trae Young train! This season for the Hawks will consistent of Trae Young, Trae Young, some John Collins, and Trae Young. Counting on a 20-year-old undersized rookie point guard to create all their offense will result in a lot of losses.
30.  New York Knicks
A starting lineup of Trey Burke, Courtney Lee, Tim Hardaway Jr., Mario Hezonja or Kevin Knox, and Enes Kanter is arguably the worst in the NBA. Outside of Lee and second year player Frank Ntilikina, the Knicks don't have any above average defenders on their team. This season will be all about developing young players and earning a high draft pick to place next to Knox and Porzingis.