Will the MLB's Number One Prospect Live Up to His Potential?
March 1, 2017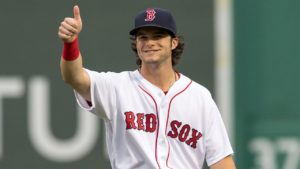 Prospects are the future talent of Baseball. Not keeping up with them means you're not keeping up with the next possible Ken Griffey Jr., and that's what I believe Boston Red Sox youngblood, Andrew Benintendi, has the potential to be. This kid's minor league totals are so close to matching Griffey Jr's it's scary. He is, of course, ranked the number one prospect for a good reason.
Andrew Benintendi was drafted by the Boston Red Sox with the 7th overall pick in the 2015 draft. He signed to Boston with a $3.6 million signing bonus, and debuted for their Class-A team, the Lowell Spinners, that same year. He began the 2016 season on the Salem Red Sox of the Class-A Advanced Carolina League, and was called up to the AA Portland Sea Dogs on May 15th. On August 2nd, he was called up to the majors straight from AA just 421 days after being drafted, and got his first hit the next day. On August 21st, he smacked his first triple and cranked out his first homer in the same game. And the day after that he made what was arguably the catch of the year.
He hit a solo shot in his first post-season at bat against the Cleveland Indians. At one point in the late season Benintendi suffered a minor injury, but because of this injury, he is still rookie of the year eligible, and it's really not that farfetched that he could win this award.
I know that my claim earlier comparing Ken Griffey Jr. to Benintendi may seem a little outlandish, but their numbers at the same point in their career are very similar. Benny actually mentioned recently that he grew up watching Ken Griffey Jr. play, so you can only imagine he modeled his own play after him. Red Sox pitching coach Chili Davis even said that it isn't an overstatement to compare the two's swings. Griffey played out the year he was drafted in the minors, plus the whole following season. Benintendi played out the year he was drafted, then was called up in August of the next season. Here are their minor league stats as a whole:
| | | | | | | | | | | | |
| --- | --- | --- | --- | --- | --- | --- | --- | --- | --- | --- | --- |
| | BA | R | 2B | 3B | HR | RBI | SB | BB | SO | SLG | PO |
| Griffey | .318 | 103 | 27 | 5 | 27 | 92 | 49 | 83 | 94 | .572 | 302/315 (.959) |
| Benintendi | .312 | 106 | 38 | 16 | 20 | 107 | 26 | 74 | 63 | .540 | 345/359 (.961) |
Now obviously these numbers don't stack up identically, but most categories are pretty damn close. The most important stats to compare are their batting average and putout percentage, both of which are extremely similar. Unfortunately, Benintendi only has 105 at bats in the show, so we can't compare the two's first season in the majors just yet. But with these first 105 ABs, Benintendi hit .295 with 11 2B, 1 3B, and 2 HR, knocking in 14 and walking 10 times.
This kid is 22 years old and shows tremendous promise, scoring him the number 1 prospect ranking from three of the four major scouting publications (MLB.com, ESPN, and Baseball America). He has proved to have an incredible work ethic, gaining 20 pounds of muscle since the end of last season. If he keeps putting up great numbers, he very well could be the next Ken Griffey Jr. and snuff any doubts of being ranked the number one prospect in baseball.
Written by Cam Simes