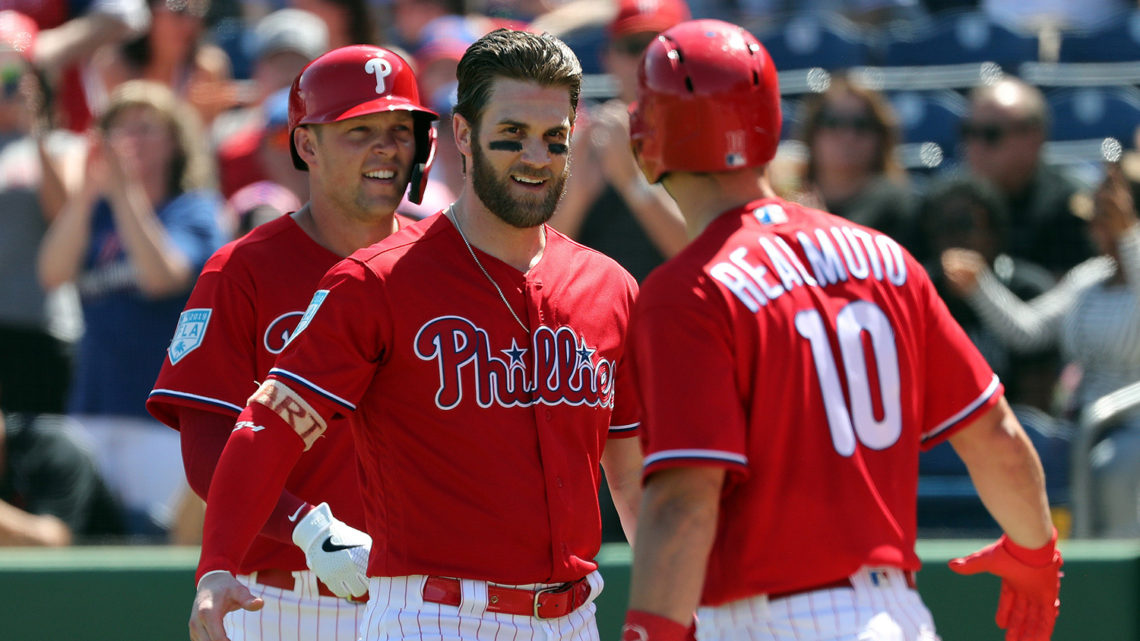 Who Won the MLB Offseason?
March 10, 2019
By: Matt Loehle, Baseball Analyst
The Top Three Offseason Teams:
Spring still might be two weeks away, but baseball is doing its part to heat things up. After what was a very dull offseason, the double whammy signing of Bryce Harper and Manny Machado has put some life back into a sport that had fallen off the map for most of the winter. Almost all the pieces have settled. Spring training is now fully underway, and the blind optimism surrounding every team is back. Everybody is in great shape, this is the year that everybody is going to break out, and so on. Baseball feels like the only sport that, during spring training/preseason, every team feels great about their situation. Give it a couple weeks after some injuries or losing streaks and thankfully that optimism will go away. But, since its spring and everything is great, let's focus on the top three teams this offseason.  
1.Philadelphia Phillies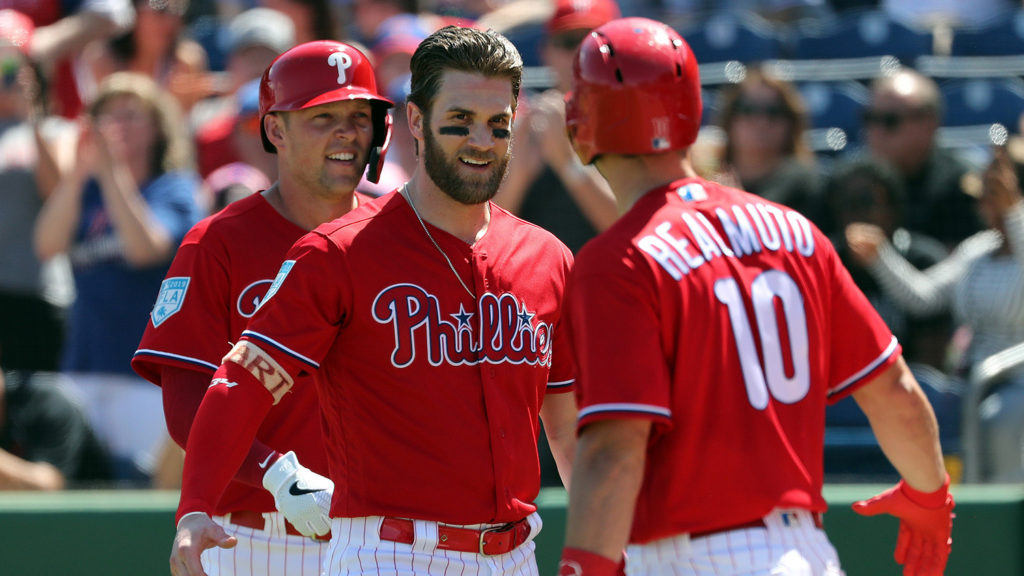 The Phillies feel like the LA Rams of baseball after this offseason. You could make the case that the owners of the Phillies might not be winners, because now they are locked into paying Bryce Harper $30 million a year for the next 13 years. That is going to turn into a burden on the back half of that contract. But, in a sport with no salary cap, spend as much as you can… us fans don't care about the money coming out of your pockets. Harper is a transcendent talent, albeit with a few question marks about the on-field production. I'm hoping that we get to see the best of Bryce Harper in these next 5 years, because Harper at his best is honestly incredible to watch. We get a taste of that talent in the first few weeks of every season, but maybe now Harper will have a true record-breaking season and fully tap into his potential – which honestly feels limitless.
The Jean Segura/Juan Nicasio for Carlos Santana/JP Crawford trade has flown way under the radar. Segura on the Phillies is an incredible haul. He's batted over .300 the past 3 seasons, with good power, and elite defense. He fills a void both in the lineup and on the field for Philadelphia, moving Rhys Hoskins (an infield liability) back to the outfield. Juan Nicasio is a good piece for bullpen depth, another position of need for the Phillies. Speaking of the bullpen, they also acquired former All-Star David Robertson to close out games for them. Robertson brings a 3.23 ERA with a 1.03 WHIP to Philadelphia to fill a big hole on that team. Come playoffs, having bullpen depth and talent has been shown to be instrumental for October success.
The Phillies didn't stop there. Andrew McCutchen signed a 3-year, $50 million contract to bring his veteran presence and somewhat-dangerous offensive talent to the team. Philly is definitely looking for him to improve off last year's .255 / 14 SB / 20 HR stat line, or else this will feel like an overpay. Regardless, like I said before, if the Phillies want to spend stupid money right now, let them. I care about the players that get onto the field. McCutchen isn't as good as his 2015 MVP self, but he's an improvement in the outfield, in the lineup and in the clubhouse.
The Phillies made another splash in the trade market, acquiring the Marlins' best hitter in JT Realmuto. He is going to bat in the middle of a loaded lineup and help a young pitching staff reach its full potential. Realmuto hit 21 homers while batting .277 last year, which puts him in the elite tier of catchers around the league. When you sign Harper to the largest dollar amount in baseball history, I guess all other moves get swept under the radar. So yeah, I guess getting Realmuto is the best under-the-radar move of this offseason for Philadelphia.
2. New York Yankees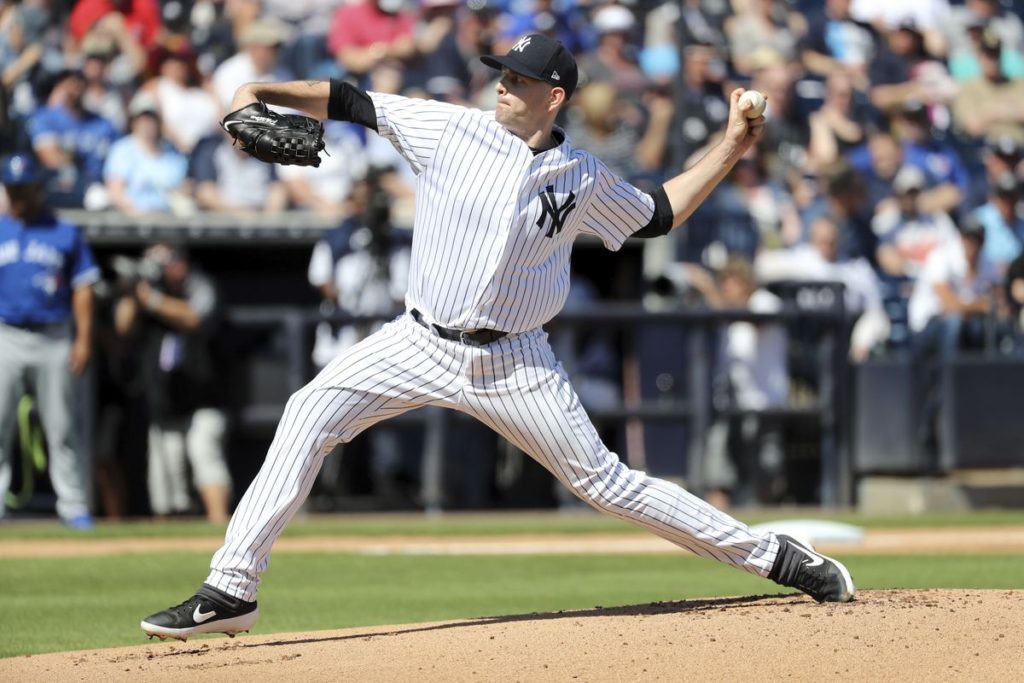 I hate to say it, but the Yankees had a really good offseason and are well on their way to closing the gap in the AL East. There is a whole season of baseball to be played, and the Sox have most of their World Series-winning team coming back. But that being said, the Yankees got one of more talented pitchers in baseball in James Paxton. He's a superstar, strikeout artist, head of the rotation kind of guy. Pairing him with Severino atop a playoff rotation is fearsome… as long as they both stay healthy and effective. Definitely a big question mark for New York, but it's got the potential to be an X factor. The bullpen remained a strength of this team, and maybe even taking a small step forward. They lose David Robertson but get Adam Ottavino from Colorado, with his 2.43 ERA and .993 WHIP. The Yanks also resigned Zach Britton, so they get a full year out of him.
With Didi Gregorius being sidelined until July, the infield needed to be addressed this offseason. The Yankees have two developing stars in Andujar and Torres, and they will be joined by… DJ LeMahieu and Troy Tulowitzki. I am a big fan of LeMahieu – he's a rock solid defensive player with .300 batting average consistency, some speed, and even a little pop (everybody has pop in New York). As far as Tulo is concerned, I don't expect much from him – but that is where he could be dangerous. I think Tulo has got a little more fire in him this year, and wants to prove something to his doubters. Don't forget, he was legitimately one of the best hitters in baseball not terribly long ago. Tulo is on my sleeper breakout for this year.
3. St. Louis Cardinals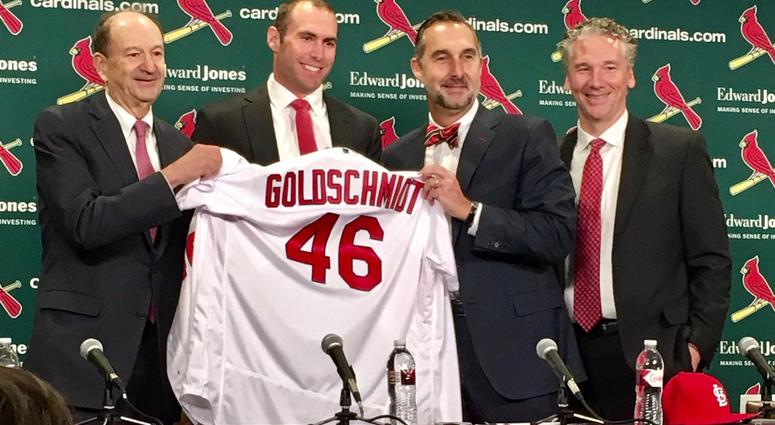 The Cards missed out on a shot at Bryce Harper, but had a very successful offseason regardless. The NL Central is going to be a battle in 2019, but Paul Goldschmidt might be a solution. He's going to get slotted in at first base, pushing the versatile Matt Carpenter over to third, and Jose Martinez to the outfield. That defensive alignment will be more effective throughout the course of the season, and even better when you factor in Goldy's offensive production. His "down" year last year was a .290, 33 home run season – and that was after a horrendous start. Goldy also has a career .337 batting average at Wrigley, which he'll be visiting a fair amount this season. The Cards needed a hitter like Goldschmidt in their lineup. Carpenter is a great hitter, but he's not a 4th in the order, slugger prototype.
Another position of need for the Cardinals was their bullpen, and they secured it in a big way with Andrew Miller. Yes, he too had a down year last year. But Miller has too much talent to just fizzle out at only 33 years old, especially when there are plenty of successful closers in their late 30s. I think it was a great acquisition for St. Louis, and an upgrade regardless of which version of Andrew Miller they get.
The Cardinals have their eye on a playoff spot after missing out on it for the past 3 years. With the two big additions of Goldschmidt and Miller, plus the return of a number of injured players from 2018, the St. Louis has a great shot at the Wild Card – or even the division if things shake out in their favor.