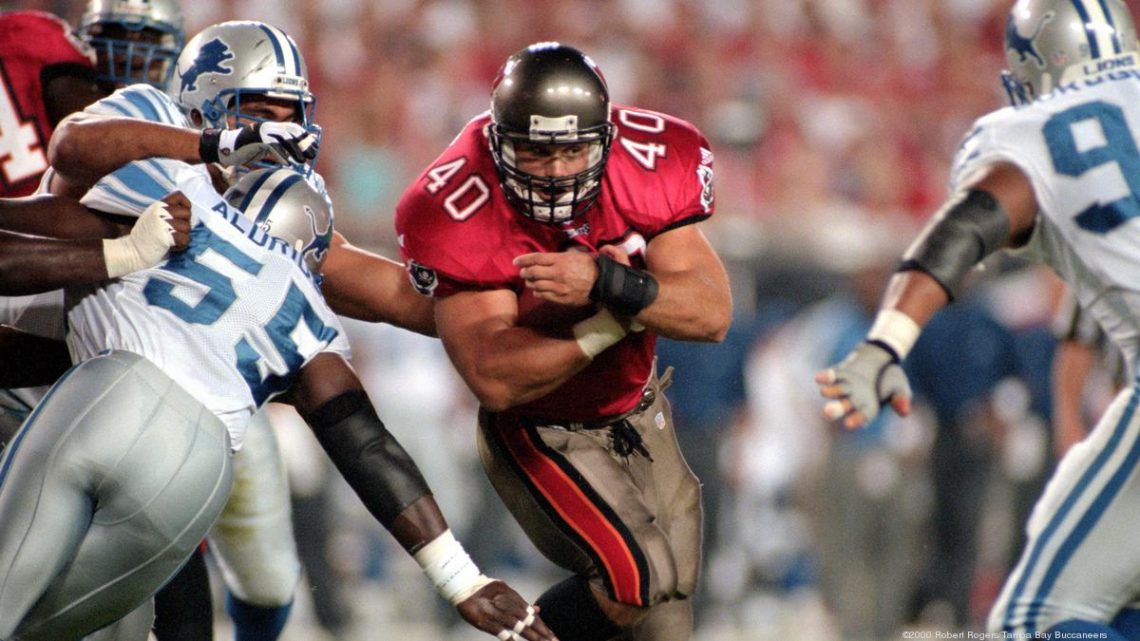 Who is the Greatest Fullback of All Time?
July 17, 2019
By: Cory Vega, Sports Analyst
The fullback position has grown to become a thankless position in the modern NFL. Many see it as a relic, like the VCR or arcade cabinets. Many share this viewpoint with formations such as the wishbone and even the I formation, with how prevalent single back, four wide receiver sets are. Although the old school formations have all but perished, fullbacks have adapted to keep up with the ever changing atmosphere of the NFL. Simply look at Kyle Juszczyk. The 3x Pro Bowler's versatility both as a receiver and a blocker has led him to becoming the best fullback in the league right now. The great question though remains. Who is the greatest fullback of all time? Due to how much fullbacks have changed throughout time, it's difficult to gauge who deserves that moniker. But one thing is for sure, we can all appreciate these men for what they contributed to their teams. For that sake alone, in this article, I'll go over the best fullbacks of each era.
The 30s and 40s
The NFL was a different beast before and shortly after the second world war. Players were expected to play on both sides of the ball. True and gritty iron man football. Many, such as famed brigadier general and defensive coach Robert Neyland would even dub it "chickenshit football." If there was one man who symbolizes this era of football, its Bronko Nagurski. The 6'2 226 pound Canadian man was a symbol of power and grit in the leather head era. He dwarfed opposing defenders and even linemen, who were often smaller than modern day safeties and wide receivers due to the need to play on both sides. During his 9 years in the NFL, he would garner 2778 yards rushing to go along with 25 touchdowns. His versatility was unmatched, as he was a bone crushing linebacker on the other side. He would even trademark the jump pass "…in which he would fake a plunge, then step back a yard or two, jump and lob a pass to a waiting receiver…", which proved devastating for the opposition. "His jump pass to Red Grange was responsible for the key touchdown in the Bears' 1932 victory over Portsmouth for the league title." Marion Motley was another man who emerged during this era. Fighting through racial discrimination, the 6'1 230 pound behemoth served as a leading pass-blocker and rusher in the late 1940s. He ended his career with an average of 5.7 yards per carry, a record for a fullback that still stands today. Sadly knee injuries cut his career short in the early 50's but he remains arguably the most steady and consistent running fullback of all time.
The 50s and 60s

The 50's would introduce the era of the smooth running fullback. With the one platoon system gone, players became specialized much like in the modern game. This resulted in a fullback that acted much like a workhorse back in the modern NFL but much more. They blocked reliably, caught swing passes, and ran with violent determination rather than finesse. That was saved for the halfback. Someone like Baltimore Colts legend Alan Ameche epitomized that versatility, with his supreme catching ability. However, no other fullback did it better than Green Bay Packer legend Jim Taylor. He and fellow Packer legend Paul Hornung would go on to create the original "Thunder and Lightning" tandem. Taylor would churn out the yards and do the dirty work while "The Golden Boy" Hornung would dazzle with his agility and dance his way into the endzone. They are a strong credit to Vince Lombardi's success. Taylor would go to have arguably one of the greatest seasons ever for a fullback or even a running back. 1474 yards, 19 TDs, and a beastly 5.4 YPC. And this was done in 14 games. Many other great fullbacks arose during this time, like Taylor's rival Jim Brown. Brown predicated the modern workhorse back with his style of play, as he ended his career with various records. The single season rushing record (1,863 in 1963) and career rushing record (12,312 yards), as well as the all-time leader in rushing touchdowns (106), total touchdowns (126), and all-purpose yards (15,549). It goes to show how dominant he was as few running backs have even eclipsed the 100 rushing touchdown mark. Only Emmitt Smith, LaDainian Tomlinson, Marcus Allen, Walter Payton, Adrian Peterson, John Riggins, Shaun Alexander, and Marshall Faulk have reached that mark. Many claim he is the greatest football player ever.
He was unmatched as a brutal runner, much like Taylor. The two were always compared and always neck and neck when it came to rushing numbers. While many, including myself, view Jim Taylor as more of a true fullback while Brown was more of a running back, these two men shaped the landscape of the NFL in the 60's. A famous quote by Lombardi details what kind of men these fullbacks were. "Jim Brown will give you that leg and then take it away from you. Jim Taylor will give it to you and then ram it through your chest!" Finally, this tribute video details what kind of player Taylor was. Could you even imagine such a brutal, bloodthirsty running style such as this in today's game?

The 70s and 80s
To begin, per Bleacher Report's Ken Howes, "For many years, the standard offensive set—even now often referred to as the "pro set"–had two running backs. One, the halfback, was generally called upon to do the outside running and some receiving, while the other, the fullback, did most of the inside running and some blocking." The 70's and the 80's marked the end of the smooth running fullbacks of yore, but gave arise to the fullback that ran from the halfback spot. Or essentially, a power running back. Franco Harris was a name that initialized this new era. The HoFer dazzled crowds with his acceleration and style despite being a 6'2 230 pound brute. Without him, we wouldn't have the Immaculate Reception. On the other side, we have Larry Csonka. A true barbarian at the fullback position, Csonka was the centerpiece of the 1970's Dolphins. He and halfback Jim Kiick would be dubbed "Butch Cassidy and the Sundance Kid", and that duo remains one of the best in NFL history. Csonka rushed for 8081 yards, and was well known for his excellent blocking and his sure hands. As he would go on to terrorize the NFL, stories would emerge about his sheer power and pain tolerance. From being penalized for knocking a New York Giants safety unconscious with a stiff arm that was more like a right cross to breaking his nose 10 times over the course of his career, to the point of permanent disfigurement. One of his famous quotes summarizes his do or die style of play. "We are going to score, or somebodies gonna have to kill me." Csonka would go on to be the last purebred fullback to be enshrined in the HoF. With fullbacks now taking snaps at halfback, many new threats arose. John "The Diesel" Riggins would rumble for 11,352 yards and 104 touchdowns during his career, one of the previously mentioned few to eclipse the 100 rushing TD mark. But one name became synonymous with this trademark. Earl Campbell. The man with literal tree trunks for legs. He ran with determined ferocity over the course of eight seasons. Even fellow fullback Franco Harris opposed to his playing style. "Knocking over people can look very good but you can't do it forever. Sometimes it's going to be somebody else who knocks you over … so the most important thing I think isn't to get a few extra yards every time but to make sure you're healthy enough to play." In the end though, he would suffer various ailments after his decorated, Hall of Fame career ended. From barely being able to close his fist due to hand arthritis to foot drop. Sadly, he has to use a cane and wheelchair to get around nowadays. But when he was in the prime of his life, none would dare to bring him down.

The 90s and Mid 2000s
In the late 80's, Bill Walsh would change everything about the fullback position. In his new, revolutionary west coast offense, the fullback would take a back seat in terms of running. The fullback would thus be used more as a catching threat, and especially as a lead blocker. The league would begin to shift to a more balanced game, with passing and running almost equal. No longer would fullbacks like Csonka or Nagurski emerge. Dedicated, hard nose blockers would surface, and this is where the fullback became underappreciated in the eyes of the fans. Fullbacks such as Tom Rathman, Daryl Johnson, and Keith Byars were all unsung heroes for their respective teams. Whether it was Johnson carving running lanes for Emmitt Smith or Byars's reliable, steady hands as a receiver, these fullbacks would do their job with no complaints. Byars steady production was no joke. For the eight seasons between 1988 and 1995, he averaged 62 catches and 588 yards per year. The mid 2000s were generally the same case, as Lorenzo Neal was the best blocking fullback, bar none. The 6'0 260 pound man instilled feared on power runs and isos. Many are begging for his inclusion into the HoF for his hard yet undervalued work. He helped pave the way for numerous workhorse backs in their 1000 yard seasons. These running backs included Warrick Dunn, Eddie George, Corey Dillon, and LaDainian Tomlinson. There was a notable exception to the norm during this time. Mike Alstott. The Buccaneers legend, while an adequate blocker at best, was an exceptional power runner. The "A-Train" was by all means a classic, running fullback and was an integral playmaker for the 2002-2003 Super Bowl winning Buccaneers. The number 40 would become a symbol of power and brutality.

The Modern Day
In the modern day, fullbacks are becoming a dying breed. More and more teams are becoming extremely pass happy, with the I-formation even starting to become a rarity. While fullbacks are a bit more valued in college, in the NFL, they are almost an afterthought. Just look at where fullbacks are generally drafted. The last time a fullback was drafted in the first round was 1994, and nowadays, fullbacks are drafted towards the end of the draft. Many were even confused when the Ravens took Kyle Juszczyk in the 4th round in 2013, and he's the best fullback in the league as of now. Yet, he's essentially plays like an extra tight end on the field, due to his outstanding blocking and reliable catching skills. As of now, he only has 86 rushing yards. A perfect example of where the league is shifting to, or already has. For a very brief time, however, the power running fullback made its glorious return. In 2010, Peyton Hillis, who was a 7th round pick of the Broncos, rushed for 1177 yards and 11 TDs with the Cleveland Browns. The fullback made the transition to running back due to emergency needs but he bedazzled fans nonetheless. Almost every game he played was highlight reel worthy, as he trucked, hurdled, and outright embarrassed defenders in his path. He even won the Madden 12 cover vote due to how much his new fans loved him and his classic playing style. A year later, the "Madden Curse" would claim yet another victim. Contract disputes, injuries, and underutilization would see his career end in 2014, four years after his massive breakout. KTO's video on Hillis and his rise (and subsequent fall) is simply fantastic. As much as I would love to be optimistic about the future of the fullback, there are simply no signs of that. We can all pray some bright mind with an old school soul can revive the position but as it appears now, the league will only get more and more obsessed with the passing game and mobile QBs.

After all that, I now ask you, the reader. Who is your favorite fullback to ever play the game? Is there a future for the seemingly dying position? Let me know down in the comments section.