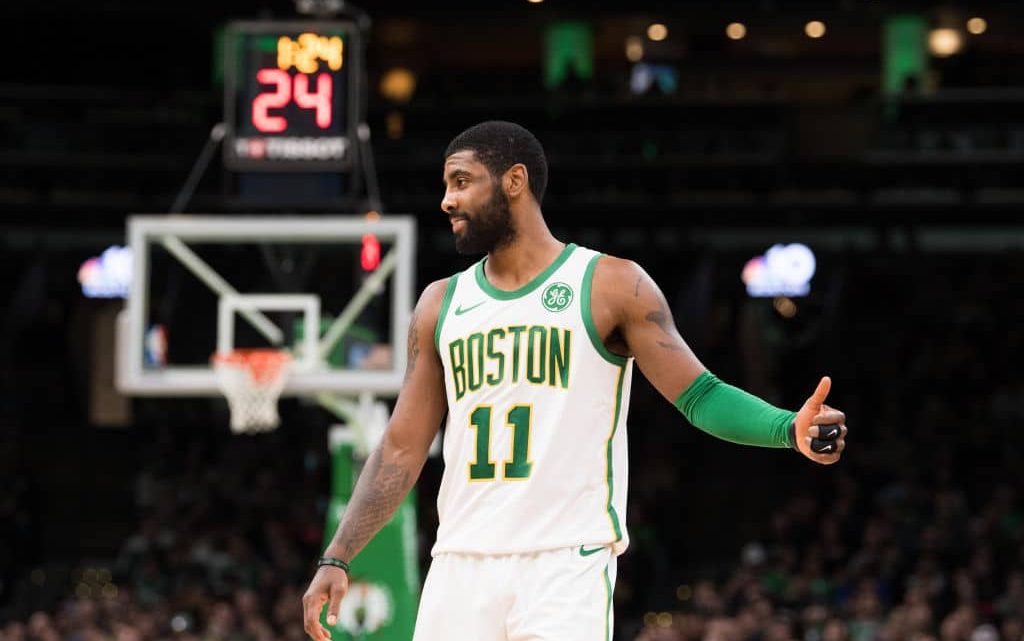 What's Wrong with the Boston Celtics?
November 25, 2018
By Darian Vaziri
The 2018-19 Boston Celtics season started out with sky high expectations. The majority of people including myself had them as a shoe-in to go to the NBA Finals this year. With a lineup of Kyrie, Jaylen Brown, Jayson Tatum, Gordon Hayward, and Al Horford, how could you not? LeBron's gone so it should be an easy road right? Wrong. Those high expectations from Celtic fans have quickly turned into a worrisome fan base who can't figure out why their all star studded roster can't get it done at the moment. Well I'll tell you what's going on.
If you've read any of my previous pieces, you'll know very well that I'm a Clipper fan, so this is fully coming from an unbiased perspective. Going to school in Massachusetts has gotten me to watch pretty much every Celtics game this season, and it's been fascinating to say the least. Of course, last season's Eastern Conference Finals playoff run was made without star players Kyrie Irving and Gordon Hayward. With both of them back in the mix now, it calls for some adjustments to the rotation and lineups that Coach Brad Stevens has to orchestrate. That being said, Stevens is a young genius so everyone trusts that it will be easy for him to figure out.
At the start of the season the Celtics began 6-2. No real worries so far. But suddenly they find themselves having lost 8 of their next 12 games and with a 10-10 record. Obviously you knew the PPG of each of the "Big 5" so to speak they should be extremely balanced, which it started out looking like in those first 9 games. One of those games was a shocking 90-93 loss at home to the Orlando Magic. A game that just seemed like one of those nights where nothing goes in, was actually a preview of what was to come.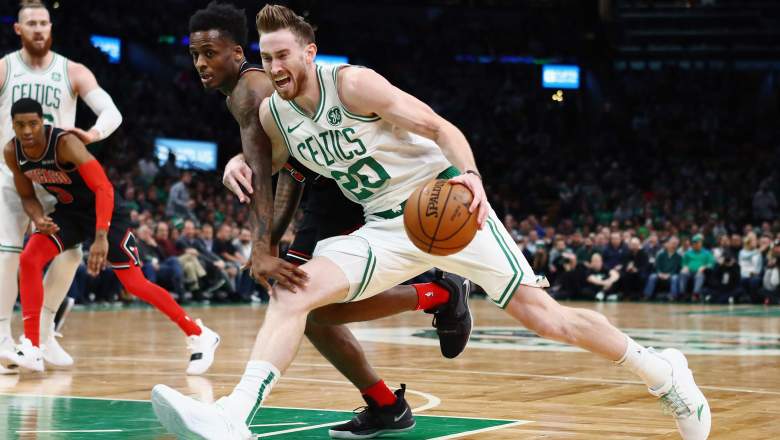 For one, I'll start by saying Gordon Hayward is coming off a leg break, so naturally it will take a while for him to look like the player he was in Utah in 2017. Regardless, I think the Celtics were being too unselfish in the early going of the season, sometimes over passing and not taking the good looks that were presented to them. This caused players to get out of rhythm early by not taking enough shots. Now people, you have to understand how important rhythm is for these NBA players, particularly players that like to shoot a lot of jumpers like the Celtics do. Players like Tatum, Brown, and Irving didn't look at their best to start, but they were still getting the job done in terms of winning.
In the month of November, the Celtics were hit with a tough Western Conference road trip where they lost to Denver, Utah and Portland. Honestly, that is nothing to be ashamed of because those are three very difficult places to go, and three very solid teams. On November 18th, the Celtics played a game against their most likely rivals for the Eastern Conference title, the Toronto Raptors. In this game, Kyrie was in the zone and put on one of the best performances I've seen in his career. The Celtics got the W, but it all changed after that.
I've thoroughly watched their last 5 games since that Raptors game. Their record in those games was 1-4. Remember what I said about players getting in rhythm? Well Kyrie found his rhythm over that road trip and that Toronto game, but other players are still far from in the groove they were last season. Let's start with Terry Rozier for example. This is a guy who was the STARTING POINT GUARD on the team that went 1 game away from advancing to the NBA Finals last year. You don't think that deep down this is hard for him? He's playing 22.6 minutes a game and not finishing them either. His stats are down in literally every category from last season, and that's excluding the playoffs where he started. In the playoffs, he had millions of people watching him and was in situations where he was hitting clutch shots like he did against Milwaukee. Going from that to not playing late in regular season games? Definitely not a player's ideal preference. What about Jaylen Brown? With Gordon Hayward back, it just adds another perimeter based ball-handler who's capable of running the offense. This takes a lot of touches away from Jaylen and Tatum. Tatum is so talented that he will get his 15-20 points regardless. But Jaylen on the other hand? He's very much a rhythm shooter and a guy that needs to be involved and get different kinds of shots then just a catch and shoot 7 times a game. He's having an abysmal season scoring 11.1 PPG on 40% shooting and 25% from 3! So what I think has happened now, is the Celtics players like Rozier, Hayward and Jaylen are trying so hard to get in rhythm because of the lack of shots they're getting, that they are forcing up ill-advised shots.
A common trend I've noticed this season in the NBA, is that this generation of players are so skilled, that when they move the ball offensively almost any team can get a good shot. Last season, the Celtics prided themselves on ball movement and making the defense work. The game that started their 3 game losing streak was at TD Garden against the Utah Jazz. In that game, there were so many 1 pass or even no pass shots for the Celtics that almost always resulted in misses. Whenever the Celtics actually move the ball, or even make 2 passes in a half court set, their talented players almost always get them a high percentage shot.
When the offense is out of sync, the confidence and cohesion on the other end of the court is poor as well, and that to me is why the defense has not been as good. The offense is for sure, the bigger problem for the Celtics right now. Remember that point I made about Kyrie's big game? Well this is why it matters. Ever since that game, Kyrie has been shooting a lot of shots, and I mean a lot. In the last 3 losses, he has shot 25, 25, and 24 shots which has been a team high in each game. Now he has not been shooting poorly at all, but think of it this way? When you have other scorers like a Tatum, Hayward, Brown, and Horford, is it best for your Point Guard to shoot 25 shots every night? Not at all, and he has been very selfish at the end of games too. Last season, Kyrie was very under the radar in terms of huge scoring nights but he was consistently putting up 20+ and getting his teammates involved. It was a different side of Kyrie that we hadn't seen in Cleveland. It was Kyrie the floor general, not Kyrie "Uncle Drew" let me put you on SportsCenter and drop 30.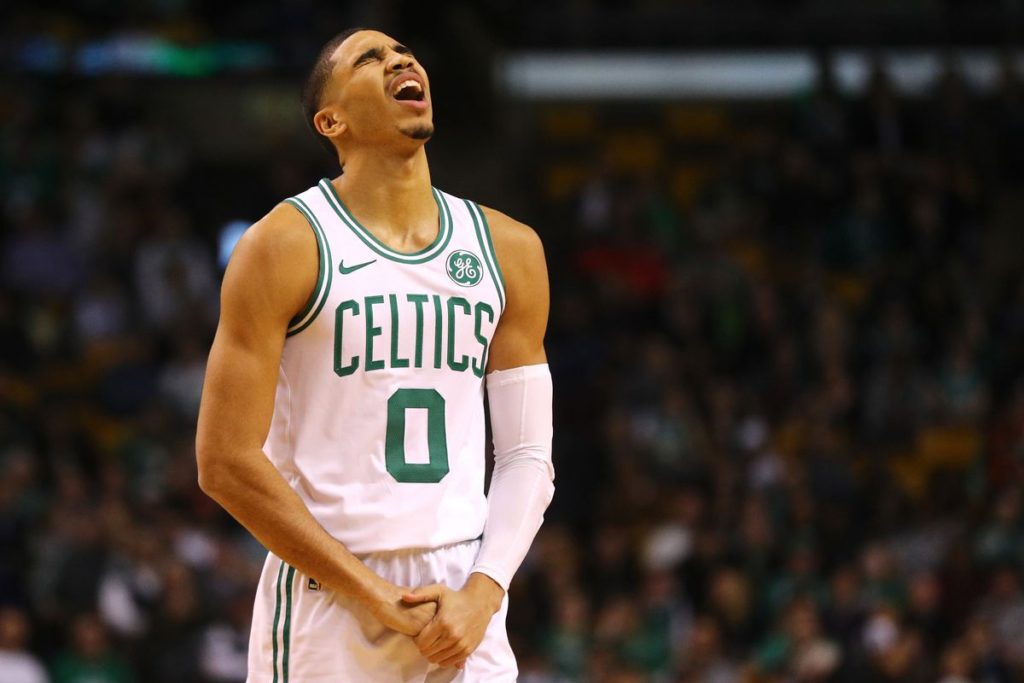 After the Jazz game, the adjustment was made by Stevens to put Gordon Hayward on the bench and revert to the starting lineup they had for the majority of last season. Kyrie, Jaylen, Tatum, Horford, and Aaron Baynes. Kemba Walker did go off in the 4th quarter of the game, making shots that the Celtics couldn't do much about, but once again the players are forcing shots to get in rhythm and Kyrie was 12/25, being selfish down the stretch.
It all became seriously apparent how bad this problem was, when the Celtics got beaten by the dreadful New York Knicks at home! They were down by as many as 24 points in the game! I think Hayward coming off the bench is the better move for the Celtics, but there is still a lot of work to be done. They may have just beaten the Hawks, but came right back down to Earth the next day when they lost in Dallas to the Mavericks.
Now there are two options here. The Celtics can panic and say you know what, Jaylen and Gordon Hayward aren't the right fit for this team so let's try and make a big trade for a big man like Danny Ainge is known to make. Or, they can stick it out till the All Star break before the trade deadline, and re-evaluate the situation then.
One thing is for sure to me. The only way the Celtics are going to regain their form of last year is if Kyrie starts being pass first and picking his spots, instead of trying to be the number 1 scorer so badly. I think part of it is how slowly he started the season. He started hearing people say "what's going on with Kyrie?" He's trying hard to show that he is still the same guy that won the championship in 2016. Jayson Tatum needs to get around the same amount of looks to me as Kyrie does because he scores pretty easily and efficiently in my opinion. The man has the offensive skillset that most players dream of having. The jumper, the handle, the size, he's got the overall iso package. I've also noticed Al Horford being a bit too unselfish by passing up a lot of good shots. I'd encourage him to be more aggressive when he's got those open looks cause we know he can hit them. As for Gordon Hayward, he played arguably his two best games of the season in his last two outings off the bench, so that is a good sign for Celtics fans.
I'm going to end with Jaylen Brown. Folks, Jaylen is a good player that plays solid defense and can score..a bit. He can't create his shot like some people think he can, and quite frankly the more he tries to and misses or turns it over, the more Celtics fans will grow aggravated. He may just be a 3 and D/slasher guy that can also score in transition because of his athleticism. With guys like Kyrie, Tatum, and Hayward, it's not really beneficial for Jaylen Brown to go 1 on 1 unless he's got a mismatch on a switch or take a contested jumper for that matter. I said he's not a spot up shooter earlier but now that Hayward is out of the starting lineup, it will be easier for him to shoot more and get better looks. I just think he shouldn't go out there shooting tough contested jumpers or going iso unless he's got the mismatch. You just gotta look at the skillset, and Jaylen can't really handle the ball to create like a Tatum or Kyrie can, nor has he proven he is a good passer on the drive. It's going to be a process for this Celtics ball club, but look at some of the things I said when you watch their next game. It's more of a team issue than issues with individuals. They have enough talent and it's so early in the season to really start panicking. I'd still pick them to go to the Finals if I had to place one bet. It's gonna be interesting to see how it plays out.