What Colorado Needs to Do to Return to the Top of the Pac-12 Next Season
March 6, 2017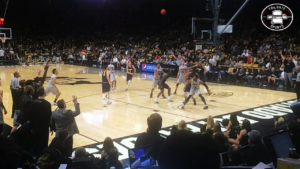 Finishing the regular season 18-13 overall and 8-10 in Conference as the 7th best team in the Pac-12, Colorado without a doubt had a subpar season.  Starting off the regular season 0-7 in games against other Pac-12 teams, despite having a lead in 4 of these 7 games with 1 minute left in regulation, CU started off weak and could not find the momentum to completely redeem themselves from this terrible start.  To make matters worse, Colorado will be losing a significant amount of Seniors this season.  Wesley Gordon and Xavier Johnson (Colorado's core presence in the paint), Derrick White, and Josh Fortune are all Seniors this season and their absence from the team next year will definitely hurt the Buffs.  However, there is still hope that Colorado can return to being a prominent team in the Pac-12.  Especially with notable players like Lonzo Ball, Lauri Markkanen, Markelle Fultz, Ivan Rabb, and Dillon Brooks all leaving their respective teams to enter the NBA Draft this year, there will be a ton of room for a solid Colorado team to move up the rankings.  I've broken down what they will need to do to potentially win the Pac-12 Tournament again.
As obvious as it might sound, Colorado essentially needs 2-3 significant recruits/transfers to become one of the best teams in the Pac-12.  I believe that Thomas Akyazili and Lucas Siewart will definitely step up next season and become key pieces to the Buffs squad, but Colorado still needs that lights out 3 point shooter and at least one (preferably two) big men to dominate the front court and take over the roles that Xavier Johnson and Wesley Gordon have this season.  The Buffs also need stellar shooters.  Colorado is a team that lives and dies by the 3 point shot, so they have to acquire a clutch Guard to come in and help lead this Boulder team to better shooting consistency.  There is nothing wrong with this play style, in fact a lot of NBA teams like Houston, Golden State, and even Cleveland now are beginning to heavily relying on their 3 point shooters.  However, if Colorado wants to use this style of gameplay they need to bring in someone like Seth Allen who can run their backcourt and score effectively in any situation.  Obviously Colorado isn't the most marketable organization, and even in the Pac-12 they're nowhere close to being the most desired team to play for, but with a fantastic head coach with Tad Boyle, and a CU program that has been very successful in recent years, Colorado definitely has the potential to add some fantastic players to this program.
The truth of the matter is Colorado has had phenomenal success in one of the hardest Conferences in College Basketball.  In the Tad Boyle era they won the Pac-12 Tournament in 2012 and have been selected for the NCAA Tournament in 5 out of Tad Boyle's 7 seasons as Head Coach, reaching the Semi-Finals in the NIT Tournament in one of the two seasons that they missed the NCAA Tournament.  In fact, the season in which they were very close to winning the NIT Tournament was Boyle's first season as Head Coach of the Buffs and the Colorado squad still played in the Big 12 Conference at the time.  The program itself can easily grow to become one of the best College teams in the nation, but this will only happen if Colorado can convince some of these top prospects why they should choose Colorado over their in Conference rivals.  It's a daunting task, especially since UCLA is a great team again with all of the Ball brothers committed to the Bruins, but the standings in the major College Basketball Conferences, like the Pac-12, change all the time and there's no reason why Colorado shouldn't be able to find their way to the top in the next few seasons.  Personally, I love the strategy of former Colorado Football Coach, Bill McCartney, who would seek out who their rival, the University of Nebraska, were trying to recruit and would personally meet with these players and steal them from the Cornhuskers recruits themselves.  If Coach Boyle could take some of UCLA, Oregon, and Arizona's recruits and add them to the Buffs roster I guarantee Colorado could put together a squad great enough to bring them to the Round of 16 and beyond for the first time since 1963.  Colorado will be the best team in the Pac-12 in the next few seasons, it's now just a question of what players will lead them to this success.
Written by Erik Clark