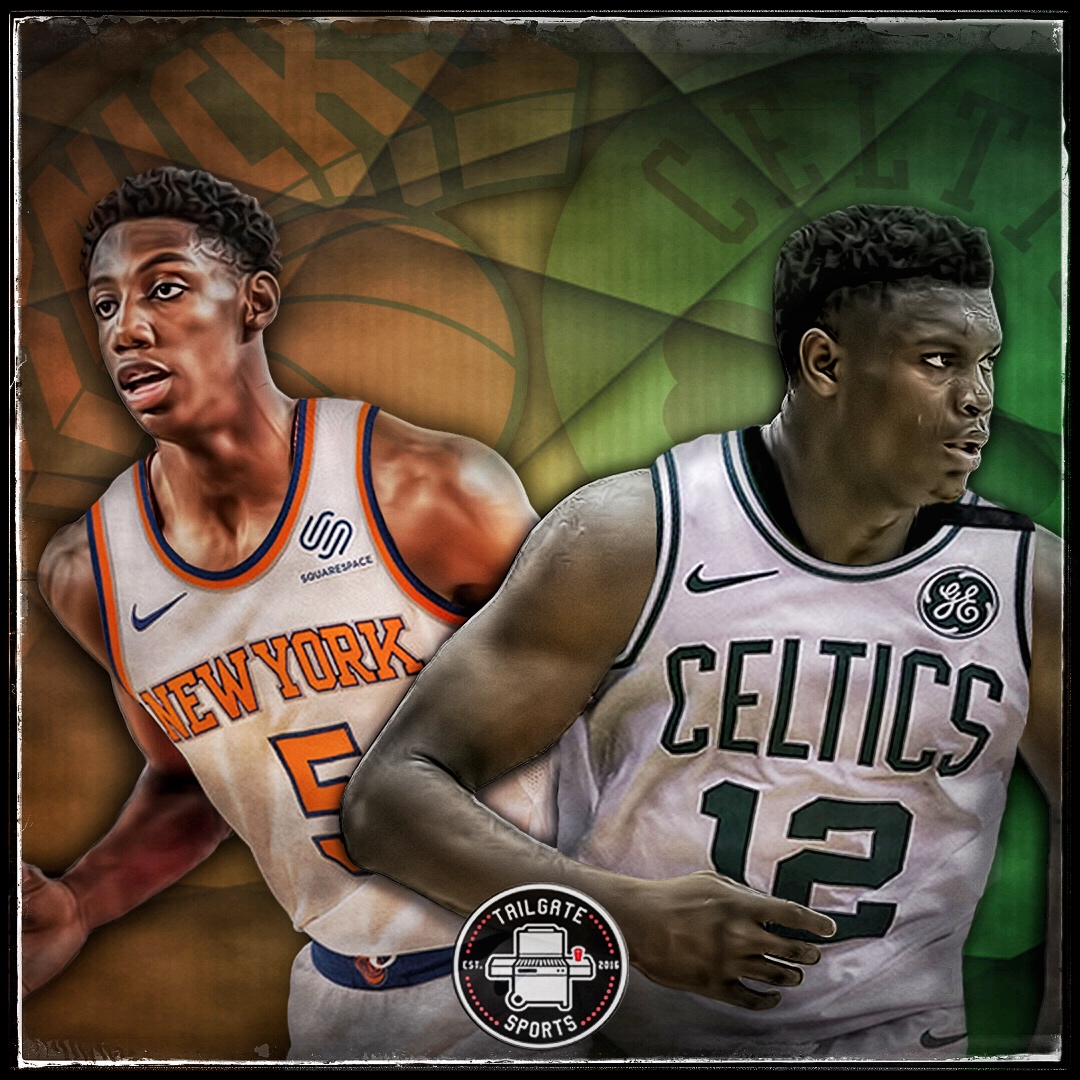 Way Too Early 2019 NBA Mock Draft
June 28, 2018
Scouting report on next season's top prospects
By Clifford Buck, Senior Basketball Analyst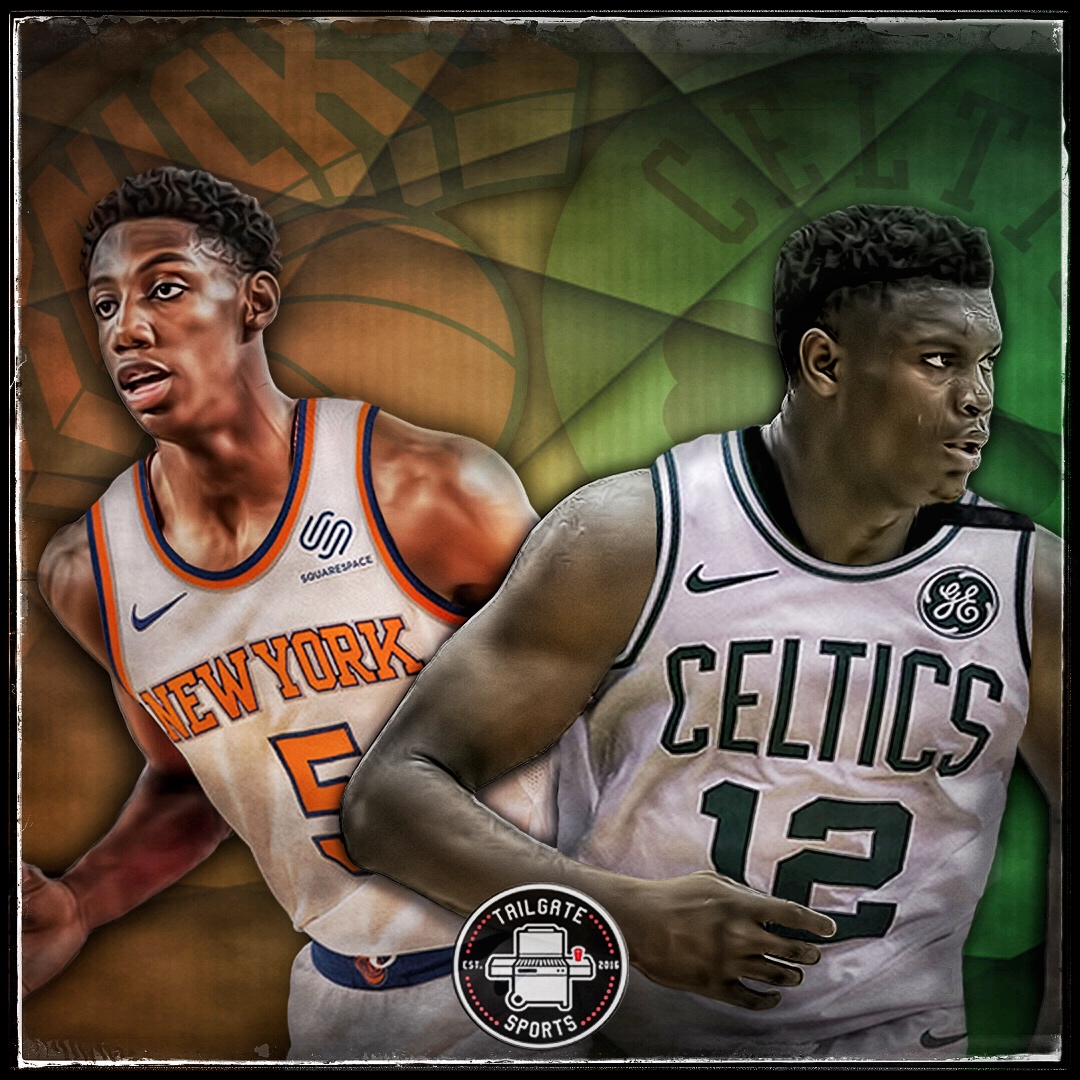 Knicks- SG/SF R.J. Barrett, Fr. Duke
R.J. Barrett has been the number one recruit in his class since his freshman year. His talent has been undeniable since he was discovered out of Canada, leading many people to already project him to be a future All-Star. Even though he hasn't played a single college game he has had some performances that point to that level of development. Most notably, Barrett led Canada to a twelve-point win over team USA in the FIBA Under 19 tournament, scoring 38 points to go along with 13 rebounds and 5 assists. Barrett has left little doubt in scouts' minds that he will continue his run as the top prospect and should be selected first overall in 2019. With Porzingis set to miss all of next season recovering from injury, the need for a big time scoring wing will become even more apparent. Barrett would fill that void immediately.
Hawks- C Bol Bol- Fr. Oregon



Bol Bol is the son of former NBA player Manute Bol. Manute is most famous for being the tallest player to ever play in the NBA, standing 7'7''. Bol Bol isn't as tall as his father, but he is freakishly tall in his own right. He stands 7'3'' with a 7'8'' wingspan, but what separates his game from his fathers is his shooting ability. He has the ability to step outside and shoot the three along with protecting the rim. Speaking of protecting the rim, Bol had 7 blocks in the team USA vs World game. As for an example of his ability to stretch the floor, Bol first burst onto the scene as a top recruit in May 2017. He was playing in a tournament in Indianapolis against ESPN's number 2 prospect Cam Reddish and scored 33 points on 12-of-15 shooting, including 4-of-6 from three. The next game he scored 33 points again and finished 4-of-5 from three. Bol can become the perfect modern NBA big man. He could slide in next to Trae Young, Taurean Prince, and John Collins perfectly.
Magic- SG/SF Cam Reddish, Fr. Duke
Cam Reddish is built for the NBA. He stands 6'7'' 210 pounds with a 7'1'' wingspan and he should become one of the most versatile players in college basketball next season. He can play four positions on the court and did just that during his high school career. Reddish has the physical appearance that translates to the NBA but he also has the skill level. He won the McDonald's All-American three-point contest, and in one game during his senior year he scored 53 points on 14-of-22 shooting, including 8-of-12 from three. Reddish fits the mold of a prototypical wingman in today's NBA and he should be a lock to get selected in the top 5 in 2019. Reddish would be the best player available at this selection and could play alongside Aaron Gordon, Jonathan Isaac, and Bamba, possibly even playing point guard at times in jumbo lineups.
Celtics (via Kings)- SF/PF Zion Williamson, Fr. Duke
Zion Williamson is one of the most intriguing prospects the NBA has seen in a while. He's also probably the most famous of all the prospects due to his rare athleticism and show stopping slams. If you haven't seen any of his dunks, you need to go check him out on YouTube immediately. That's about all we know about Zion's game, which is why he's so intriguing. He's a heavyset player, listed at 272 pounds while standing just 6'6''. He's not known for being a shooter either, only shooting 7-of-35 from three-point range his senior year. He also shot only 63 percent from the free throw line during his high school career. He was able to bully his way physically through high school basketball, but that's not to say he can't do the same in college and the pros. The player I really like to compare him to would be The Round Mound of Rebound, Charles Barkley. Although Barkley was 6'6'' just like Williamson, he managed to average 22 points and 11.7 rebounds in his NBA career as an undersized power forward. I could see the same type of production from Williamson and he should be selected in the top-5 along with his teammates R.J. Barrett and Cam Reddish. Boston is already one of the favorites to win the title this upcoming season, why not add the next Charles Barkley, minus the personality, to a team already full of young talent.
Bulls- SF Sekou Doumbouya, International
Sekou Doumbouya is a rather unknown commodity at this. He stands 6'9'' 210 pounds and started playing professionally in France at 16 years old. That winter, Doumbouya led the France national under-18 team to a European championship in Turkey. Playing against peers around his own age, he averaged 17.8 points and 7 rebounds per game. His long-range shooting is currently the biggest question mark in his game but he has shown potential with hot streaks from beyond the arc. His physical stature is prototypical for today's NBA wing players and he has the athleticism to switch between multiple positions. At 17 years old he has time to develop his jump shot, along with continuing to grow in other aspects of his game. He will probably be more of a project than some of the other lottery selections but his upside is tremendous. Doumbouya could fill the small forward neec for a young and upcoming Bulls team.
Grizzlies- SF Keldon Johnson, Fr. Kentucky
Keldon Johnson is just the latest Kentucky recruit to be ranked in ESPN's top 10 prospects. He stands 6'6'' 205 pounds and has earned very high praise from star player Kevin Durant. Durant has been quoted saying, "You talk about a scorer, this guy's it. I think the next step for him though is just figuring out how to play at each level he goes to — figuring out the team game cause he's got everything you need one-on-one." Earning that type of praise from one of the best scorers and one-on-one players NBA history means his skills are something serious. With all the attention prospects at Kentucky gain from NBA scouts, Johnson should have no problem earning the reputation as a lottery selection very early in his college career. I see him in the mold of a more athletic Carmelo Anthony and he should be a lock to get selected in the top-10. If the Grizzlies struggle with an aging roster as I project they will, Johnson could be the jolt of offense and youth that Gasol and Co. need to finally push them into contention.
Nets- SF Nassir Little, Fr. UNC
Nassir Little is the highest ranked prospect UNC has signed since Harrison Barnes was the top overall recruit in 2010. Little is coming to Chapel Hill as ESPN's 6th ranked recruit in the nation and he is going to have a lot of hype to live up to. After scoring 28 points and earning MVP honors in the McDonald's All-America Game, Little has been projected to be selected as high as second overall in next year's draft. I'm not as high on Little simply for one reason. Roy Williams and UNC have a terrible track record when it comes to freshmen becoming stars immediately, and one-and-done prospects in general. During Roy Williams tenure UNC has had three players go to the NBA after their freshmen seasons. Those three players are Marvin Williams, Brandan Wright, and most recently Tony Bradley. Williams and Wright have had successful professional careers but certainly never lived up to the lottery selections teams used on them. As for Bradley, he just finished his first season in the NBA and his team only played him in 9 games. So even with plenty of evidence pointing to Little staying at college an additional year rather then being a lottery selection in 2019, I think he can be Roy Williams' exception. Little has the talent and skill level to become an All-NBA level talent. He stands 6'7'' 215 pounds and has a 7'1'' wingspan, he has also shown great improvement in his jump shot and he has an advanced post up game for a wing player his age. The thing that makes Little special is his defense and desire to lockdown the opponents best scorer. He evidenced this during the Jordan Brand Classic by guarding Cam Reddish and blocking his shot the play immediately after Reddish scored on him. I see a lot of Kawhi Leonard in Nassir Little's game, and an all-around small forward would fill a major need for the Brooklyn Nets.
Suns- PG Devon Dotson, Fr. Kansas
Devon Dotson is one of the most athletic point guards in the nation. Anybody who has seen Dotson play has praised him for his athleticism and his open floor ability. Even at 6'2'' he has a number of highlight dunks that make you think of a young Derrick Rose. The knock on his game is his shooting but a lot of young athletic point guards struggle with their jump shot. With his speed and playmaking ability, along with playing at Kansas, he should draw national attention almost immediately. That will help his case as a lottery selection, and he would eventually cement his status as a top-10 pick by helping lead Kansas to another Big 12 championship. The Suns could add Dotson and his playmaking ability to complete their backcourt of the future alongside Devin Booker.
Hornets- SG/SF Romeo Langford, Fr. Indiana
Romeo Langford is one of the few names in this mock not attending a school known for producing one-and-done talents. This doesn't mean Langford won't be the exception. He has all the tools and the talent to become the next lottery selection from Indiana. Ranked as the fifth overall prospect according to ESPN, Langford stands 6'6'' 195 pounds with a 6'10'' wingspan. He's known for being an aggressive scorer and an above-average shooter. At Indiana he should have the chance to showcase his scoring abilities along with developing playmaking skills. The Hornets are in desperate need for a wing player who can light up the scoreboard and Langford should fill that void.
Clippers- SF De'Andre Hunter, So. Virginia
De'Andre Hunter is the elder statesman of the crop of players being selected in this draft. As a redshirt sophomore, he's one of the two players in this group that we have actually seen play at the college level. He stands 6'7'' 220 pounds with a 7'2'' wingspan, a perfect physique for the NBA. His stats don't jump out at you, but as he came off the bench and only played 20 minutes per game during his freshman year. It's better to look at his per 40 minutes stats, where he averaged 18 points, 7 rebounds, and shot 38 percent from three-point range. With his combination of length and outside shooting, he has the potential to become a great 3-and-D player in today's NBA. The Clippers should be looking for a lockdown defender to play alongside their young guards and Hunter could slide into that role immediately.
Hawks (via Mavericks)- SF/PF Shareef O'Neal, UCLA
Shareef O'Neal is widely known for being the son of Hall of Famer Shaquille O'Neal. This college season Shareef should finally be able to start escaping his father's shadow. He isn't very highly touted as a recruit, being ranked 32nd in ESPN's top 100, but his talent level is undeniable. O'Neal is listed on most recruiting websites as a power forward but he has a lot of wing traits in his game. He has expanded range on his jump shot, along with developing perimeter skills that include a pretty handles. His shooting form is very good and he releases the ball from a high spot. As long as he continues to grow his perimeter game, he will be a nightmare matchup for any player. Listed at 6'10'' 210 pounds with a 7'0'' wingspan, he has excellent size for either forward position. With the Hawks drafting Bol Bol third to solidify their center position, they can take more of a risk and select a player with a lot of untapped potential in Shareef O'Neal.
Pistons- PG Jahvon Quinerly, Fr. Villanova
JELLY FAM! Jahvon Quinerly is most famous for always performing the "jelly fam" layup during games. With Villanova losing four key players to the NBA draft this year, Quinerly should fill the starting point guard void left behind. He is a very small player, standing just 6'0'' 170 pounds, but what he lacks in size he makes up for in skill. He has a great knack for finding the open man and has excellent playmaking ability. Quinerly is also an elite shooter, having shot 45 percent from three-point range in his high school career, including shooting 48 percent his senior year on 123 attempts. With his combination of playmaking, shooting, and flashy plays, he should become a lottery selection after just one season at Villanova. With Reggie Jackson entering the last year in his contract in 2019 and not having proven he deserves an extension, the Pistons could look towards Quinerly to become their point guard of the future.
Pelicans- SG Quentin Grimes, Fr. Kansas
Quentin Grimes is the other highly touted recruit that will be playing in Kansas' backcourt next season. He and Devon Dotson will immediately become one of the most athletic backcourts in the nation, with both having competed in the McDonald's All-American dunk contest. Grimes advanced to the finals but ultimately finished second behind the uber athletic Zion Williamson. Along with his excellent athleticism, Grimes has great form on his jump shot and it should translate to success from NBA three-point range. Although he is a little undersized at 6'5'' 200 pounds for the shooting guard position, his athleticism should help compensate while he develops physically. The Pelicans need to be looking for a wing player with the ability to create his own shot. Their point guard Jrue Holiday is most known for his defense and he is able to guard shooting guards, which would make the smaller Grimes a great fit for the team.
Spurs- C Jontay Porter, So. Missouri
Jontay Porter is the lesser known of the Porter brothers. Michael Porter Jr. was just selected fourteenth overall in this year's draft and has always been a highly touted recruit. Jontay has been in his older brothers shadow since he started playing basketball. That ends next season. Jontay reclassified last year so he could play one year at Missouri with his brother, so he is going to be entering the draft around the same age as most freshmen. Listed at 7'0'' 240 pounds he has good size that translates to the NBA. He averaged 16.2 points, 11.1 rebounds, 3.7 assists, 2.7 blocks, and 1.4 steals per 40 minutes. He isn't an elite scorer for his position but not many centers are in today's NBA. He's shown the ability to stretch the floor, shooting 36% from three-point range on 110 attempts during his freshman season. His defense, shooting, and playmaking ability are all positives that should translate to the NBA. The biggest knock on Porter is his length. His wingspan is 7'0'', the same as his height. In today's game, a lot of wing players have longer wingspans than that, and most teams look for a center with excellent length. The Spurs aren't most teams. They value skill over potential more than most teams. If they trade Kawhi Leonard and ultimately miss the playoffs, they should jump at the opportunity to draft Porter.
Honorable Mentions:
PF/C E.J. Montgomery, Fr. Kentucky
SG Tyler Hero, Fr. Kentucky
SF Louis King, Fr. Oregon
C Daniel Gafford, So. Arkansas
PF/C Simisola Shittu, Fr. Vanderbilt
PG Darius Garland, Fr. Vanderbilt
PG Immanuel Quickley, Fr. Kentucky