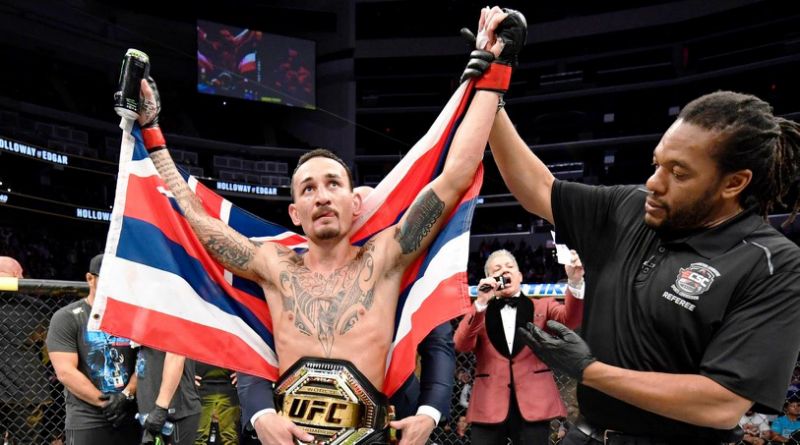 UFC Recap: UFC 240 Holloway vs Edgar
July 29, 2019
By: Nick Kazandjian, Head Combat Sports Analyst
Welcome to a weekly segment that will be released to help breakdown the past week in the world of Mixed Martial Arts. UFC 240 was aired this weekend and was quite an underwhelming card. Lots of long drawn out fights and not only were there lots of fights ending in decision, but a lot of really boring decision fights. Max Holloway was able to defend his Featherweight Championship against former Lightweight Champion Frankie Edgar in a 5 round unanimous decision. But before I get too deep, let's dive into the main card and review some fights.

C* Max Holloway (21-4) vs #4 Frankie Edgar (23-7-1) – Featherweight Championship Bout
Holloway did a fantastic job showing why he is the champ at 145. He fought a great fighter in former Lightweight champ Frankie Edgar, neutralizing Edgar's strengths and maximizing his own. Holloway used his size advantage and great boxing technique to pick Frankie apart as the fight went on. He also did a great job on take down defense stuffing 15 of Edgar's 16 takedown attempts.

Final Result: Holloway def. Edgar by UD (50-45, 49-46, 48-47)

#1 Cris Cyborg (21-2) vs #2 Felicia Spencer (7-1) – Featherweight Bout
This was one of the best fights of the entire night. Cyborg and Spencer put a lot on the table for a chance to fight Amanda Nunes. Spencer, who came into the bout undefeated, had shown an impressive resume including becoming the Strikeforce FC champion before her UFC debut. Spencer showed that not only could she hang with Cyborg, one of the best female fighters in the history of the sport, but she could take a lot of shots without much of a problem. Spencer failed to take Cyborg to the ground on 4 attempts but did a great job gaining advantage in the clinch against the cage. Cyborg showed she was still dominant landing 111 significant strikes to Spencer's 43.

Final Result: Cyborg def. Spencer by UD (30-27 x3)

Geoff Neal (12-2) vs Niko Price (13-3 1 NC) – Welterweight Bout
Geoff Neal might have won himself Performance of the Night for his fight against Niko Price. Both fighters did a great job but Neal showed he was clearly the better fighter. He maintains an undefeated 4-0 record in the UFC and will surely be ranked when the rankings are released on July 29th or 30th. He did a great job landing tons of shots and also controlling Price on the ground before eventually finishing him off with a TKO.

Final Result: Neal def. Price by TKO

Arman Tsarukyan (14-2) vs Oliver Aubin-Mercier (11-5) – Lightweight Bout
Tsarukyan put on display that he is indeed a polished Lightweight fighter. Tsarukyan, who is just 22 years old, fights like he has been in the UFC for a long time. He is extremely technical and does great in the standup and is even more phenomenal in grappling. He is one of my next top fighters rising through the ranks and who can forget his brawl and ultimate defeat against another rising Lightweight in Islam Makhachev. Aubin-Mercier just lost his 3rd fight in a row and needs a big win soon or he might be on his way out of the UFC. He did look good against Tsarukyan but he is not on the level of him.

Final Result: Tsarukyan def. Aubin-Mercier (29-28)

Marc-Andre Barriault (11-3) vs Krzysztof Jotko (21-4) – Middleweight Bout
Jotko and Barriault gave a good fight against each other so much so that it ended in a split decision. Both guys did a great job striking against each other and really wanted to prove themselves. Jotko was able to outstrike him by a slim margin (47-32 Significant Strikes) but Barriault was able to control Jotko longer along the cage. Jotko did some impressive things both in standup and in the clinch and it will be interesting to watch him fight again in the Middleweight division.

Final Result: Jotko def. Barriault by Split Decision (29-28 x2, 28-29)

My Main Card Awards

Fight of the Night: Cris Cyborg v Felicia Spencer
Performance of the Night: Geoff Neal TKO of Niko PriceRising Star: Arman Tsarukyan