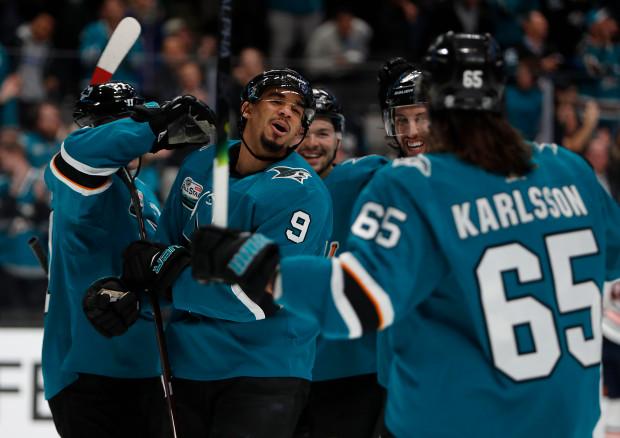 The San Jose Sharks Are Hot Right Now, But They Need To Add More To Bring Home The Cup
January 9, 2019
By: Erik Clark, Hockey Analyst
These are exciting times for the San Jose Sharks. The NHL All-Star Game, which will be hosted by San Jose at the SAP Center for the first time since 1997, is a few weeks away and Erik Karlsson is starting to gel really well with the boys in teal, as he has recorded at least 1 assist in every game since mid December. The Sharks just had an outstanding upset win over the nearly unbeatable Tampa Bay Lightning and are one point away from being the undisputed best team in the West, so why am I concerned about a lack of depth?
To put it simply, the Sharks have a very challenging road ahead of them in order to win their first Cup. If they win their division they could face a very tough Colorado Avalanche team with the best line in hockey (Landeskog, MacKinnon, and Rantanen), a solid Dallas Stars team, the Minnesota Wild, or even the Anaheim Ducks or Vancouver Canucks. If the Golden Knights or Flames refuse to slow down this year then the Sharks would have an even worse scenario of having to face one of those two really talented teams to start off the first round of the playoffs. Even after a possible first round win, the Sharks would then have to face one of the teams recently mentioned, which could mean they play the Flames and Golden Knights/Avalanche in back-to-back playoff rounds. Yikes.
​If the San Jose Sharks pull off two really impressive playoff round wins they will find themselves in another Western Conference Championship against either the consistently dominant Nashville Predators, the Winnipeg Jets (who almost won last year's Western Conference Final against Vegas and in my opinion have the best goaltending duo in the league), or the Colorado Avalanche/Dallas Stars. The playoff rounds leading up to the Stanley Cup Final could mean the Sharks face Vegas>Calgary>Winnipeg in that order, which is literally nightmare fuel for Sharks fans. Even worse, if the Sharks do wind up in Stanley Cup appearance #2 in franchise history they could come face-to-face with the 2019 Stanley Cup Champion favorites, the Toronto Maple Leafs, or they could face an equally as frightening Tampa Bay Lightning, Washington Capitals, who are low-key the reigning Stanley Cup Champions, the underrated Boston Bruins, or god-forbid, the Pittsburgh Penguins, who beat the Sharks in their only Stanley Cup Final in franchise history.
The Sharks look good right now, and they have impressive wins to prove they are legit this year, but they need to have talented depth similar to that of the Penguins, Capitals, or the Maple Leafs in order to hold their own come playoff time.
I have a handful of realistic options for the Sharks and a few unrealistic, but possible options that San Jose could pursue before the trade deadline. I do want to remind everyone that while some of these trades might seem improbable, every Sharks fan thought trading for Erik Karlsson without giving up a significant player was impossible until the front office pulled it off last offseason. Anything can happen, and these are some possible outcomes we might see come into fruition.
Trade w/ Columbus for Artemi Panarin and Sergei Bobrovsky
This trade I 100% feel is most likely to happen and the most beneficial for the Sharks. Blue Jackets General Manager, Jarmo Kekalainen, recently stated that he "wouldn't rule out" trading Artemi Panarin and Sergei Bobrovsky, who are arguably two of the best players for Columbus (outside of Cam Atkinson) and who will both be free agents at the end of this season. This news of Kekalainen listening to trade offers for the talented goalie and winger has led to sources close to NHL Insider Analysts reporting that Panarin and Bobrovsky are very likely to be traded before the deadline. While Columbus is currently a playoff team, they are dangerously close to being knocked out completely due to the consistent rise of the New York Islanders and the impressive depth of playoff teams in the Atlantic Division. If Columbus isn't careful, they could be on the outside looking in come playoff time with a real possibility of losing Bobrovsky and Panarin for nothing in return besides more cap space. In fact, if they were to keep their current spot and make the playoffs, they would have to face a very deep Pittsburgh Penguins team first round, and possibly a talented Buffalo Sabres team or the reigning champs, the Washington Capitals, if they are lucky enough to advance to the second round. Columbus is a good team this year, but the chances of them going far enough in the playoffs, or even making the playoffs in the first place, doesn't look great for them, and if they can't confidently say that Panarin and Bobrovsky will return under new contracts next year then they need to move these two key pieces, and San Jose definitely needs both.
​I should mention that there are two positions that I believe San Jose truly needs more help in. They need more LW/RW skill and should definitely consider adding another goalie. The Sharks have a fantastic group of Centers (Couture, Pavelski, Hertl, Thornton, and Radil), and they clearly have a lot of talented Defensemen, but the Sharks need to add one more impactful winger to truly put this roster over the edge. Adding another LW/RW could them create two very dangerous top lines or could help formulate a third, yet lethal line. While the Sharks have been on a tear as of late, Sharks fans have definitely felt a sense of concern regarding the club's goalie situation. Martin Jones has been good, not great (19-8-4, .899 SV%, 2.82 GAA) and Aaron Dell has had amazing moments, like his back-to-back shutouts in November, and abysmal moments, like letting up 8 goals against Calgary on New Year's Eve. Overall, I'm not sure if either goalie can lead this team to a Stanley Cup Championship and beat consistent on a nightly basis, so bringing in another goalie to aid Jones or become the new starter seems ideal to really make a championship push this year.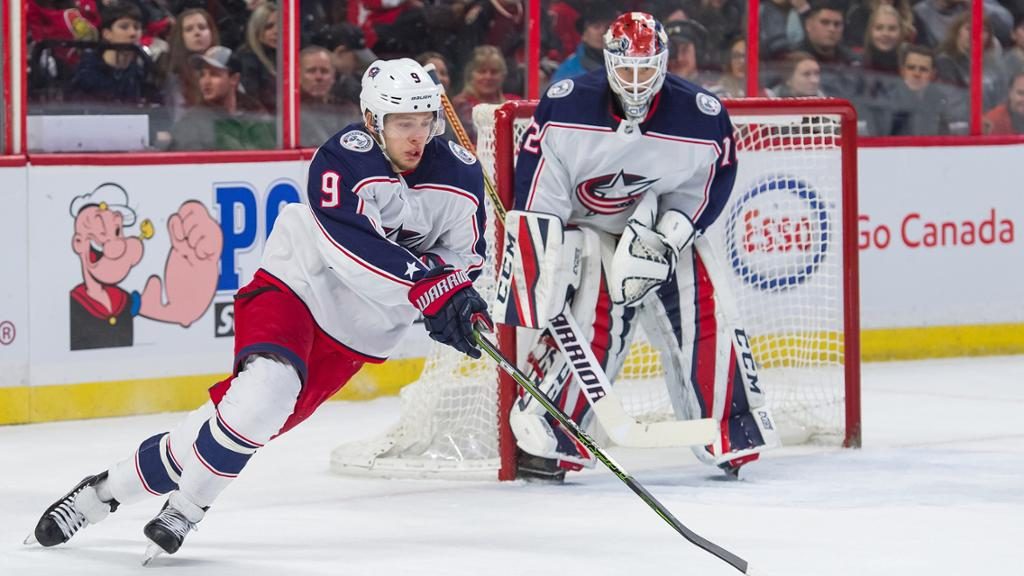 Trading for Bobrovsky is the best option I can think of to make this change at goalie. His season isn't great this year, in fact it's only slightly better than Martin Jones', but his ceiling is way higher than either Jones or Dell. The two-time Vezina Trophy winner, who only two seasons ago set a franchise record for the most wins in a season (41) and won his second Vezina Trophy, had a very successful season last year and could easily turn things around on a much stronger team like the Sharks. Personally, I think adding Bobrovsky would make the Sharks a super team destined to at least win the Western Conference Finals.
The Sharks could realistically land Bobrovsky, or Panarin, but the chances to get Panarin AND Bobrovsky are likely, but very expensive. Adding Panarin, a very well rounded, skillful LW who can also play Center and definitely generate scoring opportunities would help keep San Jose in the running for the most dangerous team in the West. To get both Panarin and Bobrovsky would ultimately create the deepest team in the Conference, but would create a lot of downsides for the Sharks. They would have to send a lot of future picks, significant young talent, which could unfortunately include Tomas Hertl, Lucas Radil, or even Timo Meier, and could completely backfire at the end of the season as Erik Karlsson, Artemi Panarin, and Sergei Bobrovsky would all be free agents and could all realistically leave the Sharks. However, the Sharks front office and Doug Wilson could pull of some trading magic again and land both Columbus players for a cheap price and find a way to convince Karlsson and the duo from CLS to stay long term with San Jose. E. Karlsson himself seems to finally start enjoying his time wearing teal and the front office making big moves to really add to this team could prove to Erik how serious they are about winning, ultimately creating an environment that these free agents would want to commit to. Ultimately, the Sharks could land either Bobrovsky or Panarin, but I wouldn't rule out a trade landing both.
Trade w/ Boston for Jaroslav Halak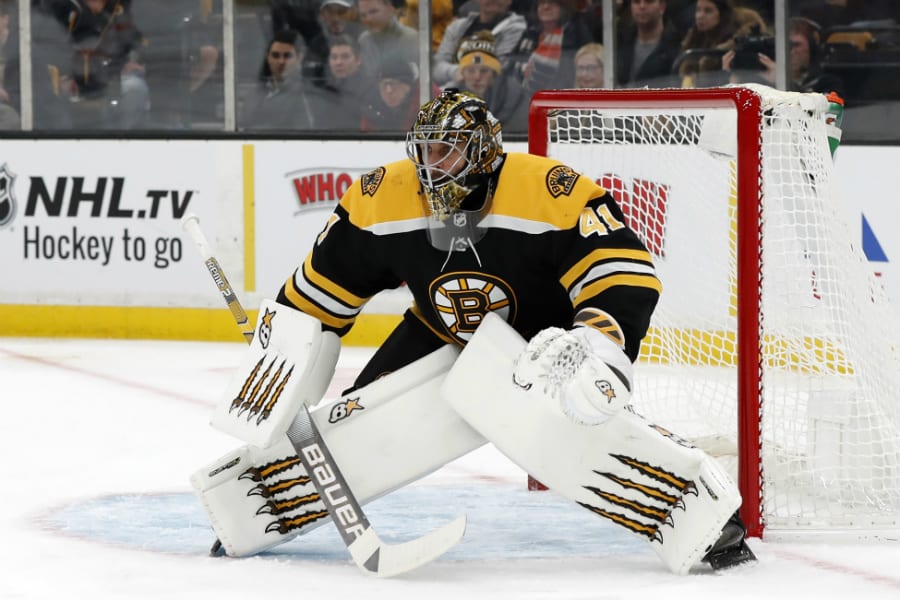 The Boston Bruins are completely mismanaging their goalie situation, so of course the Sharks should trade with an organization known for sending away great talent that they actually should have kept in the first place. The Bruins, who in the last 10 years have traded away Tyler Seguin, Dougie Hamilton, Blake Wheeler, Phil Kessel, and Martin Jones (who was actually sent to San Jose), and nearly didn't resign David Pastrnak last year, are notorious for letting great talent go and not getting enough in return. The fact that San Jose's current starting goalie came from a trade with Boston shows that its not only possible that the Sharks could trade for an impactful starting goalie with the Bruins, it would actually be deja vu for the NoCal club.
​All season there has been a battle between long-time Boston goalie Tuukka Rask and recently added Jaroslav Halak to see who would get the starting position for good. Until recently, the goalies have been splitting time, despite Tuukka being listed as the starting goalie. Rask has played well as of late, shutting out the Wild last night 4-0, but in the time it took Rask to get 1 shutout, Halak recorded 3, including playing one more game than Rask this season (23 GS vs 22) and having a better SV% and GAA. Anyone in the league would tell you that Halak is the better goalie, and long-term he is by far the better option, and I'm not just saying this because Halak is on my fantasy hockey team. Jaroslav Halak has been the most reliable option this season, and his play for both the Islanders and Team Europe in past seasons in the NHL and the World Cup of Hockey has proven that he has been better than Rask, he is currently better than Rask, and he will continue to play better than Rask.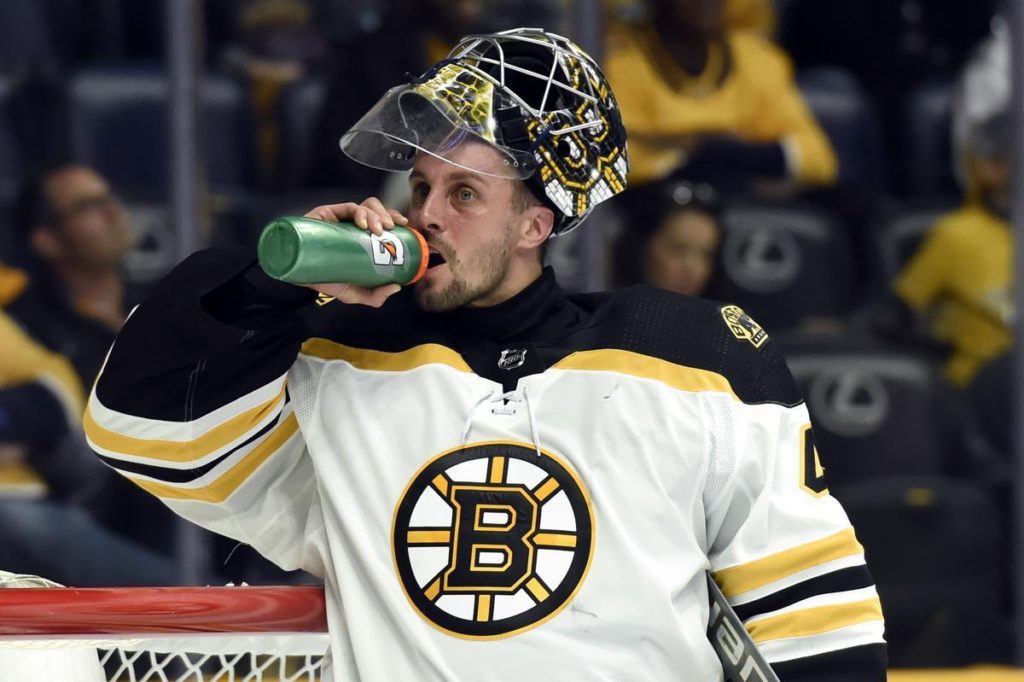 ​Yet, its typical of the Bruins front office to show their bias towards Rask and continue to neglect Halak. I can understand wanting to keep Halak and Rask for this year's playoff run, but if they don't give a starting position to Halak by 2021, there's no chance he will wear a Bruins sweater ever again. I fully expect the Bruins to make an idiotic move and continue to keep Rask at starter and trade Halak, and what better team to do that with than the San Jose Sharks.
​This move would be perfect for the Sharks. You're adding a very skilled, veteran goalie, who is ok with sharing time clearly and brings out the best in goalies competing for the starting job. He's reliable, handles big games well, and could easily be a long-term goalie for San Jose. Plus, this is the Bruins were talking about and I'm sure you could easily get Halak for an even cheaper price than what the Sharks paid for Erik Karlsson. San Jose should be on the phone with Boston very soon.
​Also, it would be hilarious if the Sharks goaltending duo both came from trades with Boston. Would clearly show how incompetent that front office is in the hub of hockey.
Trade w/ Carolina for Michael Ferland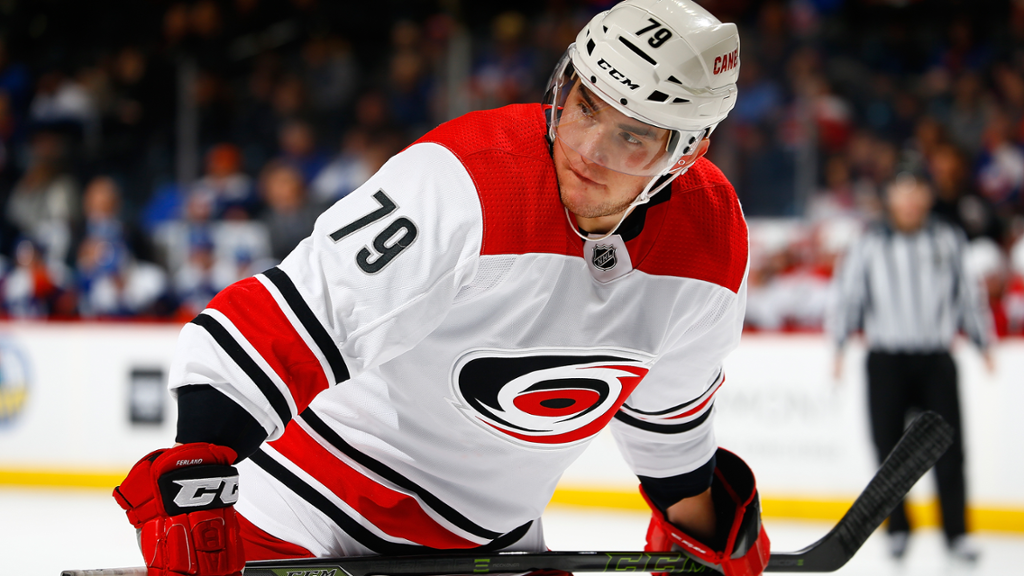 ​This is a scenario that I'll keep pretty short, as it's not a great option but there is some speculation that this could actually help San Jose significantly. Michael Ferland has had a very fluctuant season, going through hot streaks and very cold streaks during a slightly disappointing Hurricanes season. He's a good goal scorer and Carolina is interested in moving him. Personally, I first viewed this as a skater not worth pursuing, until Pittsburgh stated that they are very interested in trading for Michael Ferland. The Penguins already traded with the Kings this season for Tanner Pearson, which turned out to be beneficial for them despite Pearson's slow start in LA. If Pittsburgh wants Ferland so bad, despite his just ok play in Carolina this year, then they must see something that I don't in Ferland proving his value and potential to help Pittsburgh win another Cup. He's a solid winger, which San Jose needs, and trading for him could bring some serious positive changes to the Sharks offense.
Trade w/ Detroit for Jimmy Howard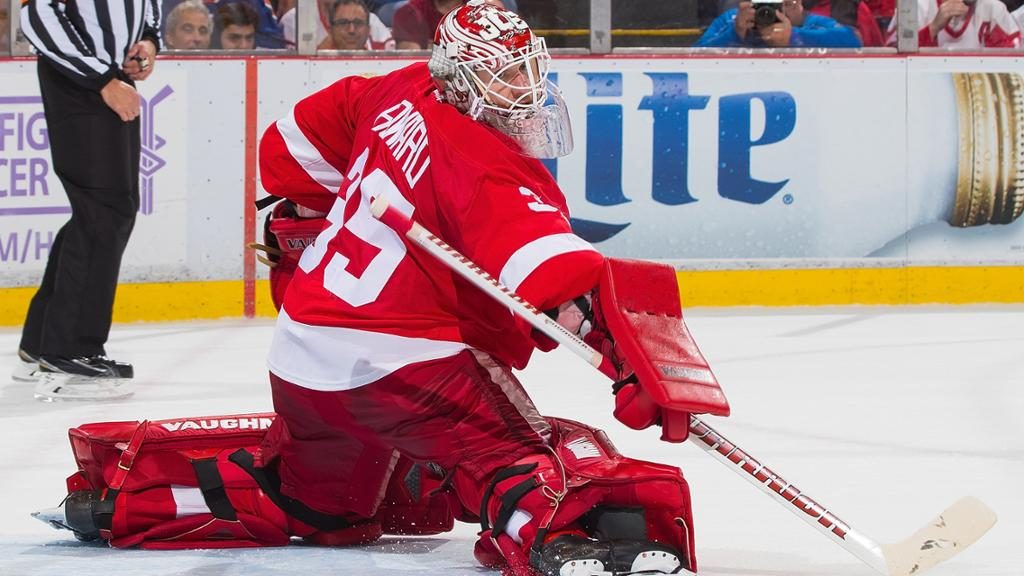 ​This trade would be similar to a trade with Columbus for Sergei. Howard is having an ok season, slightly worse than Martin Jones in fact, but his ceiling is also higher. He's had a very good run with the Red Wings, but with Detroit still playing terrible and looking to go younger, we could see the Red Wings part ways with Howard for a cheap price. The Sharks currently have the worst team SV% of any playoff team, so moving Aaron Dell and maybe a future pick for Howard would create better stability and security for goaltending heading into the playoffs. Jimmy Howard may be a free agent next year, but a great second half could convince him to stay and possibly take the starting job from Jones.
Trade w/ Chicago for Alex DeBrincat or Erik Gustafsson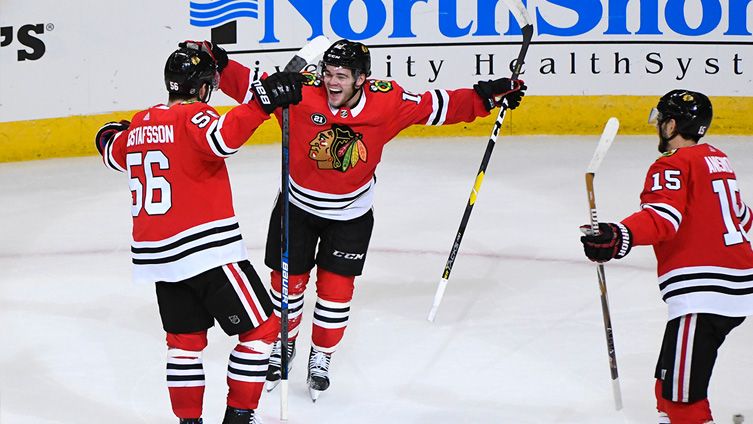 ​Chicago has been bad this year, like REALLY bad, and while it's unlikely that any big name players will be traded from the Blackhawks, some significant role players could be on the move for young talent and draft picks. Alex DeBrincat and Erik Gustafsson could be these talented skaters. Alex DeBrincat is a 21 year-old LW/RW who has been well-balanced and efficient on offense this year. 20 goals and 15 assists, with a majority of this coming from the Chicago power play, shows that DeBrincat is a promising young skater who can help immediately and be a good investment for the Sharks future as well.
​Erik Gustafsson might be a defensemen, but his numbers as of late are astounding. 8 goals, 18 assists, and at least 1 assist in every game since December 23rd show that the 26 year-old is beginning to hit his prime. Adding him would create arguably the most lethal defensive core the league has seen in years while adding depth to either the top 2 lines or even all 3 lines the Sharks currently have. This is literally the only defensemen the Sharks should consider, as Erik could make some serious positive changes to both the offense and the defense in San Jose.
Trade w/ Ottawa for Matt Duchene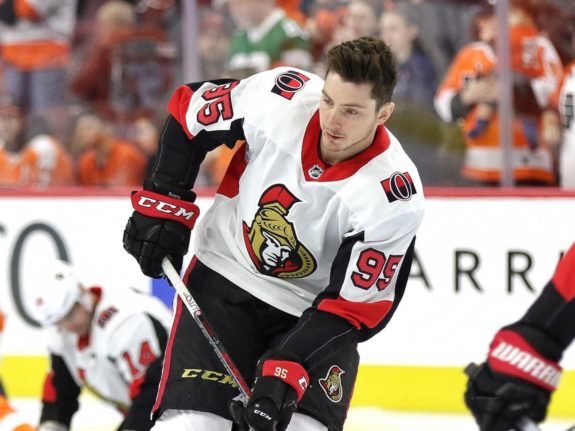 ​Matt Duchene is having a fantastic year in Ottawa, but the soon to be free agent clearly does not like playing for Ottawa and will most likely be out at the end of the year. The Center, LW will definitely be traded, as there is no reason for the Senators to keep him if he refuses to sign on long-term. Duchene would make a huge impact joining the Sharks right now, and personally I would love to see him in teal in 2019, but it may be too risky to pay a lot for a player than might not be the best option long-term. It's not clear where Duchene wants to play after this season, and based on his experience in Colorado, this recent success may not be sustainable. Of course, Duchene could be entering his prime now and this speculation of him falling off could be completely wrong, but going all in on a player who hasn't always been this good who might leave in a few months is a little risky. However, adding him right now for a second half and playoff run would be tremendous and would be a great addition for the Sharks.
Trade w/ St. Louis for Vladimir Tarasenko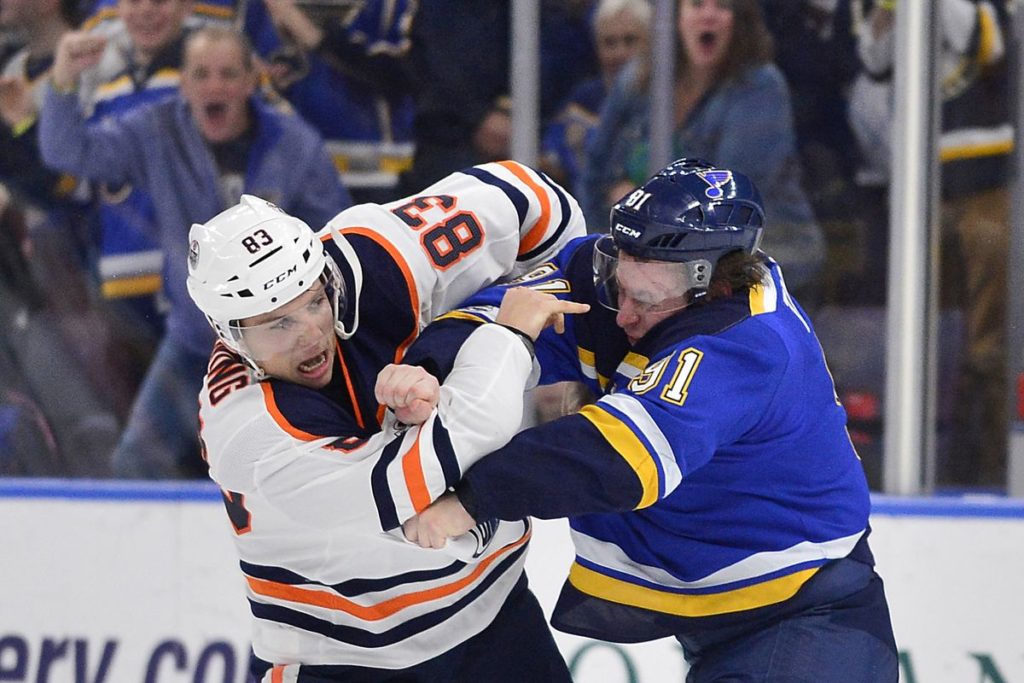 If you thought the Blackhawks were bad, then you're not going to believe how terrible Chicago's rival, St. Louis, is this year. This team can barely win anything despite still having talent like Alex Pietrangelo, Vladimir Tarasenko, and Ryan O'Reilly on the roster. O'Reilly has been having a great season, Pietrangelo an ok one, but Tarasenko, the 3 time All Star, has been playing terrible. In fact, I've literally been trying to trade him in fantasy hockey for months as he is going through seriously bad droughts where he can't find a way to contribute on the offense whatsoever. Analysts following the Blues keep stating that Tarasenko will turn it around "soon", but that has yet to happen. Only 12 goals and 12 assists this year, Tarasenko is having a career worst season.
Tarasenko is playing for a bad St. Louis team however, and is still expected to play well next season, so buying low on Tarasenko could really help the Sharks. The Blues have been in talks about moving him and it might be beneficial to the Sharks to invest in Vladimir. Even though his offense has been predictable and inefficient this year, putting Tarasenko on a new line on a much better team could possibly fix his terrible season. Also, if Tarasenko can turn it around, he would be under contract until 2023, which could be a great investment for the Sharks. It's important to note that in each of the last 4 seasons Tarasenko score more goals than anyone else in the league (except Ovi, which makes sense). Also, Vegas is looking to trade for him, so it doesn't hurt to prevent the Knights from getting any better.
Trade w/ Dallas for Jamie Benn or Tyler Seguin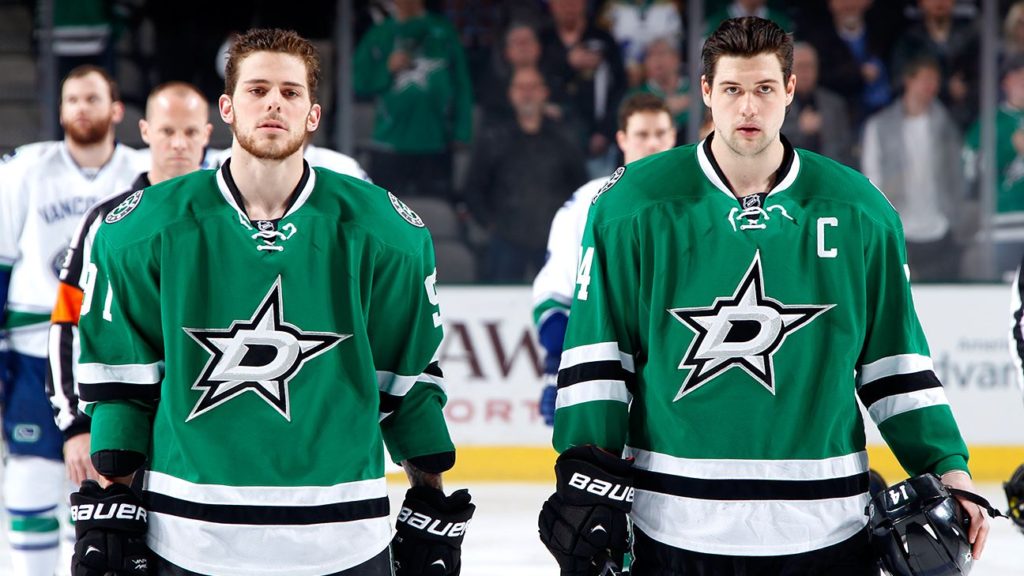 ​In case you missed it, Stars GM Jim Nill exploded when talking about Jamie Benn and Tyler Seguin to the media. He blamed the team's bad play on them, stating that they're star players who are not playing like star players. He's kind of not wrong, as Seguin and Benn are doing solid but not amazing currently, but clearly Nill is fed up with the Center and LW. The Stars are playing well lately, sitting in a playoff spot and recently passing the Avalanche in the standings, but if Nill really is tired of having these two not live up to his expectations then maybe he'll want to trade them to a club like San Jose. Of course, adding another Center in Tyler Seguin wouldn't help structure wise, but it could move Tomas Hertl back to LW/RW and would obvious add insane talent to San Jose. Jamie Benn would fit in well on the roster as he would add great depth to the LW position for the Sharks. Unfortunately, I can see Jim Nill wanting a king's ransom for one of these players, which would not be ideal for San Jose.
Unlikely Trade Scenarios:
Trade w/ Carolina for Sebastian Aho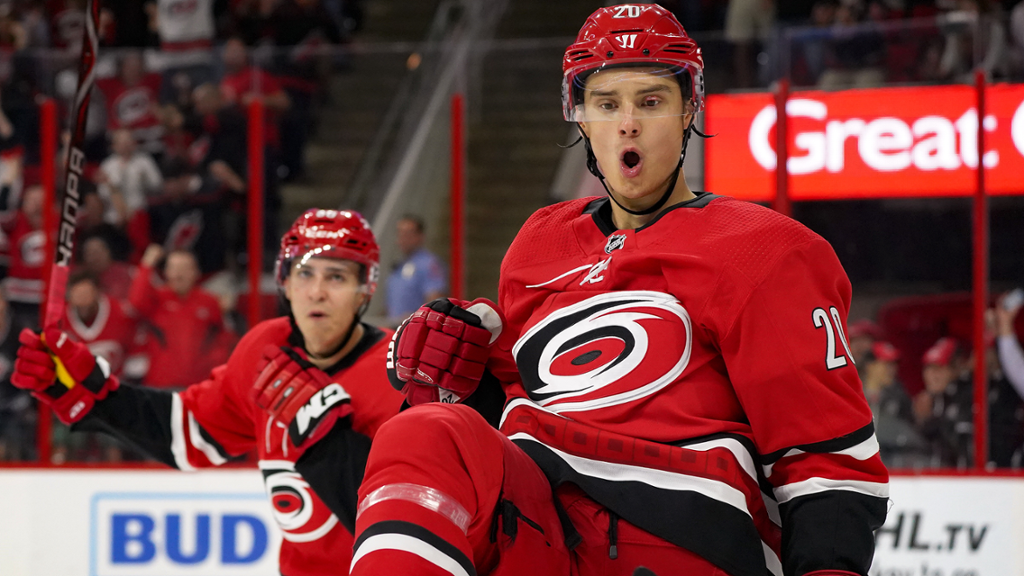 I'm gonna be blunt and say I would do pretty much anything to see Sebastian Aho play for San Jose. Aho has literally carried the Hurricanes this year and could lead them to the playoffs, potentially. 16 goals, 29 assists, and he was 1 game away for setting the NHL record for most consecutive games with an assist to start an NHL season. He's a remarkable skater, and at only 21 he's guaranteed to be a future star. He is, however, the most valuable player in Carolina and it's highly unlikely they'll trade him. However, the Hurricanes already made a blockbuster trade this past offseason that sent Elias Lindholm and All-Star Noah Hanifin to Calgary for Dougie Hamilton and Michael Ferland (who ironically might be traded from Carolina now). Carolina has been laughably bad at trades lately, so I'm not entirely sure they'll say no to trading Aho. Lindholm is having a monster year this year, but he wasn't so solid last year to be honest. Hanifin being traded, however, completely shocked me. He was only 20 last year when he made his first All-Star appearance and was their absolute best defenseman. I truly believed him and Aho would carry this team to playoff appearances in future seasons and was baffled to see him in a Calgary jersey this year. The Hurricanes also traded away Jeff Skinner, who is one of the best goal scorers in the league this year, was close to setting franchise records in Carolina, and is helping Buffalo reach the playoffs for the first time since 2011. While Aho is far better than Skinner and Hanifin, the Hurricanes have made terrible mistakes in trades as recent as this year, and if I'm the Sharks I'm first calling about Aho before I even discuss Ferland.
Trade w/ Chicago for Jonathan Toews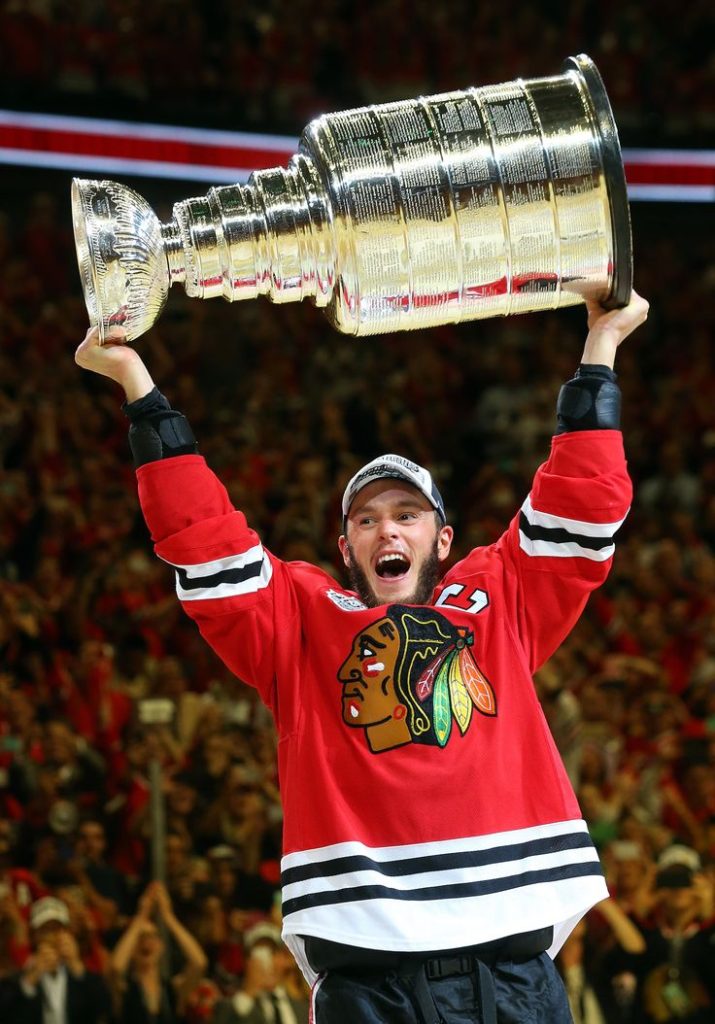 ​This is a pipe dream, but what if Chicago moved Toews for a plethora of picks and young talent. Chicago is definitely looking to rebuild and move pieces before the deadline, but what really are their untouchables. I believe Patrick Kane will never leave Chicago, but Toews could possibly be used for serious pieces in a rebuild. It honestly might cost too much for San Jose, and it is a pipe dream for sure, but Chicago hasn't decided what they want to do yet at the deadline, and as of right now, nothing has been ruled out.
Trade w/ Penguins for Phil Kessel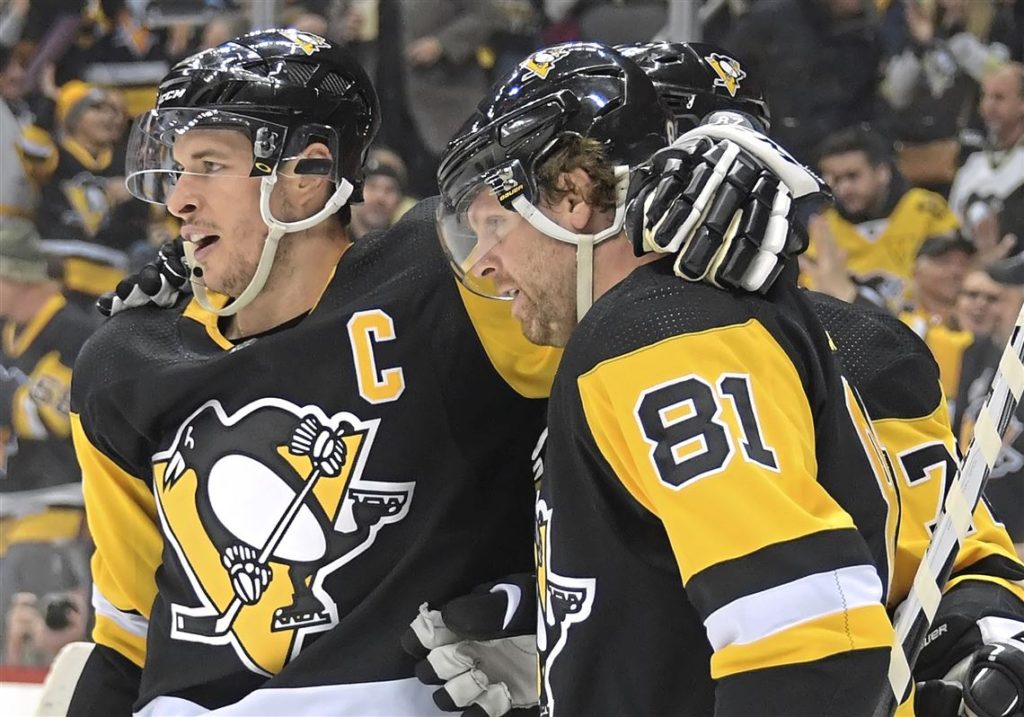 ​The Penguins have more depth than they can honestly handle right now. Bryan Rust, Jake Guentzel, Patric Hornqvist, Tanner Pearson, and Phil Kessel have all been having successful seasons, and that's just considering wingers. Sidney Crosby, Evgeni Malkin, and Kris Letang are all having fantastic seasons, which is why they have some of the best odds to win the Cup this year. But Pittsburgh could easily move a winger in order to add more depth on Defense, which San Jose has. Phil Kessel is currently on the third line for Pittsburgh, and I doubt the Penguins will move Rust, Guenztel, who they recently extended, or Pearson, who just came from LA. The Penguins are hot right now, and Kessel still has 4 more years left on his 8 year contract, but San Jose offering a pick and a defensemen could land this 3 time All-Star in San Jose for at least the next 4 years. It's not the best, or most likely option, but it could definitely help the Sharks in their pursuit of their first Stanley Cup Championship.