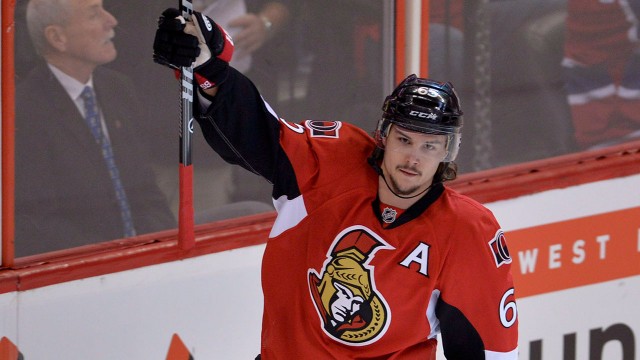 The San Jose Sharks Acquire Absolute Stud Erik Karlsson and Are Now Confirmed 2019 Stanley Cup Champions
September 14, 2018
BY: Erik Clark, Hockey Analyst 
It's September 13th. Today's date is September 13th, 2018 and we did it. We actually traded for one of the best players in hockey and we're now guaranteed Stanley Cup Champions, don't even bother trying to change my mind. As if having Brent Burns on defense wasn't enough you now have the single best 1st line in defense in the entire NHL with Erik Karlsson and Brent Burns.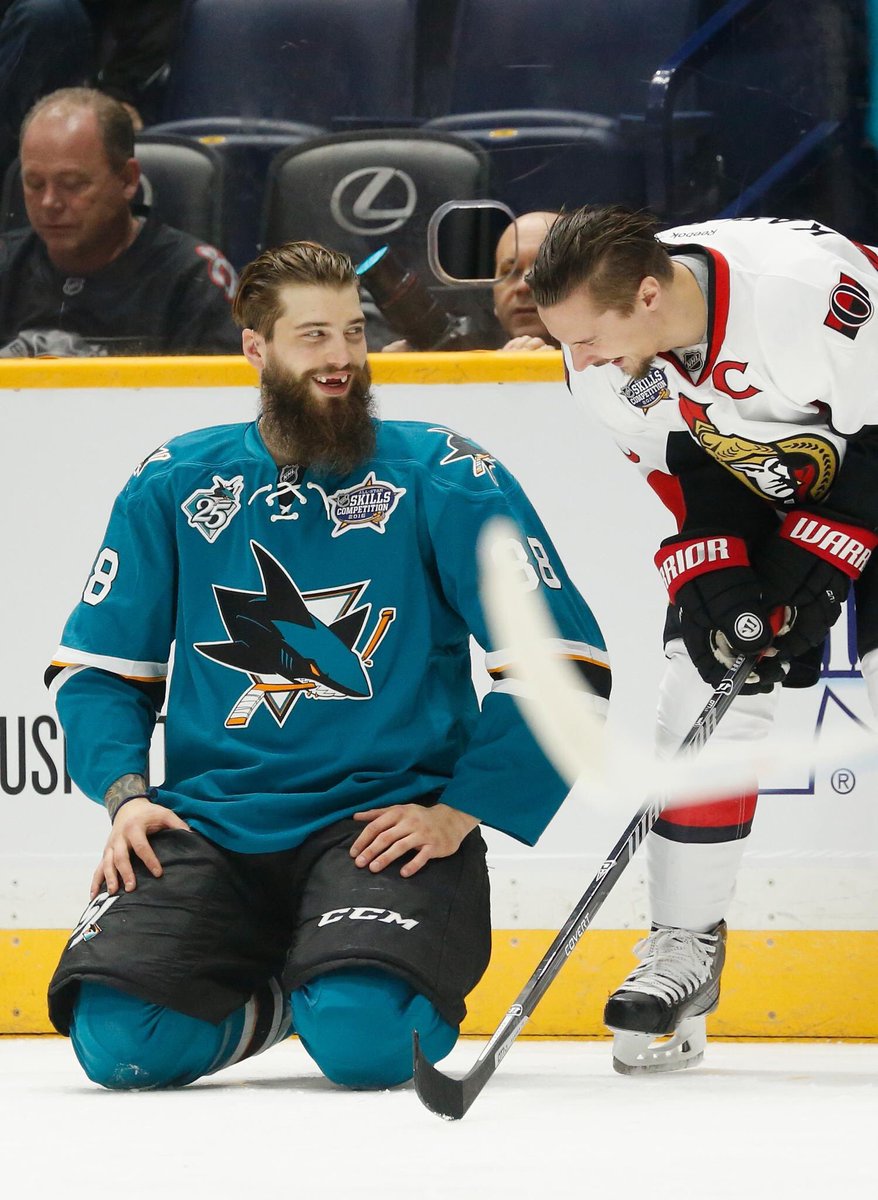 Personally, I had been hyping this move up all offseason. Telling every diehard hockey fan I knew about how amazingly unfair it would be to see Burns and Karlsson on the same line, how the Cup would easily be ours if we landed him, and how it could keep us as favorites in the West for years to come. Deep down, however, I knew I was living a lie. Eventually, Karlsson would be on the move and it would probably be to an on the rise Toronto team, or possibly a threatening Tampa Bay team, or even worse, the God damn Oilers. Regardless, I kept myself from getting too attached to the mesmerizing thought of seeing E. Karlsson on the back of a teal jersey, knowing the sobering breakup of seeing Karlsson being shipped out to anywhere besides the Bay Area was destined to happen. However, while checking the Tailgate Sports staff groupchat on a lunch break at work today I was given the, almost too good to be true, news that my dreams were actually coming true in real life.
The best part about the whole Karlsson to the greatest hockey town in the Western Hemisphere news is that the Sharks didn't have to break the bank to acquire him. Personally, it was pretty obvious that Karlsson was on the move. Erik's entering the last year of his contract and his time in Ottawa wasn't swell to say the least. Ottawa's only significantly impressive season was in 2016, where they would lose in double overtime in Game 7 of the Eastern Conference Finals to the Pittsburgh Penguins, who of course would go on to win the Cup. Personally, after watching that series I had a feeling that that would be the deciding factor in when Erik wants to stay or leave the Sens. Doing everything in his power to bring Ottawa the closest it's been to a Cup appearance in over a decade was enough to prove that the series was a make or break year resulting in Erik wanting out of Ottawa. Also, of the ice harassment his family dealt with from a former Ottawa teammate's spouse certainly made the situation in Eastern Canada that much worse for Karlsson. Overall, it only took Chris Tierney, Rudolfs Balcers, Dylan DeMelo, Josh Norris, a 2019 2nd round pick, and a 2020 conditional 1st round pick to land Karlsson and Francis Perron from the Senators. Also, I should note that if Karlsson ends up resigning we also send a 2021 1st round pick to Ottawa, however, landing an elite player like Erik without dishing out major talent is a steal in my book.
Overall, this is a franchise saving move. The last few years left me extremely nervous about the fate of the Sharks. Losing the Cup to the Pens was gut-wrenching to be absolutely blunt with you. Sure we won our first ever Stanley Cup game in Sharks territory, but to lose in such a style began to start a slippery slope to vanishing back into irrelevance. We ended up losing Patrick Marleau to Toronto, we lost to the Oilers IN THE FIRST ROUND of the playoffs only a year after winning the West, and we swept the Ducks last year only to lose to the soon to be Western Conference Champs, the Vegas Golden Knights. Things weren't looking good in San Jose, and with Joe Thornton, Brent Burns, Joe Pavelski, and Logan Couture all getting increasingly older and approaching the end of their contracts it appeared as if the swan song for this glorious era in Sharks history was upon us.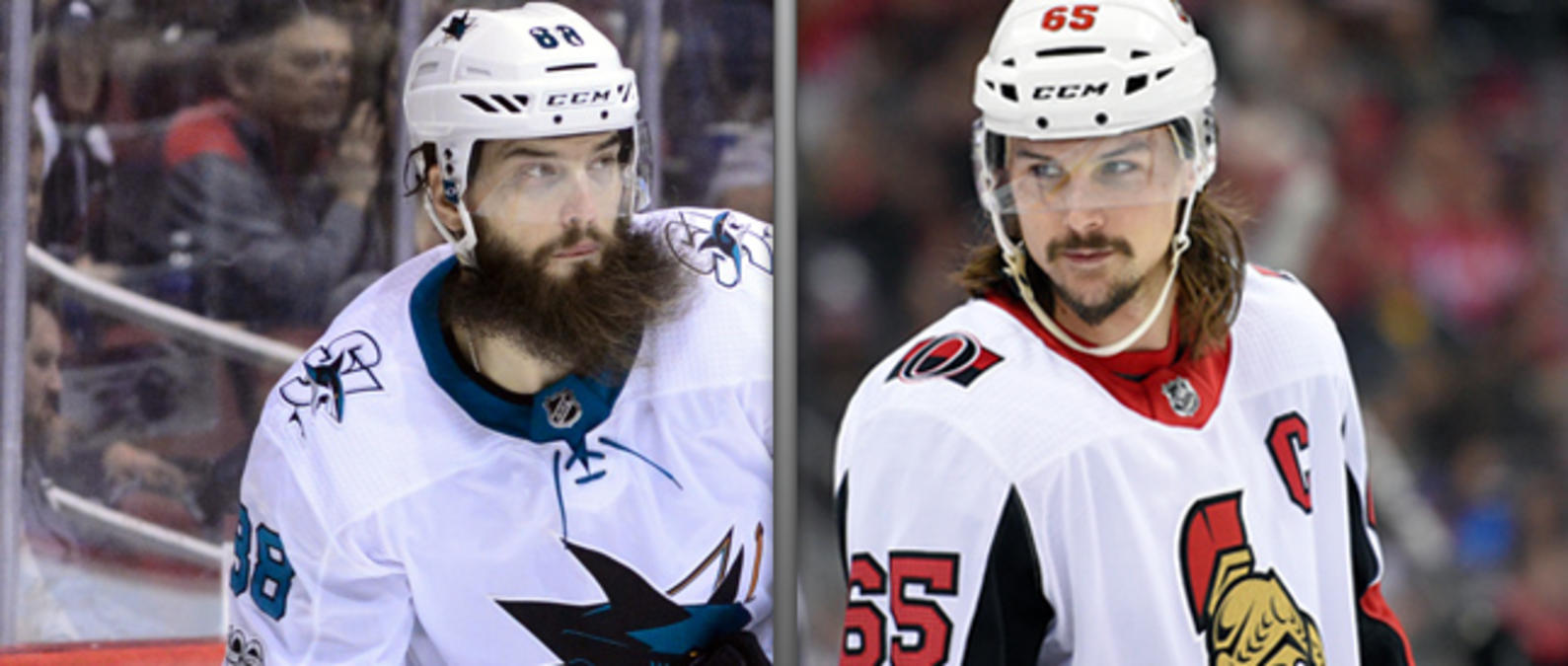 But that all changed today with Erik joining the Sharks. Now a complete game changer has joined the boys in teal and is giving us a very solid shot at our first Stanley Cup Championship ever while also giving us a chance to win him over and call San Jose his new home. Our roster is just BAFFLING now with Karlsson, and Brent Burns, and Joe Thornton, and Marc-Edouard Vlasic, and Tomas Hertl, and Evander Kane, and Logan Couture, and Martin Jones, and our captain Joe Pavelski. I mean sheesh, I hate to say it but you can't find a better roster in the West, period. We aren't perfect though. We still struggle with adapting to a faster league and need quick talent like the likes of Dylan Larkin or Connor McDavid, but damn we are in a very good spot right now. I mean to be honest, San Jose has never been a widely sought after landing spot for big name players like Erik Karlsson, so to land him in the Bay Area is a pivotal moment in franchise history to keep it simple. We can either do extremely well with him, possibly bring home the hardware to top all hardware to the Bay Area, and maybe, I mean maybe, convince him to stay a little longer in NorCal and continue to build this dynasty, OR, we can prove to the league adding just 1 highly sought after All-Star can put us in major contention for a title leading to us being a more desirable spot for potential free agents and trades. Overall, fantastic job by the San Jose front office I'm still waiting for someone to confirm with me that this is in fact real life as it's surreal to think the Sharks beat out the remaining 29 other teams in landing arguably the most valuable asset of the 2018 offseason.
We did it.
The Karlsson/Burns blue line is a thing in real life.
Let's finally bring the Cup home.
This is Sharks territory.