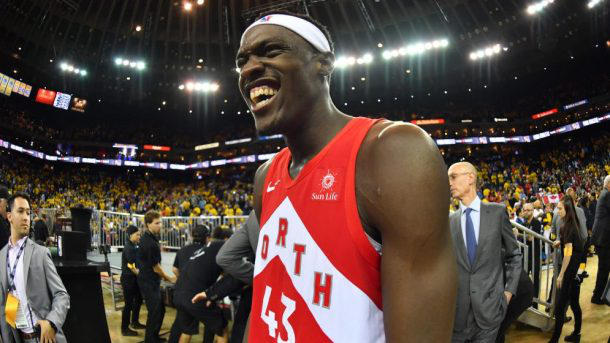 The Rise of the NBA's Newest Superstar: Pascal Siakam
November 27, 2019
By: Dylan Delaney
We're entering an era where we are seeing a new wave of superstars enter the NBA's landscape. Giannis Antetokounmpo is reigning terror in Milwaukee, Luka Doncic is emerging as a legit star in Dallas, and Trae Young is pulling up from literally anywhere in Atlanta, just to name a few. North of the border, Kawhi Leonard made headlines in Toronto's postseason run, and shut up every doubter in his path to become a new face of the NBA. Sure, he had help along the way, but it was Kawhi's team. Then he signed with the Clippers, and it seemed like Toronto was heading towards more mediocre seasons.

Enter the rise of Pascal Siakam.
​​SMLXL
Siakam was the Most Improved Player from last season, and we all knew that with Kawhi gone, he was bound to have a bigger role and more offensive opportunities than last season. However, no one could have expected him to blossom into the player he has become now, and he's exceeding everyone's expectations thus far. What makes his accomplishments even more impressive is how quickly his emergence has come, and his success story is one that should be recognized to basketball enthusiasts across the globe.

Siakam was born and raised in the country of Cameroon, which is home to other NBA players such as Joel Embiid and Luc Mbah a Moute. When Siakam was growing up, his academic prowess was much more ideal to him than his athletic ability; he even wanted to be a priest when he was older. He didn't have much interest in playing basketball but was noticed by Mbah a Moute at a local camp, and things took off from there. Mbah a Moute invited Siakam to the Basketball Without Borders camp the following year, and while his skills weren't necessarily potent, his athletic ability and high energy level wowed viewers. Some of these viewers are important in Siakam's journey, so we'll revisit them later.

Pascal made the difficult decision to leave Cameroon at age 16 to enter the United States, making basketball a priority after the attention he received in his native country. After bouncing around various camps and schools, he found a home at God's Academy in Texas, where he didn't play much because of eligibility issues but was still viewed as a valuable long-term project. One of these people that were interested in Siakam was Marvin Menzies, the Head Coach of New Mexico State's basketball program, who got word of Siakam through Aggies' scouts that attended the Basketball Without Borders camp. They extended a scholarship offer to Siakam, he accepted, and Pascal Siakam became a Division I college basketball just two years after beginning to play organized basketball.
​​SMLXL
Unfortunately, Siakam had to postpone his collegiate career by one season because of an injury before his freshman season, so he red-shirted. Then tragedy struck, as less than 24 hours before his collegiate debut, his father was struck and killed in a car crash. Because of visa issues and communications, Siakam couldn't attend his father's funeral, which in his words is "the one regret in my life". While his life off the court was miserable, he channeled his anger onto the court during his first season at New Mexico State, averaging 13 points and 7 rebounds a game and shooting 57% from the field, en route to winning the WAC Freshman of the Year award. He developed a dismal, but improving three-point shot in his sophomore year, and his game entered another level, as he averaged 20 points and 11 rebounds a game while achieving the WAC Player of the Year award in 2016. He decided to forgo the rest of his college eligibility and declare for the 2016 NBA Draft, hoping to be selected in the first round.

This where another viewer of the Basketball Without Borders camp comes into play. Masai Ujuri, the major Front Office Executive for the Toronto Raptors, had been keeping his eye on Siakam and his journey, and was brought in for a pre-draft workout. He absolutely dominated in his workout, out-playing and out-hustling other premier and higher-touted prospects such as Jakob Poeltl and Skal Labissiere (funny how things work out!), and Dwane Casey, Toronto's ex-head coach, went as far as saying "(Siakam) has the best motor out of anyone I've ever seen play". Ujuri agreed and saw the potential that Siakam had flashed, and with the 27th pick in the 2016 NBA Draft, the Toronto Raptors selected Pascal Siakam, just five years after he slightly began playing organized basketball.
​​SMLXL
Siakam scored nine points in his first professional action, but what was more impressive was that it was Siakam's first NBA regular season experience, as he had never been to an NBA game before. Pascal actually started his first 35 games for the Raptors, mainly because of injuries and a lack of front-court depth, but nonetheless received some valuable minutes early in his career. However, Ujuri knew that Siakam had to develop even more, and once his key players were healthy, Ujuri sent Siakam back-and-forth between the G-League and the NBA, as Siakam would take turns dominating his G-League competition and riding the pine at a professional level. He was disappointed and discouraged with how things turned out, but that only added to his motivation to succeed at the highest level possible, and he even ended up helping the Raptors 905 to a G-League Championship along with guard (and future Raptor teammate) Fred VanVleet.

He began to stand out more the following season, as he was an integral part of Toronto's "Bench Mob" in the 2017-18 season. He showed out against the reigning champions in Golden State, scoring a then career-high 20 points. The Raptors once again flourished in the regular season but fell flat in the postseason, getting swept once again by LeBron James and the Cleveland Cavaliers. The Raptors needed to do something, and they made big moves. The first was to fire Casey, who just won Coach of the Year, and upgraded Nick Nurse to Head Coach, which was great news for Siakam and VanVleet. The next move changed the outcome of the league, as Kawhi Leonard went sent to the Six for Raptor legend DeMar DeRozan and Poeltl, who was drafted with Siakam. Nurse saw how he could implement Siakam into the offense more and encouraged him to shoot more often, and he did. Siakam started the season in the starting lineup and never left, becoming Leonard's second-hand man and averaged 17 points and 7 rebounds per game while also shooting 36% from three-point land, drastically improving from the previous season.

His play took off even further in the postseason, as his defensive prowess on Giannis Antetokounmpo (along with Kawhi) and his play on the offensive end helped Toronto finally advance to the NBA Finals after years of constantly coming up short. They matched up against the Golden State Warriors, who were on their fifth straight Finals appearance, but that didn't faze Siakam or Toronto, who jumped out to a 3-1 series lead and didn't look back, winning the NBA Finals in six games. Later on in June, the NBA community recognized Siakam as the NBA's Most Improved Player for that season, adding on another spectacular accolade for one of the NBA's rising stars.

​
And even after the departure of Kawhi in the off-season, Siakam's game is growing to another level that no one expected. As of November 25th, Siakam is averaging 25.7 points, 8.5 rebounds, and 4.1 assists per game while increasing his three-point shooting to a 37.6% clip. These numbers are all career-highs, and the Raptors currently sit at 4th in the Eastern Conference with a record of 11-4, including some wins over some major title contenders. Siakam's play has been a big reason for Toronto's early excellence, as he's been getting to the basket at will and using an array of moves to get to whatever spot he wants. While his offensive game has increased to a remarkable level, he still has the hustle and energy that was shown just eight years ago in the BWB camp, and that's what has got Siakam so far in the basketball world.
​​SMLXL
Siakam's story is so much more different than your average basketball superstar. He doesn't have the insane high school mixtape with millions of views, he didn't go to a top-tier basketball school and get drafted at the top of his class. He didn't wow the NBA fan base right out of the gate and receive all the spotlight from the national media in his first couple of seasons. No, Siakam didn't even start playing semi-competitive basketball until he was 17, and he doesn't even have high school highlights that can be found on YouTube. Siakam went to a relatively unknown college, excelled there and worked his way to become a late-first round pick, where he was viewed as a long-term project to most. He worked his way to earn minutes, only to get demoted, and then worked his way back up into the rotation. He then worked to be a starter, a budding star, a champion, a Most Improved Player winner, and now, well, a superstar. To simply put it, Pascal Siakam is a very hard worker. All he had in the beginning was athletic ability, a high motor, and a relentless mindset, and he turned his murky situation into one of the NBA's best success stories. Siakam still has plenty to show in his young career, but his story should let younger players know that no matter what type of situation you're in, anything is possible, as long as you put in the work and time to make it happen. Siakam did, and now he's the next superstar to rise in the Golden Age of the NBA.

All stats come courtesy of Basketball Reference, unless stated otherwise.