The Rise of Nevada Basketball
February 18, 2017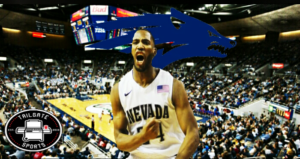 Nevada Men's Basketball is good again, but it's not UNLV who's making headlines, it's the University of Nevada Wolf Pack at the main campus in Reno, Nevada.  For the first time in at least 5 years, Nevada is proving to the nation that they are a resilient team that is not to be reckoned with.  With some impressive wins vs 2 notable Pac-12 organizations, and of course their historic come from behind win in New Mexico, Nevada is playing some of their best Basketball in recent memory, and it looks like it might pay off.  Of course, the Wolf Pack are extremely far away from becoming a successful top 25 team, but this season is without a doubt the start of a solid program.
As of today, the University of Nevada is 9-4 in the Mountain West Conference and 20-6 Overall.  They are the only team to have 20 wins in the Mountain West, with the best record in the Conference, and they would be the number 1 ranked team, like they have been practically all season, if it wasn't for the fact that Colorado State has played 1 more game than Nevada so far, giving CSU a 10-4 record in the Mountain West.  Also, since these two teams won't play each other until March 4th, we might not know who truly belongs at the top until the last game of the season.  Lucky for Nevada, that game vs Colorado State, including every game besides their upcoming matchups vs UNLV and San Jose State, are all in Reno where the Wolf Pack are currently 10-1 this season.  This will be a huge factor for the essential games against Boise State and Colorado State who are both looking to try to stop Nevada's excellence.  However, despite still having to fight for the top spot of the Mountain West, Nevada probably has the most impressive resume of the entire Conference.  Already recording 20 wins, with a 10-1 Home record, a 4-1 Neutral Court record, and a 9-4 Conference record (not to mention their notable wins that I mentioned previously), Nevada's accomplishments surpass any other team in the Mountain West significantly.  In fact, even the 6 losses they have recorded so far are not all that terrible.  Their only losses have come from 2 close games against in Conference foes Fresno St, 1 significant loss to #22 Saint Mary's, a 2 point loss to IONA in the final round of the GCI Great Akaska Shootout Tournament (although they did beat IONA by 15 earlier in the tournament), and 2 embarrassing loses with a 17 point loss to an irrelevant Utah St team in Logan, Utah, and a 14 point loss to a decent San Diego State team in San Diego.  However, the loss to Utah State came during a week where 8 of the top 10 teams in the nation lost as well, so it's not uncommon this year for a stellar organization to drop a game they should've won.  Really the only thing Nevada struggles with is road games (Nevada is 6-4 in Away games).  However, with only 2 road games left against some of the worst teams in the Mountain West, it looks as if Nevada won't face the same problems on the road that they did earlier this season.  
Being last year's reigning CBI tournament Champs, Nevada could be looking at their first regular season Conference Championship since 2012, their first Conference Tournament Championship since 2006, and even their first NCAA tournament appearance since 2007.  Nevada has also showcased their clutch, last minute gameplay by overcoming a 14 point deficit in 74 seconds to beat New Mexico in Overtime 105-104.  If this doesn't prove that they will be an unknown threat in the tournament this year, then I don't know what will.  With great ball movement, excellent shooting both in the paint and beyond the arc, and relentless defense Nevada has shown that they can and will be a solid opponent in this year's tournament.  All they have to do is finish on top of the Mountain West Tournament.  Of course, it's unclear how they will perform against some of the nation's best teams, especially seeing that they lost by nearly 20 against the only ranked team they faced this year, but if they can bring this relentless play style to the NCAA tournament, there's no reason why they won't be able to upset a few teams in the first few rounds.
I look forward to a day when UNLV and Nevada will be intense rivals and the best two teams in the Mountain West, but until then I hope Nevada enjoys their well deserved successes.  It's probably unlikely that they'll make waves once in the tournament (unlike FGCU's historic appearances), but I believe this is the start to a new, successful era for Nevada basketball.  Go Wolf Pack!
In case you missed it, watch Nevada's absolutely insane come from behind win against New Mexico last month:
Written by Erik Clark