The Red Hot Yanks Are Cruising Their Way Up the AL East
April 17, 2017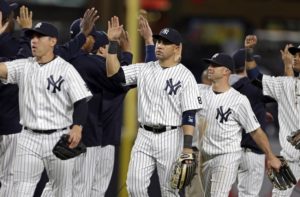 The New York Yankees may be one of baseball hottest teams at the moment. They've won seven straight and have found their way up to second in the AL East after a dismal start. Opening with a record of 1-4, the Yankees quickly turned it around breaking out the brooms against the Rays and the Cardinals. Sabathia, Pineda, and Tanaka, all seasoned veterans, have anchored the Bronx Bombers throughout this run. Pineda has been quick to send batters back to the dugout. He's averaging 87 pitches a game while throwing just over 11 K's per nine innings (3rd highest among starters). New York currently posts the 3rd lowest ERA in the majors (3.12) and the most strikeouts tied with none other than the Red Sox. The rivalry continues on the stat sheet and the standings.
The sluggish Sox have been battling injury and a lack of performance from some of the pitching staff. The Yankees have certainly taken advantage of the dip by the Sox, but are only ahead of Boston by half a game in the AL East. The division is usually a grind throughout the season but if the O's, Yanks, and Sox can reach full potential, then we may see three teams for the AL East make it to the postseason again.
The Yankees are back in action tonight against a White Sox team that's catching fire early in the season as well. They are looking to defend their undefeated record at home (6-0). Montgomery, who earned a no decision in his last start, looks to capture his first win of the season as a Yankees starter. The South Carolina native will battle Chicago's hottest hitter: Avisail Gacia. Garcia is hitting .465 and looks to hand Montgomery an L tonight.
The Red Sox won earlier today in an AL East matchup with the Rays and can knot up second place in the division with a New York loss. Obviously, the Sox are always routing against the Evil Empire, but they don't get their first crack at them until a quick two game series in New York. This short matchup will prove the dominant pitching staff. The Yankees will send Tanaka and Sabathia to the hill against the southpaw duo of Sale and Pomeranz.
The two divisions to watch this year: AL East and NL West. Both divisions are filled with dominant pitchers and explosive offenses. The top three teams in both divisions have a combined differential of 53 runs. Only one of those six teams, who is the NL West division leading Rockies, has a negative run differential (-7). Keep an eye on these two divisions throughout the season and into October baseball.
Written by Stefan Athas