The Price is Not Right?
March 2, 2017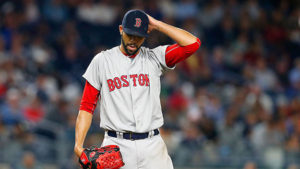 Man, do I hate waking up to news like this as a Red Sox fan.  David Price recently underwent an MRI for soreness in his left elbow, yet the results are unknown.  Via Tim Britton of the Providence Journal, Price has experienced elbow issues in prior spring trainings, but "never to this intensity". Manager John Farrell expressed concern and so do I. Certainly at times last season David Price frustrated fans to no end, but a bounceback season could have loomed on the horizon.  With the addition of Chris Sale and the season Rick Porcello had last season, much of the pressure Price probably felt when he signed his 7 year 217 million dollar contract stagnated at least a bit. My prediction for Price this year, if he can play at a healthy level, is 20 wins, 7 losses and around a 3.30 ERA. Toward the end of last season, Price exhibited performance at this level.  After the All Star Break he was 8-3 with a 3.58 era, a trend of his improvement going into this year.
If Price's elbow requires the doomful Tommy John surgery, the Red Sox starting pitching depth would be frightening. At the major league level to start the season, the Sox rotation would still boast Sale, Porcello, Steven Wright, but then Drew Pomeranz and Eduardo Rodriguez would both get a spot instead of competing for the last one.  This serves to be still good enough to make the Sox an elite team, but for now an injury scares me.  "Dealin Dave" Dombrowski gave Clay Buchholz away for pretty much nothing, and their best triple A options are Brian Johnson, Roenis Elias, Henry Owens (Oh no), or Kyle Kendrick.  At least Kendrick has some major league experience, but I could see the Red Sox with holes in their rotation mid season to the point where Dombrowski mortgages more of the farm system to get another Drew Pomeranz.  Gosh that would be awful.  
More news of David Price's injury should come soon as he seeks a second opinion from Dr. James Andrews on his MRI.  
Written by Will McGuinness