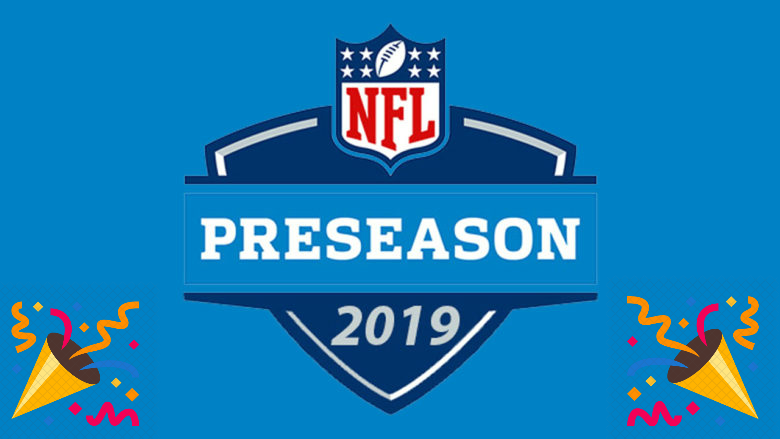 The Beauty of Preseason Football
August 15, 2019
By: Cory Vega, Sports Analyst
The NFL Preseason is a truly special time. Many choose to ignore it and even berate it but it is an important aspect of the modern game. It allows the rookies and other young pros to cement themselves as rising stars. It also gives discounted veterans a chance to shine and perhaps earn another chance to play in the NFL. Yes injuries do happen but that's the reality of the game. It's the responsibility of the coaches to take care of their players, especially their stars, and prevent injury or fatigue. With such a long layoff of football, it's great to be able to kick back and watch football later on in the week. Ungrateful fans would often cry, "but there are no starters playing!" Well little Timmy, you'll be able to see Eli Manning throw turnovers like the Pillsbury Doughboy in the regular season a few weeks from now but now is the time to see players you've probably never heard of or players you've haven't from in months or even years play with their hearts out. Many of these players are fighting for their lives for a starting job, back up job, or even just a roster spot. Perhaps the greatest example of this is Browns WR Damon Sheehy-Guiseppi. Four months ago, the 24 year old WR/KR had spent countless nights sleeping outside a 24 hour Miami gym, where he trained and showered. He had spent every cent he had in travel fare (he lived in Arizona) in hopes of impressing the Cleveland Browns at their annual tryouts. Due to the fact he hadn't played college football since 2017, he had to talk and even lie his way into getting a single chance. He took that chance with aplomb. He ran a 4.39 40 yard dash and was invited to their training camp. In his first preseason game, he made an immediate impact. He was even wearing OBJ's cleats during that game.
You couldn't think of a better script. It's a feel good story that makes everyone with a functional, beating heart emotional. While most starters rest and prepare for the long season, backups get their reps while they can. That especially applies for QBs. That leads into games where backup QBs are the leaders. That also leads into matchups like Blake Bortles (Rams) vs Mike Glennon (Raiders). A battle between two connoisseurs of the interception. A battle between a receding hairline and a long neck. The special part of that game? Nathan Peterman stole the show. The man with a career passing rating of 32.5. He was solid throwing but he delighted everyone in attendance with an absolute beauty of a run. You can't throw an interception if you just tuck it and run. Peterman did learn from his mistakes the past two years and you love to see it. He didn't even throw a pick and finished the game 9-12 with a TD. It's only a shame this gem of a game won't count towards his stats.

And this was just a couple of weeks after Stephen A. Smith absolutely flamed both him and Jon Gruden for the latter's newfound respect for the QB. Again, you love to see it.

The preseason is the prime time for NFL drama, as NFL stars often have more free time for shenanigans, much to the behest of the coaches and owners. Stars also often take this time to air their grievances like its Festivus. From contracts, coaching issues, to helmets? Antonio Brown has been the posterboy for preseason drama, from showing his grotesque, frostbitten feet to threatening to retire just because he can't play with his 10+ year old helmet. Par for the course from him. Speaking of the Raiders, you can't forget about Hard Knocks. We now know how truly awkward both Derek Carr and Jon Gruden are. Elsewhere, Ezekiel Elliot is in Cabo again because he wants an extension and Melvin Gordon is demanding a trade because he wants a contract similar to Le'veon Bell. Dak Prescott also wants a new contract, and won't settle for less than what Carson Wentz is earning. The funny part of this situation is that the Eagles knew this was coming. That's why they prioritized Wentz's new contract. "It was a priority (for the franchise) anyway, but not knowing if Dallas would just completely cave in with Dak and do something stupid definitely entered into the conversation." The Eagles are playing 4-D chess and the Cowboys are the pawns. Doesn't help that Jerry Jones is comparing this situation to a car accident where you sever your hand. Pretty colorful and vivid language from Jerry to say the least.

Perhaps most importantly of all, preseason football is often the beginning of many fantasy football seasons. Generally drafts are scheduled close towards the end of preseason to account for injuries, late risers who impressed during training camp, and acquisitions. Fantasy football talk shows start emerging and the hype starts building up. It's a fun time. From trying to uncover sleepers to who will bust, the preseason is the perfect time to scheme your perfect team. Beyond fantasy, there are, however, madmen who go even further and utilise the preseason for flat out betting. The chaotic nature of preseason can lead to some questionable bets but a real man will trust his over or under no matter what. Trey Wingo put it best.
And Big Cat is the voice of the common man.
That right there, is the beauty of the preseason. Enjoy backup QB season while it lasts.