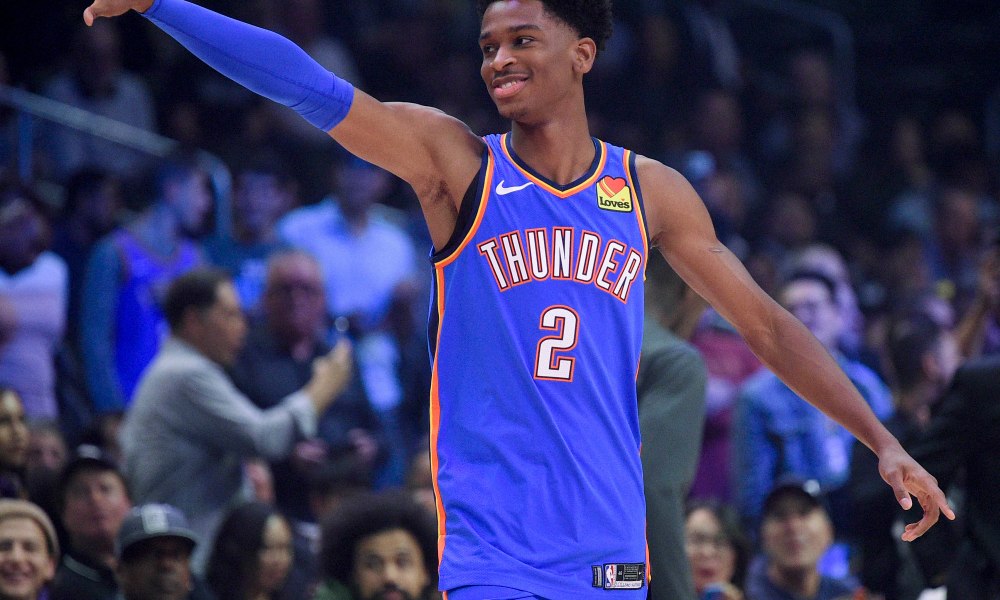 The 5 Most Improved NBA Players
March 5, 2020
By: Darian Vaziri, Basketball Analyst
The NBA offseason is a chance for players to recharge their batteries and improve different parts of their game. Every player wants to hear they've improved in a new season or even better, be considered for the Most Improved Player award. There's a certain level of skill and quality (let's just use Pascal Siakam for an example) that a player gets to which makes them unofficially exempt from that award. Last years winner, Pascal Siakam, has gotten to the level of perennial All-Star which means despite how much he develops his game as he approaches his prime, people expect that of a superstar. Players like that don't win Most Improved Player. But enough about what doesn't constitute the winner of Most Improved Player. Here are the players who I think have improved the most this season.

CRITERIA: I tend to favor players who change major parts of their game and look like a completely different player. Players that you can tell really worked on their game and are showing us things we didn't think they had in their bag. Players that simply grow in confidence with a new opportunity, I tend to rate lower when assessing who is in contention for this award. So sorry to the Luka, Trae, and Tatum fans out there but I think their ascendency to superstardom was inevitable.

HONORABLE MENTION:

PG/SG Shai Gilgeous-Alexander (Oklahoma City Thunder)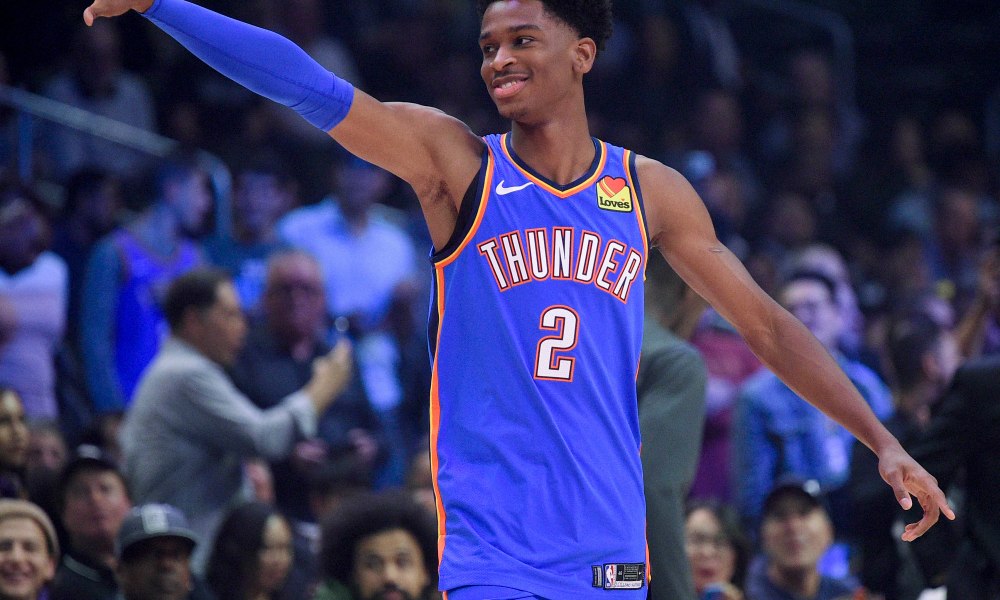 SGA, one of my personal favorites, was traded from the LA Clippers to OKC via the Paul George trade. As the center piece of the Clippers side of the package, expectations were placed on Shai for being the leader of the Thunder's future. He started the season strong, but nobody expected what was to come for this Thunder team. A team that was predicted by most to finish around the 10-15 spots in the Western Conference, have now placed themselves in prime position to make the playoffs, sitting 6th in the West in early March against all odds. A large portion of their success is due to another former Clipper, Chris Paul. However, most people didn't think the Thunder would be good because they simply didn't know how good this Alexander kid was. The Canadian born combo guard is a solid defender because of his 6'6 frame and 7'0 wingspan. Yeah, seven foot wingspan, I know. Offensively, the main thing I noticed from Shai when he was with the Clippers last year was that he was comfortable going to the basket and shooting his midrange pull-up off screens. One thing he lacked was a consistent 3-point shot. As the season progressed, more 3 balls started going in for him. Now fast forward to this season where he is hitting them with ease. He's got a jumper, a handle, length, speed and more importantly, confidence. Last season, Doc Rivers would pick on Shai sometimes during games. It was nothing malicious, more so disciplining a rookie he knew would be great. This season, he's playing like he knows he's better than most players guarding him. He's improved his scoring average from 10.8 PPG to 19.3 this season!! Nearly a nine point improvement is not to be understated. The experience SGA got from being a starter on a playoff team in a great Western Conference was massive, and even more so when you consider the team he faced in round 1; the Golden State Warriors with the big four and Andre Iguodala healthy. SGA has come a long way and he will be grinding to make sure he's at the big dance for a second straight year. Soon, he will be one of the players exempt from this list.
PG Lonzo Ball (New Orleans Pelicans)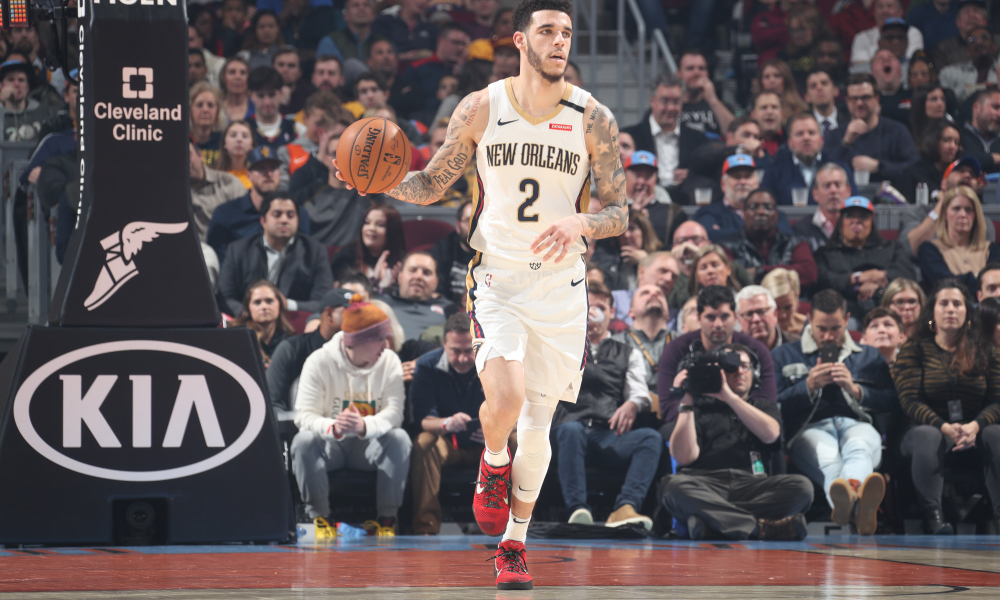 Similarly to SGA, Lonzo Ball was traded from LA to a smaller market team in exchange for a superstar. The 2017 second overall pick had a relatively disappointing first two years of his career, struggling with injury and showing a lack of offensive skill and confidence, particularly in the scoring department. Well he's a Point Guard, their role isn't to score you might say. He is always going to bring the pace, defense, and passing that made him the player he is today. However, there was a glaring hole in his game. Much like SGA, he struggled with his 3 ball. Unlike SGA, it wasn't just missing shots. His shot just looked awful. He would bring it across his body and shoot it from the the left side of his head and more often than not, it would end up a brick. Even though he has only increased his 3 point percentage by 5%, (33 last year and 38 this season) he has done so attempting more as well. Last season he averaged 4.9 3 point attempts a game which has increased to 6.4 this season. This shows me his confidence in his shot has improved, and he is making a higher percentage of those shots. He is also averaging a career high 12.2 PPG, and has already surpassed his season high of games played, which currently stands at a measly 52 from his rookie campaign in 2017-18. It took Pelicans Coach Alvin Gentry months to fully believe in Lonzo, but since the new year he has started to come to his senses. I noticed immediately from the opening game against Toronto that Zo had changed his shot up. Not only is he shooting with confidence right off the catch, it looks different! Not as much from the side, and an overall cleaner release. What a difference it has made, because Ball and the Pelicans are starting to roll on all cylinders. Even with the absence of arguably their best player in Jrue Holiday in January, Ball assumed the role of floor general that he loves so much and led his team to wins. Now with Zion back, their momentum has only increased and they find themselves just 4 games outside of the 8 spot, after they were 14th for a significant part of the season. I'd love to see the Pelicans in the playoffs this season.
SG/SF Jaylen Brown (Boston Celtics)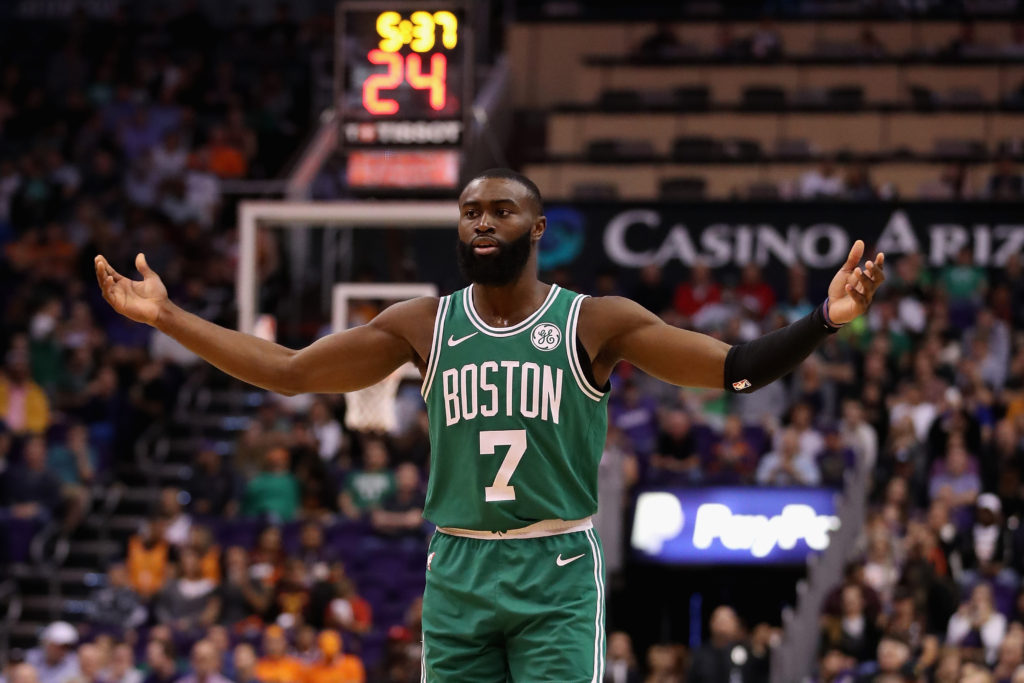 Alright, I'll be the first one to admit I was dead wrong about this one. I always believed in the potential of SGA and Lonzo, but Jaylen Brown not as much. I really thought the 4th year Celtic didn't have much to go before he hit his ceiling. Seeing him play on that stacked yet dysfunctional team last season made me believe that there was not much more to Jaylen's game than being an athletic slasher who could shoot 3's here and there. Well, oh boy has he proven me wrong. After securing a long term contract extension with the C's, which many thought was undeserved including me, he has taken his game to another level. He's been great in almost every game, showing consistency we hadn't seen from him before. He's shooting a great percentage from the field as well as from 3, 49% and 38% to be exact. It feels like every open 3 for him goes in now, especially from the corner. The main difference with Jaylen for me isn't his crazy efficiency or solid defense. It's his ball handling and iso package. I really thought Jaylen had no iso package against NBA defenders and had to be put in good positions to score. This season, he's putting himself in positions he wants to get a bucket. Look no further than the Christmas Day game against Toronto where he put on a clinic. I've never seen him do a between the legs step back, into a crossover and hit a jumper on a good defender like Hollis-Jefferson. His scoring has improved from 13 points a game to a whopping 20!! And that's with extremely capable and dynamic offensive players like Gordon Hayward, Jayson Tatum, and Kemba Walker alongside him. He's also averaging a career high in rebounds, grabbing 6.4 boards a a game. Not to mention a career high in assists, free throw percentage, and steals. Brown has taken his game to new levels and will be an All-Star in the near future if he continues his progression.
PF Domantas Sabonis (Indiana Pacers)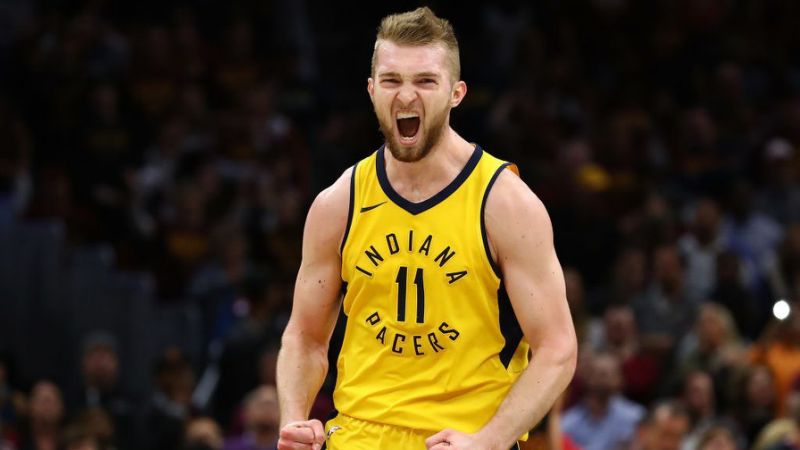 5) The first player on my list is Domantas Sabonis of the Indiana Pacers. Going into the season, the Pacers goal was to stay in the playoff spots by the time their only All-Star, Victor Oladipo came back from injury. Little did they know, a Pacer not named Oladipo would be representing them in the All-Star game in February. Last season, Sabonis finished second in Sixth Man of the Year voting behind Lou Williams of the LA Clippers. Backing up Thaddeus Young, Sabonis averaged 14.1 PPG, 9.3 RPG, and 2.9 APG on 59% from the field. Following Young's departure from Indiana to Chicago, Sabonis became the starter for the 2019-20 season and he has taken off. Not only is he averaging career highs in points (18.2), rebounds (12.4), and assists (5.0), he has played in all but 3 games and led the Pacers to a sure top six spot in the playoffs. I don't think anyone thought the Pacers would be battling nightly in the standings with the Philadelphia 76ers. Despite the fact that the Pacers are a well coached, good all around team with very solid players like Malcolm Brogdon, TJ Warren, and Myles Turner, Domantas Sabonis has been the guy for this team since the beginning of the season. The Clippers played the Pacers in Indiana earlier in the season and the Clippers won. It seemed as though Sabonis had a fairly quiet game and wasn't too much of a problem for the visitors. Little did I know he had subtly dropped 18 and 22. Yup, 22 rebounds. He has transformed from a good sixth man, to an All-Star on a playoff team in the elite top six of the East with Miami, Boston, Toronto, Philly, and Milwaukee. He's arguably a top five power forward in the league now and the best player on a playoff team, unless Victor Oladipo gets back to his best. This season is his however for Indiana, and it's going to be exciting to see what kind of noise the Lithuanian makes for the Pacers in the playoffs.

PG Markelle Fultz (Orlando Magic)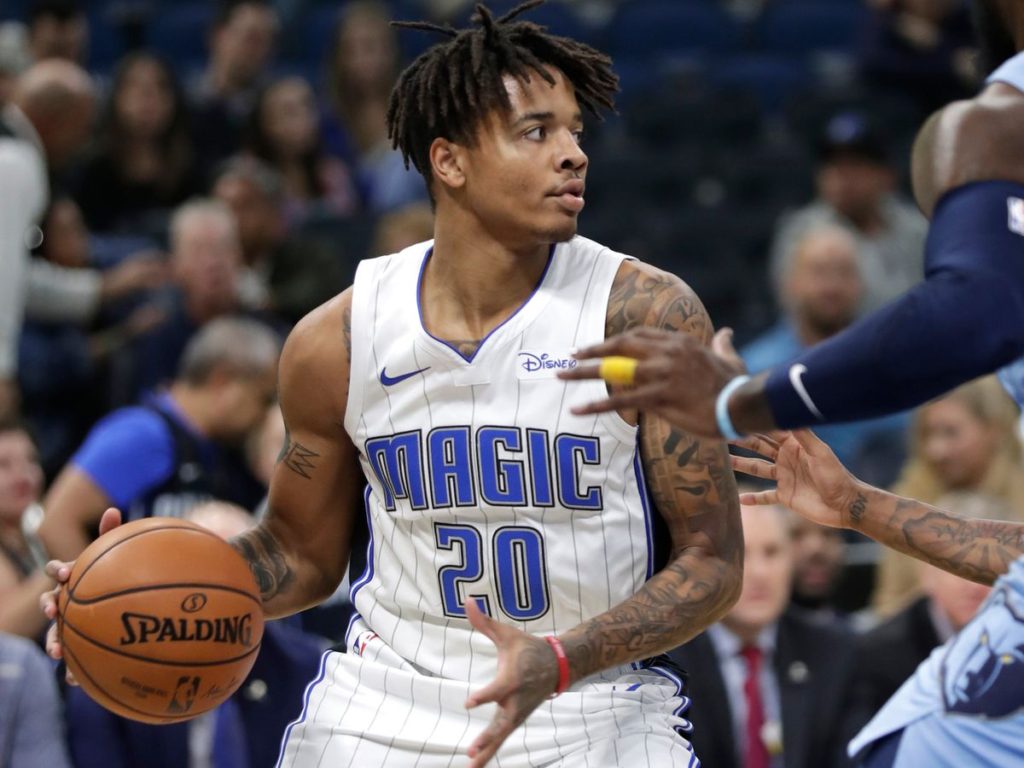 4) Markelle Fultz was the number one overall pick by the Philadelphia 76ers in the 2017 draft. The following two years were basically a nightmare for him as far as basketball is concerned. He suffered through shoulder injuries the first season which caused all kinds of concerns about his shooting form and health going forward. He played in just 14 games. He wasn't part of their rotation for the 2018 playoffs in which they were bounced out by the Celtics in round two. To start his sophomore season, he started the first 15 games before the Sixers pulled the trigger and traded for Jimmy Butler. Fultz would only see 61 more minutes of basketball the rest of the season. He was diagnosed with thoracic outlet syndrome (TOS), the neurogenic type of disorder which affects nerves between the neck and shoulder which results in abnormal functional movement and severely hampers ones ability to shoot. Fultz was done for the year and basically had shown just as much as Joel Embiid in his first two seasons, and the latter didn't even play a game his first two campaigns. Entering the new season, Fultz wound up in Orlando with a new lease on life and a possible starting opportunity on a playoff team from the previous year. Since the opening night, he has shown his confidence is far closer to the Markelle of the Washington Huskies, than that of the 76ers. He's great attacking the rim, extremely athletic, and has done a good job controlling the Magic's first unit this season. He's missed all but 1 game, which is spectacular considering his first two years, and is averaging career highs in pretty much every statistical category. An improved 11.7 PPG, 3.3 RPG, 5.2 APG, to go along with a little over a steal a game, while shooting 46% from the field. Markelle Fultz went from the player whose career was in question, to a starting Point Guard on a soon to be playoff team. He's battled through mental barriers and is on the right track to having a good career.

SF Brandon Ingram (New Orleans Pelicans)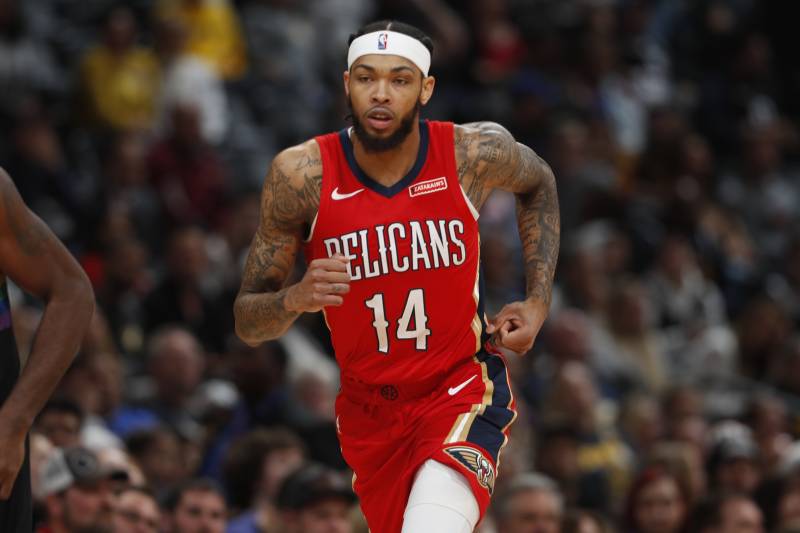 3) Next, we have one of the players that has been highly discussed when it comes to this award, Brandon Ingram. Being an LA native, I've watched BI more than any player on this list and I'm not too surprised at how much he's progressed this season. Despite the fact that he was barely involved his rookie season, Ingram has made jumps in each of his last two seasons with the Lakers. However, there was always something missing and that was confidence. Often times, even the season before LeBron arrived in La La land, Ingram was the best scorer on the team and often wouldn't try and take over late in games and impose his will as the best player on the team. He also missed 23 games his sophomore year, as well as 30 in 2018-19 due to blood clots. There was a fear that Ingram's future could be in jeopardy. Well, those fears were quickly put to rest this season as Ingram has elevated his game and most importantly his confidence. He is averaging a career high 24.6 PPG!!!! That's in addition to 6.2 RPG and 4.3 APG. He's shooting 47% from the field and 39% from 3. Ingram knows that his tall and lanky frame can get him a shot on whoever he wants. He's also athletic and has been ferocious attacking the rim this season, showing aggression I'd never seen from the quiet 22 year old. His jumper has improved and so has every facet of his game. He's dynamic enough to handle the ball in the pick and roll and get his teammates or himself a good shot. An article by Bleacher Report was released in November and Ingram was quoted saying, "I lost joy sometimes," referring to his time in Los Angeles with the Lakers. It looks like he's enjoying his time in the Big Easy now. But once again, it's all confidence with a player that has Ingram-level ability. Therefore, BI is not my pick to win Most Improved Player this season.
PG Devonte Graham (Charlotte Hornets)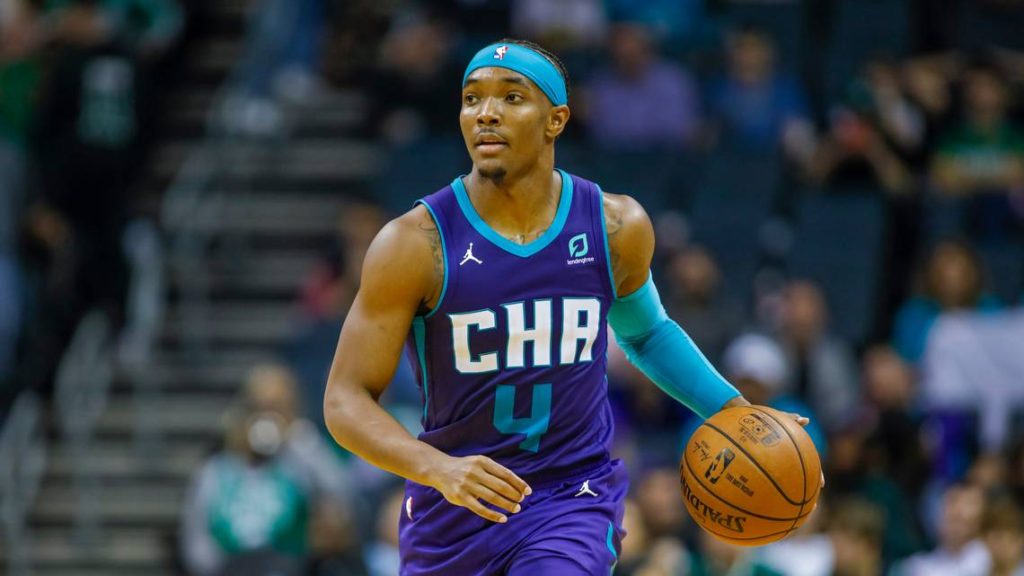 2) I really thought this guy was a lock for the award early in the season. Devonte Graham from Kansas literally went from a player that was splitting time between the Charlotte Hornets and the Greensboro Swarm of the NBA G League, to arguably the best player on his team. A team that isn't very good, but was predicted by many including myself to be the worst team in basketball this season. Devonte's impact was immediate from the opening games of the season against the Bulls, Wolves, and both LA teams. I was able to watch 3 of those games and was shocked at the shots Graham was making, his composure in the pick and roll, and his overall confidence as a backup point guard. In those four games he averaged 17.5 PPG off the bench. By the eleventh game of the season, Devonte was inserted into the starting lineup. He's gone from G-leaguer to an NBA starter leading his team in scoring averaging 17.6 PPG and 7.5 APG. Devonte encompasses what I look for in the most improved player. Someone that's made huge changes that have you asking who the guy even is. I'm assuming a lot of people reading this knew everyone else I've named at this time last year. Not everyone knew the former Kansas Jayhawk Devonte Graham. The Hornets have also showed more promise than everyone thought, currently sitting in 10th place in the Eastern Conference. However, since teams have started to pay more attention to Devonte as he's grown, his numbers have dropped. In the month of February, Graham averaged 15.2 PPG on just 37% FG shooting and 30% from 3. For that reason, along with the Hornets not being a good team, I can't go with Devonte Graham as the ultimate winner of the award.

C Bam Adebayo (Miami Heat)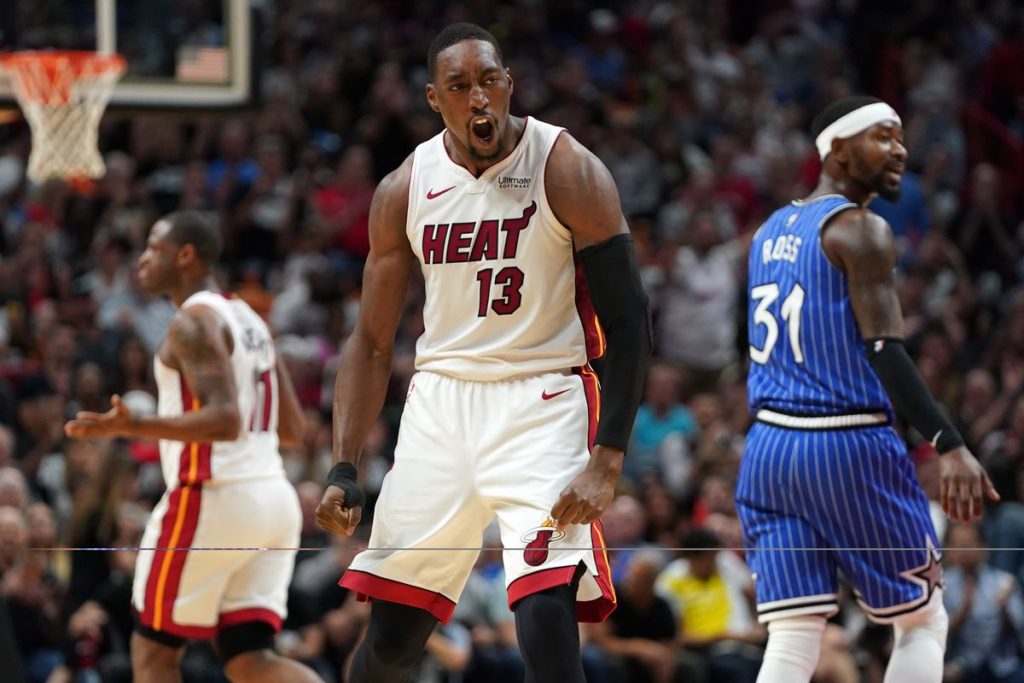 1) The player I think HAS to win Most Improved Player this year is Bam Adebayo of the Miami Heat. Bam's a guy who was the 3rd star on the 2016-17 Kentucky Wildcats team with Deaaron Fox and Malik Monk, but wasn't too involved his rookie season with Miami. His second season was an improvement, but nothing to talk about. He averaged 9 and 7 off the bench for the 9 seed in the Eastern Conference. But this year… he has absolutely taken his game to another level. The Miami Heat had expectations to return to the playoffs this season but nobody coupled them in with the Celtics, Bucks, and Sixers. Well, they've done exactly that, sitting in 4th place in the Eastern Conference at 40-22, ahead of the Philadelphia 76ers. Many will credit this success to Jimmy Butler, but we all knew what Jimmy brought to the table and that he would improve the team. However, Jimmy isn't carrying this team by any means. He's averaging 20.3 points a contest, which is pretty typical for him. The biggest change is Mr. Adebayo. The starting center is averaging career highs in every category except field goal percentage where he's shooting 56% instead of 57— big whoop. The versatile Heat star (and yes, he was an All-Star this year) is averaging a double double with 16.1 PPG, 10.5 RPG, and the most impressive of them all, 5 assists a game. Those numbers are pretty similar to another versatile big men who's considered one of the best Centers in the league. I'll give you a hint, his nickname is the same as Batman's greatest nemesis. Adebayo's extremely athletic, quick enough to switch on to guards better than most bigs, and is a rim protector who has 1.3 Blocks per game to show for it. He also has a big similarity with Jokić in the sense that he often times brings up the ball and runs the offense for the Heat. It's extremely rare for a big man to frequently run your offense bringing up the ball the way Jokić and Bam do. I'll be the first to say I've never seen anything quite like it. However, Bam has an even better handle which you can take a glimpse of in this highlight video. Adebayo's an absolute joy to watch and is only getting better. To conclude, Bam is the no-brainer for Most Improved Player. He went from a basic rotation player on an average team, to an All-Star on a great team. He's made huge changes to his game that have shocked the basketball world much like Siakam did last season. Just like Siakam, everyone will find out how good Bam Adebayo truly is in the playoffs. The Heat have an incredibly deep team with a great mix of veterans and promising young talent like Kendrick Nunn, Tyler Herro, and Duncan Robinson. They get after it on both ends of the floor and it starts with Jimmy Butler and Bam Adebayo. THE MOST IMPROVED PLAYER IN BASKETBALL!
References:
https://www.sbnation.com/2017/10/25/16541592/markelle-fultz-injury-shoulder-76ers-history-fluid-drain
https://bleacherreport.com/articles/2864136-brandon-ingram-through-the-fire
https://www.espn.com/nba/story/_/id/27426015/nba-preseason-predictions-our-experts-picks-2019-20