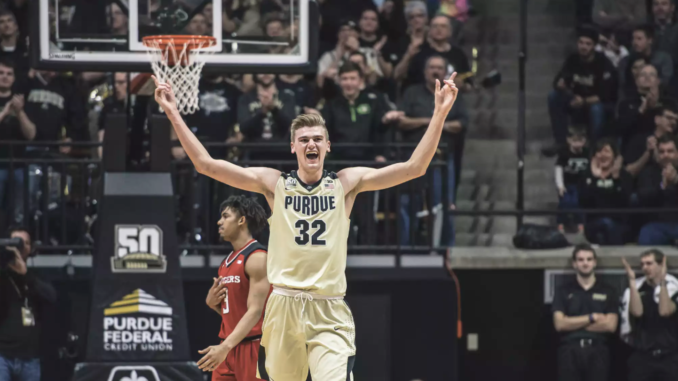 The 10 Teams Most Likely to Win March Madness (Midseason Edition)
January 23, 2018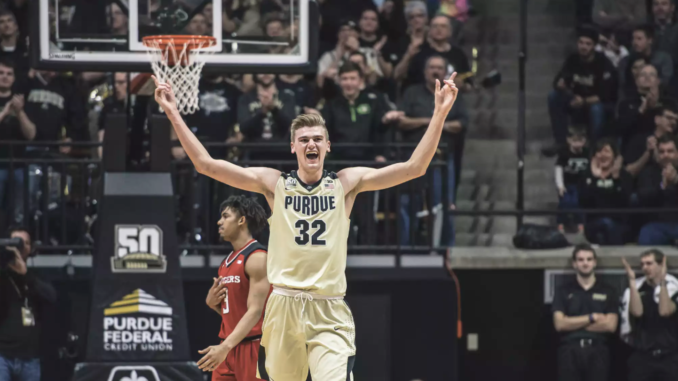 With the college basketball season just starting to enter the thick of conference play, it is time to evaluate the state of this crazy year. As of right now, no team has really set itself apart from the pack. There are no undefeated teams remaining, and the only one loss teams left are Villanova(1), and Virginia(2). Not only have the top teams been losing games, but they have been defeated by far inferior teams. Duke, who many pegged as the clear cut favorite to win it all, has struggled on the road and lost games to Boston College and NC State. Then, Michigan State, who I picked to cut the nets down in March, suffered a blow out loss at the hands of Ohio State, was taken to overtime by a mediocre Rutgers team, and was beaten at home by Michigan after starting the year at 15-1. Even Villanova was beaten by a Butler team that is currently 13-7 overall and 3-4 in a very underwhelming Big East. My point is, no ranked team is safe this season and that makes it difficult to pinpoint which teams will make deep runs in March. But here is my best guess. Also, before checking out the rankings it is important you understand that these are NOT power rankings. These are the teams that I believe would have the best chance of winning the NCAA Tournament if it started today. My rankings are based off of how the team has performed this year, what I believe their ceiling to be, and my own personal opinion after watching almost every meaningful game this year. Without further ado, here are the teams most likely to win it all in March!:
10.Texas Tech Red Raiders(15-3):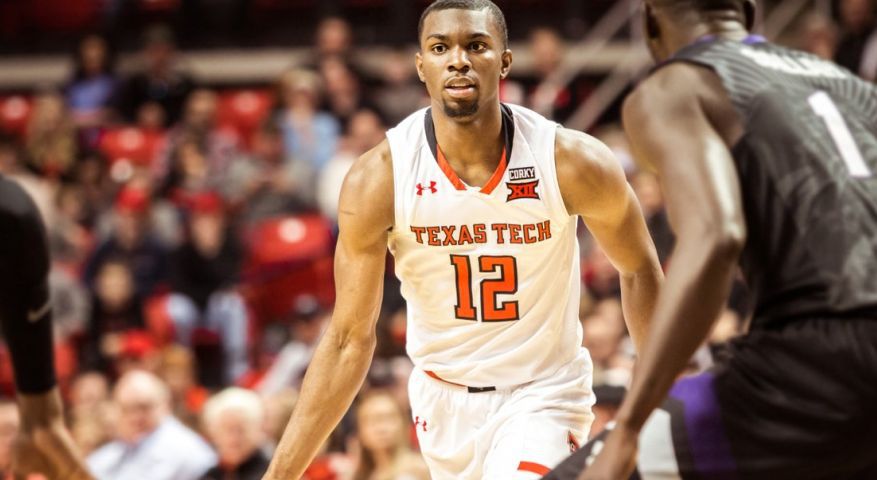 Texas Tech has been a bit of a surprise this year, given the fact that they were unranked coming into the season. But, after suffering an early season loss to a very good Seton Hall squad, they rattled off 8 straight wins including a win at Allen Fieldhouse over Kansas and a comeback victory against West Virginia. This team is led by senior guard, Keenan Evans(17.5 ppg, 3.4 apg, 3.2 rpg), and two budding freshman stars, Zaire Smith(10.4 ppg, 4.6 rpg) and Jarrett Culver(9.9 ppg, 3.5 rpg). But what really makes this team special is their defense. The Red Raiders are currently allowing the 5th fewest points per game, in Division 1 basketball, at just 60.8 points per game. If their guards continue to grow and this team continues to play elite defense, they have a shot at cutting the nets down.   
9.Oklahoma Sooners(14-3):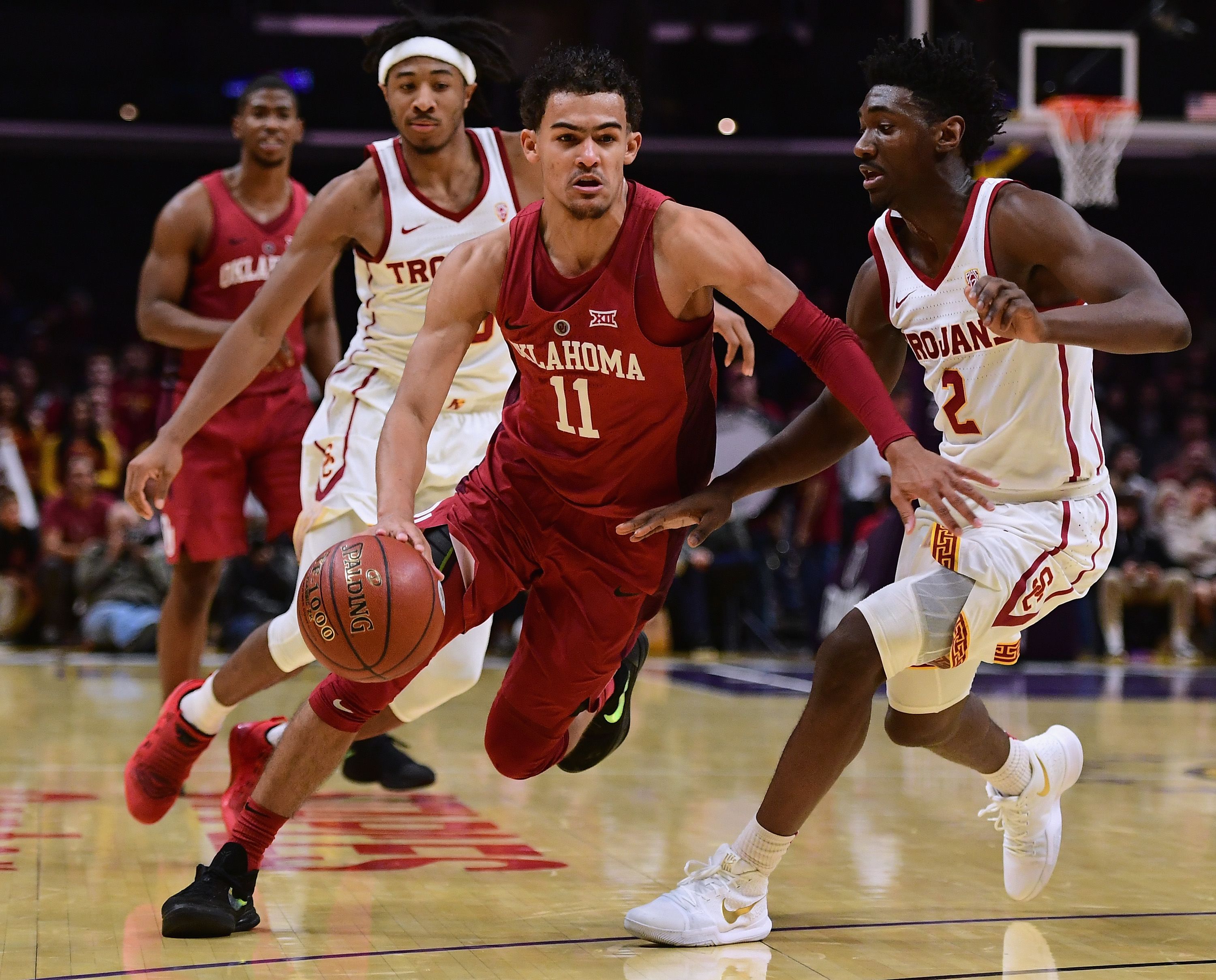 The Sooners are yet another team playing far beyond their preseason expectations. After a very disappointing 11-20 finish just a season ago, many pegged Oklahoma to be a bubble team at best. But everything changed when freshman phenom, Trae Young, took the court for the first time. Young came into the season with pretty big expectations, as he was the number 23 overall recruit and the number 4 ranked point guard of the 2017 class, but no one ever thought he would be the runaway Player of the Year candidate that he has been. He is currently leading the NCAA in BOTH points per game (29.5) and assists per game (9.8) and has led the Sooners to a 14-3 record and a number 4 ranking in the AP Poll. We have seen elite point guards carry teams deep into March (Shabazz Napier, Steph Curry, Ryan Arcidiacono) so I see no reason why a player of Young's caliber cannot lead the Sooners to a title.
8.Kansas Jayhawks(14-3):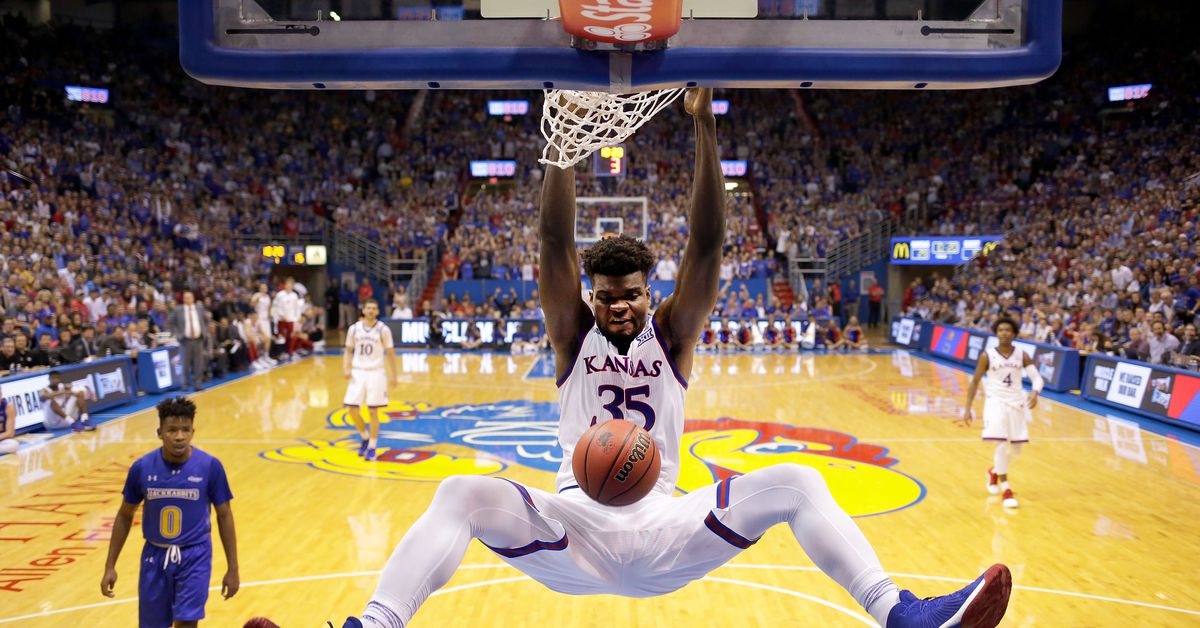 Well, here we are again. Another year where Kansas sits atop the Big 12 standings. If they can pull it off and win the Big 12 title again this season, they will pass UCLA for the most consecutive conference titles won by a team with their 14th straight. But this Kansas team is far from a lock to do so. With teams like West Virginia, Texas Tech, Oklahoma, TCU, and Baylor all ranked this season, Kansas could lose any night. Especially given the fact that this is not your typical elite, two-way Kansas squad we are all accustomed to seeing. This team struggles to defend, rebound, protect the rim, and, at times, put points on the board. But, they are a team with an elite group of veteran guards led by Devonte' Graham (18.3 ppg, 7.3 apg), Svi Mykhailiuk (16.6 ppg, 48% from 3pt), Lagerald Vick (14.6 ppg, 5.8 rpg), and Malik Newman (10.6 ppg, 5.8 rpg). If all four of these guys are on in the same night, they can outscore anyone. The true X-factor for this team is the play of transfer Malik Newman. He came over from Mississippi State and was expected to be one of, if not the best, scorer on this team. He has underperformed thus far, but if he gets going, watch out!
7.Virginia Cavaliers(16-1):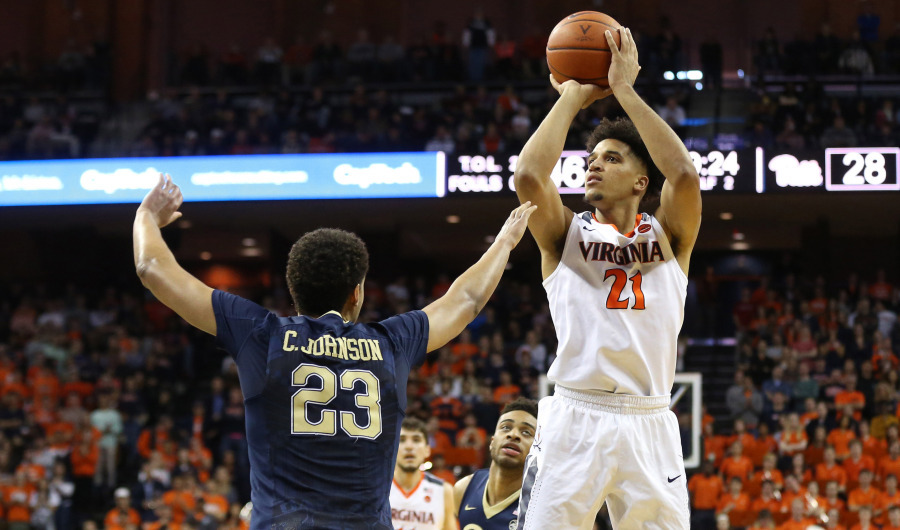 Now, some people might think I have the Cavaliers a little low on this list given the fact that they are one of two remaining team with just one loss and they are currently ranked number 2 in the most recent AP Poll. And don't get me wrong, this is a great team and the best defensive team in the nation, allowing just 52.9 points per game, but I am not completely sold on their chances of going all the way. Besides defense, Virginia really doesn't do anything well. They are ranked 273rd in points per game (70.5), 294th in rebounds per game (33.2) and 143rd in assists per game (14.40). To say the least, the Cavaliers are defense or bust when it comes to winning games. This is a great formula for success in the regular season, but all it takes is for one team to get hot shooting the ball to end your season in March. I do not think this team has the offensive firepower to overcome an off game defensively.
6.Wichita State Shockers(15-3):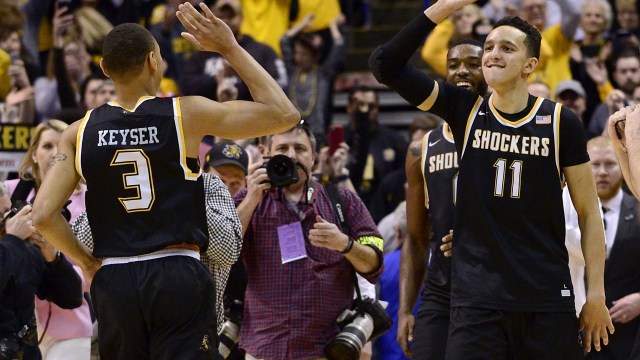 In their first season in a major conference, the Shockers have yet to disappoint. After going toe-to-toe with an elite 2-seeded Kentucky team last March, many thought this team had a real shot to win it all heading into the year. They are currently ranked number 7 in the most recent AP Poll and they look to be the class of the American Athletic Conference. Their point guard, Landry Shamet, is a star, who, quite frankly, deserves much more national attention than he has received. Shamet is leading a Shockers squad averaging 84.6 points per game, good for 22nd in the nation, and 19.3 assists per game, 5th in the nation. This is an impressive team that could very easily win the whole thing.
5.West Virginia Mountaineers(15-2):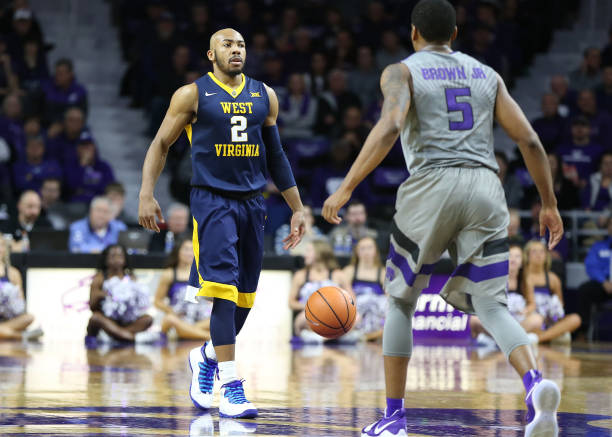 This is your typical, Bob Huggins led, Mountaineers team. Not many impactful young players or top recruits on the roster, but still one of the best teams in the country. In the era of "one and done", West Virginia is a stark contrast. They are led by senior guard, Jevon Carter, who is averaging 16.7 ppg, 5.2 rpg, 6.3 apg, and 3.4 steals per game and junior forward, Esa Ahmad, 16.5 ppg and 5.5 rpg. However, what makes this team special is their ability to force turnovers. Right now, they are ranked 4th in the NCAA in turnovers forced per game, averaging a ridiculous 19.5 per game. When you pair this with the high powered offense (81.2 ppg) they have displayed thus far, you have, hands down, one of the best teams in the nation. This could be the year WVU wins not only the Big 12, but the big tournament in March too.  
4.Michigan State Spartans(16-3):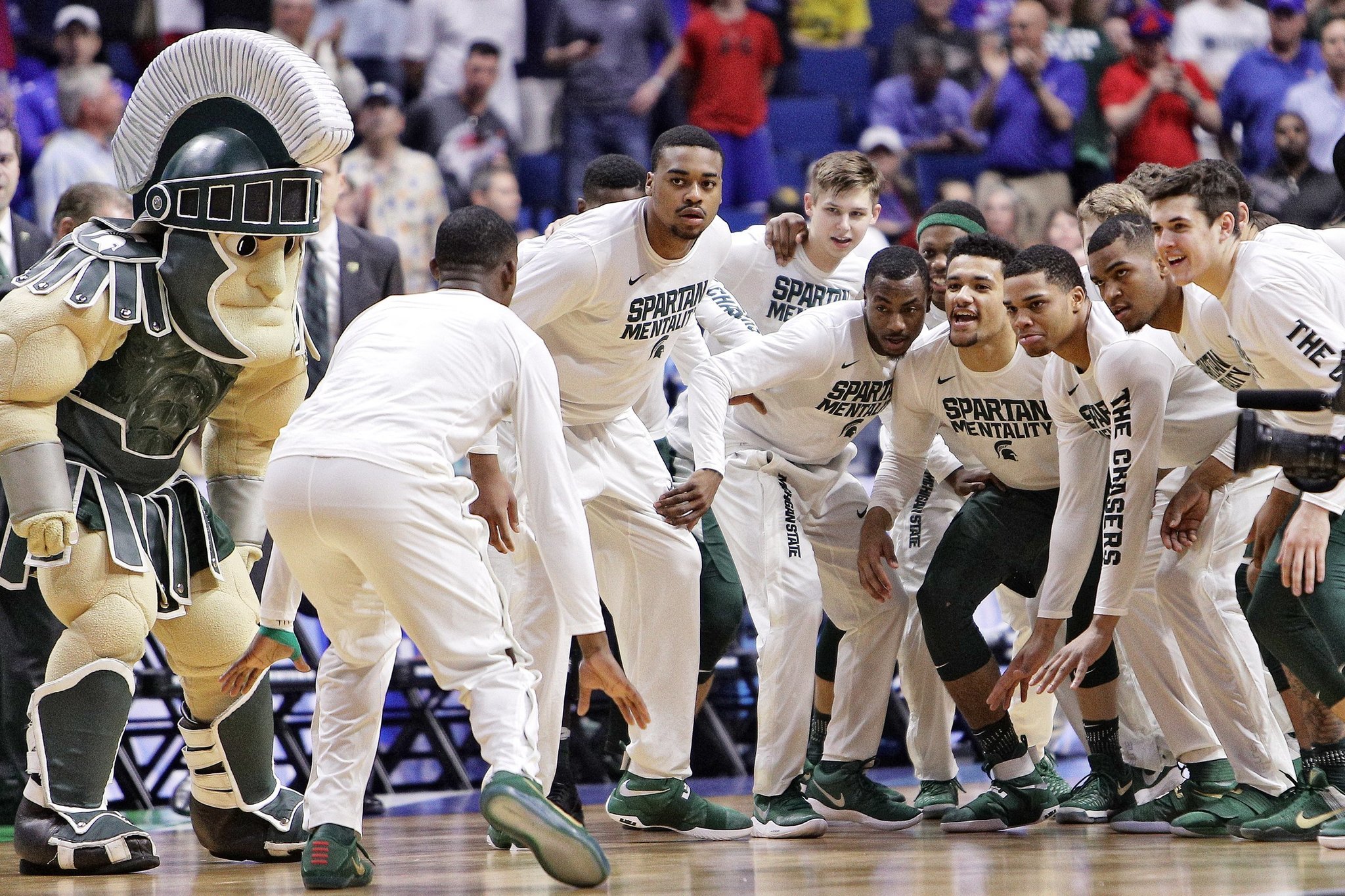 The Spartans, my preseason pick to win it all, have struggled mightily as of late. After starting the season at 15-1 with blowout wins over UNC, Notre Dame, and Maryland, Michigan State looked like the undisputed best team in the country. Then, they were blindsided by an underrated Ohio State team to the tune of an 80-64 road loss. Things did not get better from there, as just days later, they were taken to overtime by an 11-7 Rutgers team, then suffered a home loss to a young Michigan team. Despite this setback, I am sticking with Sparty as my pick to win the NCAA tournament because I know how talented, experienced, and well-coached this team is. MSU is still an elite scoring, defending, rebounding, and playmaking team, as they rank in the top 25 in all of those categories. This team's struggles can be attributed to their poor half-court offense, their ridiculous amount of turnovers per game (13.9), and the passive play of, superstar, Miles Bridges. If Bridges can step up as an oncourt leader and try to take games over like we all know he can, this Michigan State team will be special.
3.Duke Blue Devils(15-2):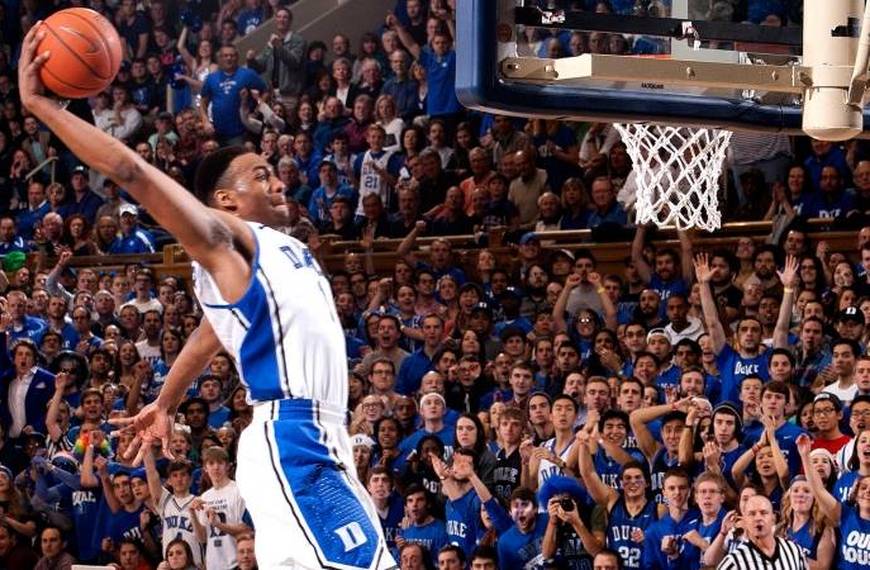 Duke was most everyone's pick to win another National title as soon as Marvin Bagley reclassified and joined an already stacked roster. Before Bagley's commitment, Duke's recruiting class already consisted of the number 1 power forward, number 1 point guard, and number 1 shooting guard, not to mention a few other top-100 recruits. This team is, undeniably, the most talented team in the nation and thus have the highest ceiling out of any team listed here. The problem with building your team around all "one and done" guys is, the lack of experience and lack of chemistry amongst the players. At times this season, this young Duke team has looked completely lost on the defensive end of the court, allowing teams like Boston College (89-84) and NC State (96-85) to out score them. However, out scoring this team is no easy task, as Duke has the number 1 offense in the country averaging 92.7 ppg. If the Blue Devils can find a defensive identity and their young guys continue to grow, Duke should end the year as champions.
2.Purdue Boilermakers(17-2):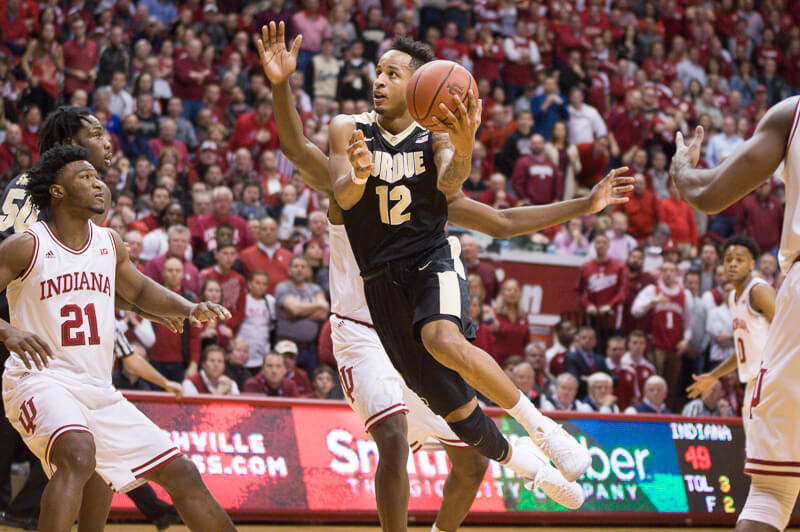 The Boilermakers are yet another team that has far exceeded its preseason expectations. After the departure of Player of the Year candidate, Caleb Swanigan, most people believed this team would take at least take a small step back. However, Swanigan's departure has just paved the way for Purdue's guards to step up in a big way. Sophomore point guard, Carsen Edwards, has emerged as a true number 1 scoring option and leads a group of starters who almost all average double digits in ppg. Purdue's balanced attack, impressive play making (18 apg), and elite defense (62.1 ppg) have led to their incredible play and 14 game win streak. Right now, the Boilermakers might just be the best team in the country.
1.Villanova Wildcats(17-1):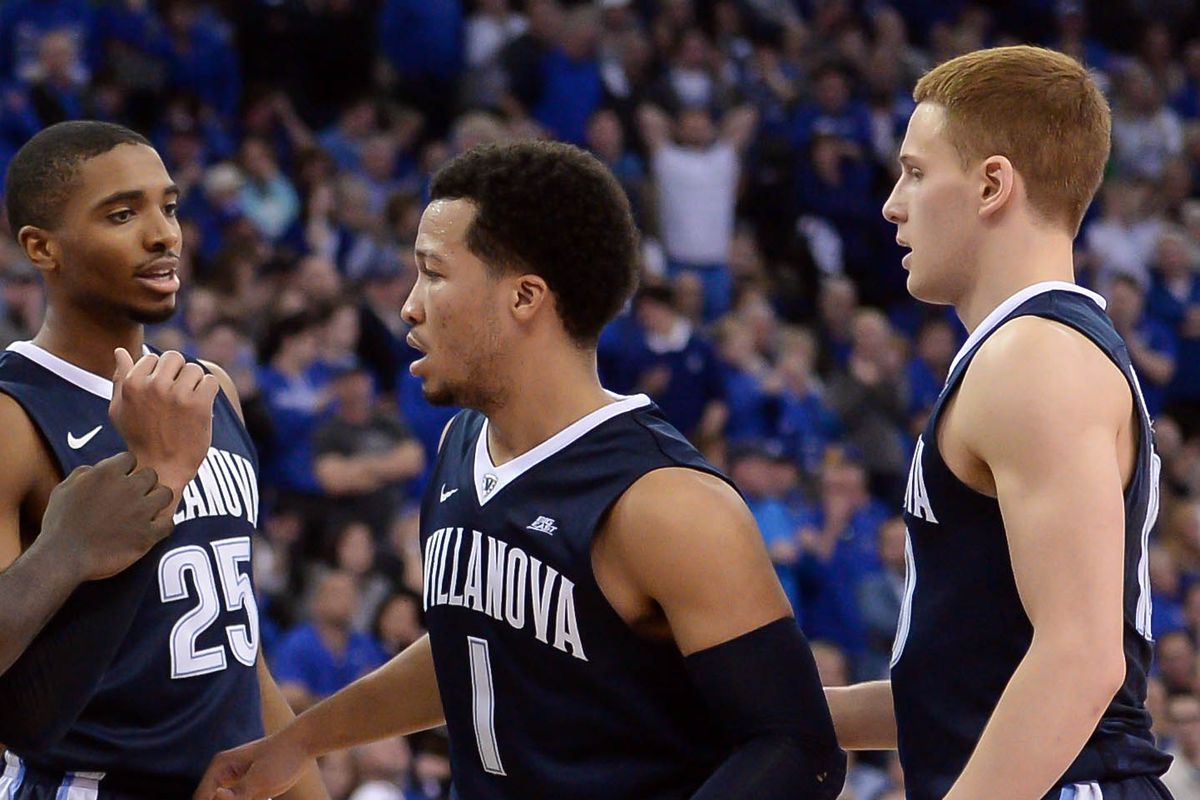 The past four regular seasons have really been dominated by Jay Wright and the Villanova Wildcats. In those four seasons, the Cats own a 117-13 overall record to go along with the 2016 National Title. This season has been much of the same, as Nova has truly dominated the Big East and looks to be on track to win their 5th straight conference title. What makes this team so good is that they may have the most consistent starting five in the country. Jalen Brunson (18.8), Mikal Bridges (17.4), Donte DiVincenzo (13.1), Phil Booth (11.9), Omari Spellman (10.3), and Eric Paschall (9.9) are all scoring double digits night in and night out, leading to Nova's 7th ranked offense, scoring 88.3 ppg. With maybe the nation's best coach, best floor general, and best starting five, they will be a very tough out in March! Right now, they have to be favored to, once again, win the National Championship!
Written by Ryan Scimone