Sizing Up the MLB Offseason: Free Agency and Trades Thus Far
January 1, 2017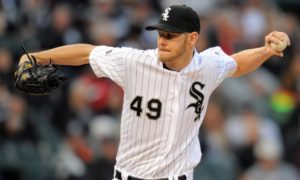 There's only one way to describe the MLB offseason so far: it's been an arms race.  The Red Sox and Indians have been headlining a pretty interesting Hot Stove season in the American League.  After having a quiet start to the offseason quietly, the Red Sox suddenly finalized a deal to land Chicago ace Chris Sale for a plethora of prospects.  As a Boston fan, my gut reaction was a bit of distaste for giving up so much, but this move solidifies a top tier rotation and thrusts the Sox into the position of a clear cut favorite in the American League.  They now boast a big three at the front end of their rotation that have accounted for 10 top six Cy Young finishes and a back end of the rotation with 2 former all stars.  Meanwhile, the reigning American League Champion, Cleveland Indians, will have a much more talented roster than the one they fielded in October against the Cubs.  They gain back talented Carlos Carrasco (11-8 3.32 era, 9.25 K/9) and All Star Danny Salazar (11-6 3.87 era, 10.57 K/9) to a rotation that already bested the Sox in last year's ALDS. In addition, they were missing arguably their best hitter, Michael Brantley, for the whole season due to a shoulder injury.  I keep hearing conflicting reports about his progress, but even a Michael Brantley producing at 75% boosts their outfield and lineup.  Then what did they do? The Indians signed the biggest fish on the market, reeling in stud Edwin Encarnacion to a three year deal.  Both the Sox and the Indians were among the American League favorites before their respective moves, but they have clearly distanced themselves in recent season predictions, assembling the most talented rosters in the early Offseason.
      There were certainly other "winners" from the early part of free agency.  I really like the moves that the Houston Astros have made. They combine a talented young core with some new veteran bats in Carlos Beltran, Brian McCann and Josh Reddick.  Their lineup is going to be downright scary, but the contention of the Astros is contingent on the development and health of blossoming star, Lance McCullers, and also the resurgence of 2015 Cy Young Winner, Dallas Keuchel. Not to mention their bullpen was uncertain at times last season.  I would like to see if they can add another bullpen arm like Greg Holland or a starter, someone like Jason Hammel or Tyson Ross.
      In the National League I love the seemingly quiet move of the Giants to sign Mark Melancon to a bad bullpen last year. During the regular season, the Giants pen blew a ridiculous 30 saves, the most in the league, and down the stretch they were 8-17 in 1 run games.  If they can rebuild this bullpen, they will become a really dangerous team in the National League, and could challenge the Cubs. The Dodgers were able to successfully keep all three of their key free agents: Kenley Jansen, Rich Hill, and Justin Turner. All three were a huge part of their success last year.  Lastly, my under the radar "winning" move was the resigning of Ivan Nova by the Pirates (3.04 era in 11 starts with Pirates last year), a team that I see as a big sleeper in the NL this year. If he can be a consistent middle of the road starter, the Pirates have enough talent in their batting order and rotation to make some noise in the NL Central and get back to the postseason.
      There are some teams who have missed key opportunities so far in the Offseason. Shall we start with the Mets? They did manage to sign Yoenis Cespedes, which is great, but the fact that they seemingly made no effort at Edwin Encarnacion or Mark Trumbo peeves me. If their rotation can stay healthy and Matt Harvey can rebound from "Fatman" to a resemblance of the Batman Dark Knight he once was, then this team has high hopes for the coming year.  With a glaring need for power besides Cespedes and a gaping hole at first base, you would figure they would make a least an effort to bring either of these sluggers in.  For as long as I can remember, the Mets have been so goddamn cheap for a major market team.  All that comes to mind is them outbidding for Curtis Granderson from the Yankees and paying Jason Bay some millennium ago.  Other than that they are always silent.  The Toronto Blue Jays are an obvious loser thus far.  Regardless of the uncertainty around Jose Bautista, the loss of Encarnacion is a killer in the middle of that lineup.  Kendrys Morales was a nice signing, but he has big shoes to fill.  On top of that, the Jays lost Joaquin Benoit, who held a 0.38 era during his time with the club.  Even with Benoit, the Jays' bullpen ranked 22nd in overall ERA, so their bullpen strength still remains as an area of uncertainty. With a worse lineup and a bullpen that won't get much better, the Jays are going to have to rely on their starting rotation to have another exceeding expectations type of year, which is a very a tough task in an already tough division. The number one seed in the American League Playoffs, the Texas Rangers, relied heavily on their offense and just two reliable pitchers all last season. Lack of pitching depth in their rotation and bullpen was on full display during their debacle series against the Blue Jays.   This offseason, so far, has seen their offense grow weaker as Ian Desmond, Carlos Beltran, and Mitch Moreland have all left, and I do not believe they have addressed any of their pitching problems. Andrew Cashner has proved to be an unreliable pitcher who can flash some talent in his career, whereas the Rangers really could have used the reliability of a guy like Jason Hammel. Closer Sam Dyson was solid last year but Texas as a bullpen shared a 4.40 era, so to me, bullpen help should've been a top priority.  To win what could be a good division again and even compete in the arms race in the American League, the Rangers should look to add another bat and a bullpen piece before Spring Training.
Written by Will McGuinness