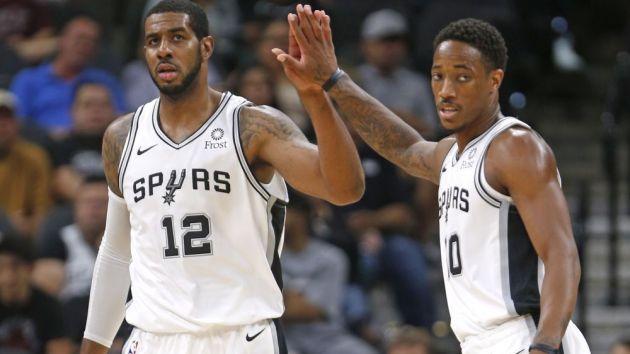 San Antonio Spurs 2019-2020 Season Outlook
October 9, 2019
By: Zach Ruff, Sports Analyst
Our 2019-2020 NBA season outlook continues with the San Antonio Spurs.
Key Additions: DeMarre Carroll
Key Subtractions: Davis Bertans
Draft: Luka Samanic, Keldon Johnson, Quinndary Weatherspoon
The biggest question facing the San Antonio Spurs going into last season was how the team would improve by adding DeMar DeRozan to a squad that did not have Kawhi Leonard for most of the previous year. DeRozan answered this question by having an above average season in every statistical category except 3-pt shooting. Adding DeRozan allowed LaMarcus Aldridge spacing to slightly increase his FG%. Ultimately, Rudy Gay, Patty Mills, and the rest were unable to do enough to get the Spurs higher than the 7th seed or past the 2nd seeded Denver Nuggets.
While other Western Conference teams retooled and reloaded, the Spurs decided to essentially run it back. The only move the team made was trading Davis Bertans in a three-team deal with Washington to land Brooklyn Nets small-forward DeMarre Carroll. In this deal they basically added a couple of points but got an older, less efficient version of the same player. Maybe Gregg Popovich can turn Carroll into a relevant piece of the rotation? Maybe they get what they need from Kentucky guard Keldon Johnson?
Final Outlook on the San Antonio Spurs
This was a short one because, frankly, not much has changed for the San Antonio Spurs team. A lot has changed in the Western Conference, however. Does Popovich's coaching ability get the best out of every single player the Spurs have this season? If so, they may be able to bang with some of the seemingly more dominant teams like the Nuggets, Clippers, Lakers, Rockets, etc. There are simply more questions than answers and I think the Lakers, Mavericks, and possibly Pelicans will look to move up significantly in the standings this year. Final prediction, 38-44 and missing the playoffs for the first time since the 1996-97 season.