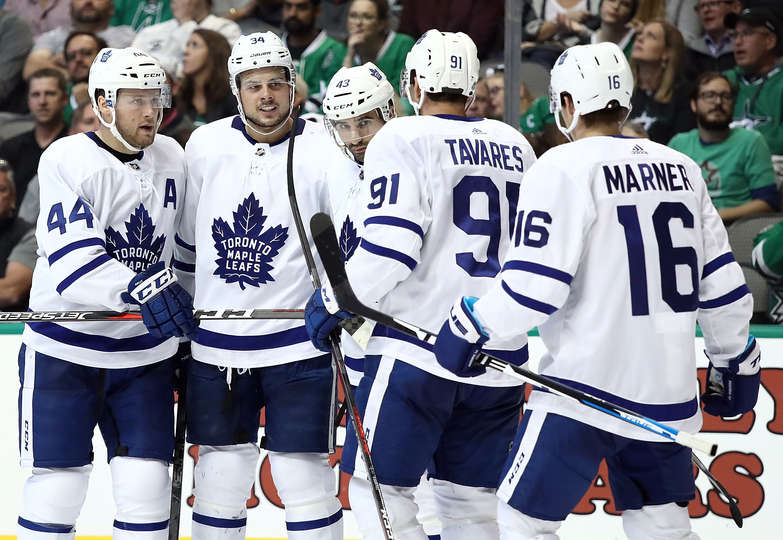 NHL: Eastern Conference Power Rankings
October 11, 2018
BY: Nick Gendreau, Hockey Analyst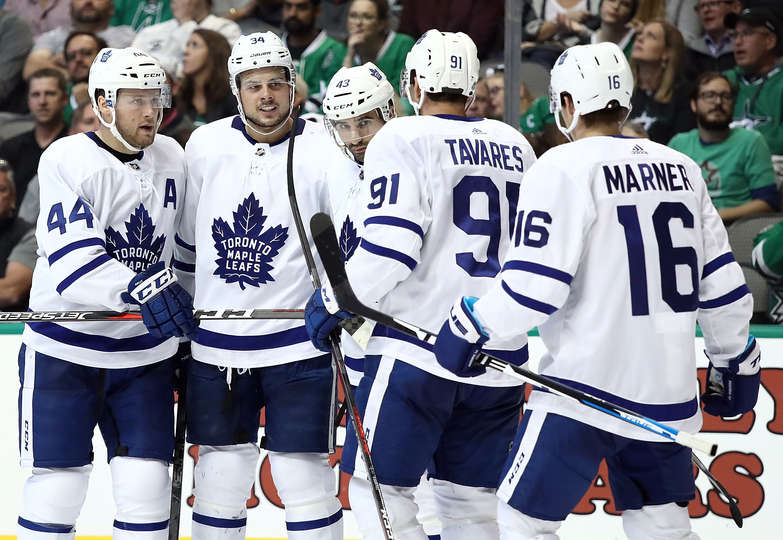 Eastern Conference Power Rankings
We are officially one week into the NHL season and some stars have shined brightly as expected. But we aren't here to discuss individual performance, we are here to see how teams have done thus far. Of course, individual performances will be discussed for each team but it's time to see where your favorite team ranks after the first week of the 2018-2019 NHL season.
1. Toronto Maple Leafs (3-1-0)
No surprise here right? Given the slew of talent this team has and what they have done with it so far, they deserve to be number one. Auston Matthews is on fire with seven goals already, John Tavares recorded a hat trick already, and the team is scoring on every other power play they get. This team doesn't need to play defense at least not yet, considering they have the most goals in the league right now. Also, they are doing this without William Nylander who is continuing to hold out to get a contract. Perhaps Nylander finds his way out of Toronto via trade so the Leafs can get a solid defenseman in return.
2. Carolina Hurricanes (3-0-1)
Yes you read that right, the Carolina Hurricanes and their beautiful Hartford Whalers alternate jerseys have yet to lose in regulation. They also have been doing a new celebration as a team at center ice, their most recent being all the players lining up on the blue line and skating to the other end of the ice and jumping into the boards, it's pretty funny. I mean they kind of have to right? Nobody down there in the Carolinas seem to care about hockey, but they should if this team keeps it up. No Jeff Skinner? No problem. No Noah Hanifin? No problem either. Let Jordan Staal, Justin Williams, and Justin Faulk lead the squad. Let's see if they can keep this up moving forward.
3. Tampa Bay Lightning (1-0-0)
The Bolts have only played one game so far and they won it 2-1 over their in-state rival the Florida Panthers. One game one win so why are they ranked as the third best team in the East? Look at their roster and look at their recent success the past handful of seasons. There is not one doubt in my mind that the Lightning are going to be a force to be reckoned with, hell, I wouldn't be surprised if they represent the East in the Stanley Cup Finals (borrowing a healthy roster). Anyways, one game in and one win with a very talented roster, all is good in Tampa now and going on.
4. Washington Capitals (2-0-1)
The defending Stanley Cup Champions haven't taken their foot of the gas pedal as they started their season with an absolute wax job against the Boston Bruins winning 8-0. The next night they scored six goals against Pittsburgh in an overtime loss. Following that, in the rematch of the Stanley Cup Finals the Caps beat Vegas yet again 5-2. Ovechkin still looks like the great eight and Holtby still looks like a champion not to mention they are playing like this without Tom Wilson as well. Will the Cup hangover eventually creep up on the Caps? Possibly. But right now, their legs are fresh and the net is as wide as the ocean.
5. Florida Panthers (0-1-0)
I know, Florida doesn't even have a point to their name so far BUT they have only played one game in which they lost 2-1 to Tampa. Barkov, Huberdeau, Bjugstad, Trocheck, Ekblad, Yandle, this team is going to be a force in the Atlantic Division this year. One game they have played thus far so I want to see and I expect them to live up to their hype moving forward and I can totally see them making the playoffs this season as well. Yes, I think they are better than all the teams that rank below them right now, even with one game played, let their talent prove my point.
6. Pittsburgh Penguins (1-1-0)
When Sidney Crosby is your best player and Evgeni Malkin is your second best player you probably don't mind a somewhat of a slow start to the year as a fan. However, it sucks that Pittsburgh lost their starting netminder, Matt Murray, due to yet another concussion. But, it is the Penguins who won back-to-back Championships a few seasons ago. I have no doubt that Pittsburgh will be a playoff team by the end of the year even though they got smoked by Montreal in their last game. Look for a better week by the Pens, even if Murray is out.
7. Boston Bruins (2-1-0)
An abysmal season opener is behind the Bruins and they showed it after winning their last two games against Buffalo and Ottawa. Patrice Bergeron recorded a hat trick in the last game against the Sens and Brad Marchand had four assists in the game against Buffalo. Tuukka Rask hasn't looked good, let alone great, but that is why the Bruins brought on Jaroslav Halak, who shut out Buffalo and gets the start tonight against Edmonton. There still is zero secondary scoring from the Bruins as David Krejci, Jake DeBrusk, and Danton Heinen have yet to record a point. If this continues and the only line that can score is the top line of Marchand, Bergeron, and Pastrnak there will be problems in Boston, but for now they have done good enough to be considered a playoff team after week one.
8. Buffalo Sabres (2-1-0)
I praised the Buffalo Sabres for who they have brought in to the organization during the off season, whether its Jeff Skinner, Patrik Berglund, Conor Sheary, or drafting Rasmus Dahlin, these guys will contribute and some already have. I like Carter Hutton in net, I think he deserves to be a full-time starter in the NHL and should do well. I would expect Buffalo to climb the ranks into a playoff position as time moves along.
9. Columbus Blue Jackets (2-1-0)
I like this Blue Jackets team and I love Seth Jones, kid is a stud on the blue line. Their only loss came to the Hurricanes whom I said is off to a great start this season. Nick Foligno and the bread man, Artemi Panarin are leading this team offensively while Vezina candidate, Sergei Bobrovsky has done his part on the back end. Will the Jackets stay within the top five of the conference as the season goes on? It's tough to say given the amount of talented teams that exist in both divisions but right now, they deserve the spot they are at.
10. New Jersey Devils (1-0-0)
Another team that has only played one game but it ended in victory. New Jersey was tough to play against last year with MVP Taylor Hall carrying the offense. But, this year allows Nico Hishcier and Will Butcher to elevate their game to the next level. Although Cory Schneider is recovering from off-season surgery, if he can be 90% of what he normally is this team should fight for a playoff spot.
11. New York Islanders (2-1-0)
Although the Islanders are 2-1-0 and are coming off blanking the Sharks 4-0, they can barely get a crowd in attendance and the team no longer has John Tavares. I want the Islanders to be successful but I feel like they are kind of broken, and the organization needs to figure out where this team is going to play full time. There are still some good skilled guys on the roster but so does every roster in the NHL, it is a matter of putting it together, and right now I don't buy the Isles success.
12. Philadelphia Flyers (2-2-0)
Let's be honest, Gritty has stole the Flyers headlines so far. While the team is in the top handful of teams for most goals they have given up the second most goals out of all the other Eastern Conference teams with 19. Goaltending has been an issue in Philly for a while now and if you are Claude Giroux or Jakup Voracek (who has two goals and eight assists) you must be annoyed. The team is a solid mix of youth and veteran talent but without goaltending it will be tough for this team to be good.
13. Montreal Canadiens (1-0-1)
Carey Price is back and healthy but the Habs are predicted by many to have one of their worst years in their history. Nothing seems right in Montreal despite being one point shy of a playoff spot right now. I don't expect them to do much of anything this year.
14. Ottawa Senators (1-2-1)
If it wasn't for Detroit and New York being so bad Ottawa would probably be the worst team in the conference. Their roster is all over the place and they lost the best defenseman in the league in Erik Karlsson in a trade with San Jose. While the team still seems like speed is their best asset, it appears team defense is their worst. Don't be surprised if the Sens remain at the bottom of these rankings for the entire year.
15. Detroit Red Wings (0-1-2)
The Wings always have high expectations because they have been so good for so long but last year they failed to reach the playoffs for the first time in some decades. Henrik Zetterberg hung up the skates so it is up to Dylan Larkin and company to carry the load now. I don't think their goaltending is going to be any good this season and they probably will struggle to score consistently most likely leading to them missing the playoffs again.
16. New York Rangers (0-3-0)
What else can you say about this start for the Rangers other than, "yuck". A -6 goal differential is the worst in the East and head coach Alain Vigneault and Henrik Lundqvist could be on the hot seat if this continues on. I'm not sure why the Rags are this bad to begin, but they better turn it around, quickly.