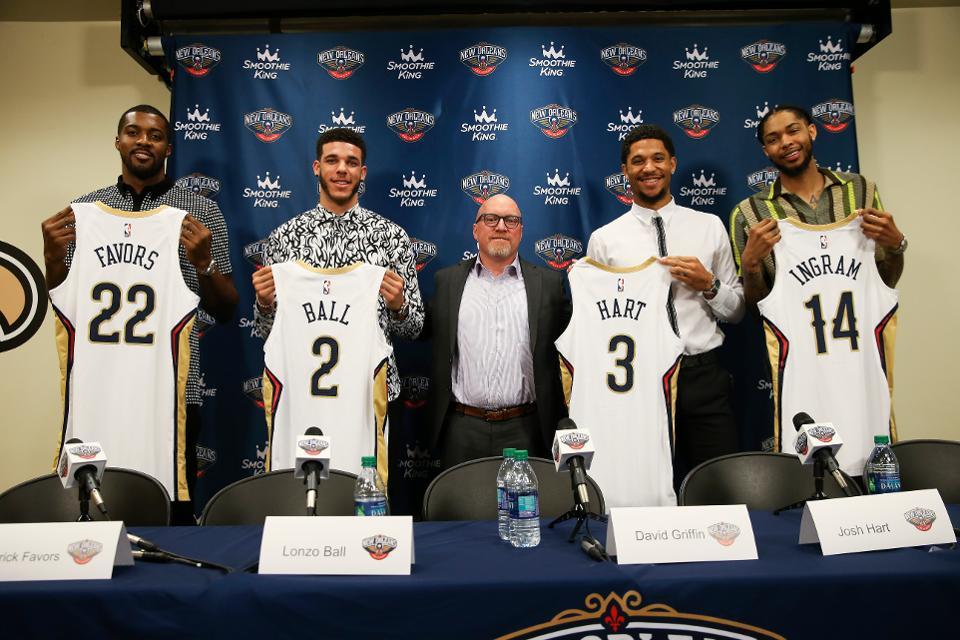 New Orleans Pelicans 2019-2020 Season Outlook
October 1, 2019
By: Zach Ruff, Basketball Analyst
Our team by team offseason analysis here at Tailgate Sports continues to roll on. This time we'll take a look at the new and (maybe) improved New Orleans Pelicans.
Key Additions: Lonzo Ball, Brandon Ingram, Derrick Favors, J.J. Redick
Key Subtractions: Anthony Davis, Julius Randle
Draft: Zion Williamson (F)
That's all, folks! The Anthony Davis saga mercifully came to an end as the Pelicans traded him to the Los Angeles Lakers for a group consisting of Lonzo Ball, Brandon Ingram, Josh Hart, and several others that ended up jettisoned to Washington in the three-team deal. After hitting the Zion jackpot in this year's draft, New Orleans fully committed to a team without Davis as the centerpiece. As if they weren't young enough already, they got even younger in the offseason and have very limited playoff experience throughout their roster.
In addition to losing Anthony Davis, Julius Randle found a new home with the New York Knicks. Randle is coming off a career year in points (he's increased each season in the league), his second-best year in rebounds and assists, and his second straight year shooting over 50% from the field. Once marked as a soft big man, Randle has made incremental improvements year after year and his quickness will be missed by the Pelicans who are rolling out Jahlil Okafor and Derrick Favors down low to pair with Zion. Williamson, probably the most covered rookie since Lebron James himself, will obviously be looking to make his mark on the league as quickly as he can. Calling him a human highlight reel does not do justice to his season at Duke, though it remains to be seen if he can replicate his level of play in the NBA. One thing that seems to be certain is he has hustle. Look for him to be out in transition throughout the game and getting back on defense regularly.
It will also be interesting to see how coach Alvin Gentry uses his arsenal of guards. Starter and highest paid player Jrue Holiday can effectively play both guard positions, while Lonzo Ball and J.J. Redick are more traditional point and shooting guards, respectively. Ball has proven he has exceptional court vision and is above average in transition. Expect Gentry to employ a fast-paced offense with a good amount of cutting and ball movement.
Final Outlook on the New Orleans Pelicans
Zion Williamson, Jrue Holiday, Brandon Ingram, and Lonzo Ball will definitely make things interesting for the Pelicans this season. In addition to the moves made, New Orleans should not have to play under the threat of looming trades all season. This renewed sense of focus for the front office and the players should allow them to find a sense of comfort and cohesion. Youth and reassurance (and probably a little anger at being cast aside) will improve the team from where they were last year, but in a loaded Western Conference I just do not see them sneaking into the playoffs. Give em 8 more wins and a .500 record with a chance to build in the next few seasons. Final Prediction, 41-41 and just outside looking in.