MLB Preview: AL West
March 2, 2017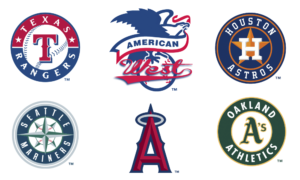 The 2017 MLB previews continue, as this week we look at the American League West. The competition in this division is likely going to be cutthroat, with the Astros and Rangers bolstering their rosters in the offseason. All though those two teams will get much of the attention, the Seattle Mariners could make some noise in crunch time if things start going right for them. Check out below as we go team-by-team, analyzing rosters and predicting how their seasons will unfold!
Los Angeles Angels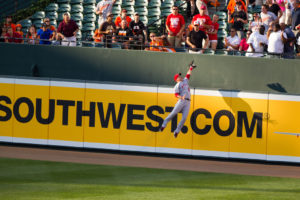 So far, the Angels have been blessed with six years of Mike Trout – a generational talent and the best player in baseball right now. In the Trout era, the Angels have a total of zero playoff wins. They've had some stellar years, winning 98 games in 2014. But something is always keeping the Angels from taking that next step to being a World Series contender (a desolate farm system, little cap space, injuries). This year, it is a lack of talent in the rotation. Garrett Richards – the ace of the staff – is coming off a partially torn UCL in which he opted not to undergo Tommy John surgery. This essentially puts him on perpetual injury watch, meaning shorter outings and likely an innings limit. There is a chance that either Matt Shoemaker or Tyler Skaggs can step up and lead this rotation, but just two slightly-above-average pitchers won't get you very far. The Angels lineup has a bunch of dull names to cushion Mike Trout and 37-year-old Albert Pujols. Guys like Yunel Escobar, Cameron Maybin, and Andrelton Simmons might be solid in their own right, but they hardly inspire any confidence. The bullpen is built on an unstable foundation, with an aging Huston Street and an inexperienced Cam Bedrosian holding down late inning duties. If absolutely everything goes right for this team, the Angels might be able to contend for the second wild card spot. But the far more likely scenario is that another year of MVP-level Mike Trout is wasted on a mediocre Angels team.
Projected Rotation: Garrett Richards, Matt Shoemaker, Tyler Skaggs, Ricky Nolasco, Jesse Chavez
Projected Lineup: Yunel Escobar (3B), Kole Calhoun (OF), Mike Trout (OF), Albert Pujols (DH), CJ Cron (1B), Danny Espinosa (2B), Cameron Maybin (OF), Andrelton Simmons (SS), Martin Maldonado (C)
Key Bullpen Pieces: Cam Bedrosian (Closer), Huston Street, Andrew Bailey, Alex Meyer
Texas Rangers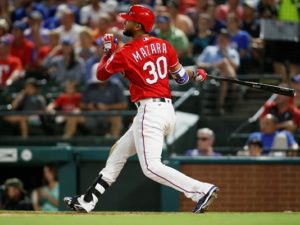 The Rangers are coming off back-to-back AL West titles, so expectations are high for them yet again this season. Texas is usually included in the discussion with the Red Sox and the Indians as the top teams in the AL, but is that a valid class to put them in? The short answer is yes. The Rangers lineup is a great mixture of emerging studs and veteran cornerstones. Adrian Beltre and Mike Napoli (who returned this offseason) are excellent pieces to build a lineup around, not to mention the veteran leadership that they bring to the table. Rougned Odor, Nomar Mazara, and potentially Joey Gallo appear to be the dynamic young core that will transition the Rangers from one generation to the next. Odor and Mazara are pretty damn good hitters, too. If Joey Gallo can minimize his strikeout woes, baseball might be seeing the next premier home run hitter. The Rangers pitching staff looks to be rock solid this year, especially after the addition of Tyson Ross and Andrew Cashner this past offseason. Yu Darvish, another year removed from Tommy John surgery, will likely return to being one of MLB's best strikeout artists. Although the Rangers have what appears to be a World Series-caliber roster, the path to the AL West crown will not be easy this year. The Astros and Mariners will provide some fierce competition down the stretch. Regardless, expect the Rangers to find their way into the playoffs at the end of the season, either as AL West Champs or in the top Wild Card spot.
Projected Rotation: Cole Hamels, Yu Darvish, Martin Perez, Tyson Ross* (out until May: AJ Griffin likely in his spot), Andrew Cashner
Projected Lineup: Carlos Gomez (OF), Shin-Soo Choo (OF), Adrian Beltre (3B), Mike Napoli (1B), Rougned Odor (2B), Jonathan Lucroy (C), Nomar Mazara (OF), Elvis Andrus (SS), Joey Gallo (DH)
Key Bullpen Pieces: Sam Dyson (Closer), Jeremy Jeffress, Matt Bush
Seattle Mariners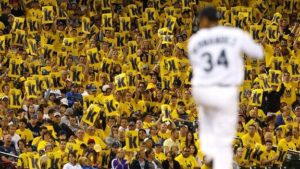 The Seattle Mariners remain very underrated, a thorny team that finished 3 games out of the final wild card a year ago. Looking at this division, all the offseason hype revolves around the Astros and how they will stack up to the reigning division champion Rangers.  The Stros look tough, but they should watch out for this strengthened Seattle lineup's pitching and defense.  This offseason the Mariners added two good contact hitters in Jean Segura and Danny Valencia to surround their strong veteran core of Kyle Seager, Robinson Cano, and Nelson Cruz.  Segura finished 5th in National League Average at .319 and mashed 20 homers, but he also adds good defense and improved speed.  The addition of Jarrod Dyson follows this offseason focus of defense, average and speed for positional players.  Improved defense and speed in the outfield should help this pitching staff in run prevention, and contact will help the power hitting bats in the lineup.  The key to how well the Mariners finish in a top heavy AL West, however, is how this rotation and more specifically, how Felix Hernandez performs.  There is a lot of mileage on that arm, and last year Felix struggled with inconsistency and injuries.  If "King Felix" can have a Justin Verlander- type resurgence year, the rest of this rotation will serve as nice compliments to a front-line ace. Drew Smyly and Yovani Gallardo both flash at times but also yield too many homers, yet their move to a much more pitcher- friendly park and a division with pitcher friendly parks should help.  Hisashi Iwakuma regressed with his age last year but still remained solid, and James Paxton took a huge step forward to convince me the talented lefty could be in line for a breakout year. So beware Astros and Rangers fans, there is sneakily a lot to like about this team entering Spring Training games.
Projected Rotation: Felix Hernandez, Hisashi Iwakuma, James Paxton, Drew Smyly, Yovani Gallardo
Projected Lineup: Jarrod Dyson (LF), Jean Segura (SS), Robinson Cano (2B), Nelson Cruz (DH), Kyle Seager (3B), Danny Valencia (1B), Mike Zunino (C), Leonys Martin (CF), Mitch Haniger (RF)
Key Bullpen Pieces: Edwin Diaz (Closer), Steve Cishek, Evan Scribner
Oakland Athletics
 The Oakland Athletics look to have a strong bullpen, which could help them outperform their low expectations. They have four proven bullpen commodities in Ryan Madson, Sean Doolittle, Santiago Casilla, and John Axford.   Looking at the rest of this roster though reflects the fact that they have the lowest payroll in the division.  The A's have one true threat pitchers are afraid of when they step on the mound.  Khris Davis clubbed 42 homers and posted 102 RBIs despite being on a team with the combined sixth worst team average in the MLB.  Other than Davis this is a classic Billy Beane constructed "non-sexy" lineup.  You might never have heard of Stephen Vogt, but he's a solid hitting catcher in the MLB.  Twenty-five year old Ryon Healy quietly hit .305 and ended up with 13 homers in 72 games.  The rest of this lineup does nothing for me, and no significant changes will improve their second to last ranking of runs per game.  Oakland's rotation will be better than their lineup, but the key to an improved season for the A's is Sonny Gray bouncing back to 2015 form.  He endured injuries last year and maybe with a healthy season he will rebound.  If it does not come to fruition, solid but not great Kendall Graveman and promising sophomore pitcher Sean Manaea will get thrusted into premier roles.  Four out of the six best A's prospects are pitchers, including Jharel Cotton (2-0, 2.15 era, 0.82 WHIP in 5 starts last year).  Watch for some of these young arms and 52nd overall prospect Franklin Barreto to make their debuts this year, and watch for Sonny Gray and bullpen pieces to be traded midseason in another shoddy A's season.
Projected Rotation: Sonny Gray, Kendall Graveman, Sean Manaea, Jharel Cotton, Andrew Triggs
Projected Lineup: Rajai Davis (CF), Stephen Vogt (C), Ryon Healy (DH), Khris Davis (LF), Matt Joyce (RF), Marcus Semien (SS), Trevor Plouffe (3B), Yonder Alonso (1B), Jed Lowrie (2B)
Key Bullpen Pieces: Ryan Madson (Closer), Sean Doolittle, Santiago Casilla, John Axford, Ryan Dull
Houston Astros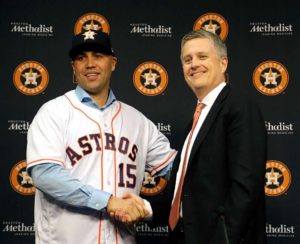 The Astros have the potential to be something special this season. Coming off a decent 84-78 season, the Astros could very well make a solid playoff run. They basically have the same starting rotation – Keuchel, McHugh, McCullers returning from an injury, Fiers and Musgrove – and the addition of Charlie Morton as a sixth man in case anyone needs a rest is a key piece to this puzzle. Veteran Carlos Beltran is still a great slugger that they'll put in the DH position, and Brian McCann is a solid signing to throw in every once in awhile to keep Evan Gattis fresh. Houston has a rock solid lineup top to bottom. They have slugger George Springer to lead them off followed by young Alex Bregman. You of course can't forget about reigning Silver Slugger and AL Batting Champ, Jose Altuve, and there to clean it all up is 2012's first overall pick and former rookie of the year, Carlos Correa. This is a team that is extremely well rounded, more so than any of the others in the AL West. They should be the favorite to win their division and overthrow the Texas Rangers, who have won the division two years straight now.
Projected Rotation: Dallas Keuchel, Collin McHugh, Lance McCullers, Mike Fiers, Joe Musgrove
Projected Lineup: George Springer (CF), Alex Bregman (3B), Jose Altuve (2B), Carlos Correa (SS), Carlos Beltran (DH), Evan Gattis (C), Josh Reddick (RF), Yulieski Gurriel (1B), Norichika Aoki (LF)
Projected Key Bullpen Pieces: Ken Giles (Closer), Luke Gregerson, Will Harris
Written by Matt Loehle, Will McGuinness, and Cam Simes