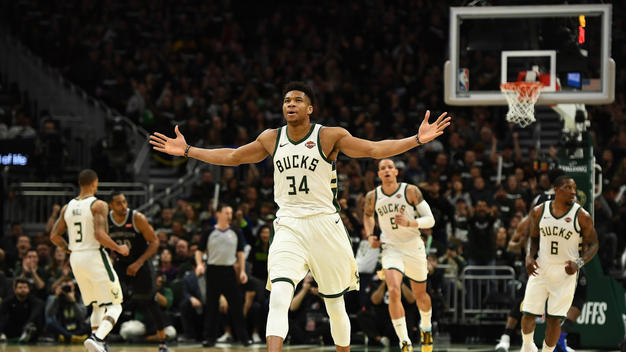 Milwaukee Bucks 2019-20 Season Outlook
September 25, 2019
By: Dylan Delaney, Basketball Analyst
The Milwaukee Bucks are coming off of one of the most successful seasons in franchise history. Their superstar, Giannis Antetokounmpo, posted ridiculous numbers and won his first MVP award, his second-hand man Khris Middleton was selected to his first all-star game, and head coach Mike Budenholzer took a team that was barely a playoff contender to a team that is now a force to be reckoned with in the Eastern Conference. They did make some significant changes to the team in the offseason; let's take a look at what's in store for this year's Bucks.

​​SMLXL
Key Additions: Robin Lopez, Wesley Matthews, Kyle Korver, Dragan Bender, Frank Mason III, Cameron Reynolds, Jaylen Adams, Thanasis Antetokounmpo

Key Subtractions: Malcolm Brogdon, Nikola Mirotic, Tony Snell, Pau Gasol, Tim Frazier

The Bucks didn't have a bad offseason by any means, but they did lose some key pieces from last year's team. They had a lot of players entering free agency, and some important and crucial decisions were made. Ultimately, they re-signed Khris Middleton to a max deal and gave George Hill an extension, albeit a team-friendly one. This meant they had to let players like Malcolm Brogdon and Nikola Mirotic walk in free agency, which was tough but understandable. Brogdon is a tough loss but he likely would have been stuck in a crowded backcourt, and now he's able to play to his full potential with the Pacers. As for Mirotic, his time with the Bucks was brief, but he decided to chase the bag and is now playing overseas with FC Barcelona on a long-term deal. While I do think they overpaid a little for Middleton, giving him the max was necessary to the team, and he is the perfect sidekick for Giannis, as his knock-down shooting helps space the floor.

The Bucks now have two sets of brothers on the team, so I hope that their chemistry wouldn't be an issue. Brook Lopez had a great season in Milwaukee last year, and now his brother, Robin, has joined them, sliding into a back-up center role. He'll be providing the rim presence and rebounding that the Bucks needed off the bench. Milwaukee also brought in Thanasis Antetokounmpo, joining his MVP brother Giannis. He probably won't get much playing time, but keeping him around could be beneficial for Giannis' long-term situation, as he slated to be an unrestricted free agent after the 2020-21 season. However, my two favorite moves of the Bucks' offseason were the additions of Wesley Matthews and Kyle Korver. The Houston Rockets were the only team that made more threes last season than the Bucks, and surrounding Giannis with even more shooters is going to make this team even more of a force. Matthews is a great veteran to have and is an excellent 3-and-D player, and he'll be a great spark plug for the team. Antetokounmpo has been working on his three-point shot, and who would be a better teacher than the splash master himself, Kyle Korver. If the Bucks need a three, you know he'll be in the game ready to fire away. The only downside to these moves is that it may stunt the development of 2018 1st-round pick Donte DiVincenzo, who could be used as trade bait later on in the season.
​​SMLXL
On paper, this team is very talented across all parts of the game, and they have plenty of depth. At the point guard position, Eric Bledsoe figures to be the starter, as he's coming off of another solid season. George Hill is the primary backup and will likely be one of the first players off the bench, and he's coming off of an incredible postseason performance during last year's run. Khris Middleton will be a focal point of the offense once again, but other wing players such as Matthews, DiVincenzo, Korver, Sterling Brown, and Pat Connaughton will be fighting for important rotation minutes. Each of them share one thing in common: they can all shoot very, very well from downtown. The Greek Freak will obviously be in the starting lineup and continue to be one of the most dominant NBA players we've seen in recent memory, and will look to have another MVP-caliber season. Besides him, the rest of the Bucks' bigs include the Lopez twins and Ersan Ilyasova, who quietly had a good season last year under limited minutes, and has always been a serviceable role player. I wouldn't be surprised if Milwaukee was active during the trade deadline or during the buyout period to pick up another big man for their playoff run, similar to what they did last season.

Final Outlook on the 2019-20 Milwaukee Bucks
​​SMLXL
The Bucks are back in business, gaining even more depth but losing some important pieces from last year's squad. The additions don't make a ton of noise, but they'll be very important and beneficial down the line, especially towards their more-than-likely playoff run. However, this team will only go as far as Giannis Antetokounmpo will take them. Middleton, Lopez, and Bledsoe are great complementary pieces, but Giannis is the leader and undoubtedly their best player. When Toronto was able to stop him offensively during the Eastern Conference Finals, the rest of the team came down with him. Of course, that was back when Kawhi Leonard was in Toronto, and with him gone, who else is going to stop him? Milwaukee comes into this season as my Eastern Conference favorite with a record of 58-24, and we could definitely see them strolling the streets of Milwaukee with the Larry O'Brien Trophy in Mid-June.