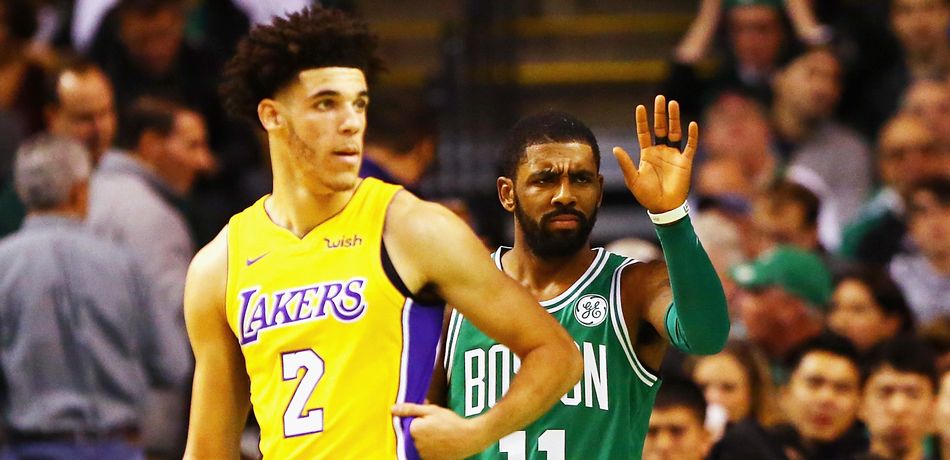 Lonzo Ball is a Perfect Fit for the Boston Celtics
May 10, 2019
By: Dave Furtado, Basketball Analyst
The Boston Celtics season came to unceremonious end May 8th in Milwaukee against the Bucks. The C's were trounced 116-91 in Game 5 of the Eastern Conference Semifinals, losing the series 4-1. This game carried several extra storylines for the Celtics, chief among those being the future of point guard Kyrie Irving. After all of the off the court drama and lackluster performance throughout the playoffs, Celtics fans are left asking the question, have we seen Kyrie's last game as a Celtic? The answer to that question is likely a yes, which means Boston will be in the market for a new starting point guard. There is one player that fits this need perfectly, and that player is current Los Angeles Lakers point guard Lonzo Ball.

Why Lonzo Ball is a Perfect Fit
Since Brad Stevens took over as the Head Coach of the Celtics in 2013 he has run a fast paced offense in which pushing the ball up the floor and constant ball movement is key in creating open shots. Despite being an immensely talented player, Irving did not fit the system that Stevens and the Celtics want to run. Irving is more of an isolation player who wants to take his defender one on one and beat him with handles and an elite ability to finish at the rim. In order for this offense to reach its full potential it will need a player who can move the ball effectively and create scoring chances for players like Jayson Tatum and Jaylen Brown. There are two major reasons that Lonzo Ball is a perfect fit for the Celtics, his exceptional passing and great defense.
Ball's Passing
When he entered the NBA Draft in 2017 it was a well known fact that Lonzo Ball's best trait was his floor vision and passing. This has carried over into his first two seasons with the Lakers in which he has averaged 10.1 and 8.3 assists per 100 possessions. One of Ball's best traits as a point guard is being able to create for others. On a team with wing players such as Jayson Tatum and Gordon Hayward who both shoot the three point shot with great efficiency, having a player like Ball who can essentially pass them open will lead to a spike in the team's ability to shoot the three ball. In addition to these high assist totals, Lonzo Ball also has been able to maintain very low turnover numbers throughout his young NBA career. Ball has averaged just 3.7 and 3.4 turnovers per 100 possessions. This ability to generate offense for his teammates while taking care of the basketball and not turning it over at a high rate leads me to believe that he would be an outstanding fit for a Brad Stevens offense.

Ball's Defense
Outside of Ball's solid passing ability he has also proven himself a very capable defender. Celtics fans know how important playing good defense is to Brad Stevens and the Celtics and Lonzo Ball brings that ability to play solid tough nosed defense. He has averaged 2.4 and 2.3 steals per 100 possessions over his two year career. In addition to this his career defensive rating is 107 which is not too shabby. Ball can guard multiple positions and guard them well, something that will certainly play well within the Celtics defense due to the high amount of switching that they do. Bringing in Lonzo Ball would also create what could very well be the best defensive backcourt in basketball with Ball and Marcus Smart.

Bottom Line on Lonzo Ball
If you were to sit down and build the prototype for a Brad Stevens point guard, it would look a lot like Lonzo Ball. Long and athletic with excellent court vision and an ability to guard multiple positions makes Ball an ideal fit for the Celtics. The only major concern that I have with Ball is his durability. In two seasons with the Lakers, Ball has yet to eclipse 60 games played in a season. He has dealt with several health issues, most recently an ankle injury that sidelined him for most of this season. However this injury history shouldn't be enough to sway Boston from attempting to acquire Ball, especially because the price for him shouldn't be all that high. With three first round picks and a possible fourth on the way, the Celtics have more than enough ammo to make a trade for Lonzo Ball. The only hitch would be if the Lakers didn't want to make a trade with their biggest rival in the Celtics. However I don't think this would be too much of an issue especially since the Lakers have already made Ball available in trade talks with other teams in the past. This desire to move Ball along with the potential of a great return should be enough to bring the Lakers to the table. The bottom line here is that Lonzo Ball's floor vision and defense make him a perfect fit for the Boston Celtics.