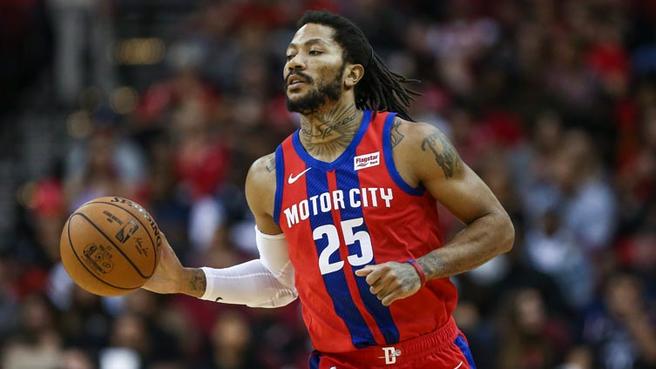 Let's Make a Deal: Derrick Rose
January 28, 2020
By: Dave Furtado, Head Basketball Analyst
The trade deadline is only a few weeks away and there are plenty of teams that have holes to fill. This year's trade deadline doesn't figure to be full of blockbusters, but we'll likely see a flurry of smaller trades as contenders try to fortify their rosters. One of these mid level trades could involve current Detroit Pistons guard Derrick Rose.
Derrick Rose to the Los Angeles Lakers
It's becoming increasingly more likely that the Detroit Pistons will look to move on from some of their veteran players, including Derrick Rose. Rose will surely be a hot commodity when the deadline comes around as he has been playing some of the best basketball of his career recently. He's averaged 25.4 points per 36 minutes a career best as well as 8.1 assists per 36 minutes, also a career high. In addition to his career highs, Rose has put up 20+ points in a whopping twelve straight games and in fourteen of his last fifteen. He's stayed healthy for the most part taking part in 41 of a possible 48 games. Obviously he isn't that explosive high flying player he once was, but he has been able to rework his entire offensive game and is incredibly effective. His talent and experience would certainly help any contender down the stretch and into the playoffs, but none more so than the Los Angeles Lakers.

Los Angeles is by no means in desperate need of an improvement, they sit first in the Western Conference and still haven't lost ten games. Although they aren't desperate for an improvement, they could absolutely use one. Rose is the perfect candidate to improve the Lakers, who have a suspect bench, and a relatively weak backcourt specifically on the offensive end. Outside of Rajon Rondo, there isn't much at the point guard spot, and even Rondo isn't the elite offensive weapon he once was. Bringing in a player like Rose who can play on or off the ball and simply score would be a massive upgrade for the Lakers backcourt depth. He has scored with an efficiency that most of the Lakers guards have failed to score with this season. Shooting 49.5% from the field Rose has shot a higher percentage than every one of the Lakers rotational guards. Some fans may balk at the idea of putting Rose with LeBron James seeing as it was a massive flop when the Cleveland Cavaliers tried it, but Rose is a much different player now than he was in 2017. The fit is much better now that Rose has seemingly found himself as a player again and has adjusted to a bench role, something he was still new to when he joined the Cavaliers.

How Derrick Rose Fits in Los Angeles
I've already explained how Derrick Rose fits into the Lakers rotation, now it's time for the nitty gritty of the trade. Rose is owed 7.3 million dollars this season and is on the books for next season as well for 7.6 million. Getting Rose is more than just a half season rental for the Lakers which means a few different things, one being they'll need to account for his 2020-21 salary being on the books, as well as the fact that the Pistons may raise the asking price on Rose since they won't feel pressured to get a return for the point guard.
The Pistons are likely looking for a combination of young talent and draft picks in order to kickstart a rebuild. Los Angeles can certainly supply the players that Detroit may want, but the picks are a different story. The Lakers don't have a ton of draft picks coming up, so Detroit may have to settle for a pick further off in the future in exchange for Rose. One combination that would work financially for both sides and seemingly checks all the boxes for what Detroit and Los Angeles would want is Quinn Cook, Kyle Kuzma, and a 2023 first round pick for Derrick Rose.
This may sound a little lopsided, but that's only because Kyle Kuzma has been vastly overrated. Detroit would be rolling the dice that Kuzma flourishes outside of LA similar to other former Lakers such as Brandon Ingram and D'Angelo Russell. As for Quinn Cook this isn't much of a loss for the Lakers as he's only played an average of twelve minutes per game this season. However Cook has shown flashes of being a solid bench scorer and can certainly shoot the three ball, hitting them at a healthy 38.2% so far this season. Both players are under contract for next season as well, giving the Pistons an extra season to get a guage on if they can be a part of the core moving forward. As for the pick it comes in 2023 and may not seem like much, but it could wind up being an excellent asset for the Pistons. LeBron James is set to be a free agent after the 2021-22 season, but he could opt out and become a free agent as soon as after the 2020-21 season. While it's likely he sticks around in Los Angeles, there is that chance James leaves and that pick is all of a sudden exponentially better. It's a long term gamble for the Pistons with all three pieces in this deal, but it's a worthwhile risk considering they're just trying to capitalize on the suddenly high value of Derrick Rose. Overall both teams are getting what they want out of this trade, Los Angeles gets their point guard depth and the Pistons get two controllable young players and a draft pick that could wind up being a pretty good one to boot.