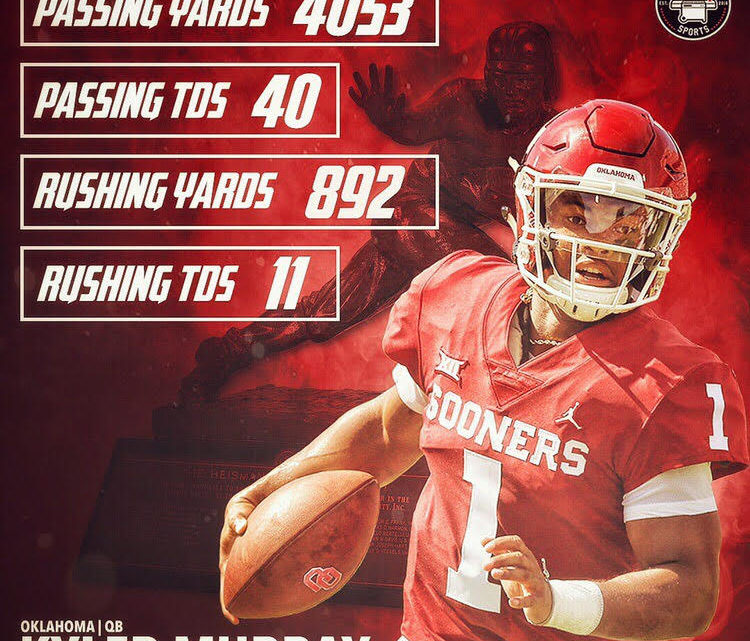 Kyler for Heisman
December 8, 2018
BY: Domenic Buccini, College Football Analyst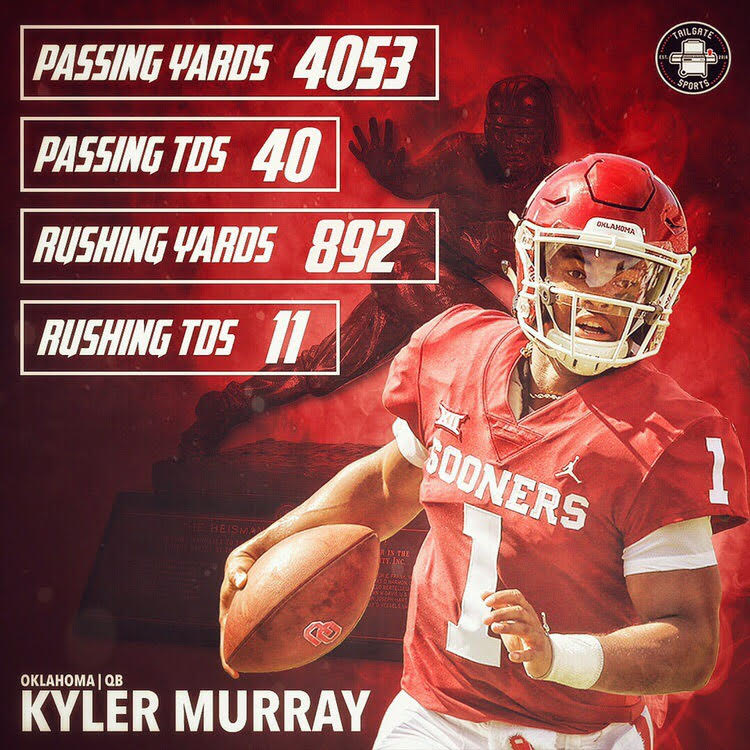 The three final have been announced for 2019 Heisman trophy. Ohio State Quarterback Dwayne Haskins. Oklahoma Quarterback Kyler Murray, and last but not least Alabama Quarterback Tua Tagovailoa. If you asked anyone during the first two-thirds of the football season who should win the Heisman, almost all would have said Tua Tagovailoa, but down the stretch, both Haskins and Murray have put pressure on Tua. So who should win it? I've come to the conclusion that Oklahoma Quarterback Kyler Murray should win the Heisman for two reasons; his stats and the impact he's had for his team.

Stats play a pretty big role in all of the contenders for the heisman, as without the stats they wouldn't be there.
| | | | |
| --- | --- | --- | --- |
| Stats | Dwayne Haskins | Kyler Murray | Tua Tagovailoa |
| Snaps played | 1,009 | 807 | 588 |
| Completion/Attempt | 348/496 | 241/340 | 199/294 |
| Passing Yards | 4.580 | 4,053 | 3.353 |
| Passing Touchdowns | 47 | 40 | 37 |
| Passing Interceptions | 8 | 7 | 4 |
| Rushing Yards | 122 | 892 | 190 |
| Rushing Touchdowns | 4 | 11 | 5 |
I debated for hours on who has the best stats when you include the snap count and both rushing and passing accolades and determined that Kyler Murray won the first determining factor which is stats.
The second factor I look at in determining who should win the heisman, I look at what they mean for the team and how they've affected the team. If we look at Kyler Murray, he has created most of their offense, and has won many of the games for them. Oklahoma's defense ranks 98th overall and at one point let up over 40 points in 4 straight games. Then if we look at What Tua means for Alabama, he helped them a lot, as he really improved Alabama's passing game this year. If we look at the defense, they rank as they have a top 5 defense and have shutout LSU and Mississippi State. I believe if Alabama didn't have Tua and started Hurts, they'd get the same result this year. Then if we look at Haskins, he had a major impact on the offense at the beginning and middle of the season as the running game didn't get going until the end of the season and they relied on Haskins to make things happen. Ohio State's defense was shaky throughout the whole year, as they played some good games, and then let up 49 points to Purdue. In deciding between who meant the most to their team, it actually was closer than most would think, as Haskins meant a lot to Ohio State, but I think Murray meant so much to Oklahoma as without the I think they would have only been a 7 or 8 win team.

If I were doing the heisman picking I would give it to Kyler Murray, give second place to Dwayne Haskins, and third to Tua Tagovailoa.